What are cabinet accessories
Ready to assemble cabinets are different from custom cabinets as they need accessories. Cabinet accessories are the additions needed to cover exposed sides of a cabinet and add the finishing touches for the kitchen. Custom made cabinetry by an artisan may not see these issues as those are cut, assembled, and painted by them. At most RTA cabinet stores, including big box stores, these pieces are calculated based on how many exposed cabinet sides or the distance of molding needed.
Different cabinet styles require different accessories
Between American and European cabinet styles, the two styles have different style accessories. Besides the cabinet finishes and door styles, the accessories help distinguish and add volume to what the base and wall cabinets feature. These can completely change a kitchen style and even the functionality of the kitchen.
American style cabinet accessories
Fillers
Width 3″ or 6″ | Height 30″, 36″, 42″, or 96″ | Thickness 3/4″
Fillers look like regular pieces of long rectangular wood with the finish of the kitchen cabinets. They range from 3 – 6" wide and from 30 – 96" tall. These fillers are meant to match the height of cabinets that are close to a wall. These pieces of wood are the most versatile accessory as they fill in gaps, accommodate for uneven walls, and even turn corners for blind cabinets. Since kitchen cabinets are made of wood, the filler can be cut with a table saw to get a precise measurement cut. This will be needed for spaces that are 1 – 2" wide from the cabinet to the side wall.
Toe Kick
Width 1/4″ | Height 4-1/2″ | Length 96″
All RTA cabinets will need a covering for the exposed plywood at the base of the cabinet. A baseboard, commonly referred to as the toe kick, is a thin piece of wood that measures 4.5" tall by 96" long. Custom cabinets will have a much thicker toe kick like a filler as the accessories are cut from the same piece of wood used on cabinet doors.
Scribe Molding
Width 3/4″ | Height 1/4″ | Length 96″
Don't like the look of the filler leaving a seam next to the wall? Scribe molding is a very thin piece of finished wood to clean up the finishing touches in the kitchen remodel. There are multiple purposes to use a scribe. The biggest is to hide the seam between fillers and walls. The other is finishing the seam between the skin panel and frame of the cabinet meet. Is this small additional piece of wood needed for the installation? Not necessarily, it is to add some clean finishing touches. One can do a whole kitchen remodel without using a scribe molding. This is not seen in European style cabinets, so it is not needed for every kitchen.
Crown Molding
Height 2″ or 3″ | Face 2″ or 4″ | Length 96″
This is the defining accessory for American style cabinets. Crown molding acts like a crown on top of the cabinets providing a grand and tall aesthetic to the cabinets. The molding can hide minor ceiling imperfection if not completely level and prevents dust from cluttering on the top of the wall cabinets.
There are two types of crown molding. Crown has a curvature to the visual shape to add a unique texture to the common flat design of shaker kitchen cabinets. Flat molding is a diagonal slant from the top of the wall cabinets to the ceiling, not offering much contrast. Both molding variations function the same, but have different visual aspects depending on design.
Skin Panel (base/wall/island)
Base: Width 22.5″ | Height 34.5″ | Thickness 1/4″
Skin panels are thin pieces of wood with the same finish as the cabinet color to finish up the exposed sides of the cabinet. There are three types of skin panels: base, wall, and island back panels. Base and wall panels cover the open exposed cabinets at the end of the kitchen. Cabinets in between walls will not require these panels as those will not be seen. These are the most important accessory for American style cabinets to hide the exposed plywood that is visible.
Dishwasher Panel
Width 24″ | Height 24.5″ | Thickness 1/2″
A thick panel of wood that serves two purposes. Typically this panel is to hide the dishwasher. Some homes will place a dishwasher at the end of the cabinet line without any space to add any more cabinets. Since the dishwasher does not support the weight of the countertop, the panel is in place to help hold the stone from crushing your appliances.
Dishwasher panels can also be used to create built-in microwave units. For customers that want to have a microwave at the end of cabinets, a dishwasher panel holds the countertop weight there and boxes in the frame for the microwave.
Refrigerator Panel
Width 24″ | Height 96″ | Thickness 3/4″
Similar to dishwasher panels, the refrigerator panel helps hide the refrigerator. The panel also helps support the cabinet on top. These cabinets that have a built unit are 24" deep. To support the weight of this cabinet compared to a standard 12" deep cabinet, the panel is needed to hold the heavy box up. Some cabinets over the refrigerator are only 12" deep and can easily be held by neighboring cabinets and the wall. 24" deep cabinets are in a class of their own and will need the support from one of these tall panels.
Wall oven units will not use one, but 2 refrigerator panels. Wall ovens will have a 24" deep cabinet up top and need to be enclosed within the two panels. One will have less stainless steel in the kitchen with a wall oven, but will need more materials to build with.
European style cabinet accessories
End Panels
Base: Width: 13″ | Height: 30″ | Depth: 3/4″
Wall: Width: 13″ | Height: 30 – 42″ | Depth: 3/4″
Pantry: Width: 25 – 35″ | Height: 96″ | Depth: 3/4″
Island: Width: 26 – 50″ | Height: 35″ | Depth: 3/4″
End panels are the equivalent to the skin panels from American cabinet accessories. European cabinets look more modern and may not have skin panels like the American style. Instead, panels much like the dishwasher panel will group a set of cabinets or act as the skin panel itself.
Since end panels replace the skin panel, there are multiple different panels all in the same finishes as the cabinet. These include base, wall, refrigerator/pantry, and island back panels. The base panel resembles a dishwasher panel and functions the exact same way. The big difference is the refrigerator panel. Refrigerator panels will need ones on both sides of the refrigerator or pantry.
Fillers
Width 3″ or 6″ | Height 30″, 36″, 42″, or 96″ | Thickness 3/4″
Like American style cabinet fillers, these pieces of wood serve the same purpose. They fill in gaps as spacers and hide any imperfections during the installation. European style fillers are also used for crown molding if one desires the cabinets to reach the exact ceiling. Even light rail is created by turning the filler horizontal and installing the filler under wall cabinets.
Toe Kick
Width: 96″ | Height: 4-1/2″ | Depth: 1/4″
The toe kick piece does the same here as in American style cabinets, hiding the exposed bottom of the cabinet. As the European style has more options for customization, all its accessories also have to be custom as well. This means the fillers will have to be cut from the same thickness of panel as doors, fillers, and panels. Although one may not see it all the time, the end result toe kick will be as thick as a traditional filler.
Hinges
Would one consider cabinet hinges an accessory? Some may think it to be an upgrade. Certain homes like condos or apartments may have lower end quality cabinets in the kitchens. These will not commonly have the hinges of brand new cabinets with the quality expected from modern standards. For most people, soft closing drawers and doors might be the biggest change in their kitchen, outside of the cosmetic change. It's not always what matters outside, but inside as well.
Soft closing hinges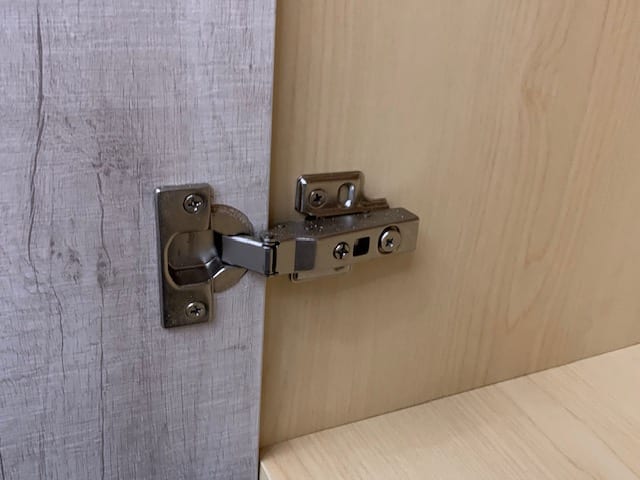 Ever get tired of children slamming cabinet doors? This can damage not only just the hinge of the cabinet, but also the door. Soft closing hinges are strong enough to hold large single doors, and prevent them from slamming suddenly. These hinges will bring peace and quiet to your comfortable working kitchen. You can say goodbye to slamming kitchen doors abruptly on your fingers for the last time.
Depending on the size of the door, some cabinets will vary having 2-3 soft closing hinges. Pantry doors are examples where more than 2 are needed. Some pantries may feature a 24" single door or even a custom 30" door. This much weight will require a strong enough hinge to support the weight of a door. Solid wood doors are especially heavy.
Soft closing drawer slides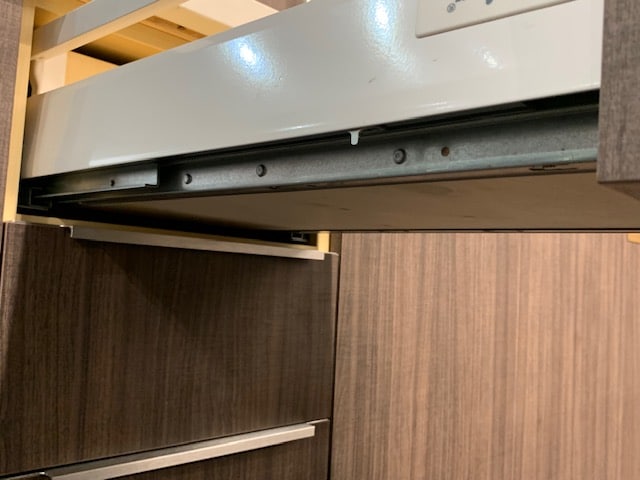 Nothing is worse than opening a drawer that is stuck and wont close properly. Certain lower end cabinet drawers may not even have a drawer track, making the drawers one of the most difficult cabinets to open and close. For being one of the most important cabinets for large storage and utensil storage, this is unacceptable for a lot of homeowners.
Drawer slides make any drawer, especially the large drawers, much more usable and important. With some drawer base cabinets measuring 30 inches wide, they need the soft closing hinges to keep the cabinet from tipping out and to effectively close easily without damaging the cabinet. For cabinets that are opened the most, any homeowner will be thrilled to have this accessory in any kitchen.
Additional add-ons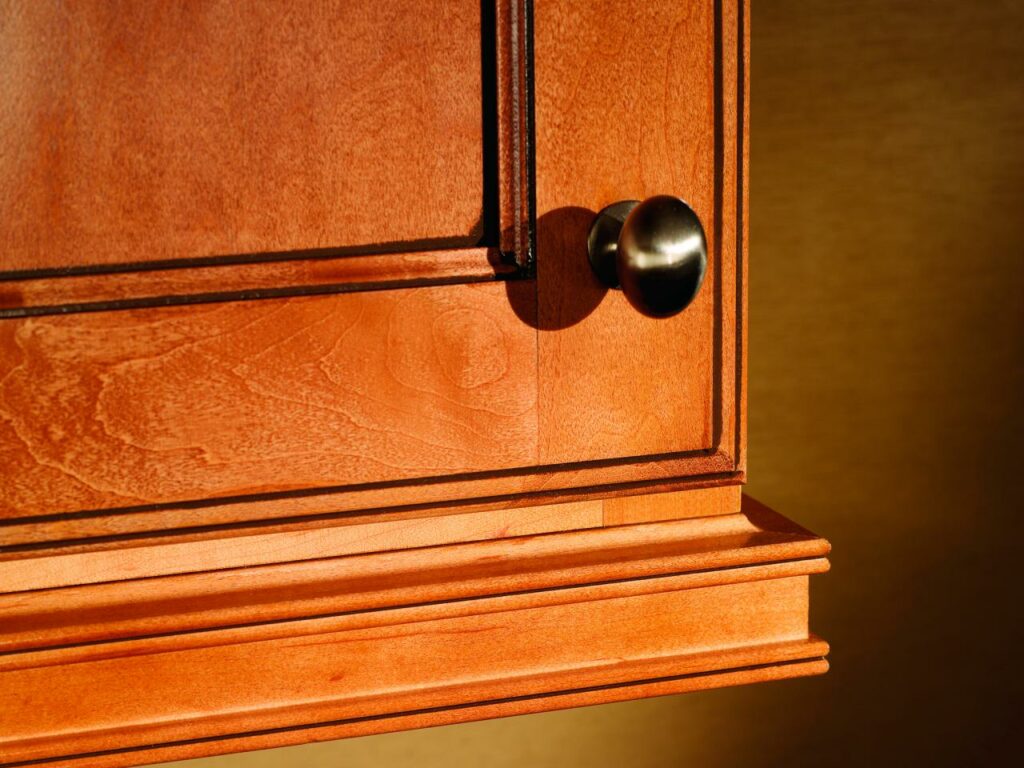 Each kitchen style has its own set of needed kitchen accessories to complete the look and hide the exposed plywood finishes. Some customers may want even more to complete the look or functionality of the kitchen. These homeowners may feel their kitchen looks incomplete or want even more storage options available.
Roll-out drawers
Width 15 – 33″ | Height 3-1/2″ | Depth 22-3/4″
Roll-out drawers, also known as roll-out trays, are additional drawers that can be added into base cabinets and pantry cabinets. These drawers are available in varying sizes based on the style and the manufacturer. The smallest available drawer is 15" and as large as 36" wide depending on the cabinet.
These drawers are commonly found in modern style cabinets because they have full height doors. This style does not have many drawers, so adding a roll-out tray allows one to have the visual aspect of clean design without the drawer separation. In American style cabinets, these can be more often found in base shelves of pantry cabinets to make access to storage much easier for the homeowner.
Glass doors
Width 12 – 24″ | Height 30 – 42″ | Depth 3/4″
Glass doors are not a default option, especially on RTA cabinets. All RTA cabinets will come with default cabinet doors. Getting glass doors may vary depending on the cabinet company. Some may have glass inserts while others will have full glass doors. If you are interested in upgrading to glass doors, this option is always available at a later time.
Glass doors allow one to see into the cabinet. There are variations of glass doors. Some are full transparent, while some may be frosted glass. Frosted glass has a grey tint on the glass preventing one from fully seeing inside, but gives the separation and relief from all the same looking doors.
Fake doors
Width 12 – 24″ | Height 30 – 42″ | Depth 3/4″
If one is buying a full kitchen, why would they want even more doors? Aesthetics of course. Fake doors are for homeowners that don't want the standard skin or island panel on the sides and back of the cabinet. Some want glass doors to add some separation between the consecutive doors. Others will want the shaker door to decorate the sides of cabinets, pantries, and even the backs of islands. Fake doors need to be mounted still on the skin panel of RTA cabinets, so these are extras standard remodels will not all need or desire.
Light Rail Molding
Height 1″ | Width 1-1/2″ | Length 96″
Under cabinet lighting is an addition some homeowners want to add for a flashy new look. Rather than seeing the wires and cables everywhere, light rail molding is used to hide all the wiring from plain sight. The molding is a square shaped piece of wood that is commonly 8' long. The wood is cut to the desired length to be mounted underneath the wall cabinets. For people who don't use under cabinet lighting will not require this piece of wood in addition to their cabinet purchase.