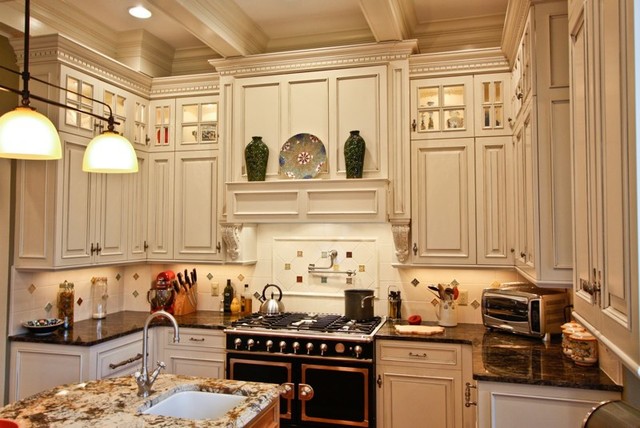 The benefits of double stacking:
A lot of the best things in life come in some kind of double stacked cabinets configuration.  Double burgers and double stuffed Oreo's are clearly superior to their single stacked variants.  I've never been to England before but I've been told that double decker buses are really cool.  Double stacked cabinets are also usually thought highly of and sought after.  But due to the nature of these wonderful cabinets, they are not right for every kitchen.
A lot of kitchens have a space between the ceiling and the tops of the upper wall cabinets.  This space can consist of a few inches or it can be a couple feet.  In some kitchens this space is a result of a soffit that runs through part or all of the room.  In other kitchens the space if left there to save cost or labor or both.  Sometimes, this above space is used for recessed lighting very similar to under cabinet lighting. In my college apartment, I used the space above the counters to collect and display the empty bottles of booze that amassed from various parties that I hosted.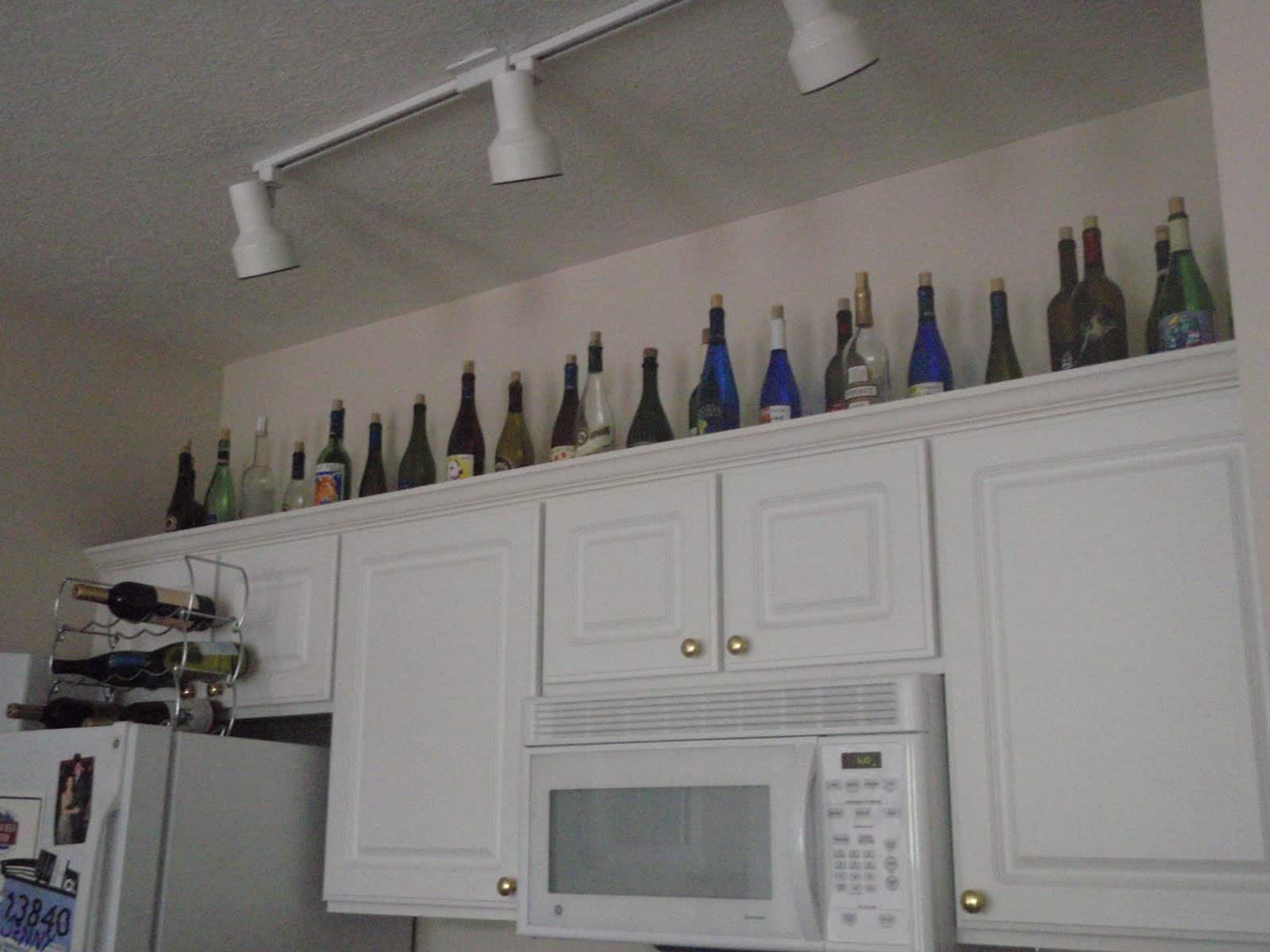 If you are thinking about remodeling your kitchen, and "Frat House Chic" is not the look you are going for, then you might want to think about double stacked cabinets. Double stacked cabinets are an option that involves adding a third row of cabinets above the hanging wall cabinets. This simple addition to your kitchen can actually be a complex decision to make with a lot of costs and benefits.
Extra Storage with Double Stacked Cabinets
Some of the benefits to double stacked cabinets are fairly obvious. There are not many people who say that they have too much storage space in their kitchens. Double stacked cabinets offer a lot more storage.  It is important to remember that, unless you are tall enough to reach these cabinets unassisted, the items you store in these cabinets should be the seasonal items or things you use the least. If you're not able to accommodate double stacked cabinets, here are some single wall design tips for maximizing storage space.
Pleasing Aesthetics
Many people will choose to have glass doors in their double stacked cabinets.  This will give the third row of cabinets a clear visual distinction from the wall cabinets below them.  If you decide to get glass doors you can use the cabinets as display space.  If you have a large house then there are probably other places you could display your trinkets or the dishes you want seen, but the double stacked cabinets are a good option.  If you decide to use glass doors you can also add interior lighting to draw more attention to the special cabinets.
Combine the interior lighting with well-placed under cabinet lighting to give you kitchen a beautiful intimate lighting scheme.
The Cons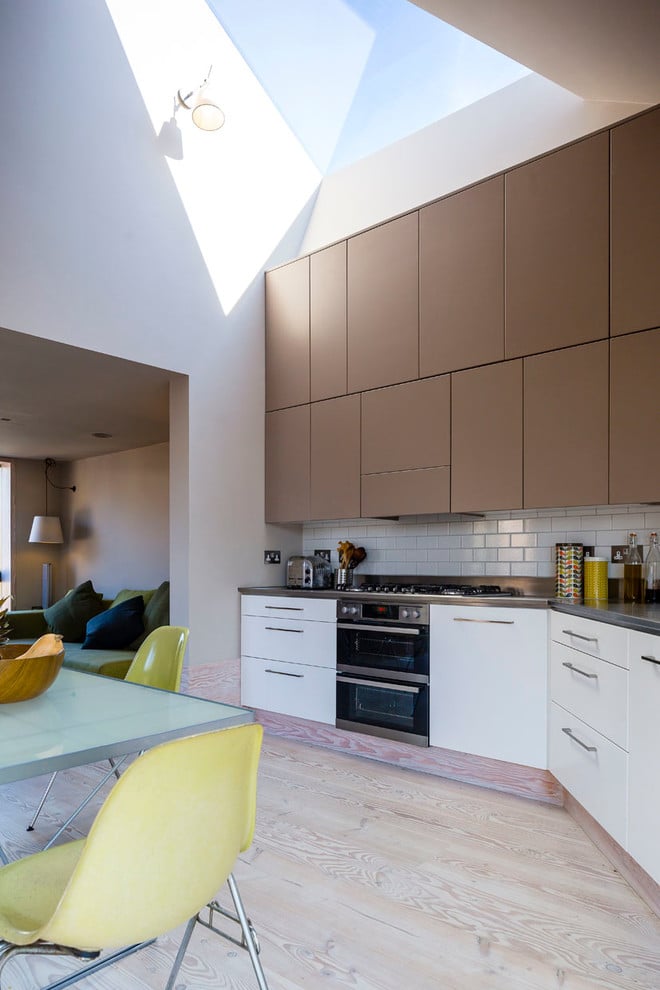 Unfortunately for all the beneficial things about double stacked cabinets there are a number of difficult problems and costs that go with them.  For many people, using the step ladder is not a convenient option.  Understandably, most people are hesitant to stand on their fancy countertops to access the top row of cabinets.  Obviously, the decision to add a third row of cabinets will be somewhat expensive.  Generally speaking it costs you money to buy and to install cabinets; so more cabinets will cost more money.  If you are not getting custom made cabinets for your kitchen then your cabinet options might be very limited by double stacked cabinets.
For Example:
In a kitchen with a 9 foot ceiling you're usually left with 54 inches of space for upper cabinets.  With RTA, or Ready to Assemble, cabinets you would normally use tall 42 inch wall cabinets leaving you with a 12 inch space between your cabinet tops and the ceiling.  If you want double stacked cabinets you could then replace all your 42 inch tall cabinets with 36 inch tall cabinets with little 18 inch cabinets on top.
This could look fantastic in theory but the 18 inch tall cabinets are usually placed above refrigerators or sinks or stoves.  Because of this it is not uncommon for the 18 inch tall cabinets to only come in 30 inch or 36 inch wide cabinets.  So now you have to go through your kitchen design and make sure you can fit all the cabinets you want while only using 30 or 36 inch wide cabinets.
Extra Work
If you hate to dust your cabinet doors each week, you should keep in mind that double stacked cabinets will give you a lot more doors to clean.  This is particularly relevant when you choose a traditional raised cabinet style because the grooves and details in the doors will trap a lot more dust and grease than the doors on the more modern flat or shaker style cabinets.
Upper double stacked cabinets will give your kitchen a finished look but if you are not careful you can end up with a claustrophobic feel.  Considering how much you are paying to remodel even a small kitchen, you certainly don't want to be disappointed by the final results.
Personally, I feel that double stacked cabinets are a great way to add storage space and make you kitchen look amazing and special.  But if you can't manage to access the upper cabinets with reasonable ease, then it feels like you are spending a lot of money without getting the benefits that you should.
If you're interested in having double stacked cabinets in your kitchen, our staff at Best Online Cabinets can help with that. Please send us a free design request or call us at 855-929-8975 and we can get started on it immediately!