Explore Our Semi Custom Options
Looking for something a little different? We offer a wide variety of euro styles, but we understand that everyone has unique tastes. Our Semi Custom Styles could be just what you're searching for!
Explore an array of additional colors, patterns, and designs. Each option is crafted with the same high-quality materials and attention to detail as our euro styles, but with a twist that allows for more personalization.
Don't limit your choices, let your creativity take the lead and design a space that truly reflects your style.
Discover Our Semi Custom Options
What are European style kitchen cabinets?
European style cabinets are all about "less is more" - an understated look that's all about clean lines and uncomplicated, practical design. Modern European cabinets are usually completely smooth - offering overlay doors and drawer fronts that utilize a full-access frameless construction.
Generally speaking, the average American home has always had more space than residences in the UK, Italy, and Spain - so European designers have traditionally worked with efficiency at the heart of their work. Of course, though, Europe has always been a place where beautiful design and functionality have gone hand-in-hand, so efficient use of space has never meant compromising on beauty.
As well as maximizing space in your kitchen cabinets, European designs are minimalistic; with no moldings, decorative trims, carvings, or raised panels - in fact, many designs even use concealed hinges to further accentuate the flat and smooth surfaces. As a result, even a small kitchen design can appear more spacious - with flat, seamless, streamlined designs, often with a wood or high-gloss finish.
Does the frameless design of a European style kitchen cabinet offer more space in a home?
In short, yes - the way European style cabinets are designed means it's possible to access the maximum amount of space inside.
Some traditional cabinet designs allow for a wood 'frame' around the door and drawer openings. Sometimes, drawers and doors will be 'inset' where the door is flush with the frame; in other instances, the same style of drawer and door can used as an 'overlay' sitting proud of the frame. Either way, the frame limits the 'aperture' - the opening that allows access to the space inside kitchen cabinets.
Modern European style cabinets don't have this limitation. Both drawers and doors mount directly on beautifully finished study cabinets; so effectively, the entire face of the cabinet can be opened - maximizing storage and access.
If you're working with a limited square footage of your kitchen, a European style design will help you make the most of your space.
What kind of materials do you use to make your European style kitchen cabinets?
Unlike some well-known big-box stores - we never use particle board here at BestOnlineCabinets. Our cabinets are designed to be long-lasting and tough - and for those reasons, we use grade-A plywood.
As well as being strong enough to take your choice of cabinet tops, we select our plywood by hand - so you can be 100% confident that it's finished to the highest standard.
When it comes to cabinet doors, our designs use medium-density fiber (MDF) which is then finished with our customer's choice of tough coating to provide an attractive, hard-wearing finish.
We know that a modern kitchen needs to be a practical room - and we know that there are plenty of family kitchens that will take bumps and bashes on a daily basis. Our kitchens are designed with this in mind - so you can be certain that your new kitchen looks fantastic for years to come.
---
What kind of finishes are available on European kitchen cabinets?
As you browse our European style cabinets, you'll see a few different doors and wood finishes mentioned. This is what each cabinet finishes:
Thermofoil
Thermofoil is an extremely hard-wearing type of smooth plastic/vinyl coating that's bonded to a modern cabinet door using heat.
A cabinet that's had a thermofoil coating applied will be very low maintenance - requiring no additional protective coating. Thermofoils are also highly moisture resistant - ideal for busy kitchens! Foils are perfect if you're looking for that contemporary high-gloss look that many people opting for a modern European design want.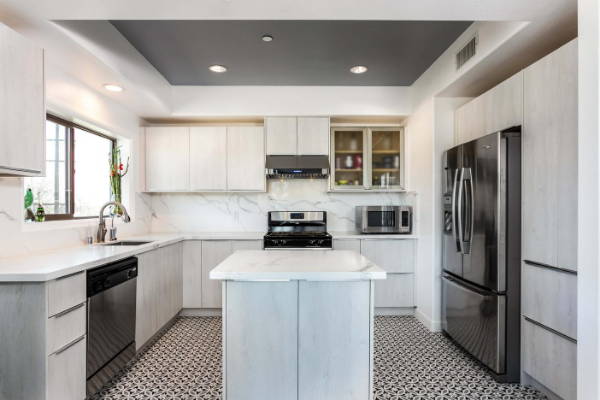 Melamine
Melamine is a specialist type of laminate used to create a huge range of textures and wood grains - and, like thermofoils, it's durable, scratch-resistant, and waterproof; making it perfect if you want a tough kitchen cabinet.
Melamine is actually the name of just one layer of the coating that's used to finish a modern kitchen cabinet. Layers of paper are saturated with melamine resin; they have pressure applied to them to create a solid surface. When bonded to a high-quality cabinet, the result is an attractive and versatile surface.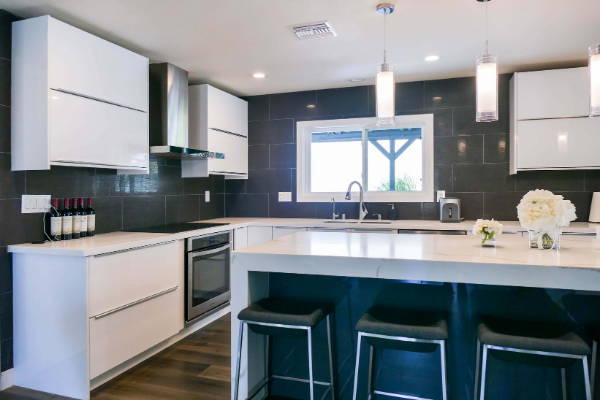 Lacquer Paint
Traditionally, lacquer paint is another way of achieving a highly reflective finish on a kitchen cabinet - although we also use specialist lacquers to create stunning matte finishes for your kitchen design too.
Lacquer itself doesn't have a color - but instead provides an extremely tough coating to a layer of paint underneath. When we finish our doors with paint and lacquer, each layer is slowly built up in a temperature-controlled environment to ensure the highest-quality, tough finish.
---
What will European style cabinets look like in your home?
By now, you're hopefully confident that BestOnlineCabinets manufacture and supply the very best European style kitchen cabinets - but our customers' questions don't stop there! Will our modern cabinets suit your home? Would your decor be better suited to a wood or white kitchen? Would high-gloss doors be the perfect finishing touch?
There are no end of potential cabinet and style questions - and the answers are unique to you; so we provide a completely free design service to help you decide.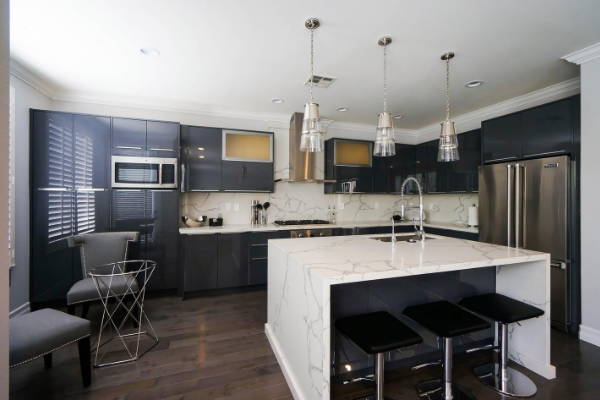 How does our European cabinet design service work?
If you're ready to see what modern European cabinets would look like in your kitchen, we've got a free professional design service that'll make it happen.
First, we'll give you all the guidelines you need to accurately measure your kitchen. When we've got these measurements and asked a couple more questions, our team will put together a detailed layout, item list, and price quote - and of course, you'll get to see 3D renderings of exactly how your European style cabinets will look when they're in your kitchen space.
If you love your new modern kitchen design, your itemized list will make it quick and straightforward to add the cabinets and doors you need to your shopping cart - and of course, if you need to adjust your design or would like a little help ordering, our team are just a phone call away.
---
Ready to order some euro-style cabinets' sample doors for in-home comparison? Order Sample Doors
We offer professional contractor discounts on our range of European style kitchen cabinets
We work closely with thousands of tradespeople - so we understand how important it is to be able to set realistic customer expectations and deliver an unbeatable service.
Here at BestOnlineCabinets, we offer a significant discount on our kitchen cabinet range if you're a professional contractor. What's more; we've got a dedicated team that'll keep you informed throughout the order and supply process. Naturally, you're absolutely welcome to take advantage of our kitchen design service too - presenting your customers with impressive 3D style renderings to show them what their cabinet choice will look like.
We manufacture our European kitchen cabinets, so we can provide updates when you need them - and in turn, you can keep your customers informed at every step; creating a level of service that sets you apart from your competition.
We carry an impressive stock of European cabinets for your kitchen
Remodeling your home should be exciting - but waiting for kitchen cabinets to arrive can cause add unnecessary time to your project.
When you work with BestOnlineCabinets to design and supply your new European cabinets, you're working with a company that carries an unrivaled stock of cabinets and doors - so we'll aim to ship your order within 2-3 days.
If what you need isn't available off-the-shelf in our warehouse, we'll begin manufacturing the parts straight away; so you don't have to wait long to make your ideal kitchen reality.
Are you ready to design or order your European cabinets?
What's the next step for you?
If you're ready to see what your dream European kitchen would look like - it's time to talk to our design team about measuring and getting your personalized 3D renderings.
If you've already received the images of your remodeled kitchen and you're ready to start adding the parts from your itemized list to your shopping cart, we're happy to help. Not only will we double-check that everything you need is ready to order - but we'll also make sure that all your discounts are applied too.
Whether you're ready to see what your ideal modern European style kitchen design will look like - or you're ready to make your order; our friendly and helpful team are here to help you take the next step. You can call us on 626-614-8975.
---
Take advantage of our 5-star customer service and support. Sign up for your professional discount here.