WHITE KITCHEN CABINETS
Spice up Your Kitchen With Our Generous Range of Premium White Kitchen Cabinets.

REMODEL YOUR KITCHEN WITH STYLE
Achieving your ideal kitchen needn't be a hassle or drain on your finances. Few things are worse than investing in furniture and discovering the quality doesn't last, breaks easily, or is a challenge to assemble. Those opting for a "white kitchen" design are typically after sophistication that doesn't cost a fortune.
Worry no more! With Best Online Cabinets, you can guarantee both excellent product quality and customer support. Shop today and let us help you plan your unique kitchen!
Wide Range of Styles
We provide a wide range of white kitchen cabinet styles and design ideas. You can choose from glossy or matte looks, along with more vintage/antique or modern styles. To suit your kitchen requirements, our cabinets are also available in various sizes and models.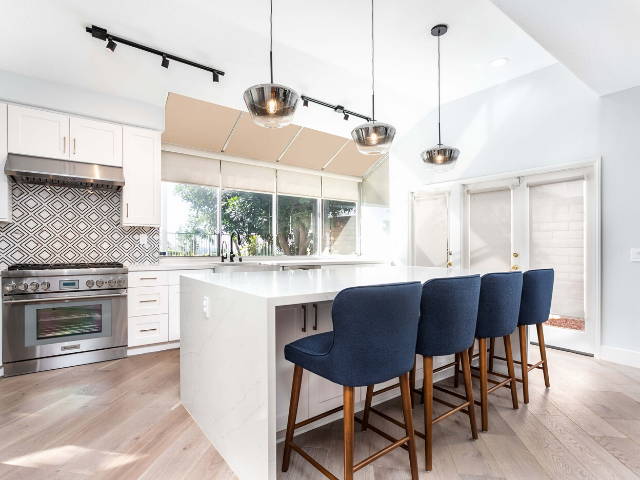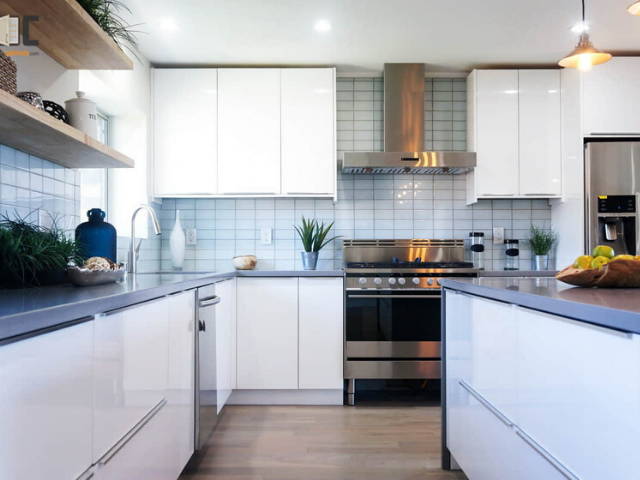 A Timeless Aesthetic
There are numerous reasons why white cabinets are a popular go-to for the modern kitchen. They create an effortlessly clean and crisp look for any kitchen interior and match well with any desired style. Our matte and glossy finishes also give your kitchen a classy, sophisticated appearance. Choose between American or European cabinet styles to suit your overall kitchen theme.
Your New Kitchen on a Budget
You'll be pressed to find better deals for white kitchen cabinets online. We ensure the best bang for your buck by providing high-tier materials at competitive prices. Customers can also enjoy free shipping for orders of $3,000 or more in the continental United States.
Additionally, we notify our subscribers of any ongoing or upcoming sales. Contractors, builders, designers, and even repeat customers are also provided with generous discounts.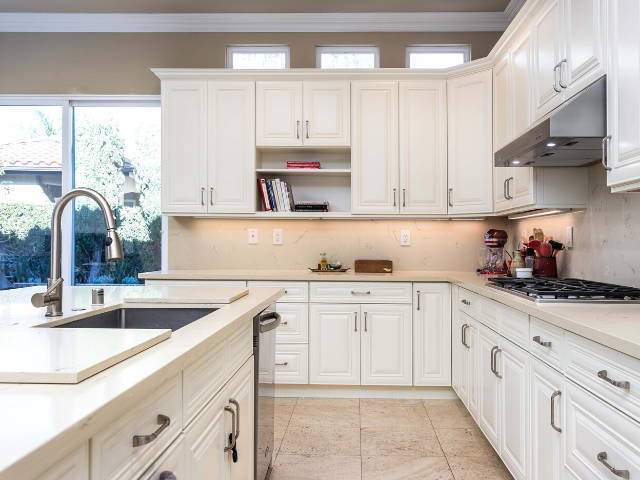 OUR PROCESS
Buying from our kitchen cabinets catalog is a fairly straightforward experience, however - if you're unsure of the right design or style for your kitchen, you can follow the steps below.
Step 1: Get in Touch With Our Design Experts
As mentioned, we offer free design assistance to help you accurately achieve your vision. Get in touch with our design team via contact form with your information and kitchen measurements, and we'll connect you to a dedicated designer.
Step 2: Confirm the Details
Your designer will work with you to create a potential kitchen layout with the essential items necessary.
Step 3: Receive 3D Renderings
Once the details are confirmed, our designer will then get to work to construct a 3D design model of your ideal kitchen. You'll receive these renderings within 24 hours.
Step 4: Select Your Cabinet and Bring Your Vision to Life!
When you're happy with the renderings, our support team will then help you select your kitchen cabinets and add them to your shopping cart. Simply check out your products and install them into your kitchen. Ready-to-assemble cabinets typically take 2-3 business days for orders to process, the lead time is usually dependent on your location.
If you're still unsure, we recommend buying a door sample as it helps you get a complete look and feel of your new cabinet. Our white cabinet sample doors can be ordered at $25 each with no shipping cost, and you can order from any of our cabinet lines.
Pricing and Shipping
Prices for our cabinets are displayed along with the product description. For those who wish to consult with our experts first, however, a quote will be provided once all design, model, and item details are confirmed. Final costs are dependent on the size, model, and additional accessories you purchase.
Sales tax is charged on items picked up locally or shipped within California. There is no sales tax for other states' customers.
Ground shipping is free for orders of $3,000 or more in the continental United States. Most orders are shipped out within 3 days, but shipping time will vary based on your location. For an estimate of how long it will take to get your order, please refer to our shipping policy.
We're Your One-Stop Shop for All Your Cabinet Needs
Best Online Cabinets is a top choice among those shopping online for quality kitchen cabinets. We've built a satisfied, loyal customer base who trust in our ability to provide top-tier products at competitive prices and great convenience.
You can trust that we have full, in-depth knowledge of our stock - as we maintain full, hands-on control of our inventory. Customers needn't deal with any third-party suppliers. We deal with them directly, taking care of any potential issues, and ensuring all products are in excellent condition.
WHITE KITCHEN CABINETS FAQS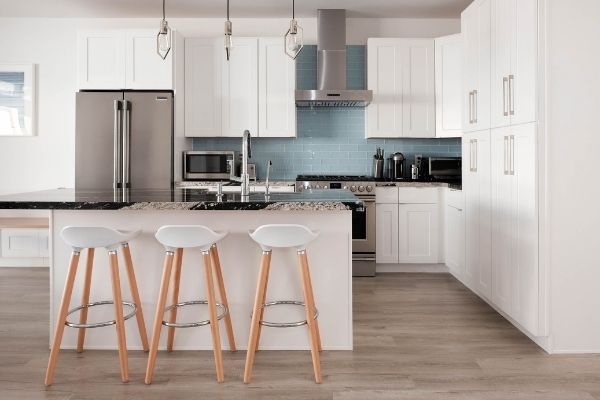 Why Choose White Cabinets For Your Kitchen?
The simple, yet sophisticated style of white cabinets allows for kitchen designs that stand the test of time. They go well with any kitchen layout or style - be it a modern, contemporary, vintage, or eclectic look. Additionally, they serve as a minimalistic backdrop to highlight all your other kitchen décor and accessories.
Being compatible with any style, this makes your kitchen design process much easier. They also reflect light in the room, making your kitchen appear bigger with natural light.
Our catalog of white kitchen cabinets includes styles, models, and finishes to suit most design needs. Choose white gloss for a modern look, or antique designs for a vintage feel.
How Do You Maintain White Kitchen Cabinets?
White cabinets, when left unkept, are often prone to developing yellow tinge over time.
To prevent this, experts recommend investing in draperies or blinds to avoid exposure to direct sunlight. It's also important to have a regular cleaning routine in place to get rid of accumulated grease, muck, and grime.
For further information on maintaining your cabinets, don't hesitate to reach out to our team.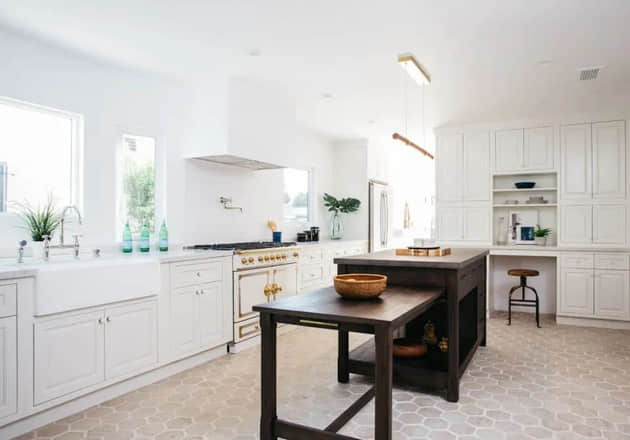 Which white cabinets do I choose?
When it comes to white cabinets, there are many tones and styles. When it comes to shaker cabinets, there are many variants of white to choose from. From typical pure white shaker cabinets, off white, and even antique white kitchen cabinets. With modern cabinets, high gloss and matte options are also available. When it comes to deciding, match what color floor and backsplash you are choosing to find the combination that works best. Pure white is extremely versatile, has the most neutral color and clean lines that can complement most additions.
What color tile goes with white kitchen cabinets?
Continuing off the cabinets, many people prefer to continue this onto their walls. A common preference is a white subway tile backsplash. Choose the tiles that blend in with the walls. The backsplash can be a very nice focal point, but should not be a distraction from the white paint or white cabinets.
What countertops work best with white cabinets?
The typical choices for your work surface are usually granite or quartz countertops. However, there are some that love the aesthetic of light-tone wood countertops that blend very beautifully for those looking for a wood accent piece. A popular choice is to select light gray countertops to add a subtle contrast without standing out too much.
Which hardware should I go with for white kitchen cabinets?
When choosing hardware for your new white cabinets, pay attention to the shape of the handle. White cabinets are versatile and work with all sorts of colors and finishes. Certain cabinet pulls and knobs will have an extended overhand which can easily get caught on clothing. Sleek smooth finishes will have a comfortable grip when opening doors and drawers.
If you are choosing a dark color countertop, one can choose dark cabinet pulls to match the contrasting tone. Hardware that will complement the white cabinets include gold, polished chrome, and nickel handles.
Should I find special or stainless steel appliances for white kitchens?
Stainless steel appliances are the go to option for most kitchens. These are available at all appliance or big box stores. Finding custom color appliances to reduce the amount of visible stainless steel may be very costly and hard to come across. Some appliances can be built-in to reduce how many visible appliances there are. For most people looking to replace their existing appliances, you can't go wrong with stainless steel appliances.