Disadvantages of Inset Cabinets
Since these cabinet doors are set inside the cabinet frame, these cabinets naturally have a smaller opening. Framed traditional cabinets are known to have a smaller opening space than the size of the cabinet due to the frame. Flush inset doors have a much larger frame that overlays over the cabinet box. This means the opening may not fit what one would expect based on the original size. An example would be the frame measuring 1" to 1.5". This would add up to 2" to 3" on all four sides of the cabinet door. This would turn a normal opening sized cabinet door into an opening that may not fit larger plates easily. When selecting inset cabinetry, check to see if your pots, pans, baking trays, and plates will fit the opening of these cabinets.
Another thing to look out for is the expansion of wood material. As the wood expands with changing in temperature, this may cause the wood to rub between the door and the frame when humidity occurs. With inset cabinet doors, the gaps are more noticeable due to the frame surrounding the doors.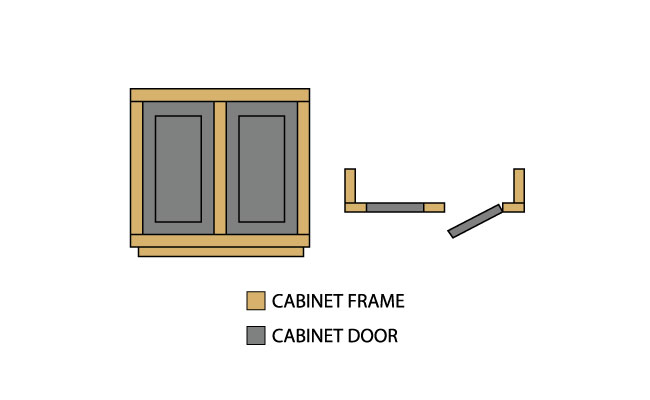 Inset Cabinets Buying Guide
Do you lose space with inset cabinets?
While one doesn't lose space inside the cabinets, the opening is drastically smaller than typical cabinetry. The interior storage space remains the same. However, access is drastically limited. Full overlay and even partial overlay do not have a center stile between double door cabinets. Not only will inset cabinets have a larger frame on the sides of the door, but also in-between double doors. A 24" cabinet will thus lose ~9" for a cabinet opening.
Are inset kitchen cabinets just another trend?
Inset cabinets are increasing in demand due to their clean, sleek look. Unlike traditional face-frame cabinets, these cabinets sit flush with the door, creating a seamless appearance. Inset cabinet doors are also more durable and easier to keep clean, as there is no lip for dirt and dust to collect on. As a result, this style is an excellent choice for anyone looking for high-quality, stylish cabinets that will last for years to come.
Why are inset cabinets so popular?
Despite being traditional style cabinetry, they are becoming increasingly popular in modern homes due to their clean, sleek look. European cabinetry does not always focus on gloss finishes. Some homeowners may prefer a matte or smooth finish to match their home. This trend is increasing to have a distinct kitchen. We've seen trends to break away from the typical cabinets from apron sinks to less stainless steel appliances.
Why choose inset kitchen cabinets that are Ready-to-assemble?
Inset cabinets are not a typical cabinet you will find in big box stores. Rather they are crafted by a cabinet maker. Inset cabinetry is much more costly compared to traditional RTA cabinets. This is because the technical aspect to create the cabinet must be precise. The gap between the door and the frame is kept minimal and needs to be cut precisely. This craftsmanship done for custom cabinetry is traditionally kept as a luxury. Cabinet makers need to be precise with their cuts to perfectly align the door inside the frame.
So why would someone want RTA inset cabinets over RTA traditional shaker cabinets? There are two reasons: the price and the design. Since most inset cabinets are custom made, they are more than twice as expensive as ready-to assemble cabinets. Having RTA inset cabinets reduces the price tag drastically. The other is the look. Not everyone wants to see a full overlay door on their cabinets. Full overlay cabinets may have a gap in between the doors that some homeowners may not desire. They may not care about the exact storage space, but the visual aspect of the kitchen. They want their cabinets to resemble the cover of a magazine or what you see on social media platforms.
What variants of inset cabinets are there?
Inset cabinets are traditional cabinets with the flush aesthetic of a modern design. However, the doors of these cabinets can vary from one another. There are two popular options with inset door variations.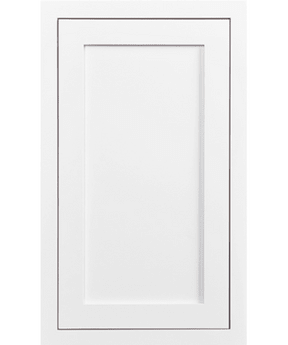 Shaker Inset Kitchen Cabinets
The most common are shaker doors. Shaker cabinets have a square inlay that adds a sleek design compared to flat panel doors. These are commonly assembled with a 5-piece construction to reduce warping during changes in weather.
Raised Door Inset Kitchen Cabinets
The second variant is raised cabinet inset doors. Just like the inset, these cabinets have flush frames and doors. The big difference is the door is not a shaker, but a raised panel. The raised panel adds a different dimension to the door.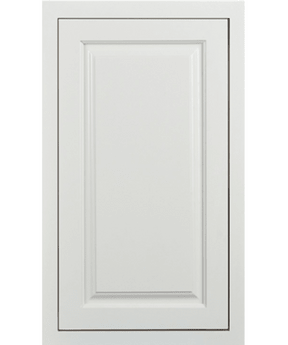 Inset Cabinet Door Construction
Many customers are picky about the cabinet joint on the cabinet door. Our inset cabinetry features doors that are made with five-piece construction. The cabinet components that make up the door are interlocked to not show any visible spacing between the joints.
Do you have Beaded Inset construction?
Beaded inset construction is a recessed lip around the frame. The bead details are used to accent drawers and door fronts. At Best Online Cabinets, our inset frames are planned to have that clean high-end finish. This keeps the lines very simple and minimal.
Do Inset Cabinet Doors Need Handles?
Unlike overlay doors, opening an inset cabinet door without a handle will seem impossible. With all versions of inset cabinets, these will always need to have handles or hardware. Handle-less cabinets will have a groove at the edge of the cabinet door that allows one to open the door without individual cabinet handles. Since the edges of the inset are cut to fit exactly in the cabinet frame, these cannot have a sleek bar handle seen on European cabinets or even a handle-less option.
Are inset cabinets more expensive?
Inset cabinets have a good reputation as they look smooth, but they are costly. These prices cost around 18-30% more than door overlays. There are many other factors that should not be overlooked when looking at these doors. The price of these high-end cabinets rivals the cost of having semi-custom cabinets. The biggest difference is the flush inset doors, the minimal spacing from the frame to the doors and drawers, and the fine craftsmanship that is put into creating a masterpiece.
What is the difference between inset and frameless cabinets?
Frameless cabinets will typically have larger gaps in between the doors and drawers, which is a noticeable difference for homeowners looking for a kitchen remodel. A standard cabinet will have hinges attached to the frame. Frameless will attach to the cabinet box, resulting in the door requiring space to open fully giving homeowners more storage options. There is more room for larger cookware, pots, pans, and countertop appliances to fit more easily. An inset cabinet door trades the cabinet opening for having minimal spacing resulting in an elegant seamless design.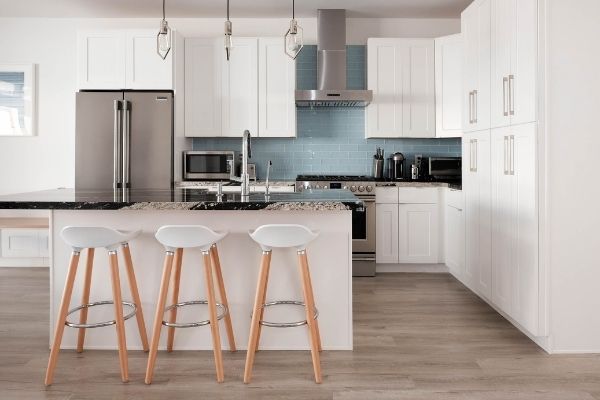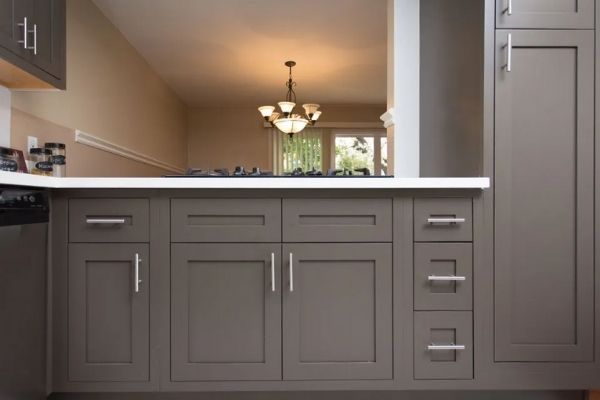 What is the difference between inset and overlay cabinets?
Inset cabinets have doors that are integrated into the cabinet frame, sitting flush with the cabinet box. Overlay cabinet doors cover the cabinet box opening and sit outside the frame. Similar to frameless doors, overlay doors will leave a gap to enable the doors to open. Partial overlay doors have face frame compared to frameless cabinets, but have the visible space between doors and drawers. Even though some over cabinets have only minimal spacing, certain homeowners either want a seamless design or want to see the visible face frame compared to overlay cabinets.
Are RTA inset kitchen cabinets for you?
Inset kitchen cabinets are a popular choice for many homeowners because they offer a clean, traditional look. While they may be more expensive than other types of cabinets, their quality construction and timeless style can make them a worthy investment. Inset cabinets are constructed with the door and drawer fronts flush with the frame, creating a smooth, uninterrupted surface. This type of construction also makes it easy to clean and maintain, as there are no nooks or crannies for dirt and dust to accumulate. This is a level of detail in an RTA cabinet that evokes fine craftsmanship. If you're considering inset cabinets for your kitchen, be sure to work with a reputable dealer who can help you choose the right style and finish for your space. With proper care, your inset kitchen cabinets will provide years of beauty and function.