Shaker style cabinets are a stunning, versatile, and timeless addition to any style of home; it's no wonder they're America's most popular kitchen design choice.
Here at Best Online Cabinets, we manufacture an extensive range of shaker cabinets and doors. If you're looking for a timeless, clean look, we've got a variety of beautiful designs that will suit your home and budget.
WHAT ARE SHAKER KITCHEN CABINETS?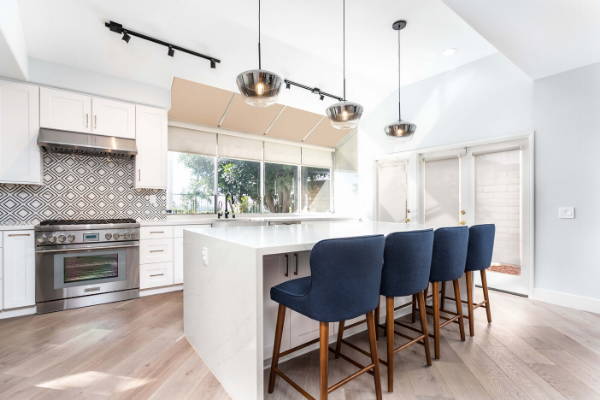 Shaker style cabinets, doors, and drawer fronts are an attractive kitchen design that combines a flat center panel and square edges with minimal detailing or profiling. This orientation creates a recessed center panel, giving a flat cabinet door more dimension. Generally, shaker kitchen cabinet doors are symmetrical - and they're usually a simple look, avoiding any carving or ornamentation. White shaker cabinets are some of the most popular - but it's not uncommon to see stained wood and a wide variety of painted colors too.
Shaker cabinetry is attractive and functional - and it's this clean simplicity of shaker construction that's allowed these designs to fit so well with different fashions through the years. From the art-deco inspired designs of the '30s right through to today's most contemporary high-design kitchens of today, shaker always looks fresh and up-to-date.
Are Shaker Cabinets in style?
Shaker kitchen cabinets are referred to as timeless. With white shaker, this color and design works in a wide variety of homes. From traditional to even modern construction homes, shaker cabinets are easily incorporated. Since white is a neutral color, it blends with both light and dark tones for paint, countertop, and flooring.
Are Shaker Style Cabinets Good Quality?
Shaker cabinets are really just a design style - and like most designs, there will be high and low-quality products available that look similar at first glance. Here at Best Online Cabinets, build-quality and style go hand-in-hand. We carefully select every material we use in the construction of our shaker cabinets - and you'll never find cheap particle-board used in anything we create. Instead, only A-grade plywood, solid wood, or high-quality medium and high-density fiber materials are used - the very same materials you'll find used by the best cabinet makers.
DO SHAKER CABINETS HAVE ANY PROBLEMS?
Shaker cabinets might be a simple look - but they're a notorious difficult design to master. As a result, you might hear people talk about issues they've had with the finish quality or the construction of their doors. Obviously, this isn't ideal - especially since the door is the most prominent part of your kitchen.
Why do problems occur with shaker kitchen cabinets?
Most of the issues with shaker cabinets happen because of the nature of the wood that's used to create the doors and the construction method. Different types of wood have different resistances to weather.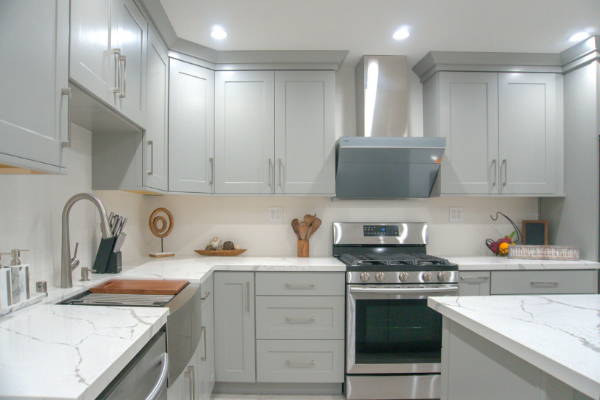 Five-Piece VS Single-Piece Construction Shaker Doors
Generally, a five-piece construction method will be used to create a shaker door; one recessed center panel that's surrounded by a frame made of four separate panels. While this is a sturdy method - it doesn't account for inherent defects or weaknesses in the wood.
Wood must be 'stabilized' to prevent expansion or contraction - as well as dealing with any tiny cracks or imperfections. If a lower-quality of wood is used or the stabilization process isn't carried out to the very best standard, the wood may crack, and the joints (or 'seams') between the panels can become obvious and unsightly - especially when the door is painted.
Shaker Cabinet Wood Variants
Not all cabinets use the same type of wood for the shaker kitchen doors and drawer fronts. These materials will vary based on the type of construction. Shakers have commonly used hardwood for the doors such as maple, birch, maple, cherry, and even rubberwood.
To get around this, some manufacturers use different types of wood to create the different panels. The trouble is, this can also lead to mismatched colors on the center panel and its surrounding frame - again, not ideal.
Shaker Door Damages
The most common damages that are found with shaker doors is paint chipping. As most of these doors are created with the 5- piece construction, painting over the lines can result to the paint chipping when the door warps with temperature. This will result in visible cracks of paint where the outer frame pieces join together.
What can we do to prevent these problems with our shaker kitchen cabinets?
At Best Online Cabinets, we've dedicated a lot of research and development time to make sure the shaker cabinets we manufacture keep their perfect finish.
This effort begins by carefully considering how each individual shaker cabinet design will be made - we never use a 'one-size-fits-all' approach.
Our unique approach means that some of our doors are made from a single slab of rubberwood. In other cases, we've found that certain designs benefit from the use of medium/high-density fiberboard in their construction. Whichever construction method we've opted for - we've done so to make sure that you get beautiful, strong cabinets that will stay looking good for the lifetime of your kitchen.
*Our shaker style cabinets that are using one-piece slab door technology: Malibu White Shaker Cabinets, Malibu Grey Shaker Cabinets, Jersey White Shaker Cabinets.
Shaker Kitchen FAQ
WHAT HAPPENS IF YOU HAVE A PROBLEM WITH ONE OF OUR SHAKER KITCHEN CABINETS?
Now we've talked about the great lengths we go to to ensure every shaker style cabinet we produce meets the strictest quality standards, you might think there's nothing that could possibly go wrong - but in truth, this isn't always the case.
Wood is a natural product - and as such, our shaker cabinets can very occasionally be less-than-perfect, no matter how hard we try. Rarely, larger solid wood cabinet doors can warp slightly, leaving them closing awkwardly or appearing to be out-of-line.
Because of this, we back our shaker kitchen cabinets up with customer support promise. If you find that one of your solid wood cabinet doors warps or develops an imperfection over time, we'll replace it, completely free of charge.
WHAT WILL SHAKER STYLE KITCHEN CABINETS LOOK LIKE IN YOUR HOME?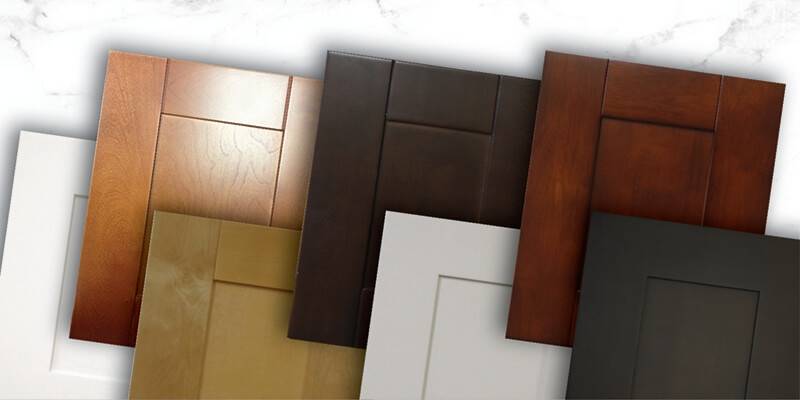 You know you can be confident that our shaker style kitchen cabinets are made to the highest-standard and backed-up with a customer service promise - but you're perhaps wondering what our shaker kitchen cabinets will look like in your home. Would a natural wood design or a white shaker style look good in your home? Would solid wood door be a better option for a shaker cabinet? Perhaps you'd like to try different layouts?
To help you decide, we've got a free kitchen design service; our professional kitchen specialists will show you exactly how our shaker kitchen cabinets could suit your space.
---
Ready to order our shaker cabinet sample doors for in-home comparison? Click HERE to order Sample!
How to clean Shaker Cabinets?
Shaker cabinets have the square edge that can attract dust inside the recessed center panel. This can be easily cleaned with a quick swipe using a dust cloth. People will usually worry about white shaker cabinets getting dirty the easiest. You can clean the cabinet doors and drawer fronts with a damp cloth.
Are Shaker Cabinets Modern?
Due to the versatility of shaker style cabinets, they can be used in both traditional homes and modern homes. White, gray, and black shaker cabinets can all blend with a contrasting color countertop and hardwood floor to create a clean sleek kitchen for a modern home.
Are Shaker Cabinets Expensive?
Typically shaker style kitchen cabinets are one of the least expensive doors options for your remodel. The material and construction may vary the price options. When comparing other styles and colors, many options of shaker cabinets will be priced lower.
HOW DOES OUR SHAKER CABINET KITCHEN DESIGN SERVICE WORK?
If you're ready to see what shaker style cabinets would look like in your home, our free professional kitchen design service means we can produce a set of stunning 3D images that will bring your new shaker kitchen to life.
We'll start by explaining exactly how you can measure your kitchen space. With these measurements and a little more information from you, we'll put together a layout, item list, and price quote - and of course, you'll be able to see what your shaker style cabinets will look like.
If you love the way your shaker style kitchen looks, your itemized list will make it quick and easy to add everything to your shopping cart - taking you another step closer to having your dream kitchen!
PROFESSIONAL DISCOUNTS ON SHAKER CABINETS
Are you a professional contractor looking for shaker kitchen cabinets for a customer?
We understand that it's important to be able to manage your customers' expectations - but we know that some suppliers of kitchen cabinets don't do a very good job of communicating with you through the design, order, and shipping process.
Don't worry - at Best Online Cabinets, great service is a priority. We manufacture our shaker kitchen cabinets, so our support team will keep you informed throughout the process. In turn, you can make sure you meet your customers' expectations at every step.
---
Take advantage of our 5-star customer service and support. Sign up for your professional discount here.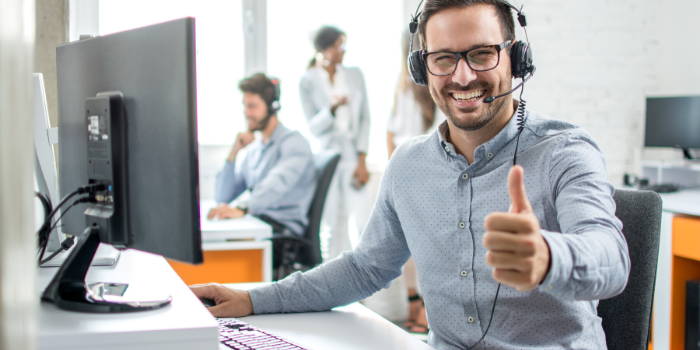 READY TO ORDER YOUR KITCHEN CABINETS?
Have you received your itemized list and 3D renderings of your shaker style kitchen? If so, you're more than welcome to get in touch with our customer support team to make sure your shopping cart is loaded with the correct items!
When you get in touch with the Best Online Cabinets team, we'll make sure everything's checked off your list and all your discounts are applied - so you can make your secure payment knowing your kitchen will be perfect when it arrives with you!
Whether you're ready to talk to our design team or just have a few more questions about shaker kitchens, you're welcome to call our friendly and helpful team at 626-614-8975.
*The doors are made from HDF for Jersey White Shaker and Lunar White Shaker Cabinets
**The doors are made from solid wood for Malibu White Shaker Cabinets