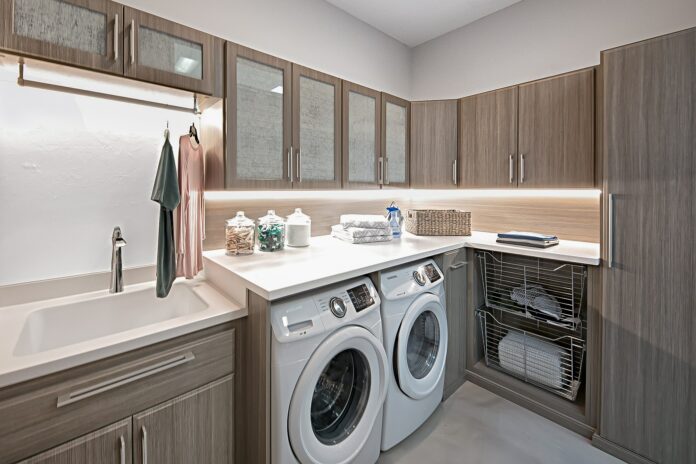 A laundry room is not the first target for most people to remodel, as this space is limited for many people. People looking to remodel their laundry area may be looking for more than just a space for their washing machine and dryer. They want cabinetry that can incorporate the appliances in the space and add storage options for that room. Some do not want laundry detergent and even cleaning supplies visibly lying around . Having additional storage means kitchens can be designed to focus on cooking. Where does one begin with the laundry room?
Laundry Room Appliances
The laundry room will commonly only have the two major appliances, the washing machine and the dryer. These appliance dimensions will change based on whether they are top load or front load.
Top load washer and dryer machines are generally 27" wide, 42-44" tall, and 27-28" deep. With the lid open vertically, the machine measures 52-58" tall.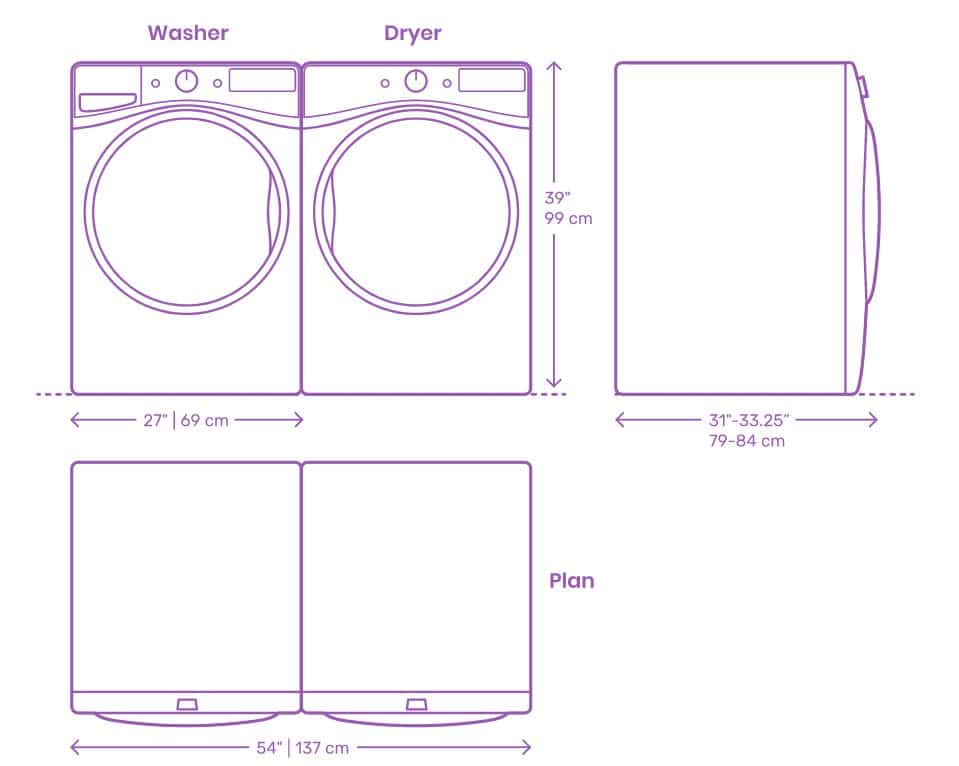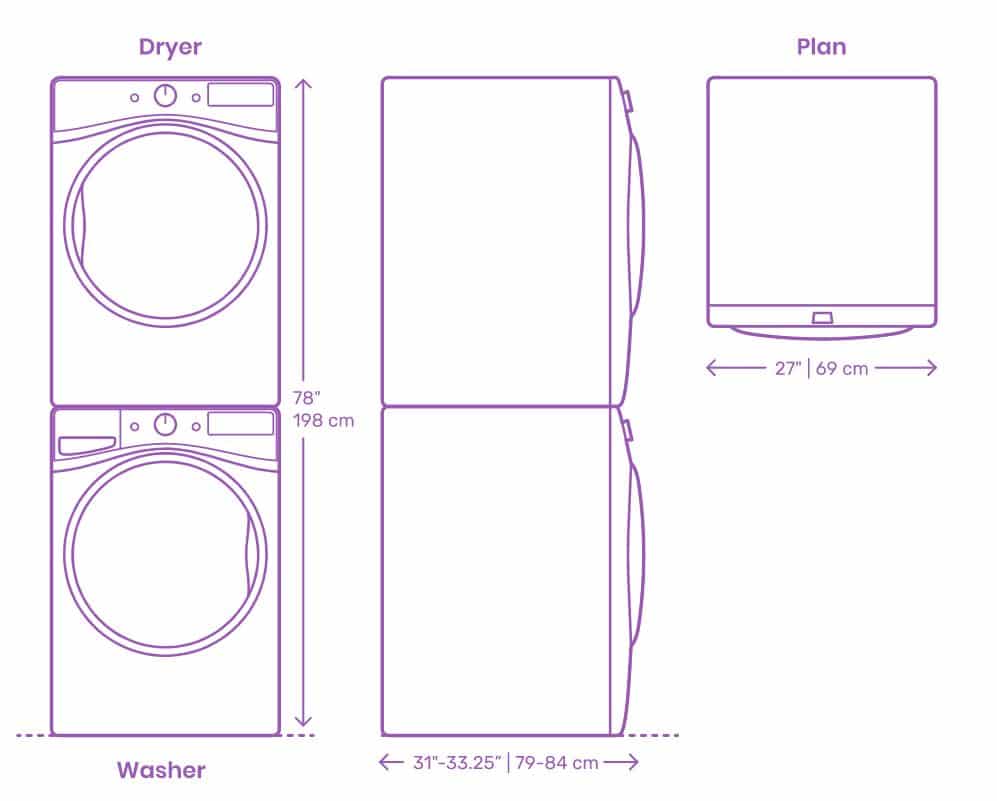 Front load washer and dryer machines measure 27" wide, 38-39" tall, and 27-28" deep. These machines can be stackable, measuring 27" wide,78" tall, and 32-34" deep.
Stacked washing machines come together as a combined unit. These stacked machines measure 27" wide, 75" tall, and 32-34" deep.
These two appliances have seen many options and setups in homes. The traditional option of these options are topload, where the appliance doors open at the top like a car hood. Having top load appliances means that this version of the appliances cannot have anything covering the appliances above.
Front load washing machines and dryers are recommended for homeowners looking for a built-in esthetic.
Stacked washer and dryer combinations is a single machine that has both appliances built together. Unlike the separate top load variants, This unit can have a built-in cabinet aesthetic.
Layout
Like kitchen layouts, laundry rooms have a common layout. As most laundry rooms are not vast, the layout of a laundry room will typically only be a single wall of a few cabinets. Luxury sized homes may be able to fit in a galley or L-shaped layout of cabinets, but most people will need room in front of the washer and dryer to access these appliances. A galley style may not be as common as the walkway space between may be too tight for the appliances to fit in. A laundromat is large enough for these appliances to fit on both sides, but they account for the need walking space for the general public. Although one may consider the laundry room a full remodel, they shouldn't try to fit in as much as possible.
Common Add-ons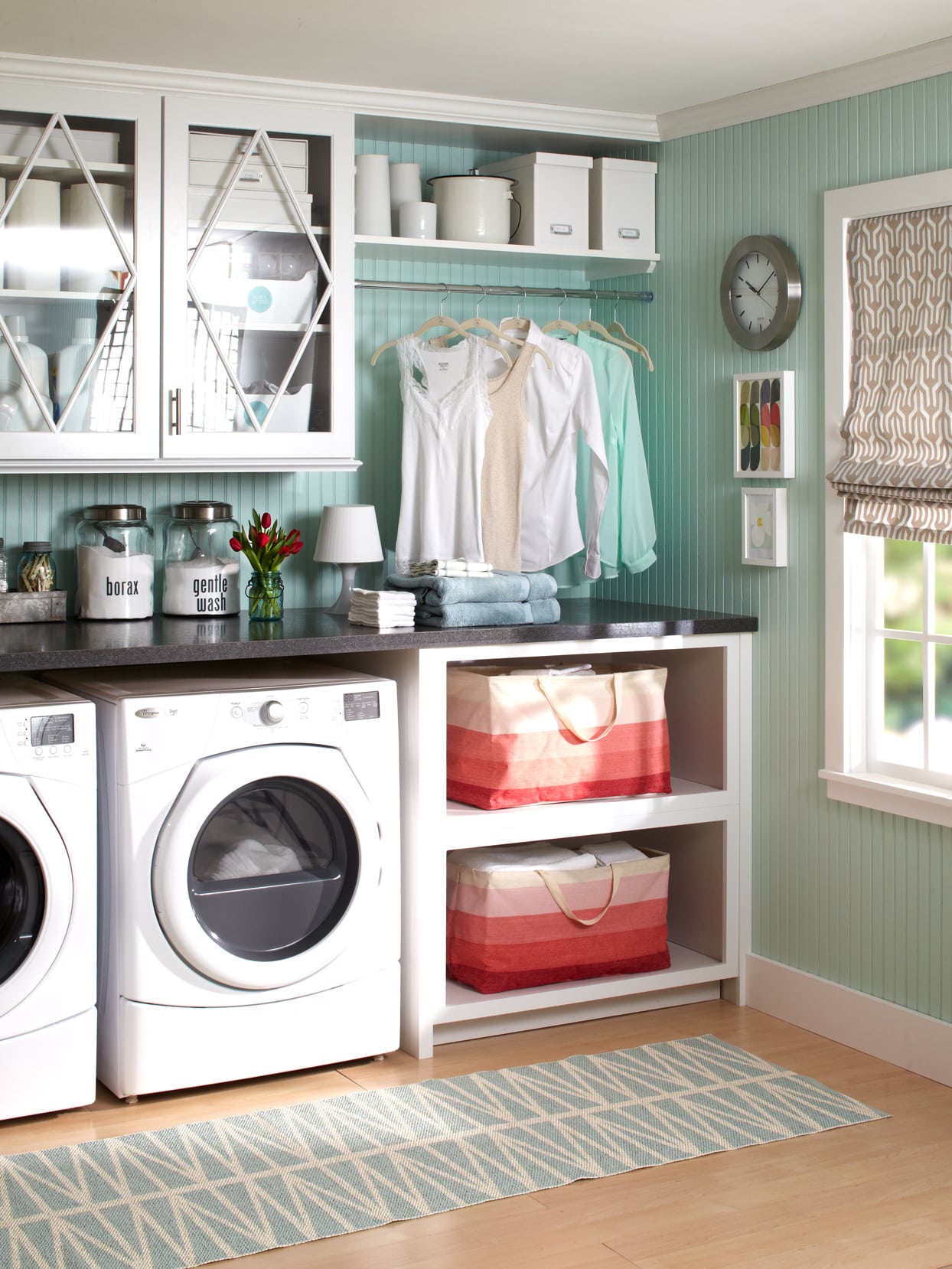 The 3 incorporations that customers want to add into their laundry room are a sink, flat work space, and a closet rod. To add a sink, one will need to plan ahead with their contractor to add a water line. This may require a lot of added work and planning to move water lines and piping from the kitchen. Depending on how often one intends to use the laundry room sink, one may just choose a bar sink. Those looking to match everything in the laundry room to the kitchen may prefer a full kitchen sink or an apron sink. The main difference will be the space one has. A bar sink will only need 30" space while a full kitchen sink requires a 36" sink base.
On the other hand, adding a flat work space and a closet rod can easily be done during the cabinet design phase. Depending on how one chooses to position the washer and dryer, the workspace can be incorporated on top of the machines or on top of base cabinets. This workspace allows one to fold laundry without having to go to another room like the kitchen. A closet rod can allow one to hang dry some clothes that cannot be put in the dryer. The closet rod is installed either between wall cabinets or against the side wall. Most local hardware stores like Home Depot will have many options and colors to choose from.
Cabinets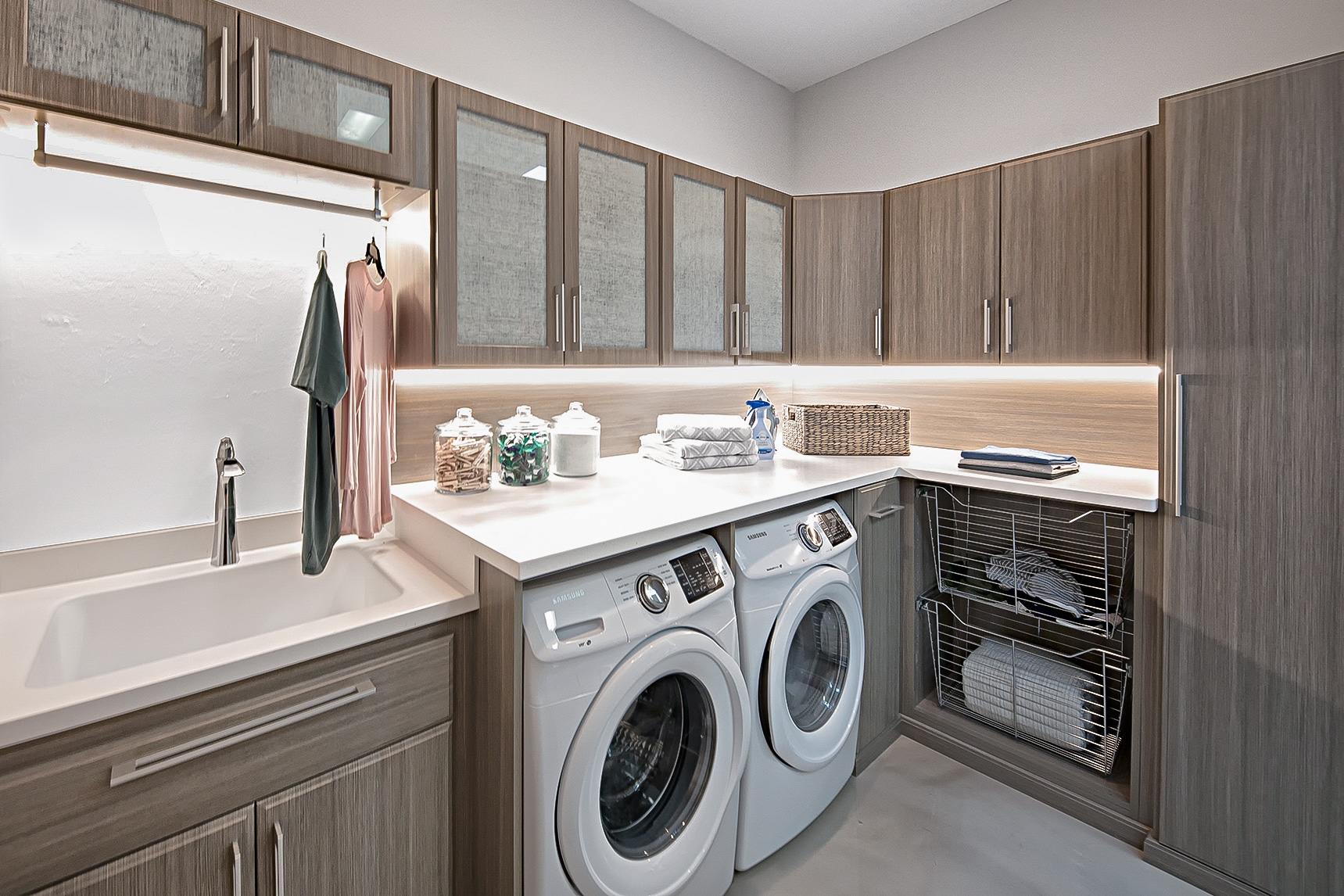 Most people who remodel their laundry room cabinets will try and match their kitchen. The two rooms are typically close by in distance. Based on a popularity contest, that would make white shaker kitchen cabinets the winner. Common colors for the laundry room cabinets are white and gray. The washer and dryer are commonly in the same colors as traditional kitchen appliances. There are no panel ready washers and dryers in comparison to some refrigerators and dishwashers. We have seen a small interest with unique colors for stove ranges and refrigerators, but this niche interest is a small trend compared to the whole wanting a custom appliance. Thus, most people choosing to remodel the laundry room will choose matching cabinets in white or gray. This does not mean it is not possible. If one has blue modern cabinets in their kitchen, they may go that route to choose that same style for their matching laundry room.
So which cabinets are the best options for the laundry room? Traditional base cabinets and wall cabinets are the cabinets for storage. Base cabinets will have countertop covering the surface acting as the flat workspace. Being able to incorporate a corner cabinet into an L-shape layout means blind corner cabinets or Lazy Susan cabinets are available. Corner cabinets are more difficult to incorporate in this space because they require 36" on both walls to turn the corner. Those who have a lot of extra space in the laundry room can add or incorporate a pantry cabinet. This adds a lot of internal storage, but typically not needed there.
Enclosing appliances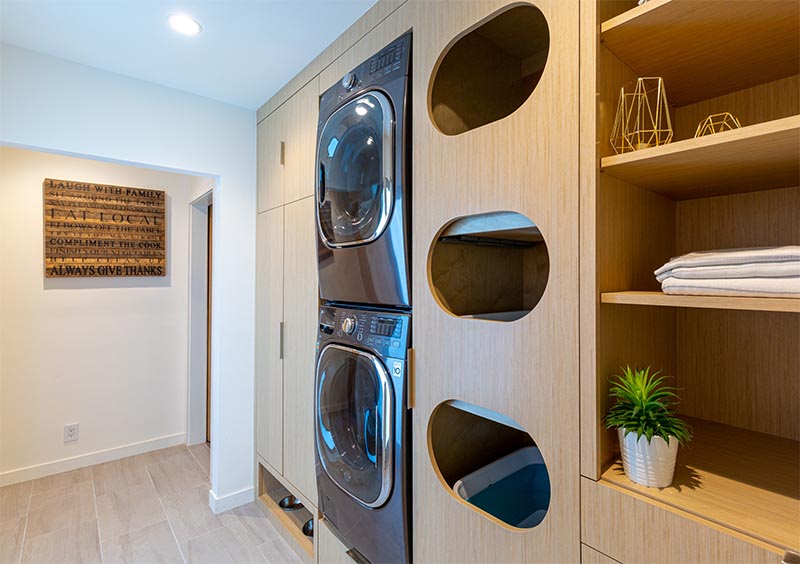 To enclose the washer and dryer, one will use a refrigerator panel. Depending on the orientation of the appliances, the panel will stay 8' tall or cut down to 42" to match the height of the machines. A top pantry cabinet can then be installed at the top to allow for additional storage that is not constantly accessed. This combination of the top cabinet and the refrigerator panels encloses the sides of the machines and enables a built-in unit with the cabinets. Having the separate front load appliances can let one install a countertop covering the machines. In most cases, a single slab of countertop is all that one needs for this room.
Depending on the washer dryer machines, different cabinets can be used to create the complete look. Washer and dryer combinations that are top load will not be built-in. This means the front load appliances will be able to be incorporated with the cabinets. Having top load means only cabinets on the side or simply wall cabinets.
backend