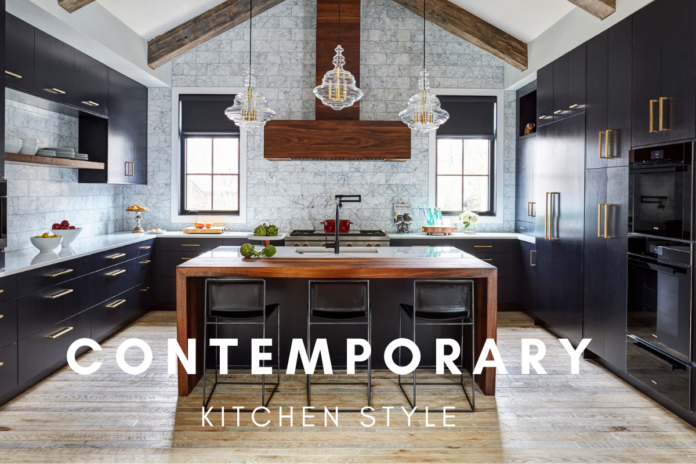 Contemporary kitchens are in high demand by homeowners because they reflect the current trend. They are eco-friendly, technologically advanced, and have a clean style. Contemporary kitchens mix modern design with minimalism with flat-front cabinetry, sleek fixtures, and wood accents. With homeowners spending more time at home more than ever, these kitchens are great for both everyday life and entertaining.
What is a Contemporary Kitchen?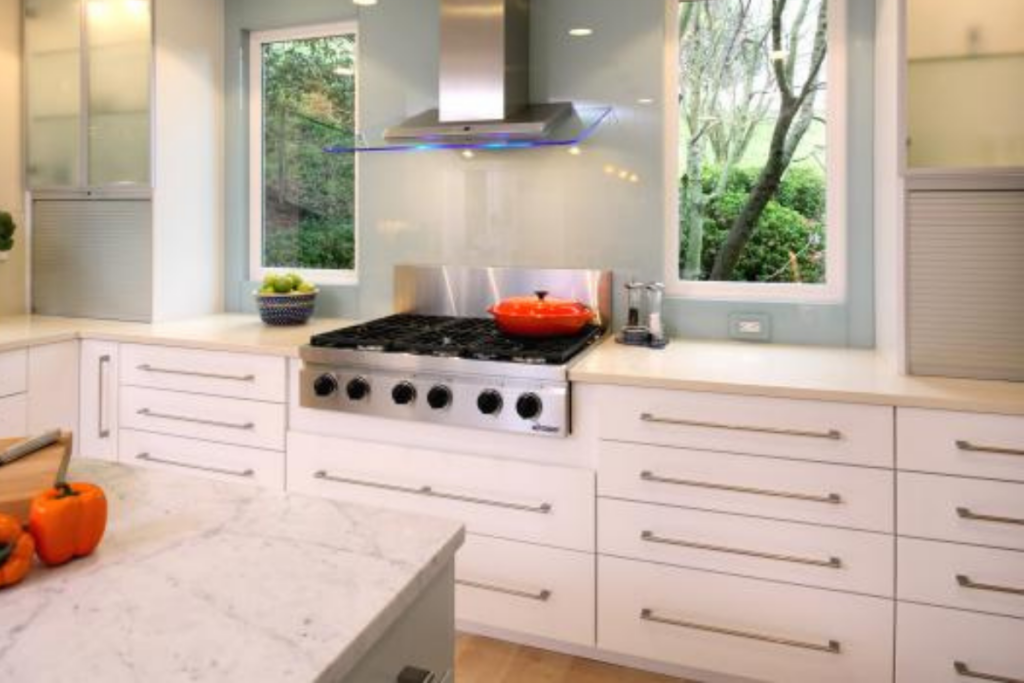 Contemporary design follows the trends and incorporates modern architecture as well. This style of architecture started in the 1970's and has evolved over time. The kitchen is often open to other rooms in the house, such as the living and dining room. Large windows allow a large amount of natural light into the space. A contemporary home can borrow aspects from a variety of styles which can make it hard to pinpoint, however, a minimalistic approach is common.
Pamela Durkin, owner of Pamela Durkin Designs states that minimalism is the key, "A contemporary home has a less is more approach. Each piece or element has a reason for being there; it's not just to fill space…There is more focus on them, and they need to stand out to be interesting on their own merits." This carries to the kitchen as well, which looks more spacious because there are no distractions from the room.
Clean and Sleek Design
While the contemporary kitchen borrows streamlined surfaces from the modern design movement, it is often cozier and more livable than the modern kitchen. Contemporary is not a design movement, but rather a term that describes 'in the now'. Clean lines and simple design are the underlying themes of the contemporary kitchen.
Contemporary style uses glass, smooth finishes and light woods within the space. Natural materials like stone are also used. Containers are used to store gadgets or other small kitchen appliances so that there is no visible clutter.
Contemporary design includes horizontal lines in the layout of the cabinets and counters, the flooring, and the backsplash. Some contemporary kitchens use geometric forms to create interest. Angles, curves, squares, diamonds, globes, and rectangles are accents that can be used in furniture, wall décor, windows, counters, and lighting.
Elements of a Contemporary Kitchen
Homeowners that are drawn to a contemporary kitchen should incorporate the following into their plans:
Cabinets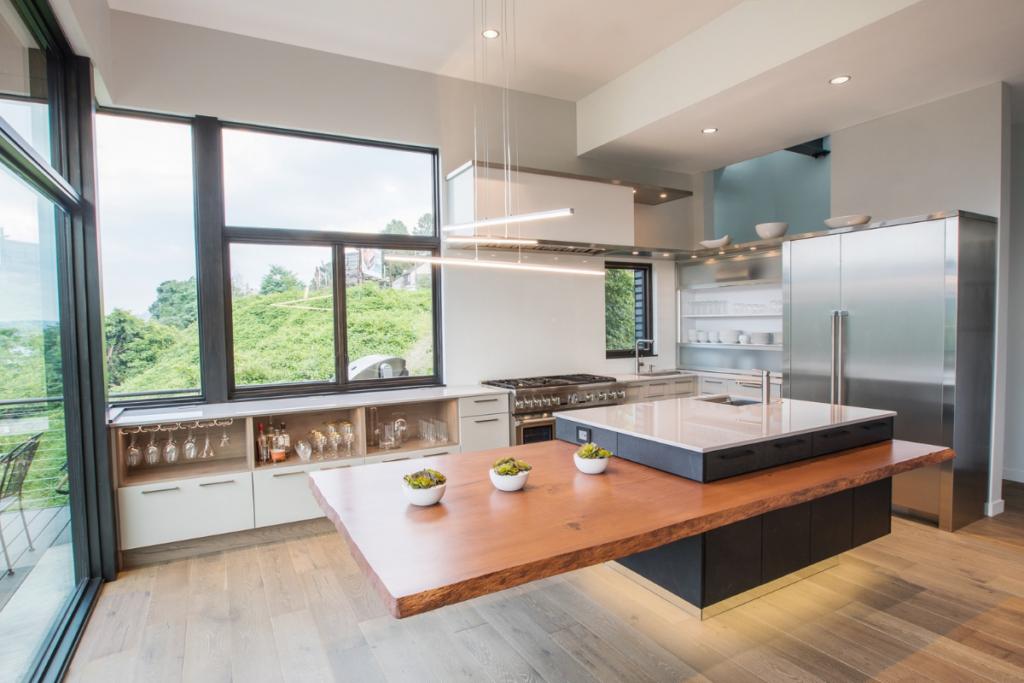 In general, contemporary cabinets have a sleek, more angular design that have little ornamentation. They are functional and streamlined. There are two types of cabinet doors that are typically used in contemporary kitchens—Shaker and flat-front. Both have simple lines. Shaker cabinets have five pieces of flat panels that create a frame.  The type of wood that is used for Shaker cabinets in contemporary kitchens is maple, hickory, or oak.
Flat-front doors, also dubbed slab doors, are solid without any framing and are another option for this kitchen style. They are made from a single piece of wood which is either painted or covered with wood veneer.  The minimalist look of these cabinets works well with contemporary design. 
Contrasting cabinet colors with countertops, backsplashes and flooring make for an interesting kitchen. Opposites are often used in the contemporary kitchen, for example, gray wall cabinets and white base cabinets.
Hardware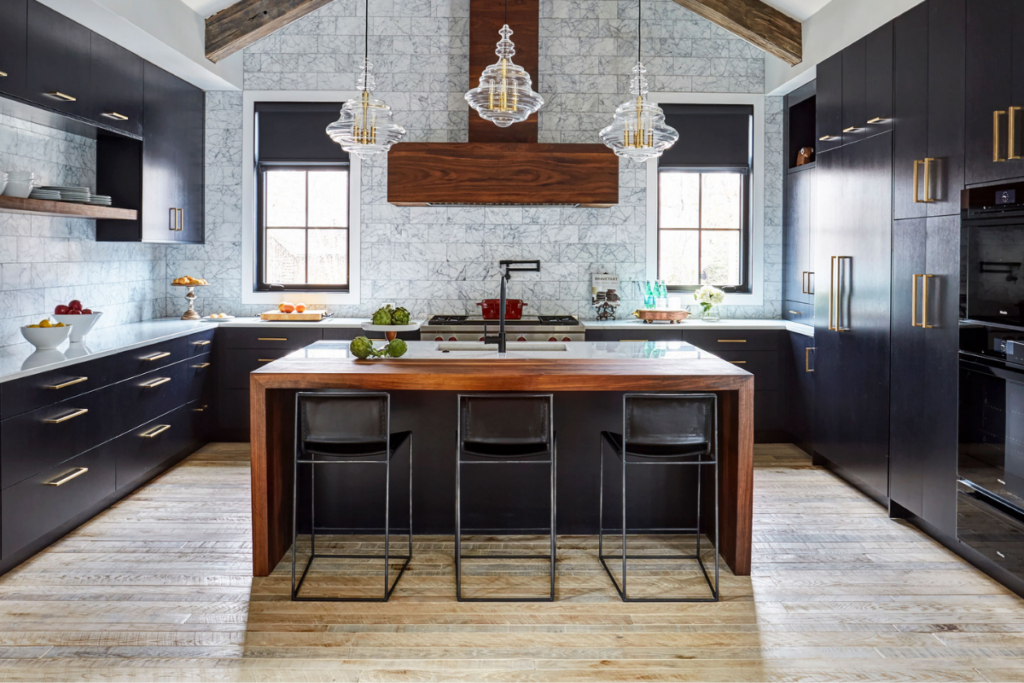 Long brass handles are popular in different types of kitchens, including contemporary, because they work well with varying styles and color schemes. Homeowners that are looking for a little more pizazz might consider brass V-shaped pulls.
While dark kitchen hardware is not new, a flat or matte black finish is new for 2021. This finish gives a dramatic look when paired with white or light cabinets.
For the flat-panel cabinets where the wood or finish itself makes a statement. Subtle hardware picks that do not take away from the cabinet style are a great complement.
Color Palette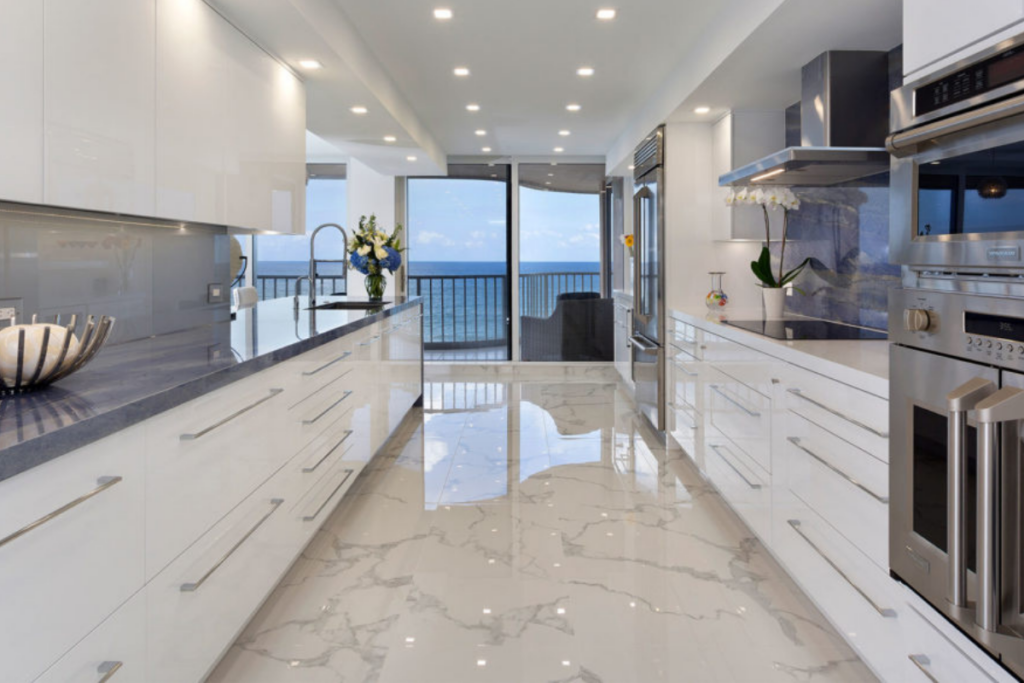 A contemporary kitchen uses neutral colors and fabrics but adds in bold color accents or accessories. The bold color should complement the neutral colors. Typical colors include white, beige, black, and gray. About sixty percent of the contemporary kitchen should be one of these dominant colors, 30 percent a secondary color and only 10 percent a complimentary accent color.
The walls of the kitchen are often unadorned so they do not clutter the room. Clutter in the form of patterns and textures is also kept to a minimum. All-white kitchens are often chosen by homeowners and go well with different materials such as wood, granite, or tile, and any other accent colors. For smaller kitchens, choosing a white palette with beige details helps the space feel larger. Bold accent colors are only used in small doses.
Furniture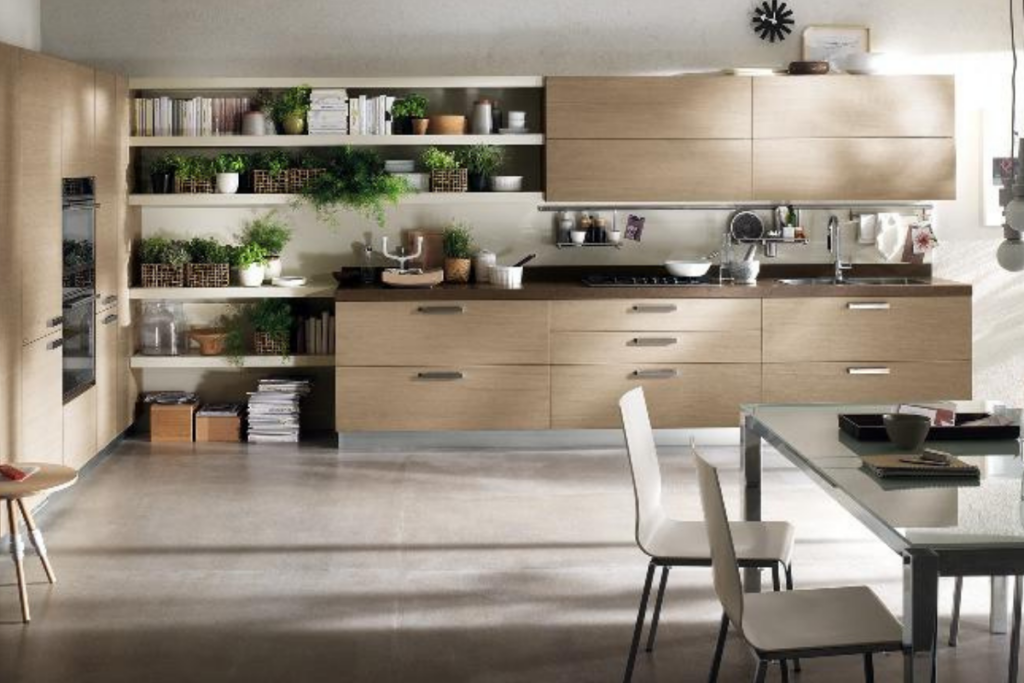 If the kitchen has an eat-in area, the furniture has clean lines, but with soft, rounded edges to match the rest of the house. Patterns are often not used in the fabric, but rather neutral linens or cottons that can be textured. Sometimes the furniture is a combination of shapes.
Stools at the kitchen island are sleek and uncomplicated. They can be made of metal and fabric. A stool with a X-Back or bent wood mixes well with any other furniture that might be in the kitchen, such as an eat-in area.
Countertops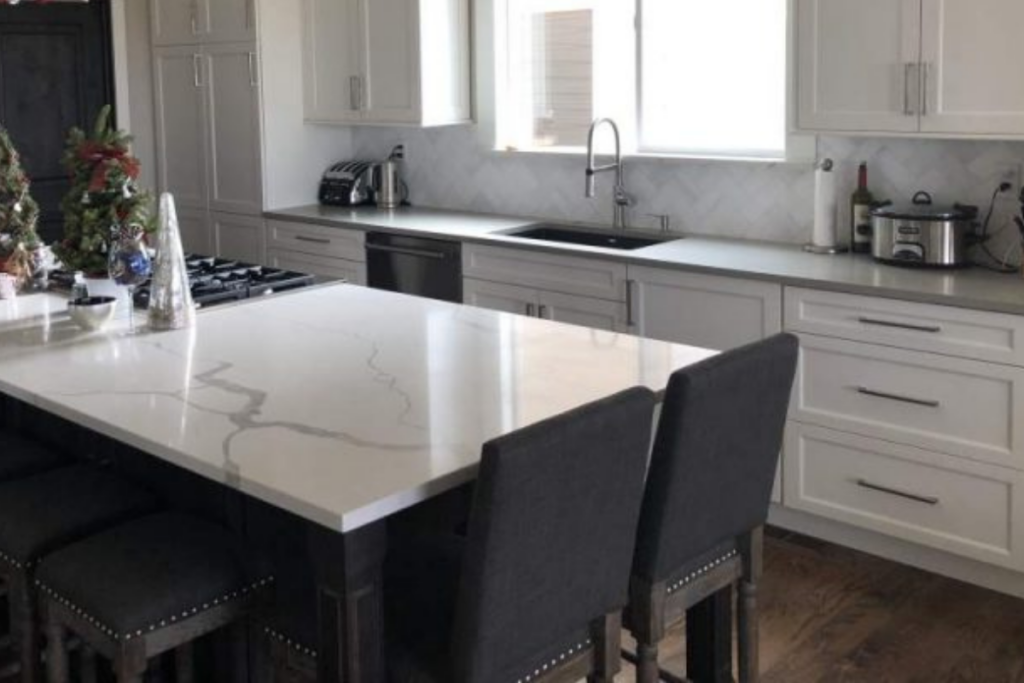 Countertops are also streamlined and are often made of granite or quartz. Granite is often chosen because it is low maintenance but looks luxury. Quartz is non-porous, unlike granite, so it does not need to be resealed. More homeowners are gravitating toward quartz in this type of kitchen because of its clean look. Both granite and quartz come in a large variety of colors and patterns to match any color scheme. For an upscale contemporary kitchen, lava stone can be installed for a super-smooth, glossy addition.
Flooring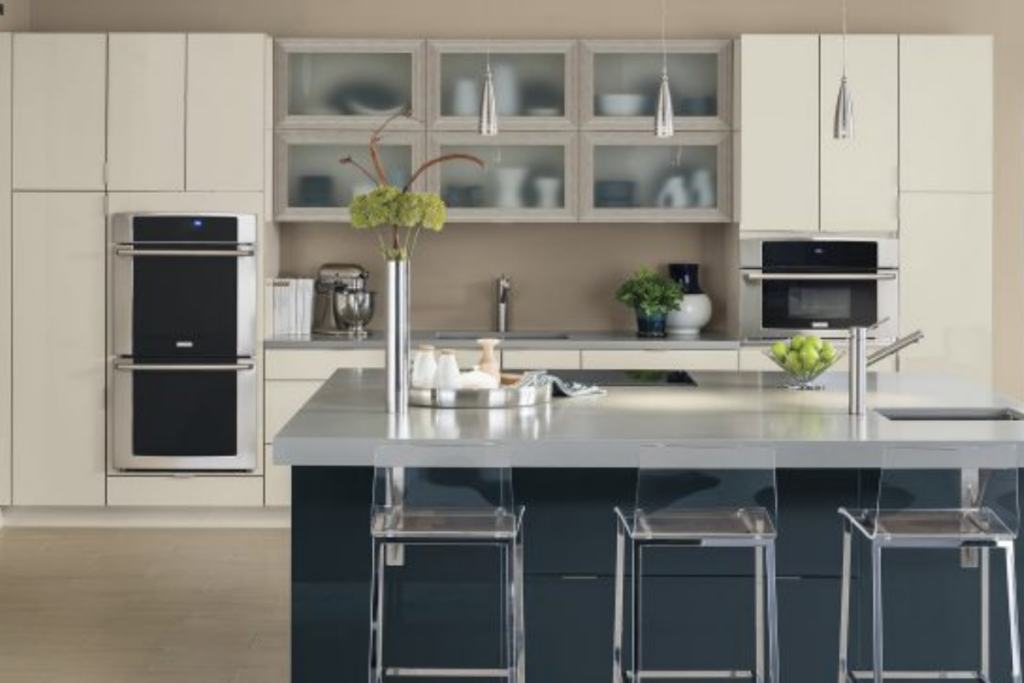 Flooring in a contemporary kitchen uses light wood. For example, birch or maple woods are good options. Engineered wood with a plywood core is a way to use wood economically and sustainably. Currently, oak and ash are the on-trend finishes.
Another option is porcelain tiles that look like wood. The new porcelain is so convincing that they look real. For homeowners that prefer tile, but want the look of wood, this is a perfect match. Plus, the tiles are easier to maintain in a kitchen than wood. Vinyl flooring is a less expensive option, and it is waterproof, which is great for families with young children.
Appliances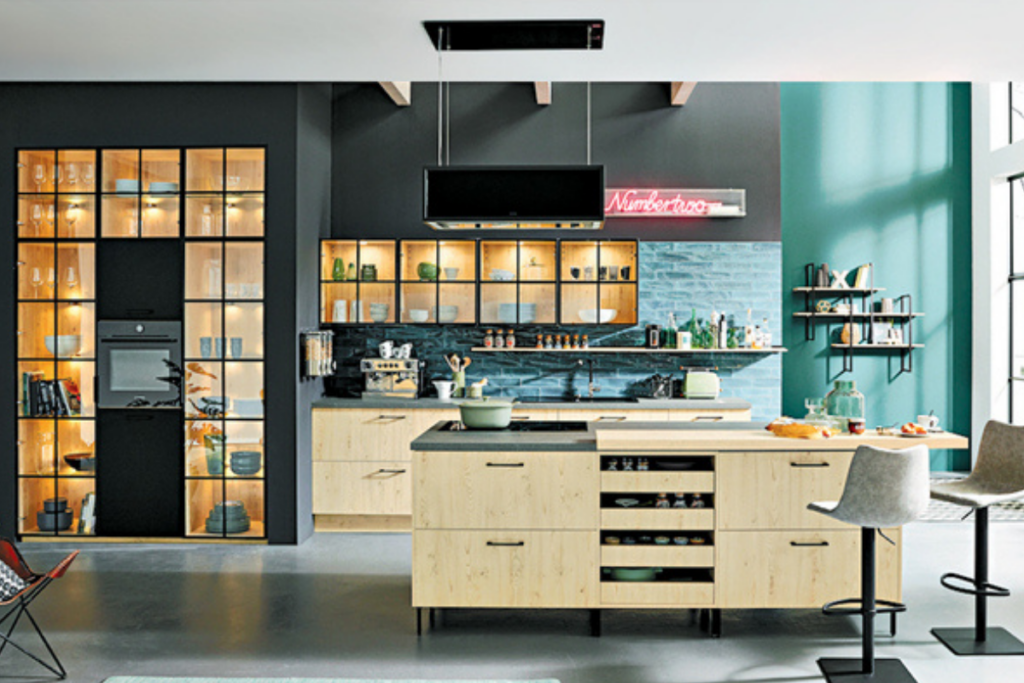 Contemporary kitchens boast the latest and greatest appliances. They are often stainless steel, high-end, and energy efficient. Black appliances are not currently found in contemporary kitchens. Homeowners who want a 'smart' home will enjoy a contemporary kitchen with all of its amenities, including water and energy saving appliances and faucets.
Some appliances also give the geometric aspect to the room.  For example, an angled vent hood will add interest.  Ariana Lovato, owner and designer at Honeycomb Home Design, states:  "Kitchen hoods in a square shape with slab materials facing them will be very popular due to the minimalistic style but also for ease of cleaning." 
Stoves, ovens, and cooktops are often very modern looking and increase the functionality of the kitchen. As more homeowners spend time cooking at home, a convection speed oven combines both traditional and microwave ovens in a single product.
Tile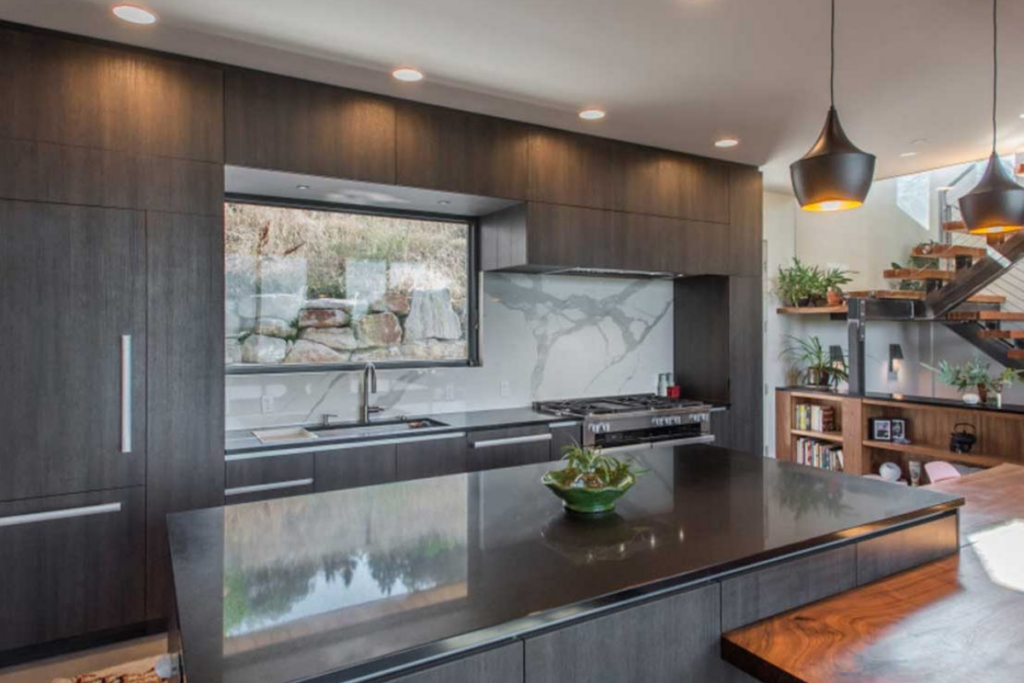 In the contemporary kitchen, a small area of handmade tile can make an impact. For example, a black tile backsplash over a white marble countertop can be a focal point. Tile above the cooktop or the wall over the kitchen desk if there is one can become the accent of the kitchen, but the edges remain sharp and clean.
Some homeowners choose to keep the tile in a neutral color that does not compete with the rest of the space. For example, a white tile with a neutral-colored grain is a popular look in this kind of kitchen.
Backsplash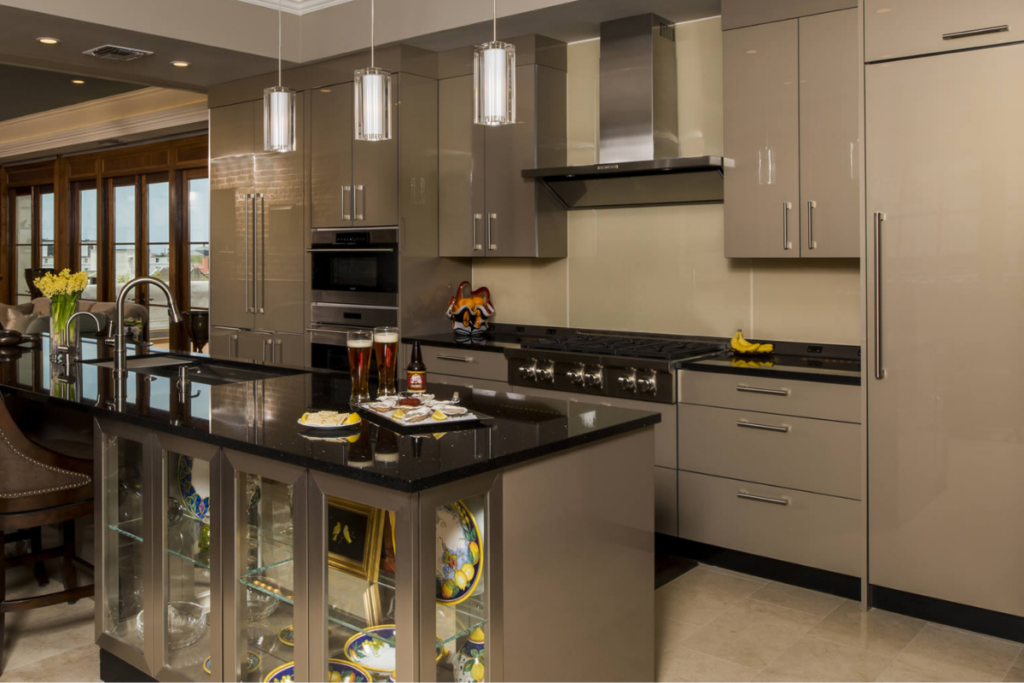 A slab backsplash that covers the wall and ceiling is becoming popular in this type of kitchen. It has clean lines and adds a little luxe to the space. A colorful backsplash is often used against the neutral tones for a pop of color. For example, a white kitchen with a backsplash with bold tile looks clean and fresh. Glass tiles, mosaics, stone, and ceramic are used to express the personality of the homeowner.
Lighting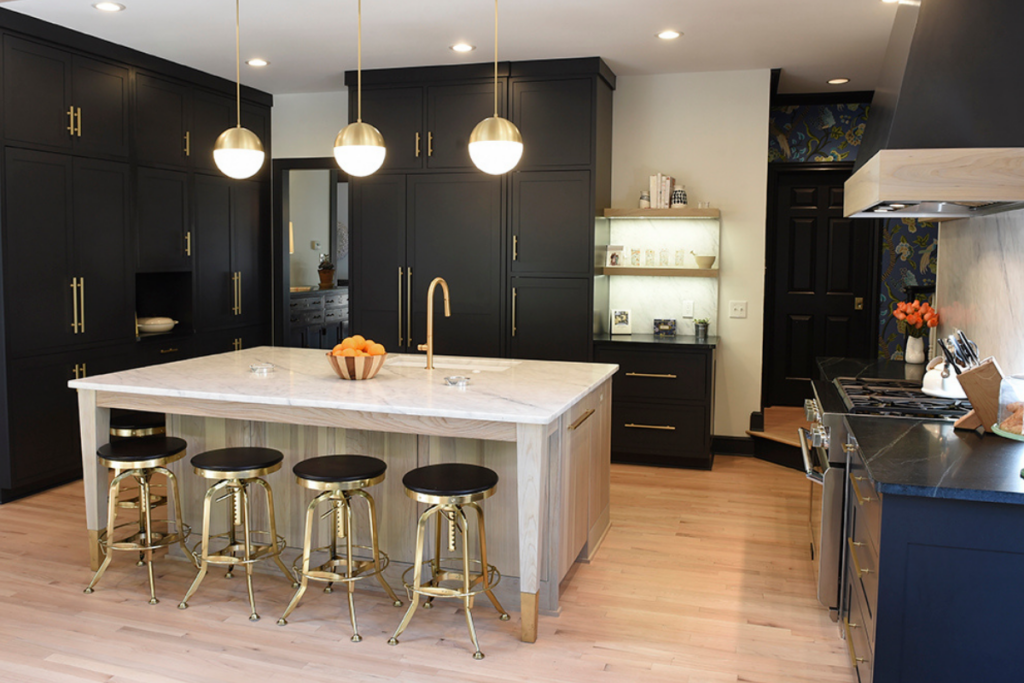 An abundance of light is important in this kitchen style. Often, large windows are interspersed throughout the area to let in as much natural light as possible.
There are many lighting options that will work in a contemporary kitchen. Modern kitchen lighting across the island is stylish with clean uncluttered lines. Recessed lighting and pendants over the island are two options that fit the style here. The size and shape as well as the texture of the lighting is both functional and decorative.
Sink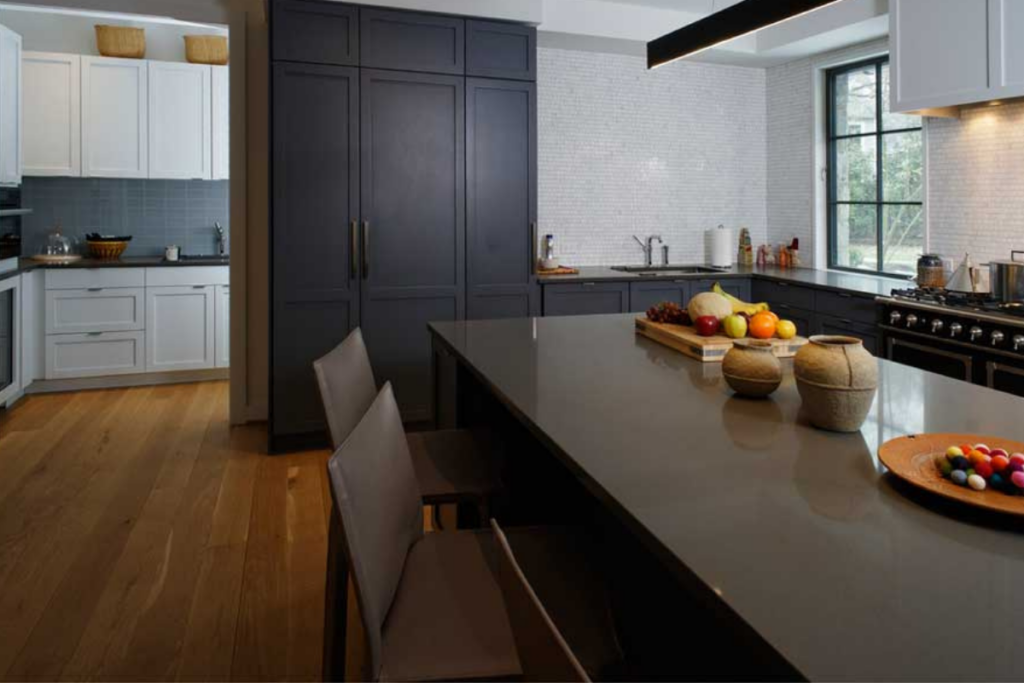 A new design idea in contemporary kitchens is the integrated sink. This type of sink is made from the same material as the countertops so there is no transition between them. Oversized sinks are also popular with homeowners. They offer those who do a lot of cooking functionality. Just like with hardware, matte black for kitchen faucets is trending.
Many homeowners also prefer the hands-free, touchless kitchen faucets that also add to the 'smart' kitchen.  And for those that really want to elevate the technology usage, voice-activated faucets can turn on and dispense the exact amount of water needed for pasta or soup. Contemporary kitchens will remain popular in 2021 and the technological advances used will only enhance them to become more energy efficient. Homeowners will want to choose cabinets early in the designing processes as they are important to the overall style of the contemporary kitchen.