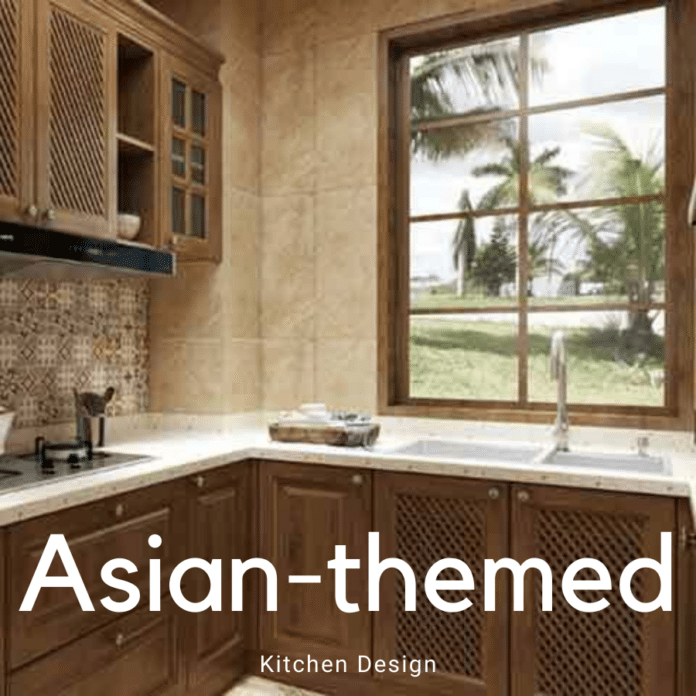 Asian-style kitchen design is characterized by clean and simple lines, floral designs, and wall art. Most Asian-influenced kitchens have light stone tiles, wood elements, and even rocks or pebbles. The overall effect is very peaceful and calming. Asian-style houses will utilize this design style traditionally. However, modern homes may feature this design trend. A kitchen with an Asian influence is a very particular look that appeals to certain home buyers.
What is Asian Design?
Asian style uses influences from the Far East, is not limited to one country, and spans centuries. Asian design draws on Chinese, Japanese, Korean, and Vietnamese traditions. Although many Asian cultures share the tradition of gathering the family to socialize over a meal, each of the various cultures has developed their own cuisine, as well as kitchen style influences. Homeowners can choose from different elements of each of the cultures to create a harmonious design. The Asian-influenced kitchen can be a blend from different Asian countries.
What defines Asian-style kitchens?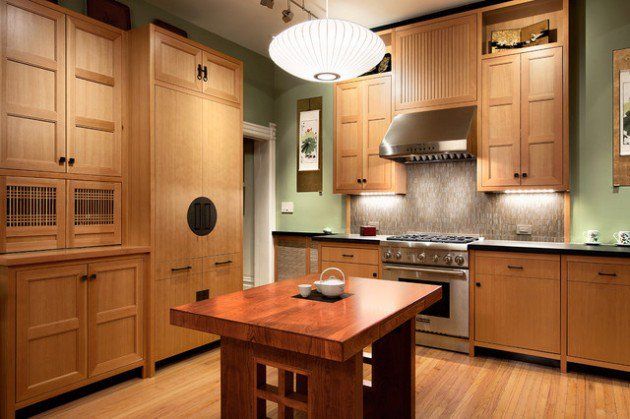 Asian design is a minimalist space that has organic materials and plenty of natural light. The space is open and uncluttered, and perfectly balanced. The use of natural materials is common in Asian-influenced homes. Getting closer to nature with the décor the goal here. That is why many of these designs include orchids that have strong symbolism in Asian countries. Orchids have been a source of herbal remedies in China for thousands of years.
Another characteristic of Asian design is clean lines. Every piece of furniture is simple with straight lines. The decorative details complement the clean lines so it is not overwhelming. The result is a layered minimalistic interior. The overall effect is a pared-down with a Zen atmosphere and a light and open feeling.
Natural light is also very important in this design concept, not only for brightness but for the connection to nature. Large, modern-style windows without panes, blinds, or curtains are common to allow the natural light to pour through.
The art of feng shui has been practiced in many Asian cultures for hundreds of years but is becoming more popular in Western ones. Feng shui is a set of ancient guidelines from China as to where to place objects. The principle states all objects have positive or negative energy and need to be balanced. This translates to the Asian home, and kitchen, as well.
Elements of an Asian-style Kitchen
The Asian-style kitchen is serene with a touch of exotic. The kitchen should feel understated with a sleek and streamlined design. Homeowners that want an Asian-style kitchen should consider the following:
Cabinets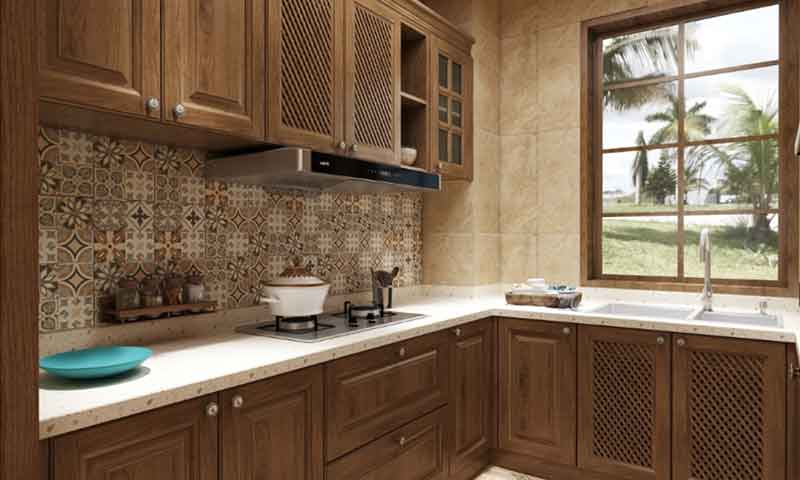 The Asian aesthetic places importance on harmony and this is true for the use of materials in the design. It is important to balance the cabinets in color, form, and height. The cabinet layout is symmetrical with cabinets being of the same size.
The cabinets in an Asian-style kitchen have clean lines and are free of ornamentation. Shaker cabinets work well because of their simple lines and lack of ornamentation. Homeowners prefer to have frameless or flat panel cabinets.
The color of the cabinets can be based on the rest of the kitchen design. White or black cabinets provide a neutral backdrop that works well with this kitchen style. To achieve a modern sheen, cabinets may use a lacquer finish.
Color Palette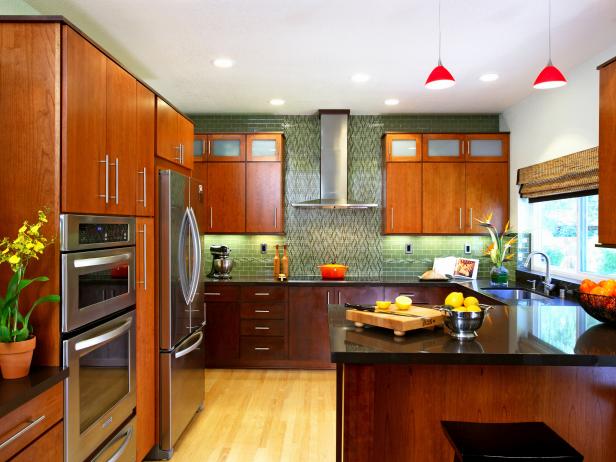 The overall feeling of a Zen Asian-style kitchen is calm. The color palette reflects this with the use of whites and soft neutrals. Accent colors are darker ones that add depth to the room but never compete with the design. Gold or silver accent features highlight contrast in these kitchens. For example, jade green walls, bamboo flooring, black cabinets, and natural stone blends natural materials while keeping a soothing, neutral color palette.
Pops of color can be used sparingly in the space, but bright colors are those found in nature such as green, blue, orange or red. In this instance, a little goes a long way because the rest of the space is so calming.
Homeowners that choose to draw upon Chinese influence only might choose black and red for a dramatic room. In fact, red is a symbolic color in many Asian cultures, signifying good fortune. Asian décor is mostly monochromatic, but will sometimes use small red accents. Asian-style kitchen commonly features monochromatic décor.
Countertops
Countertop surfaces reflect on having a connection to nature. Examples are wood, stone, or butcher block. Granite and quartz are natural materials that have a wide range of advantages such as durability and easy maintenance. To create a less harsh aesthetic, use contemporary materials balanced with natural elements. They include concrete or even glass.
The countertops act as a bold statement with color in an otherwise simple space. Dark-colored countertops like black or dark gray will complement the rest of the color scheme. In fact, black countertops are an upcoming trend in kitchens.
Backsplash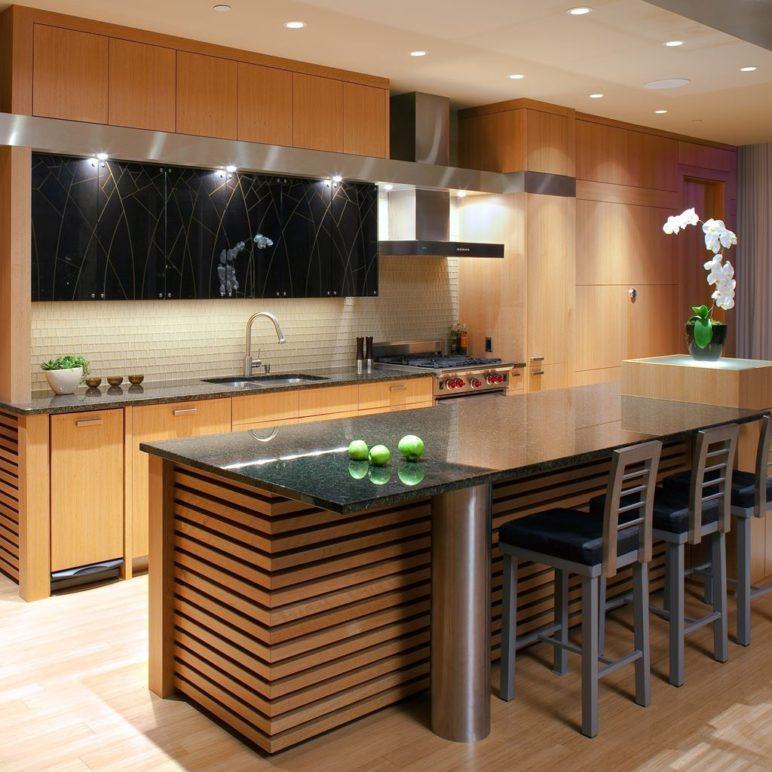 The backsplash is an opportunity to incorporate natural elements into the room. For example, pebbled or stone backsplashes will achieve this. Concrete tile can also work. Most often the colors are subtle and blend in with the rest of the space.
For a twist on an Asian-modern design, a clear glass backsplash can be laid over a painted, colored wall. Keep the remaining space completely neutral and monochromatic. One can let the backsplash be the one focal point.
Furniture & Decorations
Asian furniture is often very simple, almost to the point of being austere, but it can also feature intricate details. For example, cabinets have painted lacquered finishes. Clean lines with squares and rectangles are prevalent in furniture design, which adds to the simplicity of the space. For example, stools at the kitchen island can be a sleek and unique design.
Furniture is geared toward living close to the floor. In an Asian kitchen, there may be an area that is designated as a tea space. This area includes a low table and several floor cushions with Asian patterns. The belief is by sitting on a cushion or directly on the floor, there is a greater connection with nature. Natural materials like silk are used for cushions and rugs with soft and natural hues.
One should have floating shelves to display a few Asian dishes or cooking pieces. Asian calligraphy is popular for its elegant stokes as art. Prints and wall hangings might incorporate calligraphy.
Lighting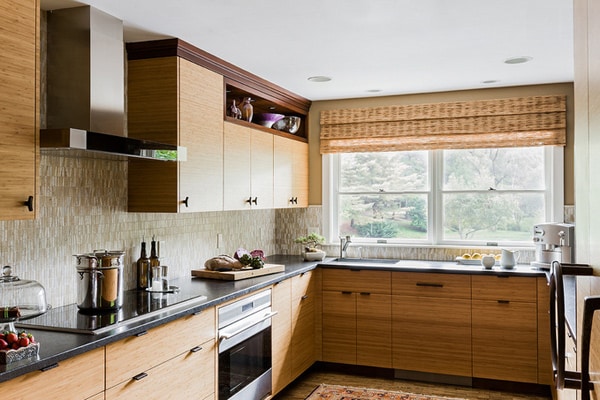 As mentioned above, natural light is an important element in this design. In a complete kitchen design, consider replacing smaller windows with larger ones to allow for natural light. Natural windows may be covered with neutral-colored blinds or left unadorned. Artificial lights can replicate natural light too. In traditional Japanese houses, main rooms like the kitchen face south to ensure sunlight throughout the day.
Standard light switches can be replaced with dimmers to be able to control the amount of light in the room as with the rising and setting of the sun. This helps to keep the room as a relaxing space.
Asian kitchens might contain one element of drama, which might be seen in a statement lighting fixture. Dramatic light fixtures do not replace natural light; only to add to it.
Flooring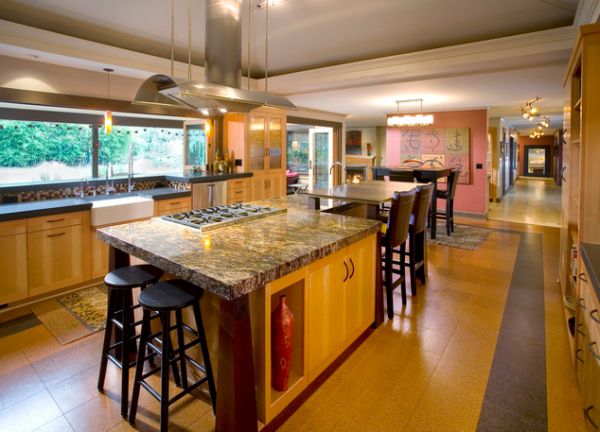 Wood is the most common material for flooring in Asian-style kitchens. Flooring tends to be organic and warm. Asian-influenced kitchens often have plank hardwood floors that have different color tones to them. Bamboo is a common choice for the floor. Stone flooring is a less common option as well.
Storage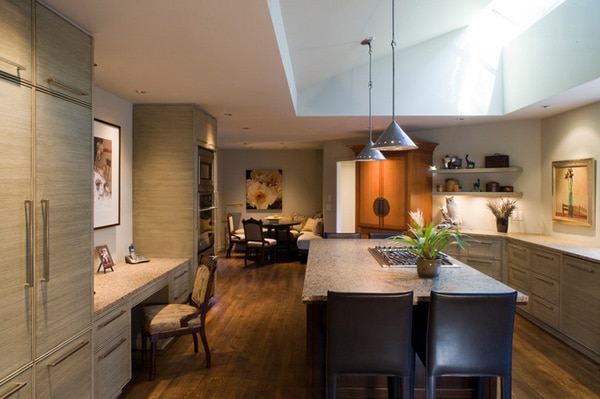 An Asian kitchen remodel is not complete without plenty of storage. Ample storage in Asian-styled kitchens is a key factor. Having access to storage maintains a minimalist look and unclutter countertops. Built-in storage is great for this as it blends into the décor without standing out. Multi-purpose and clever storage solutions do not detract from the Zen design.
Sink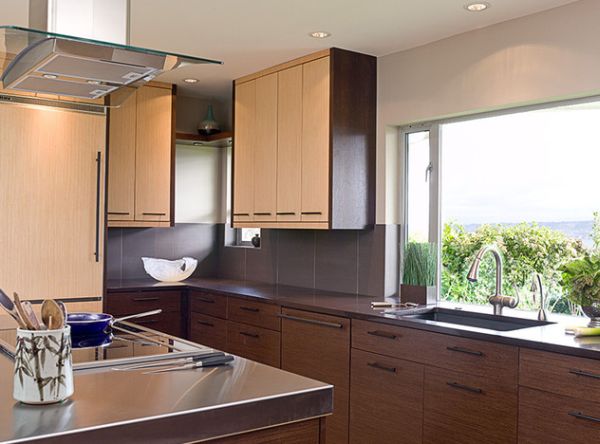 The sink is not a focal point of the kitchen and should fit the design. A stainless steel undermount sink has clean lines and is functional and does not detract from the neutrality of the space. Single versus double-basin depends on the preference of the individual. Unlike in other kitchen styles, the sink is not the focal point here. Very rarely will one see a farmhouse sink in an Asian-style kitchen design.
Appliances
Similar to the sink, appliances should be sleek with clean lines. Up-to-date stainless steel appliances will blend well with the rest of the décor. Asian-style kitchens default to have standard slide-in appliances. This opinion changes when one chooses to incorporate modern cabinetry.
What's Next in Asian-Style Kitchens in 2021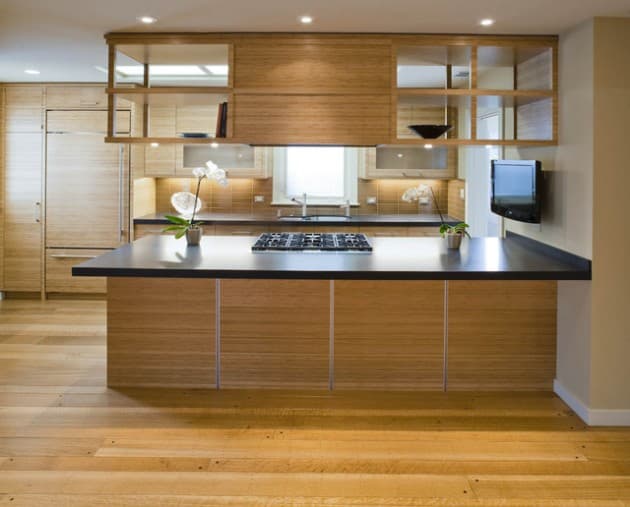 One upcoming kitchen trend that works well with this design is a wooden kitchen backsplash, which is great for larger kitchens. Different tones of wood bring in an excellent natural element into the room. Many people use wooden planks for the ceiling in Asian-style kitchens.
Tapestries are another trendy wall decoration in Asian-style kitchen design. These decorations bring comfort to contemporary interiors. A framed tapestry is one way to add variety and color to the room and are a great alternative to more traditional artwork. And, it adds some warmth that many homeowners are looking for to remind them of simpler times.
The Asian-influenced kitchen evokes a soothing and calm feeling. Homeowners should choose sleek cabinets that fit well with this design.