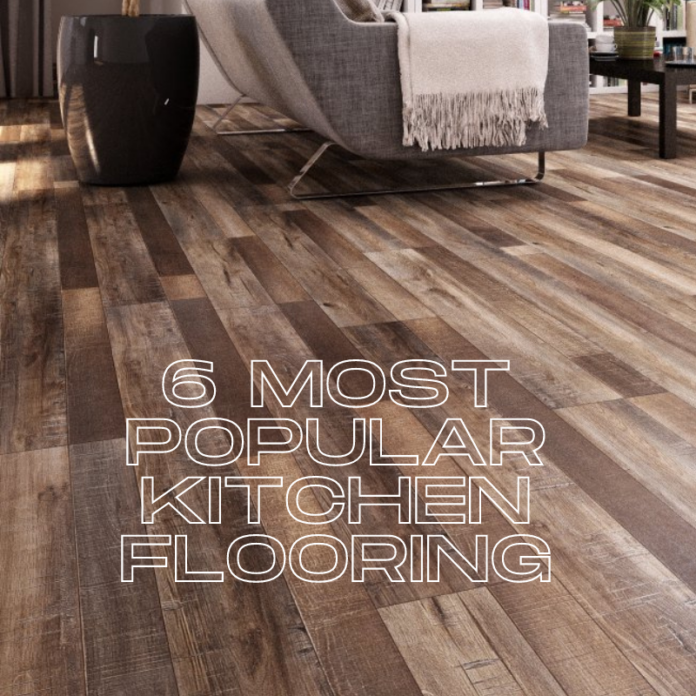 If you're remodeling your kitchen, the flooring you choose will play a big part in the finished look. The trouble is, there are countless options to choose from – so it's easy to feel a little overwhelmed.
With this in mind, we've put together a detailed guide that will help you narrow down your choices.
From hard-wearing tile and natural stone options to modern vinyl and laminate; we've listed some of the most popular materials, along with some pros and cons. There are some helpful installation and maintenance tips – so you can choose kitchen flooring that's perfectly suited to you, your home, and your choice of cabinets!
Flooring for a kitchen must be hard-wearing
More than any other room in your home, your kitchen needs tough flooring.
As well as traditionally seeing a lot of foot traffic, kitchen floors are also far more likely to experience spills, scratches, and temperature fluctuations. It's also worth remembering that kitchens tend to get cleaned more regularly than other rooms – often with fairly harsh chemicals.
With all this in mind, you'll want to find flooring for the kitchen that's extremely durable, easy to clean, and will still look great if you have an accident with a pan of water or a sharp utensil.
Here are six kitchen flooring options that won't let you down:
Linoleum kitchen flooring
Back in the 1950s, linoleum was everywhere.
From domestic kitchens to hospital wards, linoleum was a tough, stain-resistant, and anti-microbial option that was perfect for a huge range of flooring applications. In truth, linoleum only really fell out of fashion because plastic-based products hit the market.
Although these newer products were fashionable for a while, linoleum has never really gone away – and today, it's firmly back in fashion, thanks in part to the fact that it's made from natural, eco-friendly, renewable materials.
Pros
Price: One of the biggest advantages of a linoleum floor is the low cost – both for the materials and the fitting.
Stain resistance: Despite being made with natural materials, linoleum is incredibly stain resistant.
Non-absorbent: Don't panic if you drop liquids or sauces – linoleum kitchen flooring won't absorb anything; making it quick and simple to clean up.
Biodegradable: There's never been such a strong focus on environmental issues. Linoleum is generally made from 100% natural materials, all of which can be recycled and will naturally break down after use.
Maintenance: With no need for intensive cleaning, sanding, refinishing, or adjusting, linoleum is a real 'fit and forget' kitchen flooring option.
Cons
Easily dented and scratched: Linoleum isn't very tough – so even though it will cope with plenty of foot traffic, it won't stand up to heavy impacts or sharp utensils very well.
May fade: Depending on the color you choose, linoleum can sometimes fade if it's exposed to lots of strong, direct sunlight. This won't be a problem for everyone, but if you live in a warm state, it's something to consider.
Resale value: Not everyone loves the look of linoleum – so you may attract a lower resale value if you choose it over a more popular premium kitchen flooring option like tile or stone.
Laminate kitchen flooring
Laminate floors for kitchens have been a favorite option for a long time – they're a great looking, easy-to-install option that gives the look of stone or hardwood; but without the price tag.
Choosing laminate for your kitchen floor opens up a massive range of finish options. Some laminate kitchen flooring is designed to look like wood and fit together with a pronounced join between each board – giving the impression of traditional wood flooring.
If a wooden effect isn't to your taste, you could choose a plain color. Picking a single color will make the seam between planks virtually invisible – giving your kitchen a modern, sophisticated look.
Pros
Low maintenance: Since it needs no sanding or refinishing, laminate flooring can offer the look of a real wood floor with none of the maintenance.
Durable: The upper layers of laminate are designed as tough, clear protection – making it a long-lasting option that will look good, even in a busy kitchen.
Stone or wood effect: Laminate can be made to replicate expensive stone or wood effect planks or tiles – giving a premium flooring look for a fraction of the price.
Installation: Laminate is one of the easier flooring options to install. There's no adhesive involved – and the sections generally just snap together.
Cons
Not waterproof: Although laminate will generally handle spills, it's not fully waterproof. If moisture gets into the joins between planks, it can cause the boards to swell and crack.
Cleaning: Many laminates need a specific cleaning solution. Laminate cleaner isn't expensive – but it is essential, as mopping could cause moisture to creep between the planks.
Resale value: Laminate doesn't have the same appeal as genuine stone or wood, so it may affect your resale value slightly.
Hardwood kitchen flooring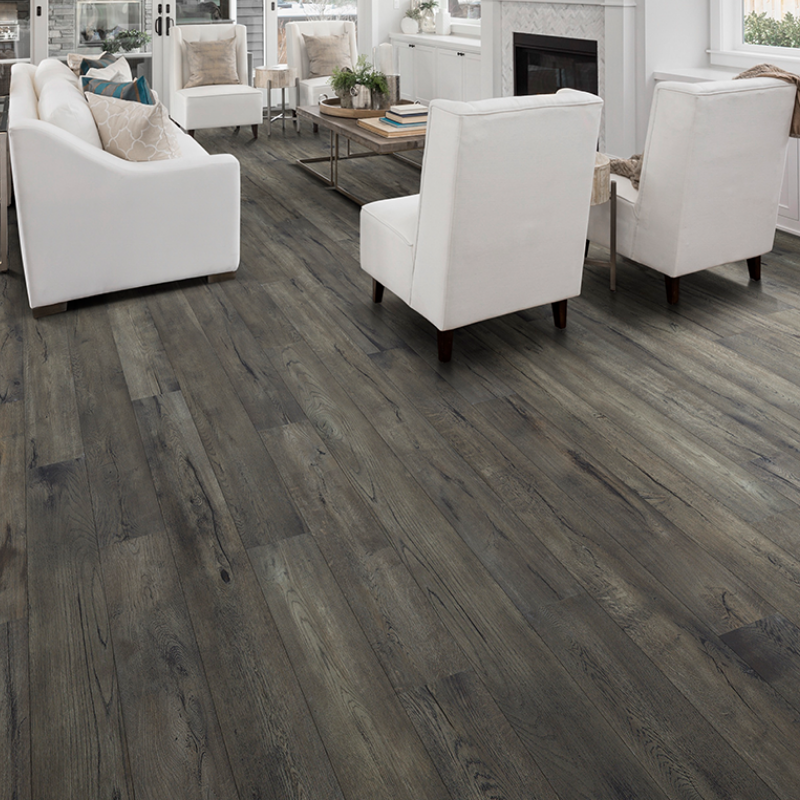 There are very few kitchen floor options that have the timeless good looks of hardwood flooring.
As fashions come and go, hardwood remains – and it's universal appeal means it often adds value to any home it's fitted in. It's not just the look that's popular either – hardwood can be easily refinished, so if your kitchen flooring is looking tired, it can be easily renovated and brought back to looking its best.
Hardwood isn't the cheapest option on this list – but when you consider how tough and long-lasting it can be, it's a kitchen floor option that could last you a lifetime.
Pros
Attractive: Hardwood flooring looks fantastic – and it's a look that never goes out of fashion.
Tough: As the name suggests, hardwood is extremely durable, so you can expect it to stand up to knocks and bumps with ease.
Long-lasting: When looked after properly, real wood can last for decades – or even centuries!
Resale value: Real wood floorings are highly desirable, so will almost certainly add to the resale value of your home.
Cons
Cost: Desirable, tough floors come with a price tag – and natural wood is likely to be the most costly flooring option you can choose for your property.
Upkeep: If you've got hardwood in your home, you'll need to maintain it to keep it looking great. This can involve sanding, re-staining, and varnishing it at least every 10 years.
Concrete kitchen flooring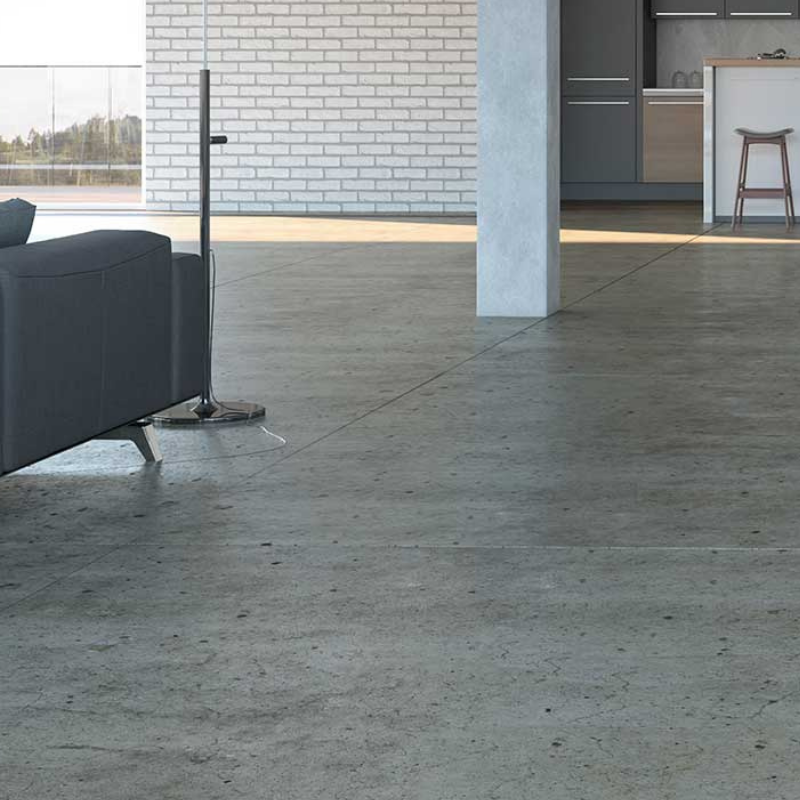 Although the word 'concrete' might inspire thoughts of functional grey architecture, it's actually an amazingly versatile flooring option that's becoming a favorite in modern kitchens.
If you've got a ground-floor kitchen, there's a chance you've already got a concrete subfloor under your current flooring. Sometimes, you'll need a final, top layer of concrete to finish the look – but concrete can be treated and polished to create an ultra-tough attractive kitchen floor even if you're working with a tight budget.
Concrete isn't a look everyone loves – but it can look especially striking when twinned with minimal Euro cabinet doors, especially in a high-gloss finish.
Pros
Tough: There aren't many flooring options tougher than concrete! Concrete will stand up to heavy bumps with ease and is very unlikely to scratch.
Low-maintenance: When concrete is installed and finished properly, it is likely to last for years with virtually zero-maintenance.
Versatile: There are lots of different ways concrete can be finished – so whether you'd like a high-gloss shine, a tough industrial look, or anything in-between, it's almost certainly possible.
Long-lasting: Even with minimal upkeep, a concrete floor can last a lifetime.
Cost: Concrete is generally a cost-effective flooring option – both from a materials and installation point of view.
Cons
Very hard: Being tough comes with a slight comfort downside. Concrete is very hard, and it can be uncomfortable to stand on for long periods; especially in socks or bare feet.
Installation: Concrete is difficult to install, often involving numerous layers with lengthy drying times in-between.
Can stain: If concrete isn't finished properly, it can stain – and stains will be impossible to remove without relaying the floor.
Some finishes are costly: Not all concrete floors are cost-effective. If you opt for a high-design finish, the installation cost can go up significantly.
Vinyl kitchen flooring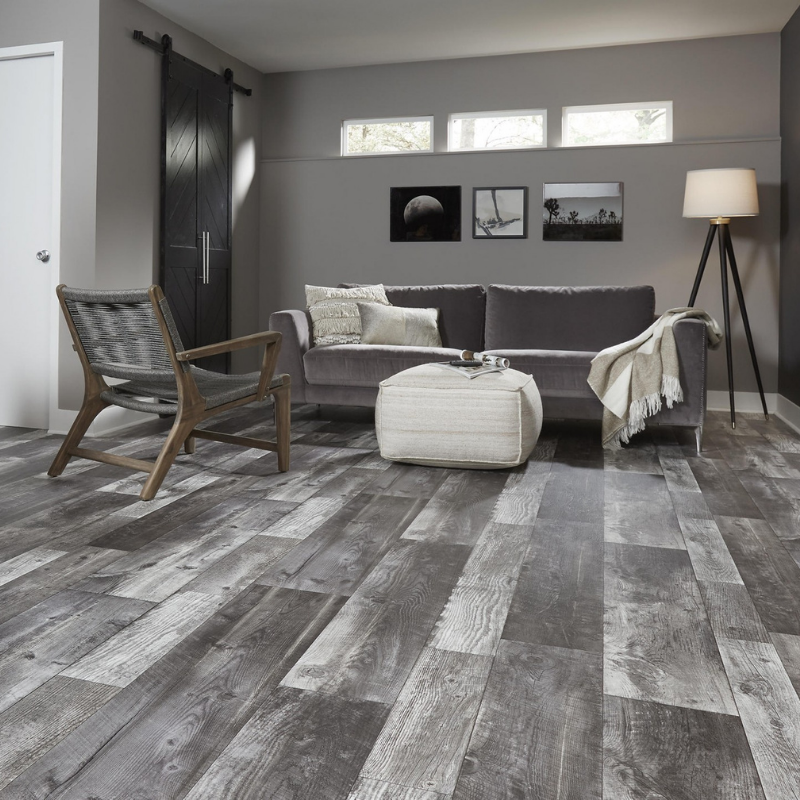 Vinyl flooring has generally been considered a low-cost and often low-quality flooring material for kitchens – but today, a new generation of vinyl has changed that perception.
The modern vinyl that's used for kitchen floors is often referred to as 'luxury vinyl flooring' – or LVF. Out of the box, a vinyl plank or vinyl tile looks quite similar to laminate flooring, but a vinyl tile is actually 100% synthetic – giving a superior resistance to moisture.
Like laminate, the construction method used to create vinyl flooring means a wide range of finishes are available – printed and embossed on a sheet that is then covered with multiple wear layers and a no-wax, tough polyurethane top layer to the plank or tile.
Pros
Moisture resistance: Whether you opt for LVF or lower cost sheet vinyl, you can be assured that it will be 100% water-resistant – even for major spills and leaks.
Cleaning: The tough plastic finish of vinyl flooring makes it quick and easy to clean. It'll stand up to virtually every cleaning product available on the market.
Durable: It might not be the best for the environment, but plastic does last a long time. No matter how much traffic your kitchen sees, vinyl will stand up to it and stay looking good.
Installation: Like laminate, vinyl is easy to install. Sheet vinyl can be cut to size from a template, and each vinyl tile is designed to snap into place quickly and easily.
Cost: Vinyl is very cost-effective – and even LVF options are more affordable than wood or stone tile alternatives.
Cons
Plastic: Vinyl flooring is made using layers of plastic, so it doesn't have the environmental benefits of natural stone tile, wood, or linoleum.
Quality can vary: There's a big difference between the quality of vinyl options on the market. Make sure you compare to make sure you're getting the best product for your money.
Lifting: Vinyl needs to be stuck to the subfloor with an adhesive – which can make it tricky to remove should you decide to replace it.
Ceramic tile kitchen flooring
For a long time, ceramic tiles were one of the most popular kitchen flooring options anywhere in the world. Taking inspiration from South Europe and North Africa; vibrant, colorful designs could add personality to even the dullest and functional kitchen.
Tiles fell out of fashion for a while – but they're a firm favorite again now, with a huge range of designs available. You can find natural stone look tiles, high gloss plain colors, patterned tiles – and many more. There's almost certainly a tile out there that will suit your home!
The grout that's used to fix your tiles isn't off-limits for the design-minded either. Although grout is traditionally white or natural colored, black or colored grouts can be used to add a bit of extra detail to flooring in kitchen areas.
Pros
Water-resistant: Both ceramic tiles and the grout used to install them are highly water-resistant.
Low-maintenance: When tiles are fitted, they can generally be forgotten about – aside from making sure the grout stays clean.
Design options: From stone tiles to bright, eye-catching designs, there's a tile for every home.
Cons
Hard: Tile kitchen flooring is notoriously hard – so it can be a little uncomfortable underfoot for long periods of time.
Cold: Tile floors and stone tiles can be quite cold – as they don't naturally retain warmth in the way wood flooring does.
Installation: If you've ever tried to cut a tile, you'll know it's a job best left to a professional. This can push installation costs up compared to DIY alternatives.
Which of these kitchen flooring options is right for your home?
Every home is unique – so what's right for you might not suit another kitchen in another similar property.
It's useful to consider your budget when you plan to remodel your kitchen – as flooring can take up a large proportion of your spending, especially if you're considering a premium option.
If you still can't decide after weighing up the pros and cons listed here, why not get in touch with our design team? We can use our specialist software to give you an idea of how your ideal kitchen could look with a variety of flooring options.