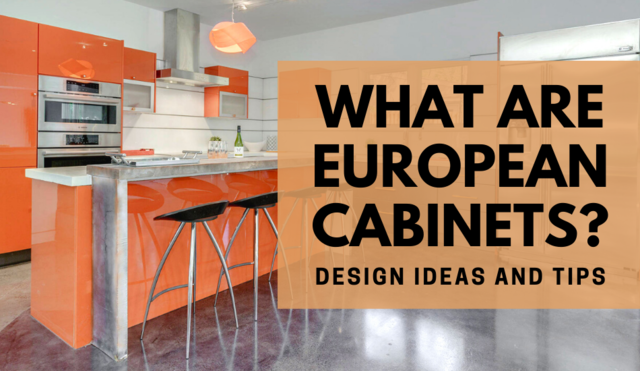 European-style cabinets can offer a sleek, modern look to your kitchen. These are frameless with straight lines and minimal ornate detailing. Think about the small European flats or homes you might see in France, Italy or Spain — the compact kitchens are far from the sprawling spaces you might see in an American home. This means the cabinets need to be functional and maximize the space, but without sacrificing style.
If you think European modern cabinets are the right choice for your kitchen, check out some of our ideas and tips on how to style them.
What Are European Cabinets?
European cabinets are sleek and minimalist, with a high-end appearance. They are flat and smooth, which can help your kitchen feel more spacious. Typically, the cabinet doors will be finished in a high gloss or laminate to solidify the sleek look.
Since European cabinets are all about minimalism, you won't find any ornate detailing or crown moldings. Instead, you'll find slab-style doors or flat panel doors with an absence of ornamentation. You can also see a lot of European cabinets have concealed hinges with uninterrupted clean lines.
As for colors, European style cabinets can work in a range from neutrals like beige, white or grey, to bold colors like red or blue. Your color choice will rely more on your overall kitchen style than on the cabinets themselves. Regardless of color, you can pair your cabinets with sleek hardware like silver pulls or brushed bronze knobs. This can contrast nicely with your bold hues or keep your neutrals looking simple and sleek.
Since European cabinets prioritize efficiency (they were made with small kitchens in mind after all), you will get cabinets with maximum functionality. They have no awkward corners, or tough to open doors, and added storage like wire baskets or dividers is easily installed without breaking up the look and feel of your kitchen.
Finding the Right Finish
Designers plan European modern cabinets with sleek materials as opposed to natural wood, and therefore can have a variety of different textures and finishes to choose from.
High gloss is a popular choice for European-style kitchen cabinets since it is sleek and modern. You can opt for a high gloss paint, typically done through the spray to avoid drips, or by doing several coats of a gloss finish and buffing in between. You can also achieve a sleek effect with manmade materials like veneers or laminate. European modern kitchens are more likely to be laminate with a wood style finish than real wood itself, thanks to the ultra-polished look of manmade materials.
Best Hardware Types
With European modern cabinets, there are lots of options for functional and stylish hardware. Typically, the hardware used in European style kitchens are similar to those in modern or contemporary homes: streamlined, simple and angular. For example, tab pulls are commonly used on cabinets and drawers. A tab pull is a small piece of hardware that is typically attached to the edge of the cabinet, as opposed to the front. This keeps the sleek line but is still easy to grip and access, so you don't lose functionality. Hidden or edge pulls serve a similar purpose. They keep the doors of your cabinet open and simple while still allowing for easy access into the space. Classic bar pulls also work well on European-style cabinets.
However, you might even want to forgo hardware altogether! A push latch is a way to keep the lines of your kitchen extra clean. Instead of handles sticking out from the doors, installing a push latch makes the kitchen handleless. This magnetic latch will keep your cabinets shut tight, and then a simple push causes it to unlatch so the doors can open. It has a functional purpose too — this mechanism is hands-free, so you can pop a door open with your elbow or knee when your hands are full!
Colors For Your Kitchen
There are lots of ways to style your European modern cabinets, and to use color to tell your story. For a more modern look, you might want to do a stark color contrast. Black and white are an obvious pairing, but you can also do red and white or blue and grey to get a similar effect. Try painting your upper and lower cabinets in different shades, like white on top and black on bottom, or keep the cabinets all one color with the backsplash, cabinets and tiles different, like red cabinets and white accents.
You could also get a striking and modern look with a monochromatic kitchen. Instead of going after contrasting colors, stick to one color or color family for your entire space. For example, you can go with shades of black and charcoal grey throughout the entire kitchen to create a singular space. Using different textures, like the shiny cabinets with more matte fixtures and hardware, can keep it visually interesting.
Finally, European kitchens don't have to be afraid of color! Pick a shockingly bold color, like red, mustard yellow, or turquoise, and use it throughout the space. You can keep the cabinets minimal, like grey or white, and use bold colors for your walls or accents, or go big with splashy and colorful which can be the visual focal point of your space.