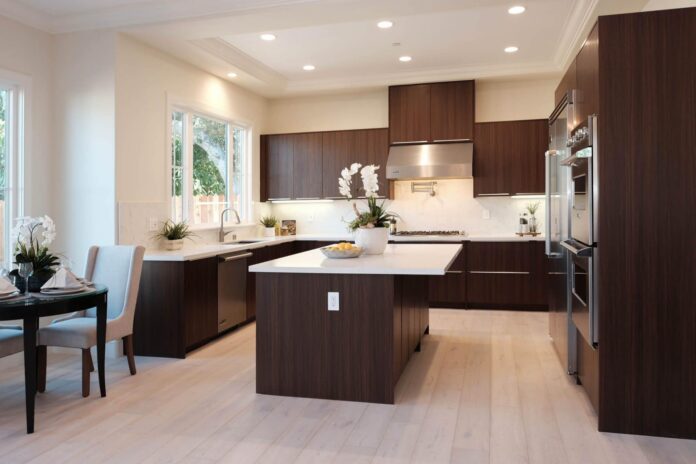 The 411 behind these kitchen favorites
You're likely to find some type of design on most kitchen cabinets – often it will be a contoured style that provides dimension via some sort of recessed panel. This is what you will usually see with shaker style cabinets–the most dominant kitchen cabinet design in the U.S. when compared to all of the various kitchen cabinet styles. It's very traditional, and people carelessly assume that it's the only cabinet variety available. But theirs is a self-defeating naiveté, one should always know all of their options…
Flat panel cabinet doors, also known as "slab cabinet" doors (or more commonly as Euro style cabinets), have gradually been pushed to the forefront as they steadily gain popularity. It's the modern look they give any kitchen or bathroom that puts them in demand. They have been the mainstay in Europe for decades and their presence in the U.S. is increasing.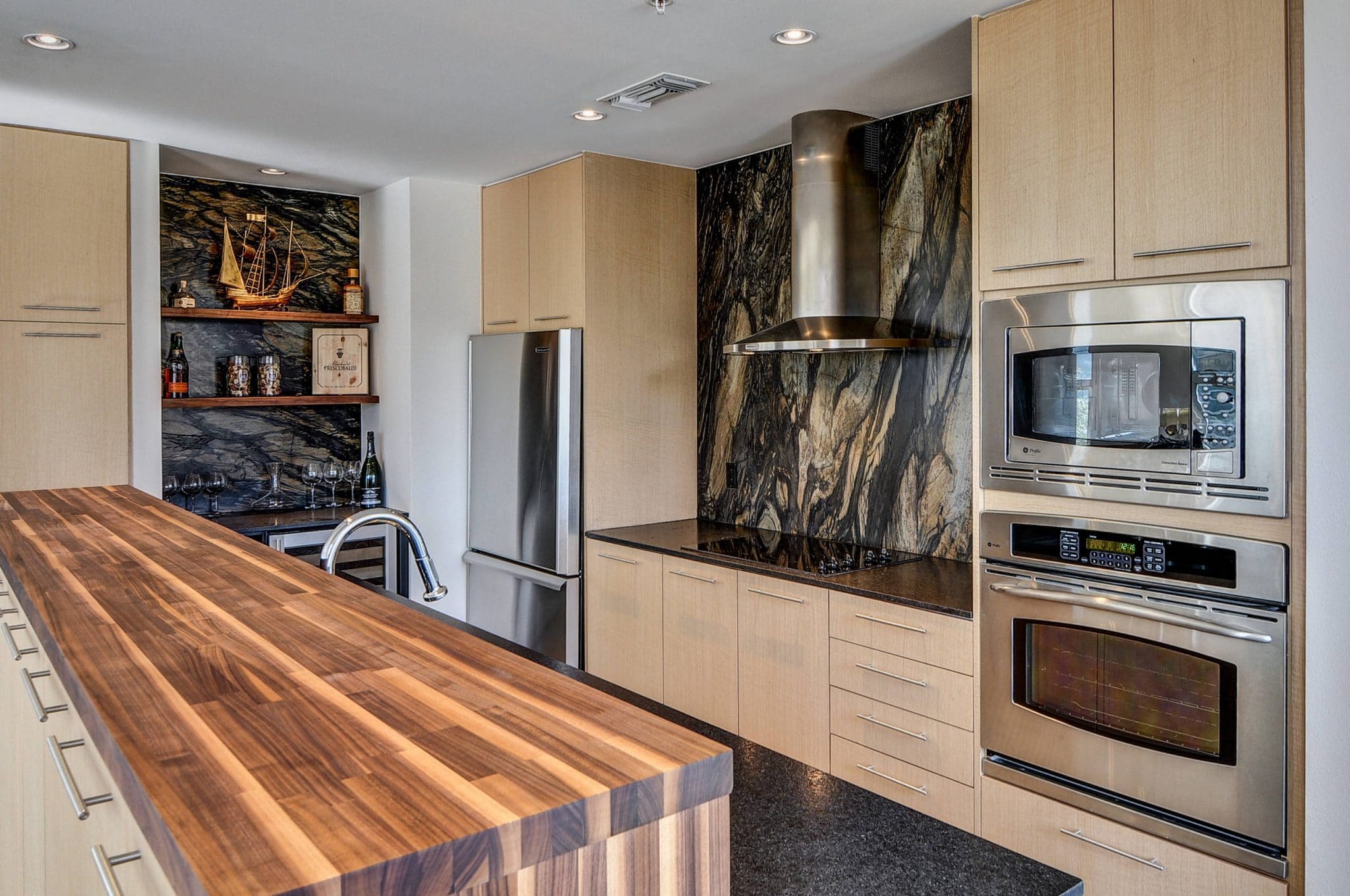 Let's look at some of their potential reasons why slab cabinet doors are gaining traction:
Just as with the Shaker style, there are a variety of methods for constructing flat panel doors, each dictating a certain cost. Of interest is the lack of frames in all flat panel cabinet styles, they are just as they're named – sleek, solid slabs. The most costly is naturally the most durable and of course will be of extremely solid construction. In such a case it is solid hardwood, formed from boards and glued up edgewise. But only in custom work can you get the top end doors like these. Doors of this construction are typically counter intuitive as the doors may still warp and typically, would be heavier than their MDF counterparts. Additionally, one of the major benefits of using solid wood is being able to see the natural grain.
MDF (medium density fiberboard), the standard material used for the flat doors that will be painted. It may also serve as the core center for doors that will then be covered by laminate or thermofoil.
European style flat panel cabinets also have visual advantages – they can lend completely different looks to either the kitchen or bathroom. They can serve to be modern and sleek, or simply plain and purely practical. In the case of a modern style kitchen, it would be best to use laminate or wood veneer flat panel doors on the cabinets. Why? Because either one can create a smooth and clean aesthetic, reminiscent of contemporary design.
On the other hand, some of the lowest cost doors you'll find are also made of low density fiberboard, more commonly known as particleboard, that is then covered with thermofoil. Possibly lower grade, and often with a modestly attractive white finish, they are a totally reasonable component to a laundry room or a bathroom that sees little use. If you are on a tight budget they are not a bad option. In fact, they may be ideal.
Often, we hear concerns about flat panel doors being prone to warping. Under certain alternative construction methods this may emerge as an issue, but when they're produced in normal conditions it is just not a problem. As long as the laminate or thermofoil maintains itself, MDF will resist warping. When they are sealed properly with paint or stain, the potential for contorting is not even an issue.
Most cabinet manufacturers offer a variety of options to help make slab doors more universal. Our faithful version of the classic flat panel "slab" door is affectionately referred to as "Euro Style". They're available in thermofoil and laminate, each with a range of colors to choose from, such as the popular Cocoa and Milan finishes. Also in high demand from our selection are the high gloss white and/or charcoal.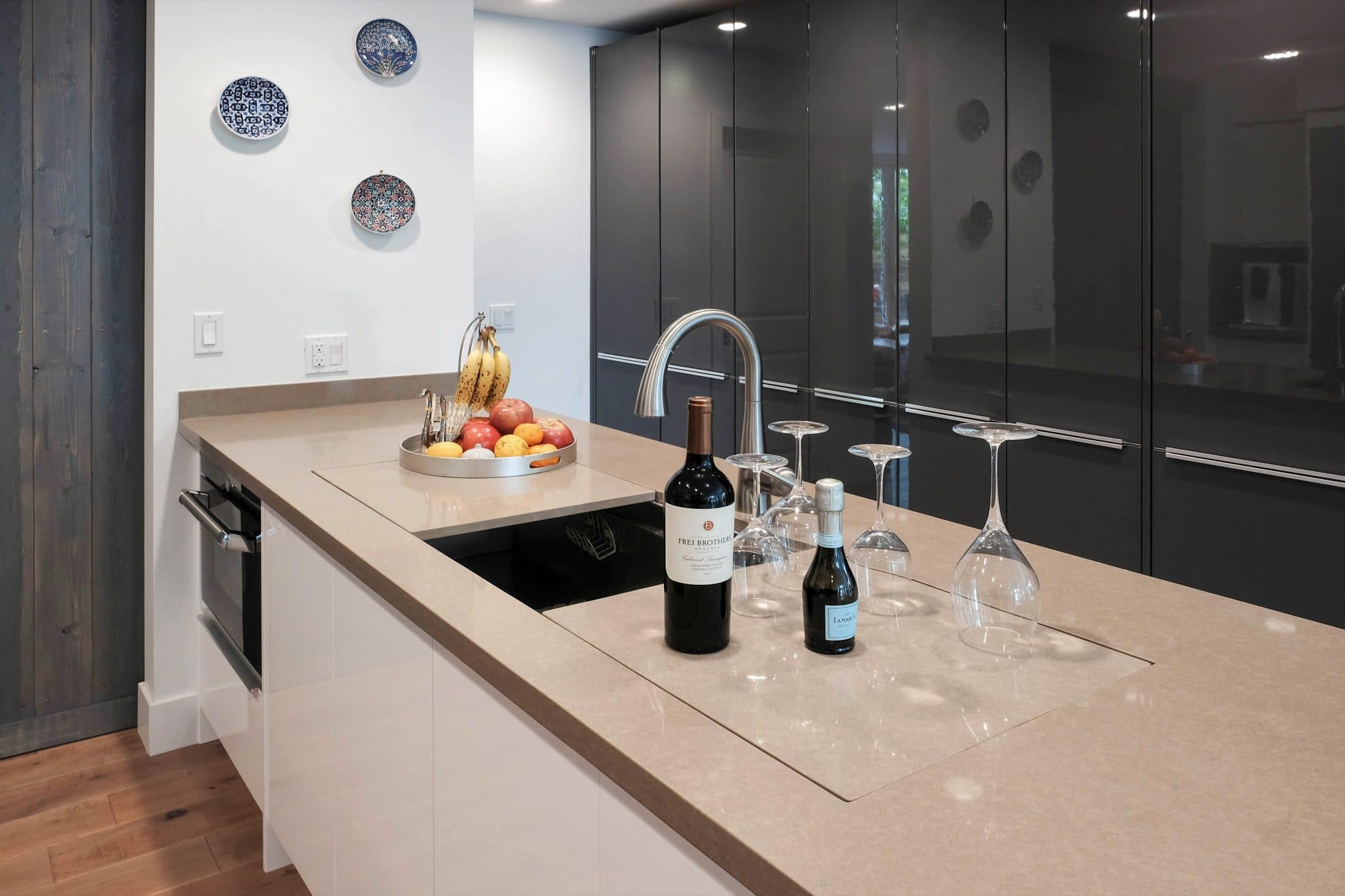 Our flat panel cabinets are available to be ordered pre-assembled or ready to assemble (RTA). When cost is an issue and you have some related skill, this is the way to go. Naturally, an experienced do-it-yourselfer can endeavor to build flat panel cabinets themselves. But with the pricing so competitive in today's market, there's really no reason to. Nearly every homeowner today can afford to improve their kitchen with European style cabinets! Take a look at our line of European flat panel cabinets here.