A new wave of accessories brings new life to your kitchen!
In this age of technology it would be naïve to think that there aren't constantly new ideas for gadgets with the intent of improving our lives for every room imaginable. Even the bathroom benefits – you have your digital scale, automatic sensor soap dispenser, even a speaker for the shower. So why would the kitchen be any different? It's not. In fact, it's the focus of a constant array of devices poised to start a revolution of convenience. Just about every facet of kitchen function, every task you can think of may be made a little easier with some applicable invention. So let's take a look at what's currently state-of-the-art for the components of the kitchen that get the most use – the cabinets. Whether they're custom cabinets or ones you assembled yourself, these ideas can be applied.
Though there are endless amounts of lighting solutions to keep the kitchen well lit, under cabinet lighting is one of the more popular ones.  It has come a long way since its initial inception not too long ago. It doesn't matter if you keep the counters clear and feel there's nothing to illuminate. There's still a benefit to under cabinet lights, most noticeable visually. They look great (especially if they're connected to a dimmer). You can have them bright when necessary – which can aid greatly during food prep – or dim to create a romantic mood – or even to simply serve as a nightlight! Best of all – the technology is always developing; wait until you see what the latest ready-to-install innovation in under cabinet lighting is!
You took your time and carefully chose the perfect backsplash. You purposely decided not to include the presence of any electrical outlets in it. The design is too special – having it interrupted by the appearance of an outlet just felt gaudy to you. But you need a power source – that much is simply undeniable. The solution is simple – install an under cabinet outlet strip or two to provide as many plugs as you need. No longer will you have to cut squares out of your backsplash to accommodate receptacles. You don't want to see electrical cords running from underneath your cabinets either, so be sure to keep your appliances unplugged when not in use.
More popular than ever is the recent invention of the tablet mount. Now you can keep up with your favorite shows or podcasts while you're cooking. Or allow it to aid you by bringing recipes up on it. Heck, make food prep less boring by calling your best friend and catch up with them while you prepare for a meal. Since it is suspended and not in contact with the counter you don't have to worry about it being affected by spills or food. With all of the device docks you need – and receptacles ready to go – this is a cabinet add-on anyone can use.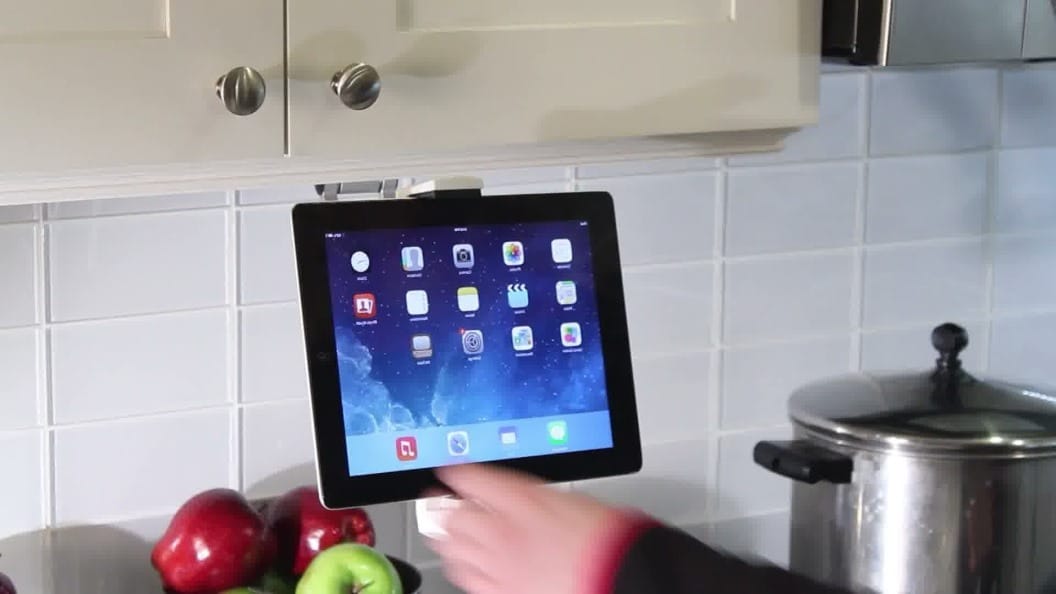 Now not every kitchen innovation has to be electronic, necessarily. Sometimes an old standard can be revised to be slightly more functional. Often the improvements are quite clever. For instance, an under cabinet knife block definitely isn't one of a typical variety. It attaches horizontally beneath the cabinet and the soft-push release device enables it to swing out with ease at the touch of a finger. These are especially helpful if you have a small kitchen and need to save space.
Likewise, new life has been brought to the age-old classic kitchen helper – the jar opener. Will men and women always have to deal with the struggle of opening tightly closed jars? We have seen the future, and the answer is, "yes". Unless we have this neat little gadget installed, that is. It is easy to mount under a cabinet and it serves to electronically open those impossibly sealed jars. It's perfect for those who genuinely need the assistance and prefer not to hassle with it all and risk getting hurt in the process.
Stemware racks have been around a while but that doesn't make them any less elegant. Especially if kitchen storage space has become non-existent, this is the perfect alternative. Store your wine glasses and other stemware by hanging them upside down on a mounted rack. Install it underneath a wall cabinet and you'll have plenty of room to store glassware comfortably. It's perfect if you use these glasses often and a great way to let them hang dry.
What other fresh convenience can we add to our cabinets? How about a bottle holder – or two? There are wonderfully designed mounts that can accommodate a couple of bottles, in fact. They go, you guessed it, underneath the cabinet, but be sure not to mount them too close to the oven where the heat can compromise the integrity of the beverages within.