BOC visits and captures the latest tech shown off by various manufacturers and home designers at the Kitchen and Bath Industry Show this year. We include futuristic ways to access cabinets, customize your showers, and even play with your countertops! These designs are coming soon to your home but take a peek at what we found in this video!
Best Online Cabinets visited the International Builders Show and the Kitchen and Bath Industry Show as part of Design and Construction Week 2019 at the Las Vegas Convention Center where we were discovering the newest tech in the latest Kitchen and Bath Designs. Even though these are part of booth exhibitions today, these tech advances might be part of your living spaces tomorrow, so let's take a look at some of what this show had to offer!
This cabinet displays an easy access to a top shelf where normally that shelf may be out of reach. This uses a lift stay mechanism that is attached into the insides of the cabinet box, high enough to leave the lower half of the cabinet clear to serve as a bottom shelf. The easy to pull handle and the balance of the shelf makes this a convenience that will be sought after in higher tier above-counter cabinets.
This one-touch sensor activates a display of glasses that is lowered into view. Aside from looking very futuristic and "James Bond," this is a unique form of storage that is built behind the back of the upper cabinet. What is interesting is that this means this is an easy way to access the "back of the cabinet" of the upper cabinets which is often difficult to access without the use of a stepladder.
The entertainment center is often at the heart of the living room or family room and while it houses a television screen in the middle of the structure, it also houses remote controls. In this example from Wellborn Cabinets, there are remote controls for the upper cabinet doors that can open and close as well as the large doors covering the giant flatscreen in the center.
Brombal demonstrates one of their glass doors that is big enough to serve as a wall and lifts using a counterweight system. According to the representative, a 1200-pound counterweight with applied physics is used to lift a 3000-pound glass wall at the turn of a handle. One of the more impressive feats of engineering that can be put into a luxury home.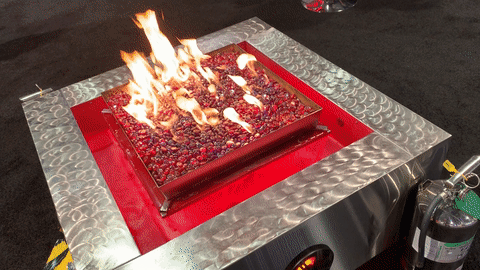 Finally, a propane fueled open fire surrounded in the middle of an LED color moat, further enclosed by a metal half-cube from Blaze Outdoor Products, perfect as a custom decoration at an outdoor patio on a cold night. Given that Las Vegas experienced a rare occurrence of snow during the trade show, this warm pit was a welcome sight at the show!