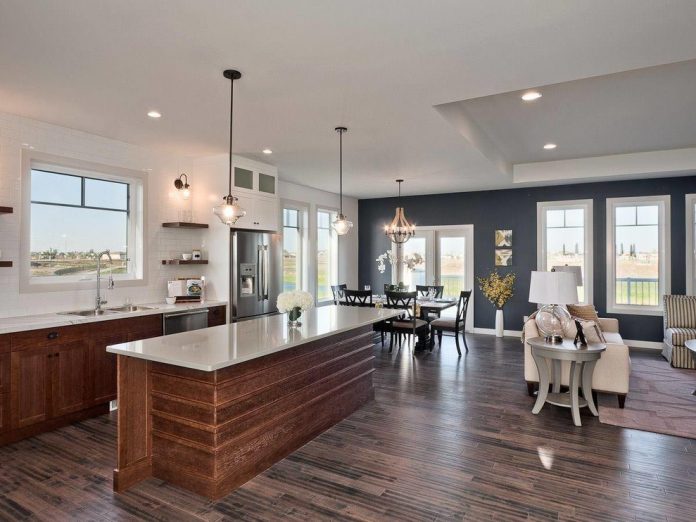 You don't have to hire a contractor to get a remodeled look
You've lived in your home a few years now, and the one thing you wish you could afford is the remodeling of your kitchen. You've done some research, and considering that you learned that the average remodel costs between eighteen thousand and fifty five thousand dollars, you're feeling mighty discouraged that there is nothing you can do.
But that's not true.
A little extra research will reveal kitchen "hacks" that will allow you to give your kitchen an entirely new look without coming close to breaking your budget. There's actually more than a few options that you may apply a combination of to achieve that remodeled look. Let's take a look at a few:
1. Repaint Your Cabinets
Though we don't recommend it, this is the first option that most home owners jump to.  Inspect your kitchen cabinets. Are they warped or cracked or severely damaged in any way? Is the design still appealing, or would it benefit with the appearance of a completely different look? Simply remove them and repaint or refinish them. There are many tutorial videos online that walk you through the process step by step . This is a task that may sound easy to do but it is a hard one to get done right.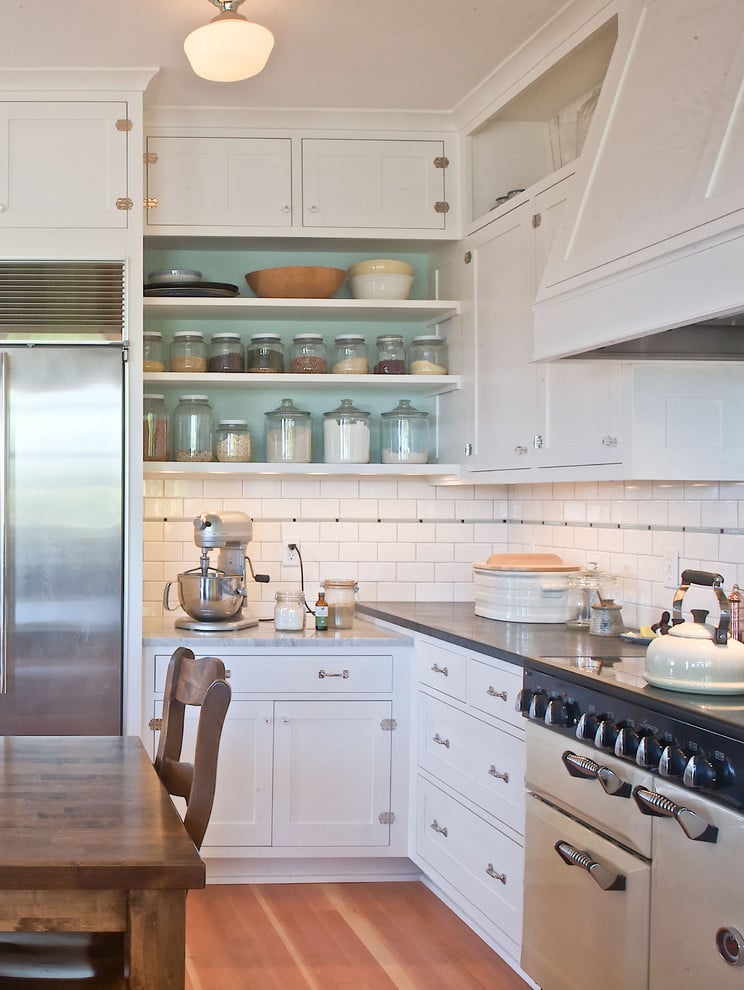 2. Replace the Cabinet Doors
If in fact you discover that your cabinets are damaged beyond saving you may be able to get away with simply removing them. After you've done that, see what you think of the aesthetic cabinets without doors offers. You now have what is known as open shelving. Do you like it? If not, no problem, just replace the old doors with new ones. Choose a new contemporary style that will look great for years to come.
3. Replace all Handles and Pulls
Changing all of your kitchen furniture hardware is a great way to start making some fresh changes in there. It's also quite easy. Plus, you'll be surprised just how many styles, designs, colors and sizes there are available. It's true that all new hardware can upgrade the appearance of nearly any kitchen.
4. Create an Accent Wall
Painting isn't for everybody. If you're not too keen on the idea of refinishing or painting your cabinets – but still desire giving your kitchen an updated look – try painting what's called an "accent" wall instead. Pick a single wall, possibly one between two others, and paint it a couple of shades darker than the corresponding colors. It will provide an elegant contrast. If you want to go loud, use a bright primary color, anything goes as long as you like it.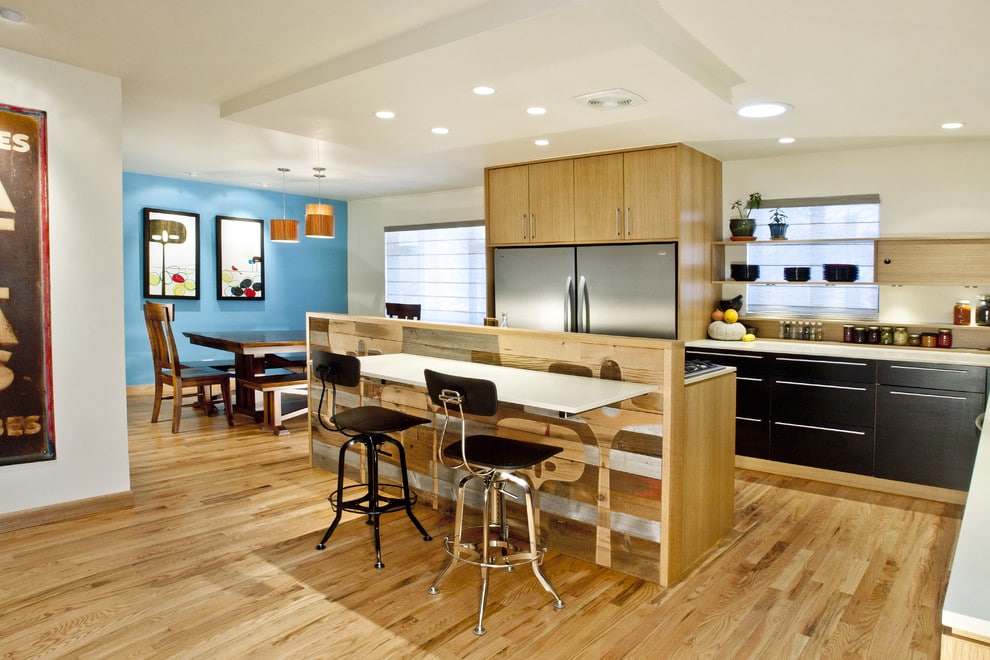 Like most of the households in the area and perhaps even the others you've lived in, the kitchen is lit solely by a single bright multi bulb fixture on the center of the ceiling. It's probably twenty five years old, at least. It is time to bring the kitchen into the modern age. A wonderful option is to install a pendant light. It can transform the environment and you can find easy to install pendant lighting at very reasonable prices.
6. Replace Your Countertop
You might expect the job of replacing your countertop cost prohibitive. But if you are unable to replace your cabinets and drawers it is actually a cheaper alternative that can bring new life into the room. A brand new laminate surface will only run you a few hundred dollars. If you were hoping for a stone or marble countertop, but just can't afford it, you may be surprised by some on the realistic imitation marble laminate brands have to offer. It's the same look at a fraction of the cost.
7. Appliances as Decoration
Choose your appliances carefully. Look for color schemes that not only match your kitchen but also make a statement. Maybe incorporate a few antique pieces, like an old sugar bowl or a vintage toaster. A nice coffee and tea set can also serve to make a pleasant impression. Obviously your refrigerator can be a major factor as to how well your kitchen is perceived. Choose wisely.
8. Put in a Backsplash
The backsplash offers a limited area to work with, no more that forty square feet, often half that. That's a good thing, you won't have to put in too much effort and it won't break the bank. With so many options for backsplashes, you'll really need to take some time to decide on what you want. Tile it at just about a buck or so per square and you'll end up with something truly unique. Or if you prefer you may even wallpaper or even paint the backsplash area. Remember to use paint that is heavy on the gloss – it will feature much needed water resistance and is easy to wipe clean.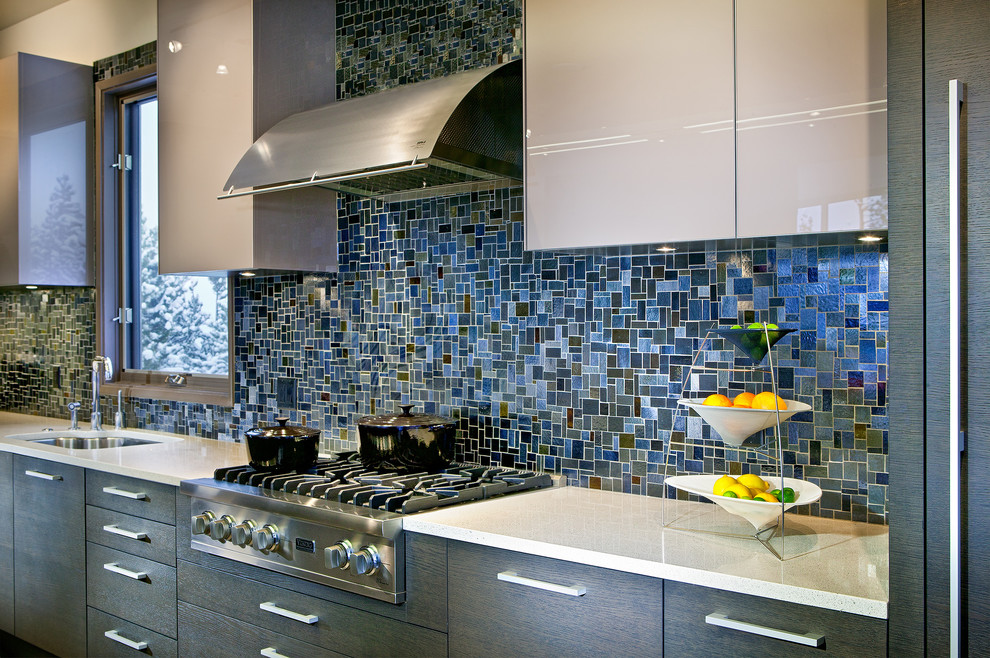 9. The Little Things…
Don't forget those final touches that can make all the difference. The tasteful arrangement of your kitchen can spell the difference between elegance and sloppiness. If you have weathered old drapes, replace them immediately with new ones. But take a minimalist approach; pick something with sparse fabric to limit potential ruined of water damage. Perhaps a new pull down Roman shade makes a superior impression. Also, be certain to have a rug in front of the sink. They add a bit of flavor, they're comfortable and you can wipe your feet off on them. They're easily washable so be certain to choose a durable one. Throw in an antique appliance or two and you have established a kitchen worthy of a second look!