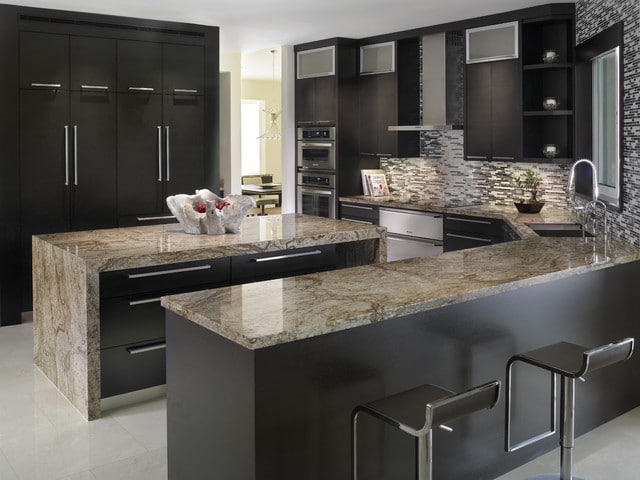 Today's most popular kitchen surfaces
When building, redesigning or remodeling a kitchen, what's a more important consideration than countertops? They're the first thing people will see; they genuinely set the tone of a kitchen. That's because today's countertops are so strong visually. The days of boring beige linoleum are over, we live in the era of creative fortitude – bold, sturdy, and if you prefer, intense. Modern options for countertops differ dramatically; it's an exciting time to choose them for your kitchen, so let's look at what's available: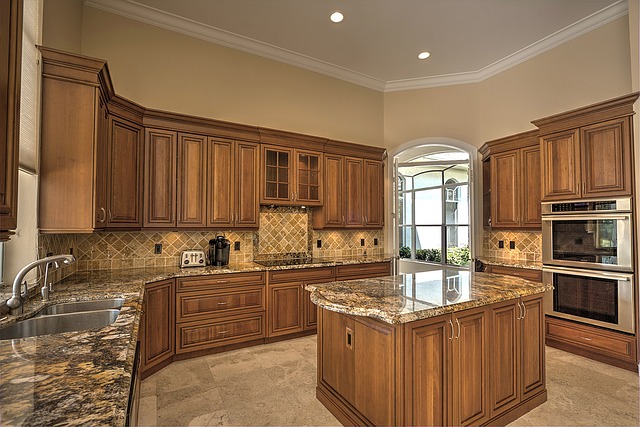 GRANITE
Possibly the most popular countertop material currently is granite. In the past years it was perceived as a bit of a luxury confined to high society. As its appeal expanded, its cost was made more affordable. It is available in four finishes: polished, sandblasted, brushed and flamed. All feature stunning natural designs. Cut to slabs, each is heat and scratch resistant, easy-to-clean and generally proves to have excellent resale value. Depending on the rarity of that particular stone, the cost may vary between $50 to $400 (material only).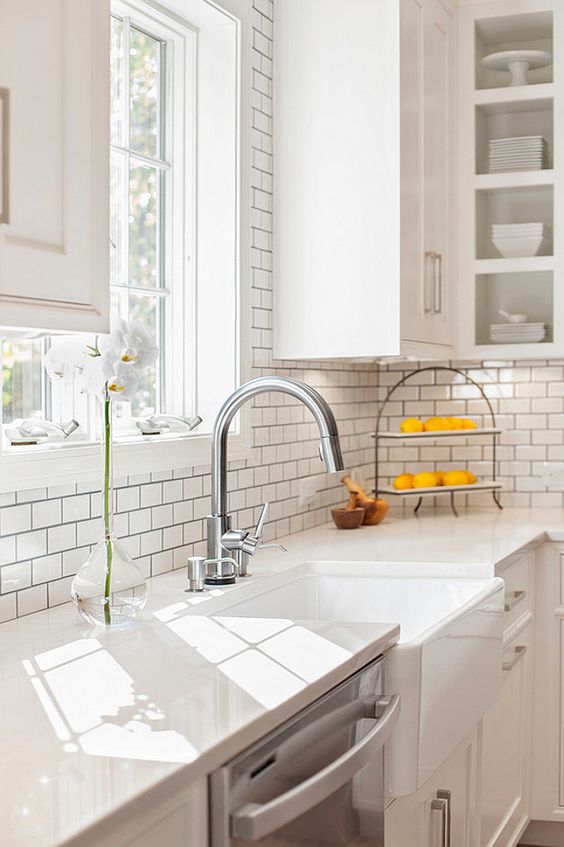 QUARTZ
Polished to appear similar to granite, quartz (a naturally hard mineral) countertops are man made and engineered by combining a great majority of ground quartz with resin materials. When the quartz is coarsely ground, it will appear flecked, finely ground results in a smoother appearance. Since it is quite abundant, the second most in the earth's crust, it is really quite affordable. Hard and durable, non-porous quartz countertops do not require sealing. A wonderful and colorful option, it runs only $60 to $100 per square foot.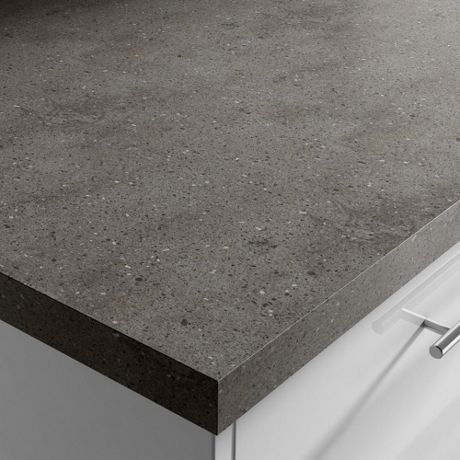 CORIAN
Also known as "solid surface", Corian is essentially a plastic material – a combination of acrylic, copolymer, and alumina fiber. It is available in an array of textures and colors. It is not as durable as its stone counterparts and may not be entirely scratch or burn resistant. Their surface is reasonably solid, however, and scratches may be buffed out with a bit of effort. An attractive cost-efficient option, Corian runs only $42 to $65 per square foot.
PLASTIC LAMINATE
Also known as Formica, plastic laminate countertops are extremely enduring (some reports indicate a 40-year life span). Much more affordable that the heavier stone counters, it has become a popular option for the budget-conscious kitchen designers. A wafer-thin finish known as a 'high-pressure laminate' is adhered to a plywood or particleboard substrate. Three layers are bonded together; a clear melamine top, a decorative layer and a craft paper backing. It's available in a wide variety of styles, patterns and finishes at a very reasonable $8 to $20 per square foot.
CERAMIC TILE
Easy to install, ceramic tile countertops are particularly heat-resistant. Made from clay, the tiles may be customized to suit specific shapes and needs. Prone to cracking and chipping, if one tile breaks, replacing it is relatively easy. However, user feedback suggests keeping the surface clean (especially between the tiles) is quite a chore. This inconvenience is balanced for some by their affordability. Ceramic tiles run between $4 and $8 per square foot.