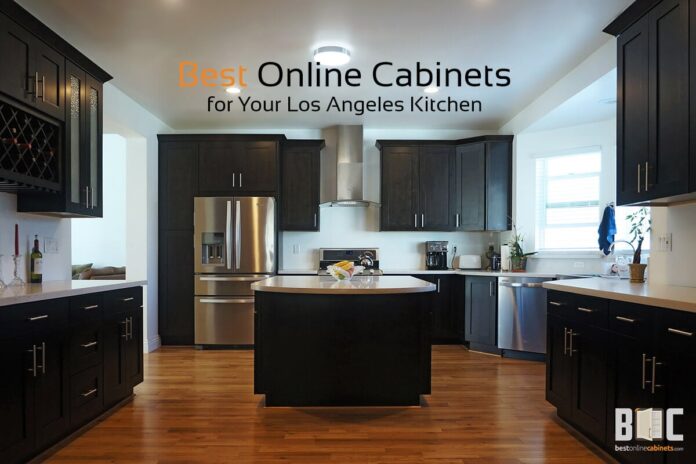 Discount RTA Kitchen Cabinets for Sale to Los Angeles Customers
Your kitchen will probably feature prominently in your next LA home remodel. As a theatre of social gatherings and cooking, your kitchen's aesthetic extends outwards into the entire home. The kitchen is a central annex of style for the entirety of your house. We are finally moving past decades of the perception that this room served only as a functional and uncomfortable nook for food preparation–it is becoming elevated to a cultural status in Los Angeles.
In planning your remodel out to a T, you want to focus primarily on ensuring that you are working with the highest quality materials at the most reasonable/affordable expense. Knowing how the costs of your kitchen remodel all figure in, as you will soon see, makes it beyond advantageous to secure the best cabinets available cheap.
Cabinets and Recouping Remodel Expenses in 2018
It never hurts to plan for the future, beyond simply how you expect your dream kitchen to look and serve your family. You may be remodeling in order to immediately resell your house at a tidy profit, or intending to live there for the next 30 years before selling it (or passing it on to loved ones with an improved value). In every conceivable scenario, getting the best from your investment is paramount.
We want to highlight the importance of cabinets to your financial calculations surrounding the remodel. To do that, we'll use the Cost vs Value Report for 2018 in the Los Angeles area. Their report encompasses two of the most common kitchen remodels: major and minor, including cabinet replacement. Both of their sample scenarios are targeted at 200-square-foot-kitchens.
Here are the significant data points:
Based on the 2018 numbers, Los Angeles residents should on average anticipate a return on investment (ROI) of 56% and 77%, respectively, for major and minor kitchen projects.
Cabinets and associated install hardware contribute about 29% of the kitchen remodel cost
Installation fees can total around 17% of the total cost
The average minor kitchen remodel costs $24,957, while the major averages $73,198
ROI on Cabinets for Los Angeles Kitchen Remodels:
In an average minor kitchen remodel, cabinets constitute 30% or $7,487 of the cost
In an average major kitchen remodel, cabinets constitute 30% or $21,959 of the cost
You can expect to see back 77%, or $5,765 of the cabinet costs for a minor remodel
You can expect to see back 56%, or $12,297 or the cabinet costs for a major remodel
That's a lot of numbers, so what does it boil down to for you and your kitchen exactly? Your investment will yield dividends twice! Both in the great kitchen, you will have and enjoy for years to come, and in the significant return on the cabinets when you decide to sell. On average, you can expect to have paid fully less than half on all of those beautiful kitchen cabinets.
There's yet another important consideration with regards to all of this: these numbers take into account standard cabinets purchased from big box stores. There are two ways to take your final investment return and elevate it to ridiculous savings: get kitchen cabinets for sale online, and buy ready-to-assemble to cut down on the install fees. 75% of our customers spend less than $5,000 on beautiful new RTA cabinets for their kitchen remodels. Less than 3% spend more than $12,000.
Best Online Cabinets Has the Best Selection of Affordable High-Quality Cabinet Options
When it comes to discount cabinets that are constructed of sturdy materials to last years and years, look no further than Best Online Cabinets. Our impressive selections of traditional American and modern Euro RTA cabinets is sure to have what you're looking for at a comfortable price.
Browse our terrific selection of American or European RTA kitchen cabinets for sale online today!