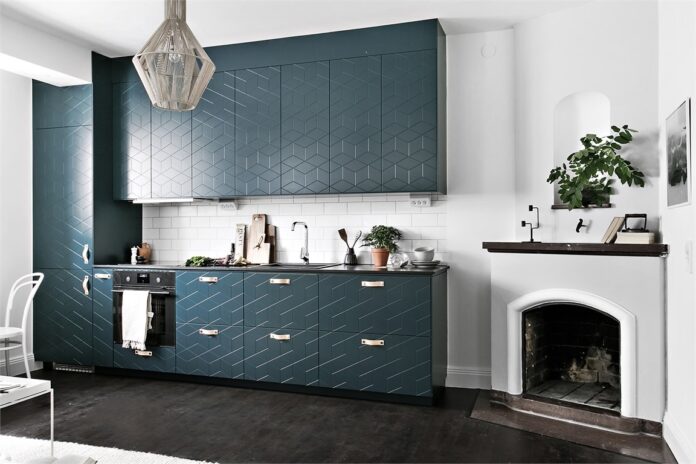 A look at the latest styles for kitchens
Gathered from various insightful lists of the latest kitchen cabinet ideas, we put together our own of our favorites that will rule 2018. Let's take a look. It'll be interesting to note how many trends are similar to those from 2017.
1. Embossed Fronts
Sure, your average modern style cabinet has a minimalist appearance, with flat front doors and drawers. But now there are manufacturers having fun with the concept, adding texture and personality to their modern sensibility with the implementation of embossed patterns. They are using simple linear grooves as well as geometric patterns. They have an impressive appearance particularly with a dark glossy finish that reflects light.
2. Jewel Tones
We've written much about white kitchens here, they have been the dominant choice for years, but apparently, the immediate future belongs to rich and deeper hues. Jewel tones will especially be favored. It's a quickly emerging trend, a greater number of people are choosing this direction. Colors like amethyst, sapphire, and emerald create a vibrant presence that is not only refined but rather quite luxurious as well. It is safe to say that jewel tones are a safer bet than bright primary colors.
3. Blue
There are those that may not be in love with the idea of radiating jewel tones though they still want some color in their kitchens. For them, a soft modest blue is a perfect choice. It's timeless and seems to be more popular than it's been in a very long time. Light or powder blue provide a calm atmosphere of safety and nurturing.
4. Mesh Inserts
Glass door cabinets or open shelving will likely always be the preferred way to accentuate a feeling of openness. However, a growing number of homeowners prefer a bit of privacy for the items they store behind the cabinet doors. Enter metal mesh inserts. They are the perfect compromise, providing a bit of visibility but not enough to put the content on display for all to see. Mesh is proven to work in both traditional and contemporary homes and offers a bit of antique grace. Use them as you wish, they don't need to be in every cabinet. In fact, using it strategically on only a select cabinet or two can add to great decorative effect.
5. Metallics
For the growing legion of industrial fans, it's got to be metallic. Stainless steel appliances are typically preferred to add to the motif. It's a professional chef's kitchen at home, where the steel door and drawer fronts are ready to be worked upon at a moment's notice. Other metallic surface options include gold, brass or bronze. There are great foil finishes and a host of other techniques that contribute to the gleam of metal just as well. Be aware that fingerprints tend to 'show' a bit more on shiny surfaces, but they are easily cleaned away.
6. High Gloss in Dark Tones
Sure, a metallic finish features a great glossy sheen, but lacquered cabinets provide a comparable and strong shiny option. They are widely available and can be found at just about any price level. Choose the perfect tone for your kitchen and enjoy a deep mirror-like appearance that adds a sense of gravitas to the space. Take a look at our high gloss charcoal cabinets here.
7. Gray
It's become the great alternative to those who don't want to go the oft-commonly used route of plain white. Gray can be just as light and airy as its white counterpart, and some of the varying shades are downright posh. It's of interest that often the thought of gray is off-putting, bringing to mind visions of dreariness and cold. But when you consider the wide range of tones, such as charcoal or clay, and potential combinations of them, it can be the perfect complement to many standard kitchen designs.
8. Sliding Doors
They provide a gallery case look that is both functional in tight spaces as well as a bold statement of style. When used on a set of uppers, anyone can combine the charm of open shelves with the elegance of a classic door cabinet. Naturally, it's perfect for farmhouse style kitchens and it works in modern ones as well. With no doors to create division, the space will consistently feel more open and inviting.
9. Two Tone Cabinets
Imagine upper and lower cabinets in different colors. It can create a great contrast. What if you were to use two tone doors on individual cabinets? For instance, the drawer fronts can be of a wood tone, while the cabinet doors' are white. It's a great alternative to replacing an entire cabinet when something different is needed. You can even just swap out a few drawers for a special mix. And if you have wood cabinets you can still mix it up by simply painting some of the drawer or door fronts, while leaving others untouched.
10. Mixing Modern and Traditional Styles
Sometimes it's maddening making a difficult choice. But what if you didn't have to choose? Choosing between a modern or traditional style can be hard, for instance. But a solution presents itself by combining them so your kitchen can enjoy the best of both. Such a mix can create a space that is entirely unique. For instance, you could have flat white drawer fronts on the lower cabinets with glossy upper doors that are off-white. It's a contrasting look that works.
11. Black
Sure, black has been a pretty consistent mainstay. But more than ever unique elements of it are being requested so that a stately appeal may be introduced into the kitchen. It's particularly desirable when used as part of a two tone look. The lower cabinets or the pantry can be black, and they can be paired with modern black fixtures… certainly timeless, black can be used in a variety of ways for a contemporary appearance.