Black kitchen cabinets have started to rise in popularity. For many years, white kitchens have dominated all over kitchen interior design. They are praised for their simplicity, cleanliness and adding brightness to a room. Yet they can also require constant maintenance and anything that doesn't belong there sticks out like a sore thumb.
In 2019, we are seeing a move away from the white kitchen to incorporate more colors. Two-tone kitchen cabinets have been trending this year in interior design. However, we are starting to see what happens when we explore the exact opposite of the all-white kitchen trend.
Black Kitchen cabinets are modern, sophisticated and buck against trending white kitchens that have been influential for so long. But are black kitchens popular just to be rebellious against the fashion? I would say that black kitchens have more to offer than defiance since these are investments, not fads:
1. Black kitchen cabinets look great without high maintenance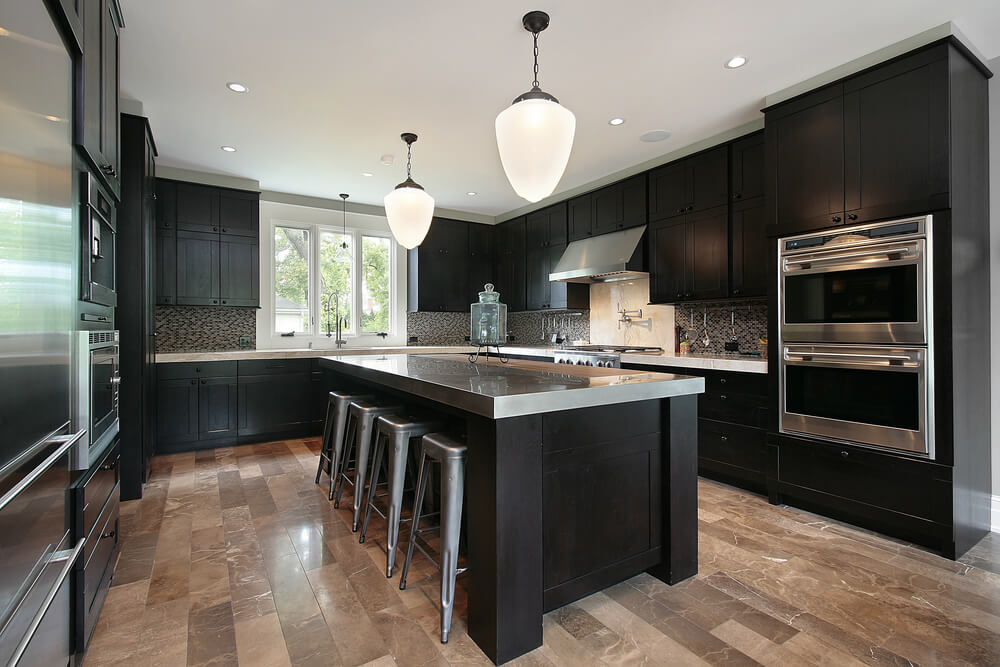 While white kitchens have been dominant for many years, there is a difference between looking at one and owning one. As a true testament to this statement, Mashed, a food lovers' website, explored the homes of several celebrity chefs. Not a single kitchen was all-white because it would be impractical for them.
The kitchen is the most functional room in the house. It is only a matter of time when a wine or marinara sauce spill no longer makes your kitchen pristine. This is especially true if your kitchen is white because it does not hide anything like dirt or stains.
Black is more forgiving if you don't have a habitual cleaning routine. If a company comes over, you won't need to scrub thoroughly to prepare for a visit. While this color isn't immune to all things like dust and fingerprints, these can be cleaned with an easy wipe.
2. Makes your metallic details stand out more
Black cabinets need somewhere to indicate how to open the cabinet doors and drawers. In dim lighting, even a black painted framed cabinet will be a challenge to figure out where to open it.
This means that your black cabinets generally have handles and that detail becomes very important. Metallic fixtures such as handles and hinges become prominent against the dark background. Adding period brass or modern stainless steel pulls or knobs will influence the overall look of the kitchen.
Many appliances are offered in silver or black, especially refrigerators, stove ovens, and dishwashers. Black is an easy way to incorporating most existing appliances without needing to customize appliances to fit your look.
3. Black is a psychologically compelling color
Black reads as a sophisticated color in a lot of interior design because it is bold and a little mysterious. We associate this color with powerful cars, expensive tuxedo suits and even "the little black dress." By association, black reads as high quality and luxurious and it will bring that dramatic flair to your kitchen.
In contrast, white kitchens can come off as sterile the same way a hospital does. It does not feel as inviting to use such a kitchen while a black kitchen is always inviting. It's almost even seductively inviting to be in such a place.
4. Want to avoid the shiny look? Bet on black.
One of the most popular versions of the black kitchen cabinet is matte black. Black absorbs the light in the room and a matte finish cools down the room from excess brightness.
White kitchens are known to be incredibly shiny and if the surfaces are glossy, the sheen is even more pronounced. Since white reflects light, even if your surface has a satin finish, there is going to be some ambient reflection in it.
While there are many articles on "how to brighten your kitchen," it is not an aesthetic that everyone subscribes to. Matte black kitchens feel calm and many people inspired by a "goth kitchen" in their homes experience this tranquility.
5. Need to fix the surface? Black is the easiest color to maintain.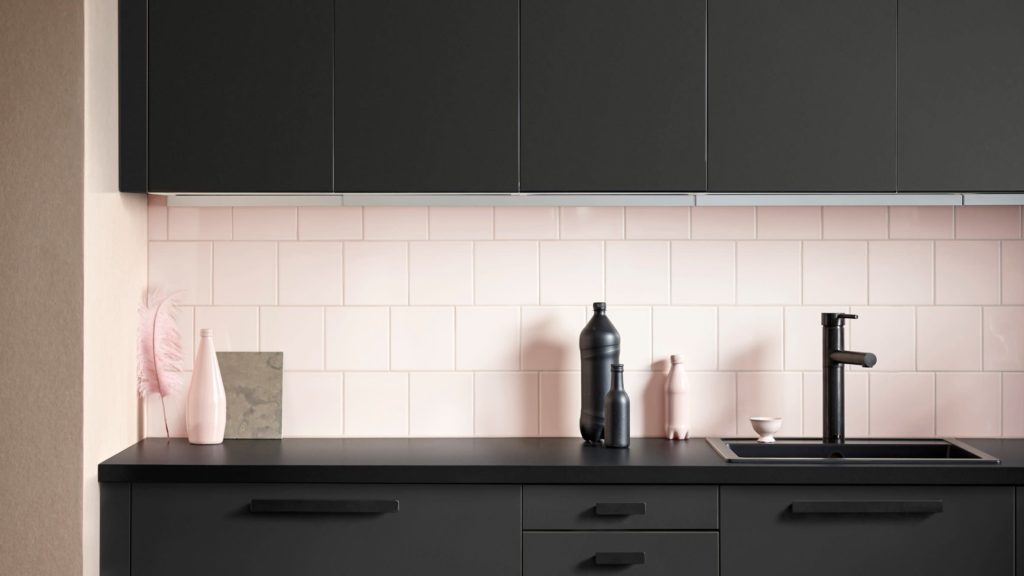 One huge advantage of having black kitchen cabinets is that touch-ups are easier with black than any other color. The darkness is more forgiving when you touch up with dark paint without being an exact match. This is especially true if that area of the cabinet is not exposed to direct light.
With any other color, especially white, if the paint is not an exact match, the touch up is noticeable. Many places dealing with lighter colors keep a small can of touch up of that exact color for this purpose.
The other advantage of black is that it suffers less discoloration than any other color. Lighter colors are prone to stains as a result of smoke and cooking grease next to vents. In fact, it is a known issue for the white paint to turn yellow over time with repeated exposure to these. (It is why Antique white looks like it has a bit of yellow in it). Black painted cabinets do not have this issue, even with age.
6. Two-tone kitchens with black cabinets offer new possibilities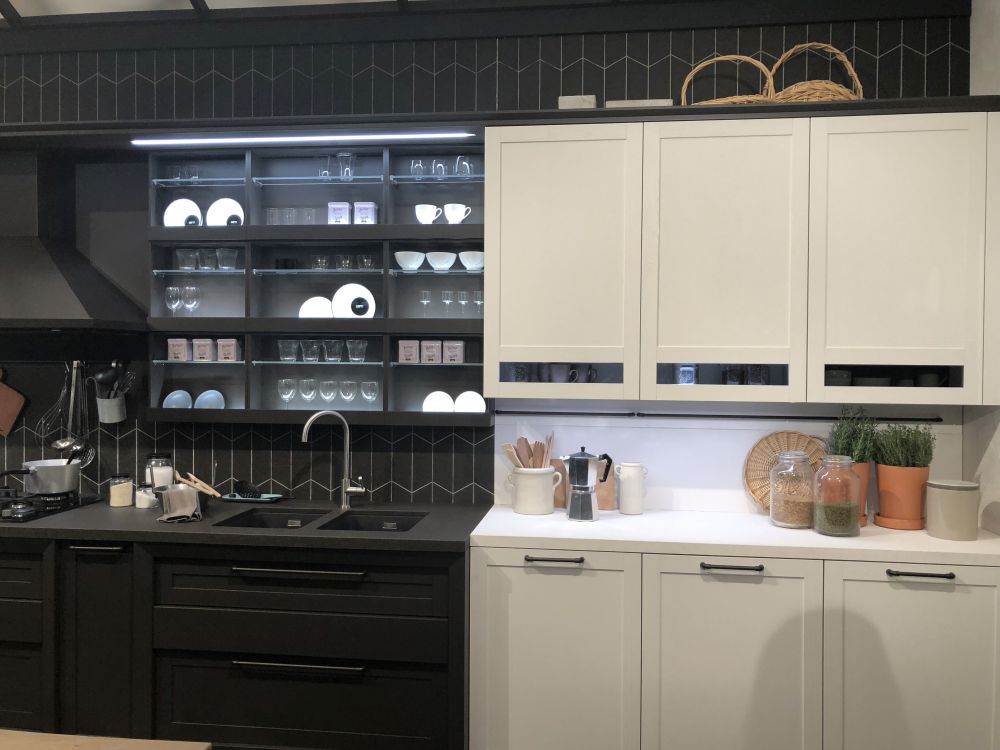 Two-tone kitchen cabinets have been trending in the past couple of years, offering more variety and depth to your home. However, the usual pattern has been white or cream cabinets on top and darker or color cabinets as the base. Lighter cabinets highlighted by the lights in the room are enhanced by grounding the kitchen with darker base cabinets.
But let's say that we used black kitchen cabinets as your base in a two-tone cabinet pattern. That means ANY color will be lighter than black and can serve as the color for the wall cabinets. While you can stick with the traditional cream or white, you can go bolder than sticking with neutrals. You can select daring colors like red wine or seafoam green as long as black anchors your bold choice.
Not just cabinets, but all the lighter spaces in your kitchen will feel balanced with the addition of black cabinets.