A quick look at kitchens through the years
It's funny when you consider that the term "Modern Kitchen" has been used well into the past. And yet, the modern kitchen of yesteryear has just as much in common with its contemporary counterpart as it does not. For decades, the major components have been the same – a stove, a refrigerator and a sink. It's often been a hub of activity where people gather and sometimes even dine. But such wasn't always the case.
In the early days of the 20th century, the kitchen (most often) was a dark and dirty poorly ventilated work room. Usually it contained a cumbersome cast iron cook stove, its unduly complicated procedure making it none too user-friendly. One would need to gather kindling and wood, then perform a number of other steps before adjusting the dampers and removing ash before blacking the surface until they were finally ready to cook. After World War I, clean fuels such as gas and electricity were rapidly becoming available for consumption. It was not long before the bulkiness and smoke of the industrial age of the kitchen were obsolete.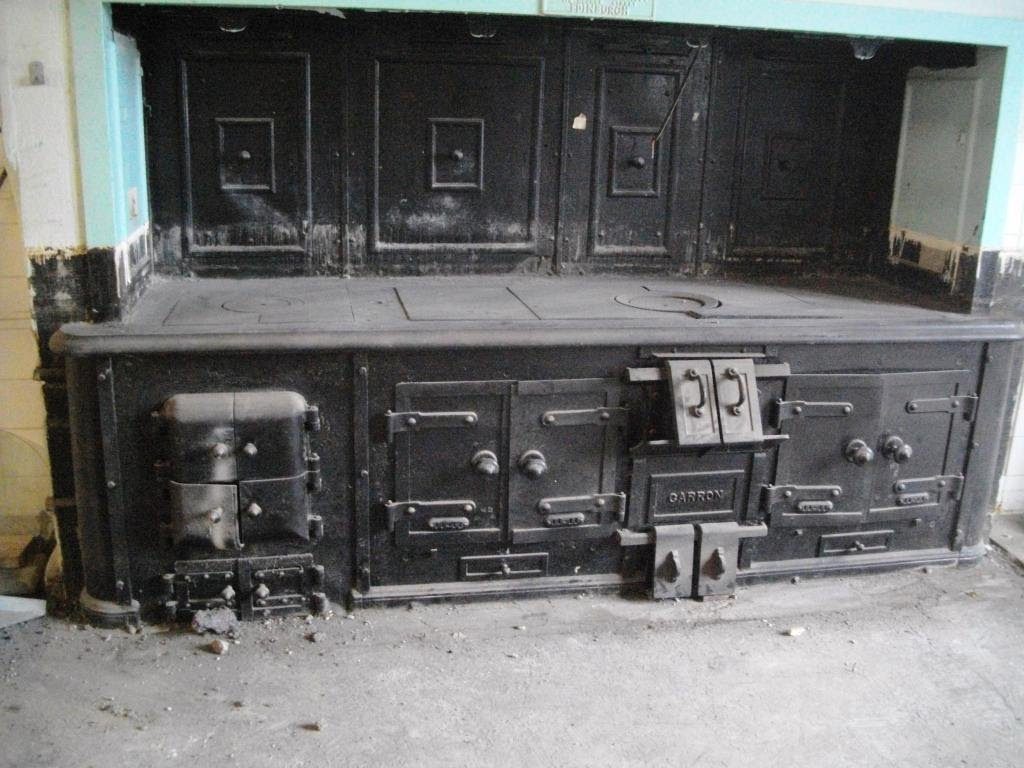 It wasn't until the mid-1930's that the kitchen evolved into a large, attentively equipped and detailed – even decorated – space of new appreciation. It was typical to have a range standing on four legs, an oven on one side and four burners on the other. A motor-topped refrigerator could also be present along with a free sink. The clutter of the once-drab work room was abandoned and practicality and efficiency emerged.
The need for storage was recognized and developed quickly. Originally, aluminum containers, metal or oak hutch flour bins, sideboards for pots and pans, and an ironing board folding down from the wall indicated early attempts at addressing the issue. Soon,
 built in storage in the form of drawers and cabinets were added. Ultimately the drudgery associated with cooking was believed to be conquered as one new convenience after another became available.
During the rationing years of World War II flame resistant glass cookware made fine replacements for metal pots and pans. In 1946, airtight plastic containers revolutionized the world of kitchen storage. They were called Tupperware. You weren't likely to have accidental spills with these miraculous little wonders and they staved off spoiling for as long as an air free environment would allow.
It wasn't long before innovative new features were included in nearly all new homes.  Homeowners appreciated the implemented developments – cabinets and counters, linoleum floors, built-in fixtures, even a bulky refrigerator (now with a concealed motor). But most awesome of all was the electric range that allowed greater temperature control accuracy than ever before. Factor in the ease of Betty Crocker and Jello food mixes and it's no wonder housewives loved the ease of living in the "atomic age".
Interestingly, the décor didn't always reflect advanced science. In fact, at the dawn of the 1950's an Early America look was all the rage for new homes. In the kitchen, knotty pine woodwork reigned supreme. The cabinets, counters, backsplash even dining table `all appeared to be of the same lacquered rustic wood. Corners were rounded and the designs were distinctly western in flavor (as in the Wild West, for which nostalgia was at an all-time high).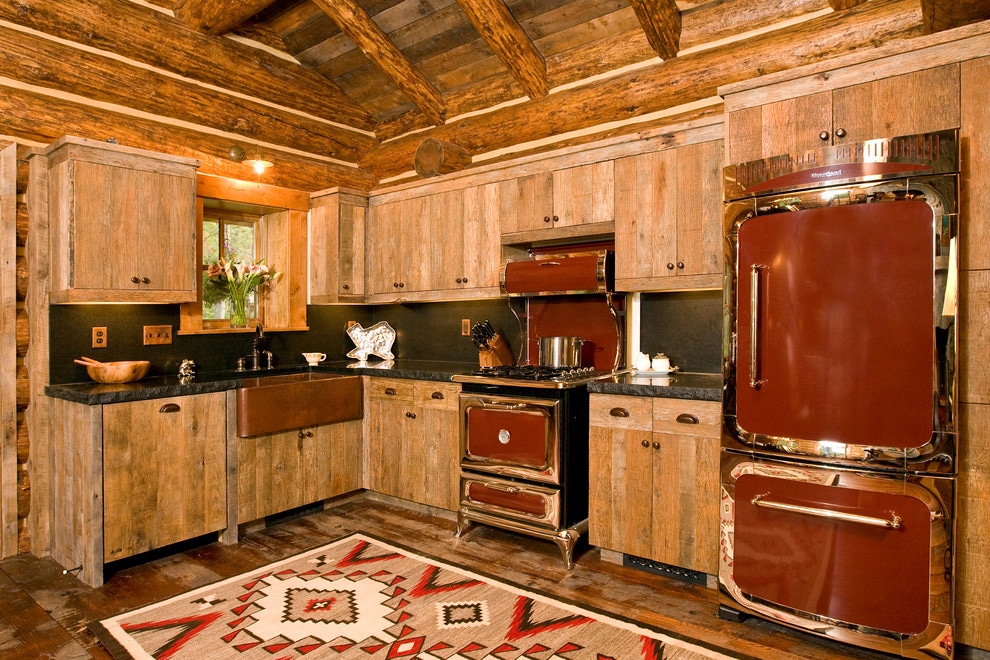 The next major appliance to be introduced was the dishwasher. In the post-war boom it was sold mostly to wealthy households (but was commonplace by the 70's). As the 50's marched on chrome crept its way into the kitchens design, and table and chair sets becam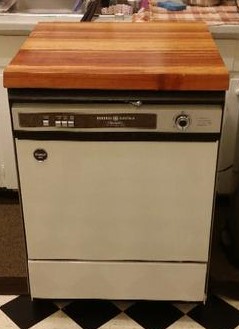 e popular in the metallic finish. Blenders and toasters were soon prevalent, and the kitchen began to change rapidly, developing colorful identities reflective of the times. Floral patterned wallpaper and bold and pastel colors were used widely as decorative touches.
In fact, the 60's brought upon a sort of color overload in kitchens. We've all seen the Brady Bunch TV program, with its orange Formica countertops, wood grain cabinets and green appliances – groovy, man. It wasn't unusual to see pink or blue refrigerators, gold wallpaper, brick overlays or intricate paisley patterned linoleum flooring. Pots and pans hung from the same wall that ovens were now built to fit into. And at the end of the decade, if you didn't have a Fondue pot and fork set displayed proudly, you probably weren't interested in being hip.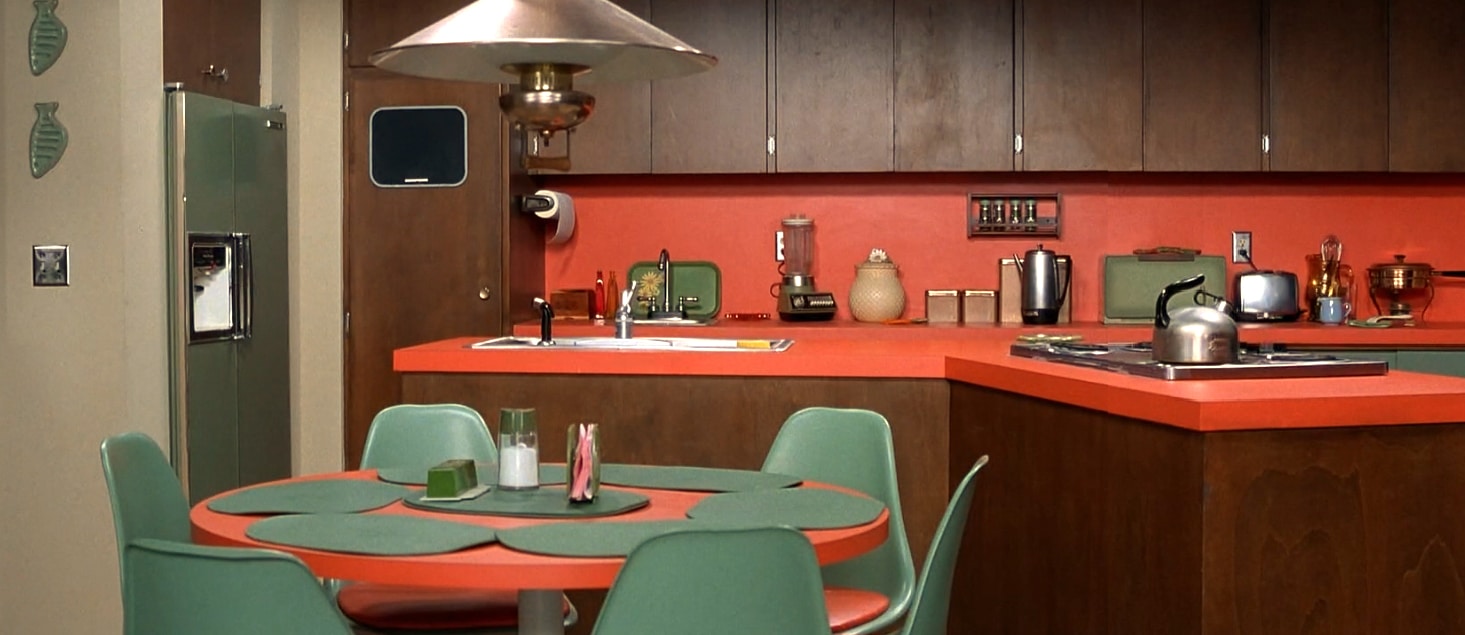 As the 70s rolled by, Hamburger Helper became a staple of our diets and toaster ovens began to join regular kitchen mainstay toasters on the countertop. You wouldn't have been alone if you wondered "What will they think of next?"
"What", indeed, because that which followed caused yet another revolution – the microwave oven. By 1975, the microwave had sold over one million units. It was a well-known product – certainly hailed as a modern marvel – but the integration was slow. By 1986, only 25% of all American homes had a microwave. It wasn't until the late 90's that more than 88% of homes were equipped with one.
At the turn of the century, the advancements were more of a cosmetic variety. Granite and marble countertops became the preference for new homes everywhere, as did hardwood floors, and long oil-rubbed bronze faucets. Significant technology changes include glass cooktops, industrial style gas ranges and mini smart computers implanted in everything from our fridges to the ovens.
Certainly kitchens have changed and yet they have generally maintained the same components throughout the years. I'm just waiting for the day that I tell my oven, "Preheat to 400 degrees" and it responds, "I can't do that, Brooke"