You've checked online and perused showrooms.
The only thing you're certain of is that you have options. And that's a good thing, right? Yes and no. Everybody loves freedom of choice, but is it wise to choose without the knowledge to facilitate an educated decision? Luckily, the science of contemporary cabinet design boils down rather simply. Obviously there are aesthetics that immediately appeal to you. But there are other aspects to consider, and knowing them will make the task of picking out your cabinets easier. Education is key – you want to be happy with your choice!
First, be aware of the three main structural components that comprise the basic cabinet design: box, shelves and drawer. RTI (Ready to Install) cabinets strictly come in standard sizes. Semi-custom and unique sizes are available as RTA (Ready to Assemble). All are boxed and tightly packed for easy mobility.
Boxes are primarily made of one of three materials – plywood, particleboard or fiberboard. Upon assembling, you will have to either glue or nail them together. They are easy to install, as they simply screw into the wall.
Plywood is comprised of layers of wood that are tightly laminated into a solid surface. When it is employed it is usually ¾" thick. It will usually feature either a maple or birch finish. It is reasonably durable, and holds up well, even in harsh environments. A popular choice, it is sometimes dismissed for its relatively higher price.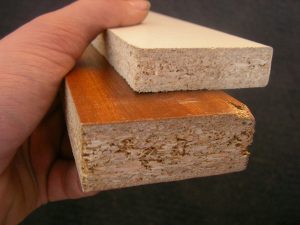 On the other hand, particleboard is quite affordable. It is comprised of bits of wood that are compacted tightly with glue. It's usually painted with a wood or melamine veneer. A printed simulated wood adhesive may also be used. The interiors generally reflect the style or may be a simple flat white. A common concern of particleboard is its vulnerability to moist climates and water. It also has a tendency to eventually split apart at stress points, such as those around the screws. Often there are different grades of particleboard, and the higher-ends are built to be quite resilient.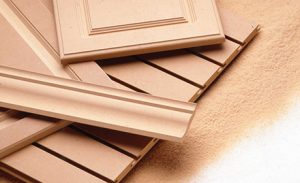 The type of fiberboard used in cabinet construction is usually of medium density and is referred to as MDF (Medium Density Fiberboard). Like particleboard, it too is generally cheaper than plywood. MDF boards are usually painted or used in thermofoil, melamine, and laminate cabinets. Sometimes a box may be comprised entirely of MDF or, as often the case, a combination of the three aforementioned materials. The same applies to the other components and wood types.
The drawers and shelves may be put together in a variety of ways. The cheapest manner is simply using glue and pins. An improvement over this would be the dovetail technique in which a key-like pattern is routed into the wood to create an interlocking solid adhesion. Typically, the drawers' sides are ½" thick, and the floor varies at around ¼".
The shelves, meanwhile, may be set permanently in place or open to modification. Pegs and holes make the latter customization possible, allowing you to adjust the height of each shelf space per your specific needs. Typically comprised of the same wood as its inherent box, glass may also be used as is often the case when it is integrated into the cabinet front.
There has been some controversy regarding whether or not construction of such products are entirely environmentally sound, particularly relating to the chemicals used to make plywood & particleboard. If this is a concern for you, simply ask for the pertinent info, it should be readily available.
"Green" or not, the costs of cabinets can vary wildly. If a basic one is all you need (which will typically feature particleboard and stapled drawers) you'll find that your venture is most cost-efficient. If quality is your priority, you will never have an issue finding a vendor willing to indulge your higher-end aspirations!