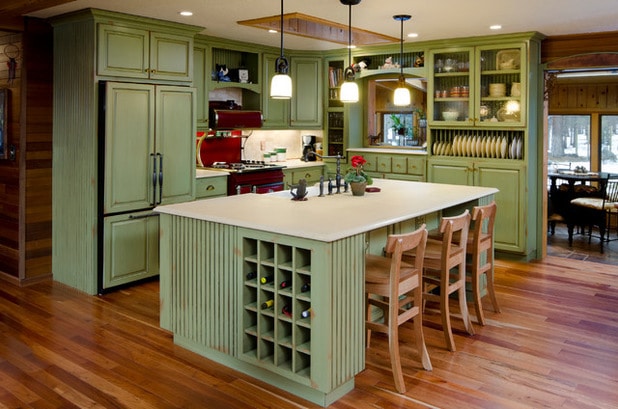 Sometimes you get sick of your current look.  This can happen with you kitchen too.  Unfortunately, your kitchen will probably cost a lot more to replace than your outfit.  For some people this is not a huge problem.  You see some cool kitchens on HGTV or you see some new appliances and you suddenly find yourself gutting your 12×15 L-shaped kitchen to the studs.  A few weeks/months later you have a contractor and a custom cabinet maker installing over $20,000 worth of cabinets and appliances into your amazing new kitchen.  I can only imagine how satisfying it would be to have the funds necessary to remodel your kitchen on a whim.
       For the rest of us there is some kind of compromise that must be made.  You could cut that hypothetical remodel in half by keeping your old appliances (or buy used appliances on craigslist) and buying RTA cabinets.  While there are some bad apples, some cabinet companies provide quality RTA cabinets for a similar kitchen that would probably run you around $4,000-$5,000.
       The frustrating part is that many people, myself included, don't even have $5,000 to spare.  Sometimes you just need a new haircut and nice shirt to make yourself feel like you achieved that new look you were going for.  Similarly with kitchens, you can compromise further and achieve your new look by just re-facing your kitchen cabinets.  Although a reface is not nearly as involved as a full remodel, it is not a process that you should undertake without proper planning.  Here are a few basic thoughts on re-facing your kitchen cabinets.
        If you are wondering why this is even a good idea in the first place, don't worry, it is not obvious to everyone.  While the cabinet reface is not cheap, it is a lot less expensive than replacing the entire cabinet.  You can leave all your cabinets right where they are.  Your appliances are usually not involved.  You don't have to mess with the kitchen flooring or the walls.  However, for all the things you can leave untouched, the cabinet reface will go a long way to giving your kitchen a new look and feel.  Even if all you do is paint your cabinet doors, the new color should be a shock to the system.
        First and foremost, you need to take stock of your current cabinets.  Check all the doors and the bodies of the cabinets.  The exact number of years is subjective but I would say that if your cabinets are not going to last at least another 8 year, then you should reconsider the reface.  You wouldn't buy new speakers and a custom paint job for a car with 223K miles, would you?  Make sure you will get a decent amount of use out of your investment.
           If you are an avid DIYer then there is a good chance you will have the skills and know-how to reface your cabinets.  By comparison, demolishing and replacing your existing cabinets will take a lot more effort and skill.  For many homeowners, there is a great satisfaction to be had when building, installing, and painting the various house projects that they face.  The right kind of cabinet reface can be done with relative ease.  One of the biggest factors for this is the amount of time it will take to complete.  Any DIYer knows that the more days you take off from your day job to work on your side project, the less you are actually saving in the end.  While you are planning out your time, you should also factor in the weather.  Weather and temperature can greatly alter your mood and motivation and therefore the quality of results for your kitchen project.
       Another advantage to re-facing your cabinets is that by comparison it is a rather small job. This means that the overbearing government will not feel inclined to steal your money in the form of permit fees.  Between taxes, fines, fees, tariffs, tolls, and intrusive regulation, the government already takes too much of your money.  So anytime you can do something that doesn't require permission or permit fees, it makes it that much more rewarding.
As for the actual re-facing, there are options.  You can try a different stain on wooden cabinets.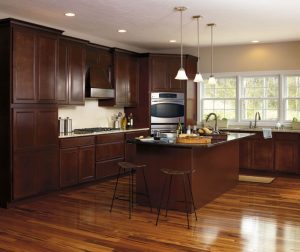 Going with a lighter or darker stain will make a big difference in your kitchen.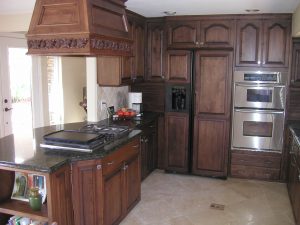 You can also just paint over the doors and frames with countless shades and colors of paint.

Here you can see how this kitchen was dramatically improved by only changing the color of the cabinets.
Perhaps you are not sure what new look to go with.  In the late 70's many kitchens were filled with hideous greens and oranges that are nothing short of embarrassing today.  If you are worried about your kitchen going out of style, you could always try to go with a black and white kitchen;   Timeless, retro, and modern; all at the same time.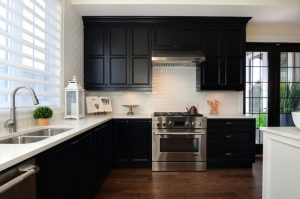 One option for a slightly more unique kitchen would be two tone cabinets.  This will make your kitchen stand out and as long as you choose complementary colors, your countertop should really pop.  A nice benefit of the two tone cabinet is that you have the option of leaving either the uppers or lower runs of cabinets unaltered; saving you time and money in the process.
Lastly, if you change small things about your kitchen it can augment the change in cabinets.  Two simple and easy changes to make would be a kitchen table and sink.  Getting a kitchen table can give you needed prep room while losing a kitchen table might be just what your kitchen needs to open up the space.  If you can't afford a brand new sink, you could really make a nice upgrade by simply buying a new faucet.  A new faucet will give new life to your old sink and it may come with more features like a hose and spray nozzle.
If you have the means to do so, you just can't beat a full kitchen remodel.  But since so many people are not in a good financial place to be doing that kind of renovation, it's good that there are options like re-facing your cabinets that can give your kitchen a much needed face lift.