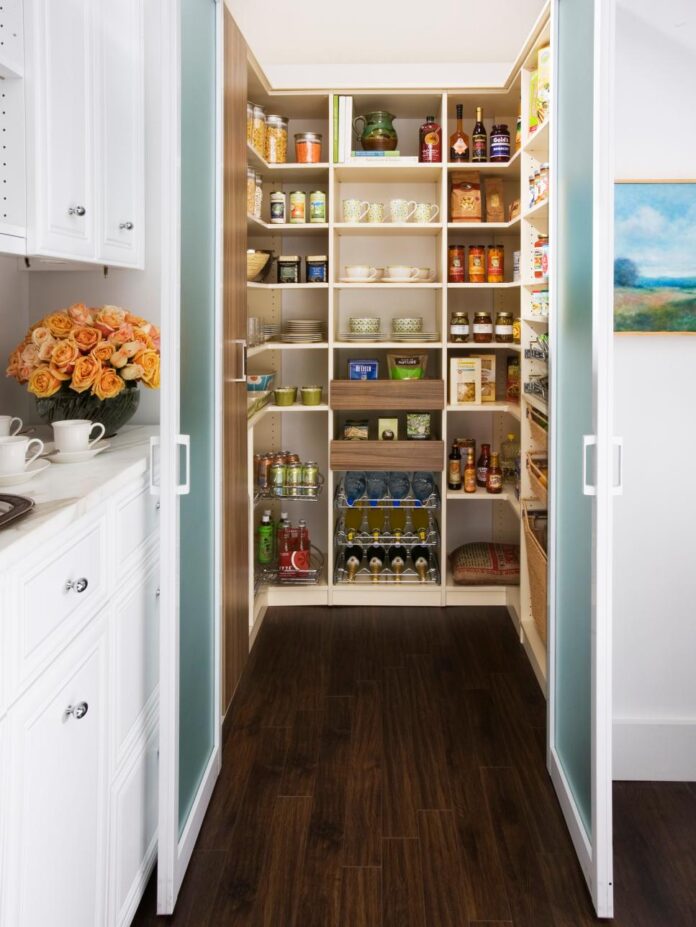 Everyone has their own problems and pet peeves with their kitchen.  Usually each kitchen  will have it's own little quirks.  For many people, including myself, these problems tend to be storage related.  Furthermore it is often the same few kitchen culprits that tend to be the difficult-to-store items, regardless of the kitchen you are using.  In my experience, those items are cutlery, countertop appliances, and the combined mess of pots, pans and their various lids.  Some people are fortunate enough to have a kitchen blessed with ample storage.  For the rest of us, these three types of items can be a pain to deal with.  These are some creative kitchen storage options to store said items so that they will be out of the way while still being readily accessible.
Cutlery
        I worked as a cutlery dealer for a while.  Although the job didn't make me very much money it did manage to foster a healthy appreciation for kitchen cutlery.  If you like to cook then you probably like to have the right knife for the job at hand and you don't want to have to search for it when it is needed.  I think that the obvious solution to cutlery storage is to have a countertop knife block.  There is nothing that complements a big immaculately clean granite countertop like a big beautiful knife block with a set of matching knives.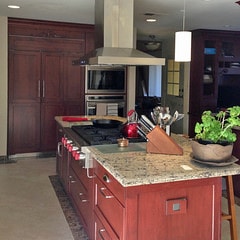 The knife block is also the best way to show off that exceedingly expensive cutlery set that you are still making payments on.  For all these reasons, even if counter space is limited, sometimes the knife block is still the best option.  There are however a few creative alternative options.
        If you have ever fantasized about chopping up food, wiping off the blade, and tossing your knives onto the kitchen wall like Hattori Hanzo in Kill Bill, or Steven Segal in Under Siege, then you have probably at least considered installing some kind of wall mounted knife storage.  Many of the wall mounted knife holders use a magnetic strip to hold the knives in place.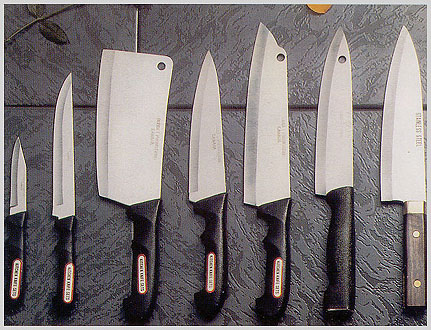 This is a nice option because it keeps them perfectly accessible to you at any moment and it displays the knives for all to see.  When I used this option in the past I also liked that the knives could sort of air-dry better than they could in a block or a drawer.  Another advantage to the magnetic wall mounted option is that the placement and order of the knives can be rearranged at any time.  One downside to this option (that my mother was quick to point out about my past kitchen) is that it can give you kitchen an industrial slaughterhouse look or feel.  If the perks of the magnetic knife holder are not important to you, you can still buy some wall mounted knife blocks that may work for your needs.
        I hate keeping good cutlery buried in kitchen drawers.  But if you have a shortage of both counter space and wall space, or if you just want your cutlery out of sight, you can try a drawer option.  Some of the newer kitchens have some great innovative drawers that are designed to store kitchen cutlery.
Here you can see a pull out spice rack style cabinet that has the cutlery tucked away but very organized and very accessible.  You can also get drawers that pull out with special cut out sections to hold your knives.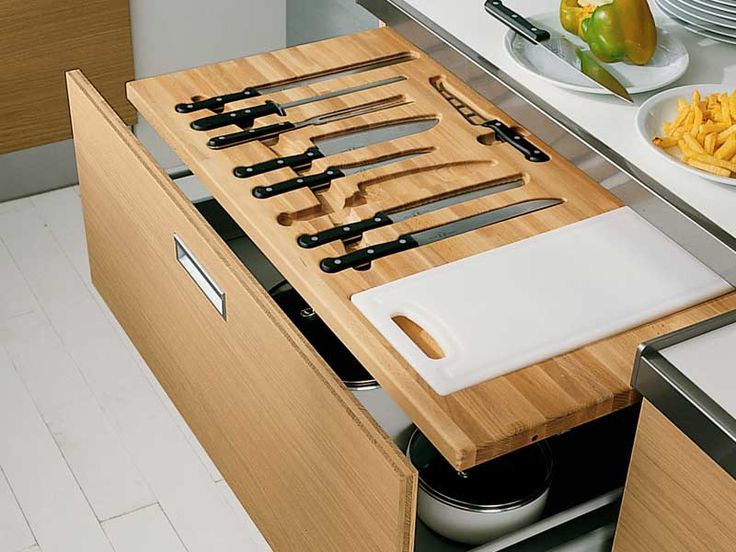 I am very fond of how both of these options incorporate a handy cutting board into the design.
Countertop Appliances
        The struggle of countertop appliances is very different from one person to another.  It is all a matter of your personal priorities.  For example:  As a lifelong soda fiend, I have no desire for coffee and thus no need for a coffee maker to sit on the counter taking up precious space.  But my roommates, and nearly every other person on the planet, insist on having a full size Keurig machine out and ready to dispense caffeine at a moment's notice.   Some people want completely clear countertops and other want you to see their $700 Kitchen Aid mixer sitting in the corner next to the big knife block.
        If you want clear or mostly clear countertops there are some great options for appliance storage.  You can install an appliance garage.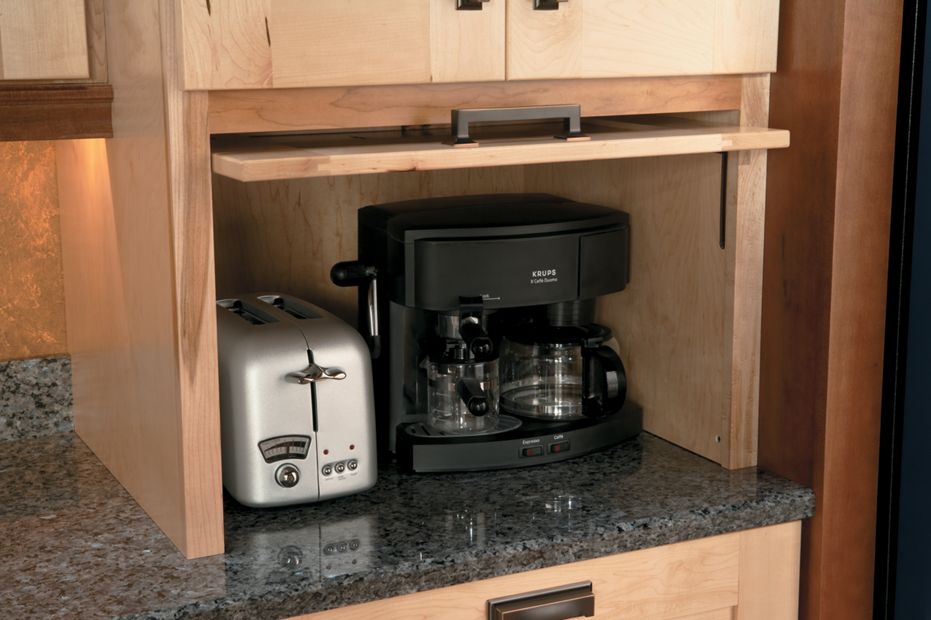 This is any kind of counter level storage cabinet that provides you with quick access to your appliances.  Some are little more than a swinging door that hides the appliances in a corner cabinet while others are more in-depth. Here you can see a kitchen that has separate bays for each countertop appliance.
        If you want to do some remodeling you can install some countertop appliances into the kitchen itself.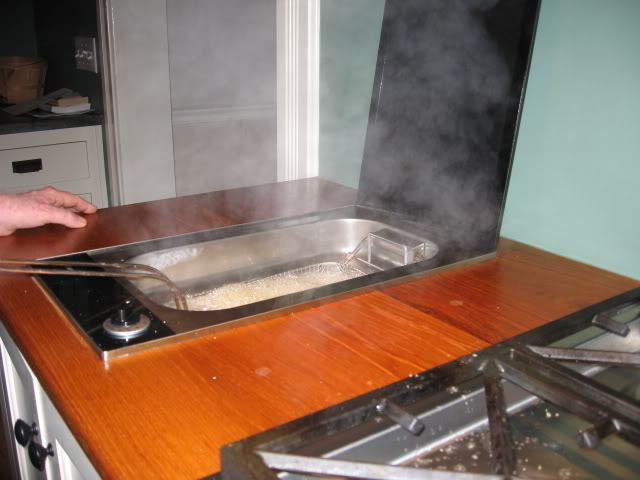 This built in deep fryer will eliminate the need for a small countertop deep fryer.
Who needs the a George Foreman Grill when you have a Jenn Air cooktop with a grill built in.
These pull out toasters could also save some much needed counter space.
Pots and Pans
        This is a problem that is made much worse when you don't have a set of matching pots and pans.  Pots and Pans tend to be slightly stackable but the corresponding lids tend to be a mess.  If you have a Frankenstein collection of pots and pans then it will be even harder to store and stack the pans when storing them.
        You can hang your pots and pans to save counter space.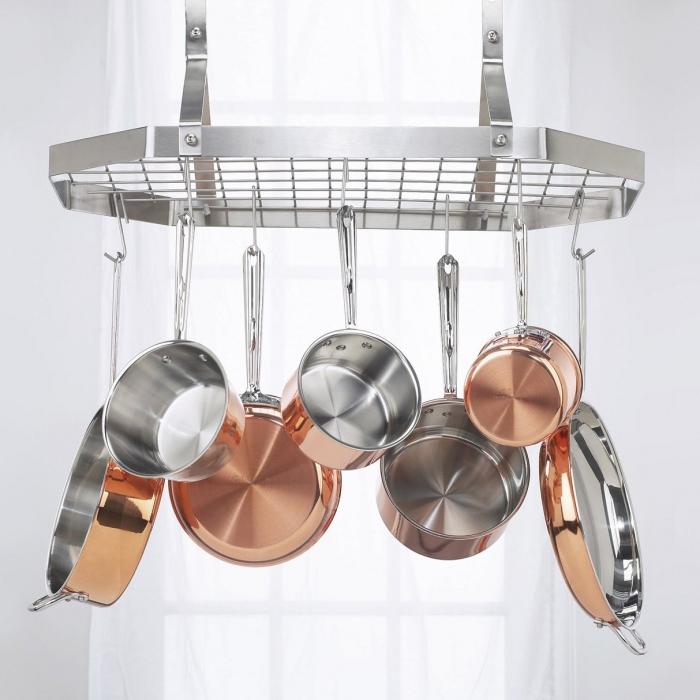 Many islands look good with a rack suspended pots and pans above them.  By choosing this option you only have to find space to store the pesky lids.  My mother has a nice set of Revere Ware pots and pans with copper bottoms.  For years she choose to hang them along the wall of the kitchen.
        Some new cabinets have some innovative storage to take care of the pots and pan issue.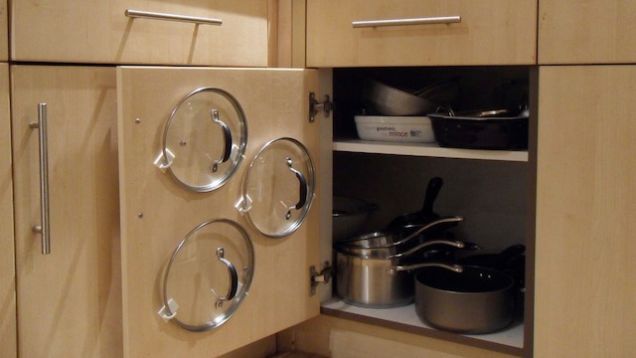 Here is a cabinet with doors that can hold the lids for the pots and pans that are kept inside.
Here you can see an integrated drawer to hold the lids for each pot in the drawer below.
My brother and his wife bought a brand of pots and pans from a company called Pro Health Ultra.  This company designed the lids to fit upside-down inside of their corresponding pots and the bottoms of each pan to stack onto the underside of the lids.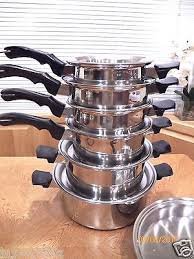 This simple design allows you to stack and store pots, pans, and lids in a cabinet making great use of the space.
        Naturally some people with have other things that they have problems storing but I feel that these are the ones most people end up compromising on.  Hopefully you can find creative ways to store your difficult kitchen items.