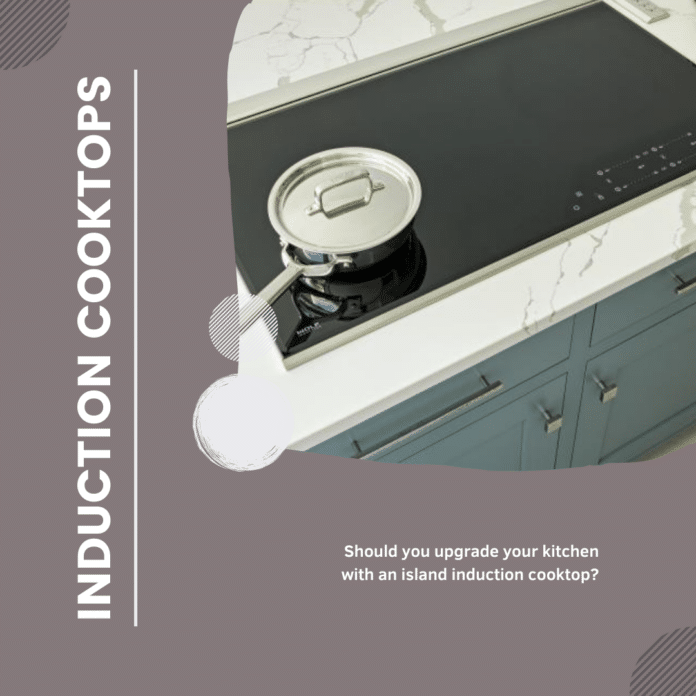 We see images of induction cooktops on kitchen islands in many modern European style kitchens. It enhances the trend, elevating the kitchen to a new level of sophistication. Is this fancy addition right for your kitchen?
Who would want an induction cooktop? We see this trend in modern kitchens. Traditional Americans style kitchens can still incorporate this cooktop, but it is more common to see the sleek appliance with a modern setting. Like a regular stove, this appliance can be installed along the wall. So what is the benefit of having the appliance on an island? Moving the cooktop to the island opens up the workflow in the kitchen. Other people may prefer to cook for others. A preference for their kitchen remodel may be a large island or breakfast nook.
Not all trends are made equal. Like all other kitchen trends, there are pros and cons to this magnificent-looking kitchen. Some may favor the sleek clean design while others find it gimmicky or unnecessary.
Pros of Induction Cooktops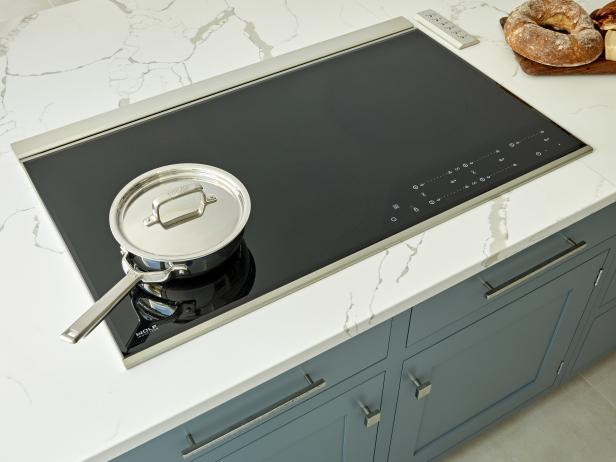 Less visible stainless steel
When remodeling a new kitchen, many homeowners can instantly decide whether they want to keep standard stand alone appliances or built-in appliances. With sleek European cabinets, appliances like the refrigerator and dishwasher have the option for panel ready finishes. This applies to very specific models of appliances. However, many love the look without stainless steel appliances standing out everywhere.
So that takes us to the stove. The stove does not have a panel ready appliance option. Those who want the look of built-in appliances will divide the stand alone stove range into wall ovens and the cooktop.
Safer to work with induction cooktops
Ever fear the idea of a fire being too hot? The idea of having something catch on fire can be scary indeed. An induction stove is much safer to work around and without the worry of anything catching on fire falling out of the pan. The flat cooktop surface also ensures more stability to pots and pans. No longer would one fear a pot tipping over the induction stove.
Easier to clean
With a flat surface, the induction stove cooktop is much easier to clean than a traditional stove. Simply just grease cleaner and a damp towel wipe is all one would need. A traditional stove has to deal with food residue stuck to the grates. Oil splatters will require a full cleaning session to fully remove from a gas stove cooking surface.
More efficient
As there is no wasted energy to heat up a pan, the cooktop instantly heats cast iron and stainless steel cookware. Most people are used to waiting for oil or butter to heat up before they can start any process of cooking. The induction surface transfers the heat to the steel cookware instantly so it requires less energy to cook than a gas range.
More continuous countertop space
Having a traditional stove along the wall breaks up the cabinet and countertop flow. Some detailed pieces of countertop stone have complicated veining that some homeowners want to display or show off. Commonly, the stove separates the stone and needs to be cut.
Cons of Induction Cooktops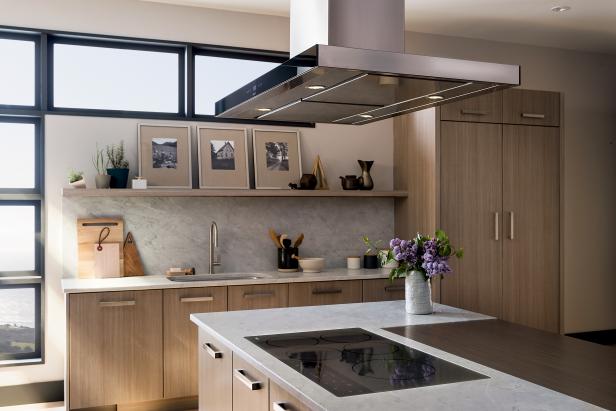 Need a kitchen island
As it implies, this style kitchen with an induction cooktop will require a kitchen island. In the majority of homes, this is difficult to achieve as many homes do not have the kitchen space to install an island or peninsula. Many of these homes will have a galley or L-shaped kitchens. An island needs not only the space to put the cabinets, but also the walkway space. The bare minimum needed is 36 inches between the countertop. This measurement is needed to allow for appliances to fit through the walkway. If basic appliances cannot fit through the walkway, then the space is too narrow for people.
Need a reroute gas and ventilation system
Outside of having the available space, one needs to reroute where the gas and ventilation for the kitchen are. Typically these two will always be on the wall, as where most kitchen ranges and range hoods will be installed into. When creating an island cooktop, the gas needs to be routed to the middle where the island will be installed. A contractor will be needed to extend the gas and ventilation lines based on the kitchen design plans. Along with that, ceiling ventilation will be much needed to keep all the smoke and fumes out of the home. This may call for a much more expensive island mount range hood.
Split one appliance into two
Turning the standalone range into the cooktop and wall oven needs more cabinets to support these two. A standalone range simply needs the space to fit the appliance in. A cooktop needs a cabinet to support the countertop appliance. The wall oven will need to be built into a full height cabinet. This may drive up the cost of not just the cabinets, but also the appliances. The 2 individual appliances will cost more than just the range itself. When planning the cost for kitchen appliances, factor in the difference in cost for this fancy modification.
Specific cooking pots and pans for induction cooktops
An appliance change and a kitchen island is not all one needs to start cooking with an induction stove. Induction cooktops can only be used with certain cookware that must be made of a ferromagnetic metal such as cast iron or stainless steel. This means people often will have to buy new sets of pots and pans to accommodate this new lifestyle.
Less countertop
Indeed, having this setup may result in less countertop space. The wall oven units are commonly 24 and 30 inches. This amount of countertop lost can be detrimental to a small kitchen. Having an island may not balance out the loss of that much missing countertop space. Continuous countertop allows for a larger work area surface. Although more people can cook simultaneously in this kitchen, the countertop availability may be less based on the design and room of the kitchen.