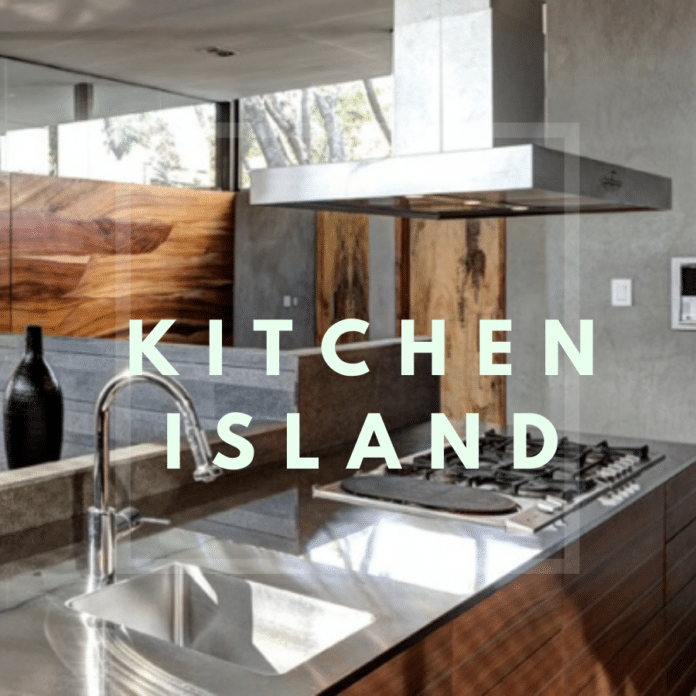 Kitchen islands are the extension of the regular cabinets. Though the space needed for a kitchen island or peninsula are large, it is versatile in construction and use. There is no one way to build a kitchen island. With the ability to create flowing countertop waterfalls, unique layouts and designs can be achieved. 
The cost of kitchen waterfalls can escalate the remodeling cost drastically. What cost breakdown is there for a kitchen island?

Kitchen island cabinets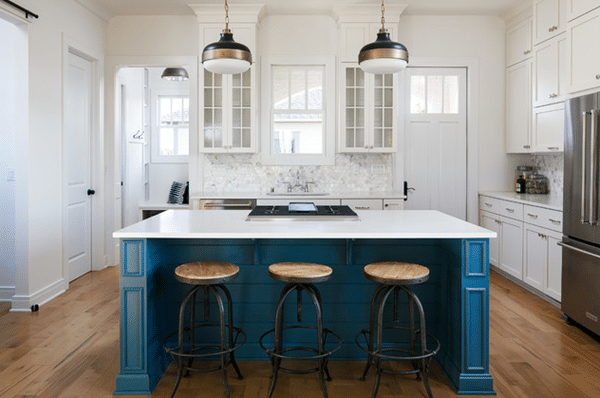 Just like regular kitchen cabinets, the island will use the same. People can experiment with the cabinets by changing the cabinets up in terms of styles. How so? Many people who opt to have multi-colored cabinets will choose a second color like grey to complement white shaker cabinets. Rather than just base cabinets, wall cabinets can be used on the back end of the island to add space for kitchen seating. Both base cabinets and wall cabinets can be used to make a kitchen island. Similar to base cabinet dimensions, the kitchen island stands at 34.5″ tall (36″ with the countertop). Wall cabinets will need to be built up with a plywood 4.5″ base.
Countertop and waterfall edging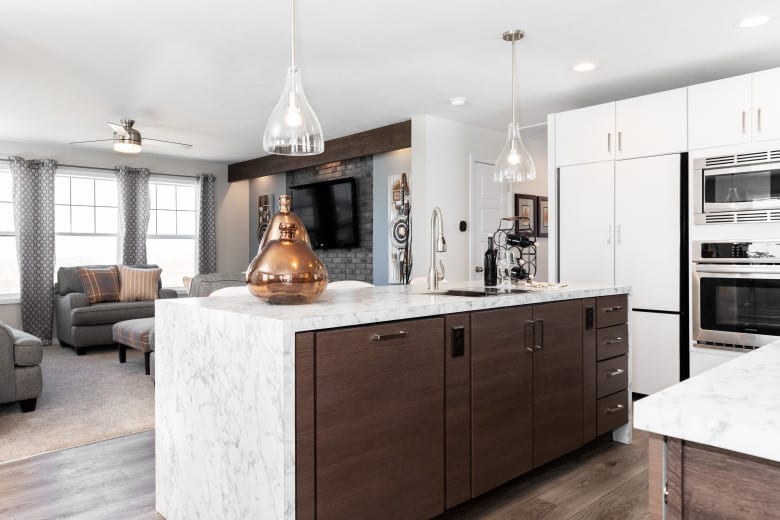 The surface used for kitchen cabinets and islands. Similar to the countertop used as a backsplash, countertop can be added on the sides of the cabinets. Having the countertop flow from the top down to the sides of the cabinets creates a waterfall edging. This can be added to the sides of cabinets but is more common on kitchen islands. Countertop pieces with intricate veining can show more dynamic features here as the pieces will rarely be split up in comparison to traditional L-shaped kitchen layouts. Even in smaller kitchens, joining two pieces at the sink or a corner is very common and may end up splitting up intricate veining a stone countertop may have. 
Electrical Outlets (optional)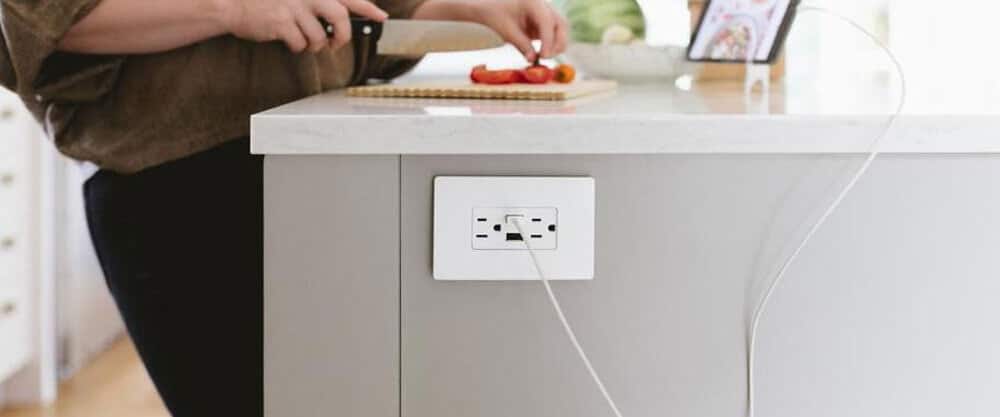 A big project on its own, but some people need and want outlets on their kitchen islands. This may be for additional food preparation for countertop appliances. The island is also a place for entertaining guests, so access to charge handheld devices may be desired. Putting outlet ports on a kitchen island is not an easy task, as setting it up after the demolition phase is required. An electrician or handyman will be needed to move electrical wiring.
Water Line for Sink (optional)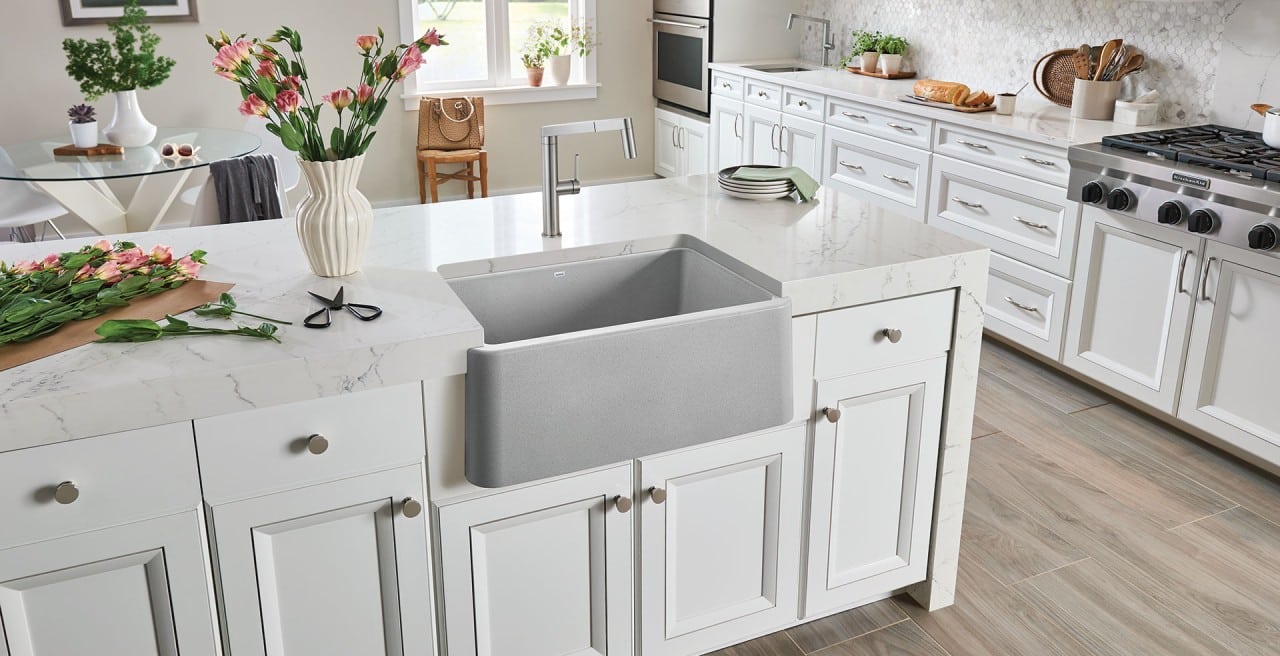 Kitchens with a lot of activity may potentially need a second sink. The sink could be used by guests or a second prep area for food. It is rarely a full-size sink for the second, typically a bar sink. This refers to the basin being much smaller than a traditional 30" sink. The bar sink, often referred to as a prep sink, is located on the island for customers that prep big events in the kitchen and need multiple people to prep the food all at once. 
So how about moving the actual sink to the kitchen island? This methodology is actually viable. Some people want to have a detailed countertop without having the sink separate or take away from the intricate veining. In order to have a sink on the kitchen island, the water line has to be moved to the spot where the cabinet housing the basin will be. A contractor is needed to move the line based on specifications. When designing the kitchen, you can specify where the sink will be and inform the contractor about the new location.
Gas Line for Stovetop (optional)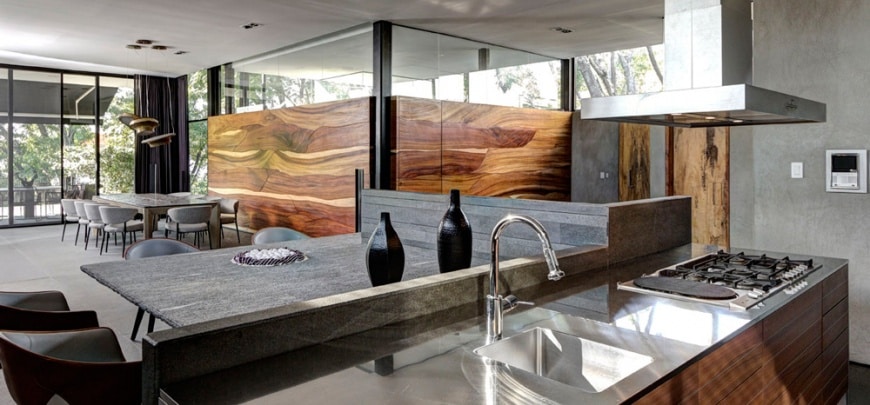 The similar reasons a person wants to move the sink to the island applies to the range as well. Having the range at the island allows one to prep and serve food for guests at the seating area. This option is perfect for hosts that have guests over constantly. Like the water line for the sink, the gas line would have to be located in the center of the range. This option is more tailored for stovetops for the sleek modern aesthetic the setup creates as a result.
Countertop Materials
Wood or butcher block
Granite
Marble
Quartz
A kitchen island can be set up for many different possibilities.
Food Prep
Additional Storage
Breakfast Nook
Dinner Table Replacement
Movable Island
What NOT to do when designing a kitchen island
Although the possibilities for being as creative as one can be here, one should avoid doing so. Kitchen cabinet showrooms may sometimes feature a very advanced and complicated kitchen island design. As tempting as it may be, customers planning to remodel their own kitchen should not design one like these. The amount of materials, space, and time to set these up can drive up the cost one expects on the remodeling cost. Here are some things to avoid when creating a kitchen island:
Do not go crazy with waterfall edges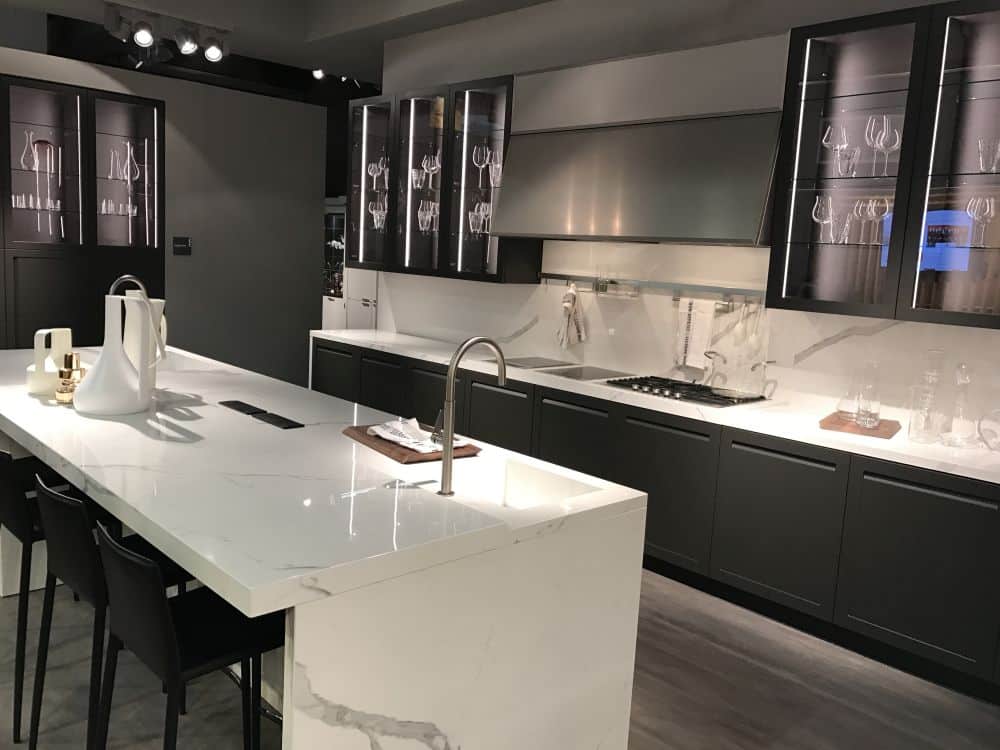 Waterfall edging is very pleasing aesthetically, but also extremely costly. When two countertop edges meet, the installer needs to finish that section so it is smooth to touch. Along with that, every section of the waterfall requires a countertop to be applied vertically. At the bare minimum, having two sides of a kitchen island with a waterfall would be 36" tall and will need almost a full piece of countertop in addition to what one is currently purchasing. When purchasing countertop for a kitchen island, do not forget it is not your standard size countertop like the rest of the kitchen. The kitchen island countertop will need to be either 36" or 42" x 96". 
Do not go past a 9' long kitchen island
A kitchen countertop will have a seam commonly at a corner or at a sink. The reason is to not show a noticeable seam line between the two pieces. A countertop that is elaborate and shows complicated veining will be extremely noticeable with the seam line. A prefabricated piece of countertop is 9′ long. This measurement would also count in the overhang as well. An overhang hangs over 2″ off regular cabinets. Which means cabinets should not be longer than 100″ long. A kitchen island that uses complicated veining or dark color countertop will have a very visible seam. Besides that, a kitchen island that is 8′ is very long. One is much better off having more cabinets around the walls of the kitchen than a long island.
Avoid making a table using only countertop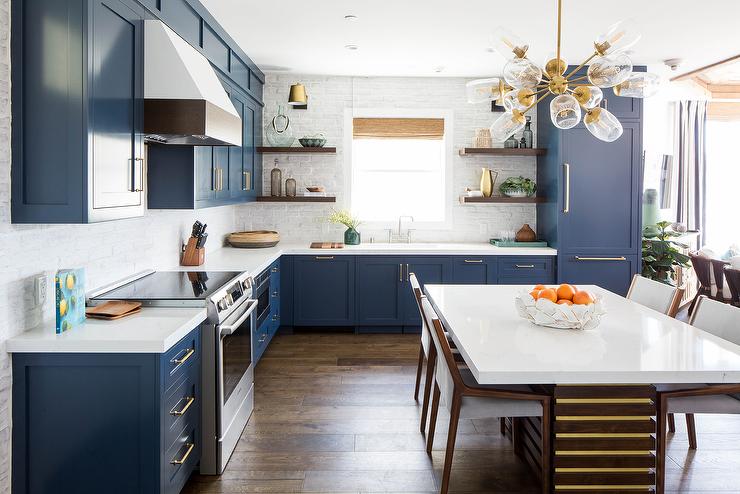 Countertop, especially quartz and granite, are extremely heavy pieces. The plywood cabinets are strong enough to support the weight of countertop, but they need the support. Countertop overhang cannot extend very long without a form of support holding the weight. So the idea of creating a table is not ideal. Countertop overhang at max can go 12″ of overhang. Anymore will require a leg post to hold up the free floating weight.
Cost-wise, countertop pieces can be extremely pricey. When selecting island-size prefabricated pieces, each piece can be double the price of a regular countertop price or more. This can be drastically more expensive than a regular table. Although kitchen islands can be focal centerpieces of a kitchen, they should not replace a family dining table. A typical dining table may end up a fraction of the cost of a custom island with an overhang seating area. Unless one is fully committed to the idea of an elaborate kitchen island with a full seating area, do not invest in a countertop table area.
Avoid choosing a multi-tiered kitchen island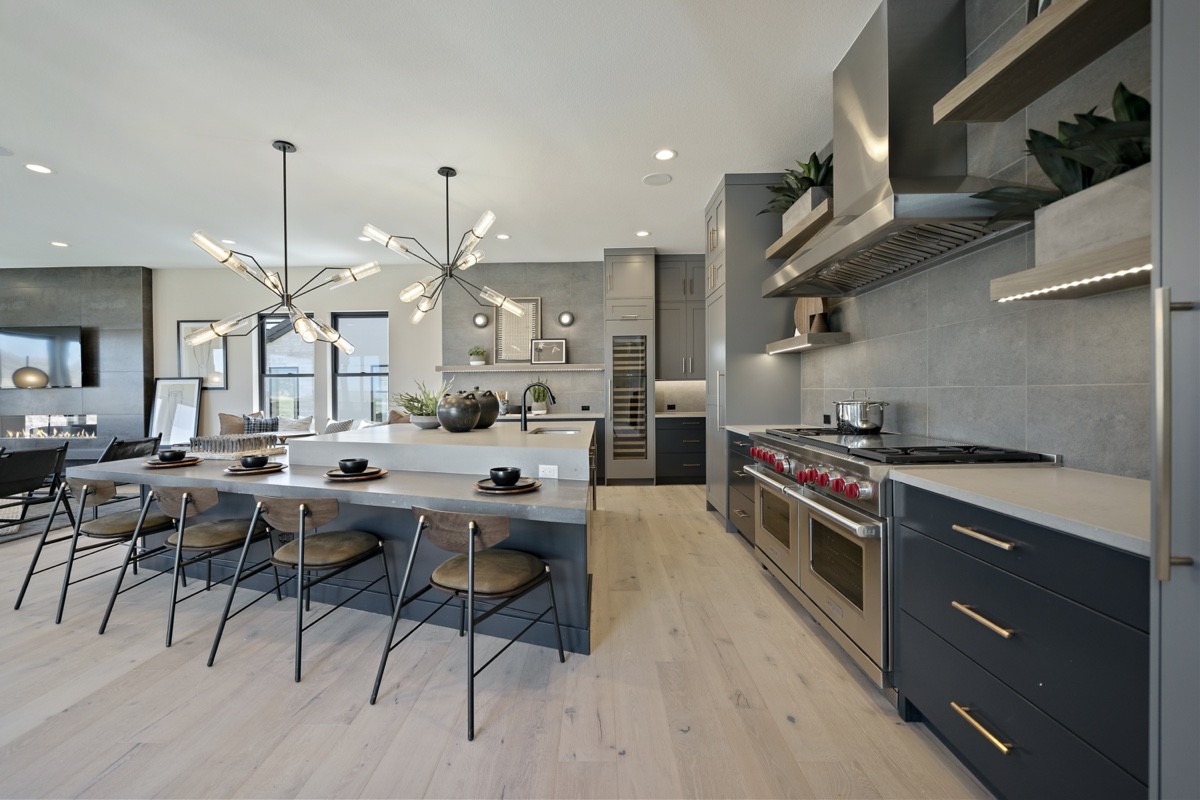 With how expensive the countertop can be, having a multi-tiered kitchen island. Since typical cabinets will end up 36″ tall, it will be too tall for regular chairs to match that height. People will have barstools instead for seating areas. What about regular chair height? That would require a lower-level countertop. This is achievable with a waterfall effect to go from cabinet height down to the lower level seating area height. Finishing the edging for each piece needs a lot of work to create a smooth transition. Similar to the waterfall edge, the edges need to be cut at a 45-degree angle to align both pieces together. As the height of the lower seating area cannot be supported by cabinets, a waterfall edge from the floor can help hold one side. The amount of material and finished edges add a lot of costs for the kitchen.