A kitchen renovation is a large investment, and one that a homeowner does not make every year, so choosing a style that will fit the homeowner's long-term preferences is important. Years ago, the style of the kitchen always followed the style of the house, but that rule of thumb no longer applies. For example, a country house traditionally had a country-style kitchen. Now, however, homeowners are choosing different styles, and even mixing styles from different types of kitchens. The following is a list of the most popular kitchen style choices by homeowners.
Traditional: Classic and Detailed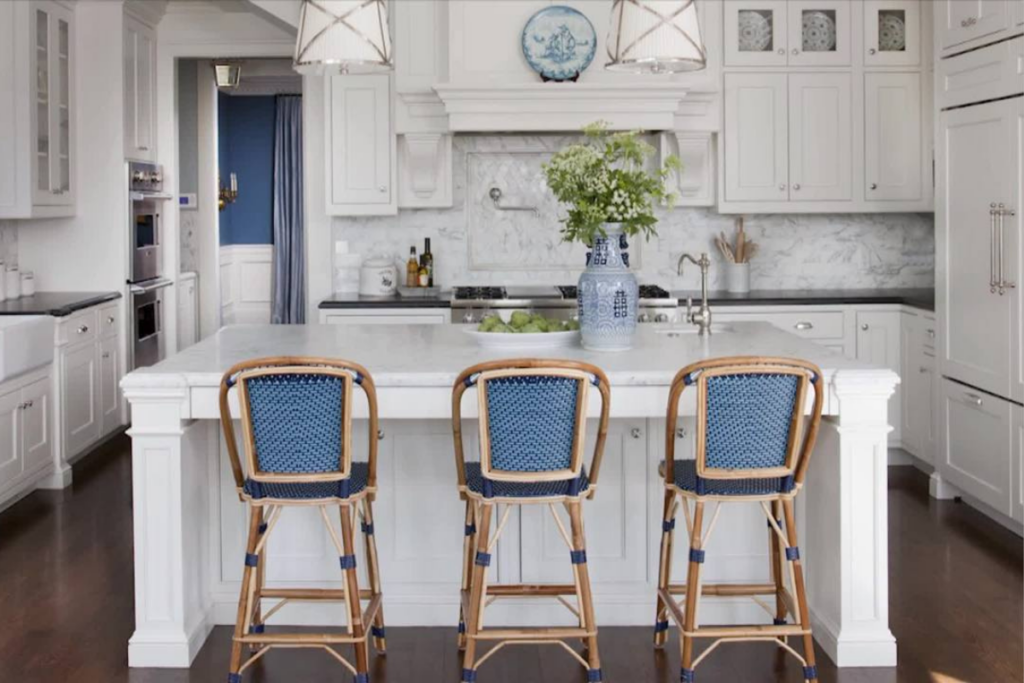 Traditional-style kitchens are classic and inviting.  They often have wood cabinets comprised of cherry, oak, or walnut.  The cabinet doors usually have detail, as do the tiles in the backsplash. The cabinets have raised or recessed panels instead of contemporary flat panels.
Dark to medium-colored wood cabinets are the focal point of the traditional kitchen, with standard stainless-steel appliances and sink features. Countertops can be granite or marble. There is contrast between the wood and wall color, such as a crisp white wall. Some other colors that are used include cream, pastels, grey, or green. The details of the kitchen can be seen in the crown molding and decorative lighting.
Contemporary: Clean and Sleek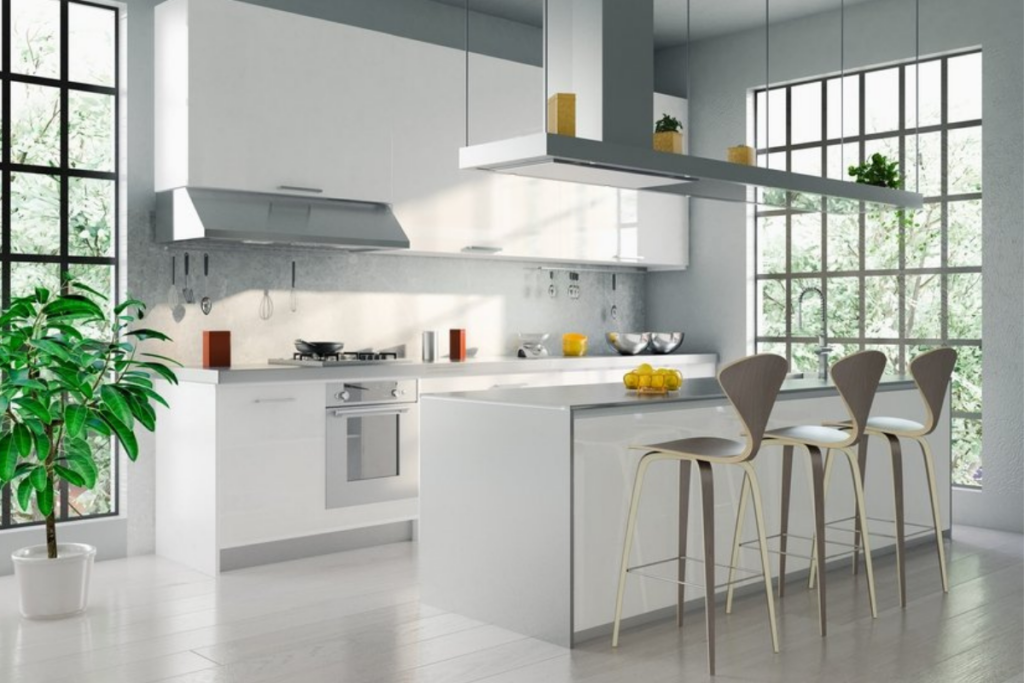 Contemporary style refers to design that is "in the now".  This kitchen style is characterized by streamlined surfaces but borrows some traditional ideas to make the space livable. These kitchens are often free of detailing and focus on the artistic combination of materials and colors. One can create this appeal by using horizontal lines or concrete flooring. Many contemporary kitchens have cabinets with clean lines.
Contemporary kitchens do not follow a certain template but often have a bold color choice that might not be expected. The materials used are what makes a contemporary kitchen stand out from others.
Transitional: A Mix of Features
This style combines different elements of traditional and contemporary design to best suit the homeowner's preferences, which offers him or her flexibility. Transitional design combines the clean lines of contemporary style with the comfort of the traditional kitchen.
Shaker-style cabinets are an example of transitional style. Granite, marble, or another natural countertop or flooring can be used transitional kitchens. Transitional kitchens might use traditional tile in a different way, for example, in a non-traditional pattern. This allows the homeowner to create a space that best fits their lifestyle.
Beach: Light and Airy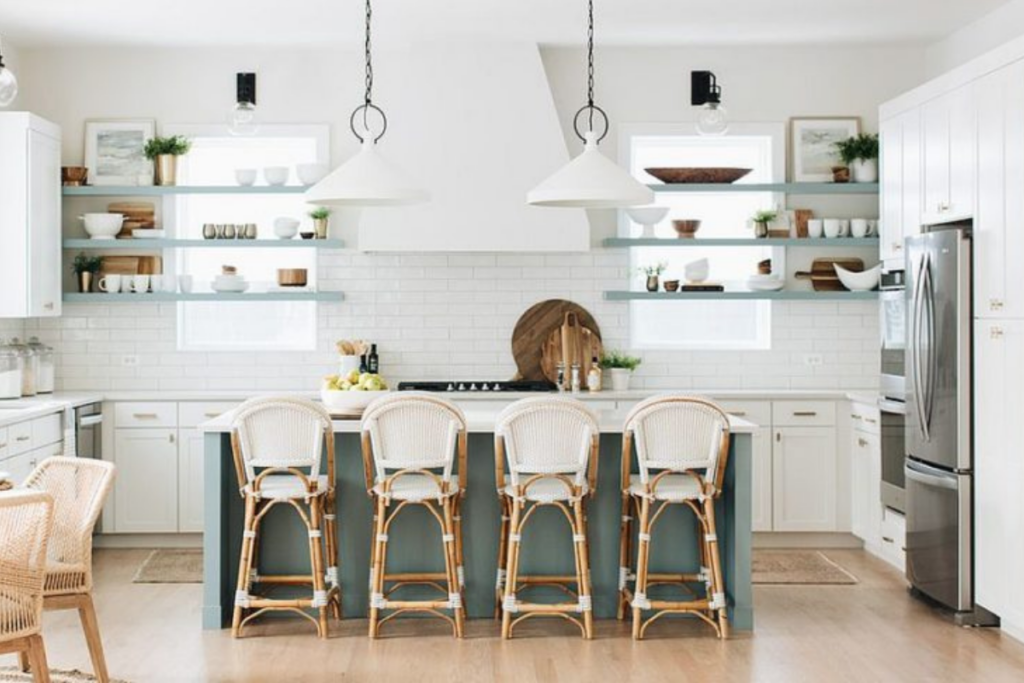 Kitchens with a coastal style should have an uncomplicated, yet functional design.  White cabinets and white tile lend to an easy, beachy feeling.  A beach kitchen usually incorporates a large amount of sunlight through large windows or skylights.    
Blue accents in the backsplash and paint color invoke reminders of the ocean. Some kitchens are painted a bright white that can show off kitchen accessories and backsplash. Striped fabric might be utilized in the kitchen for chairs, stools, or curtains. Beachy accents in the room can be inspiring and fun.
Eclectic: Personalized and Rich in Color & Texture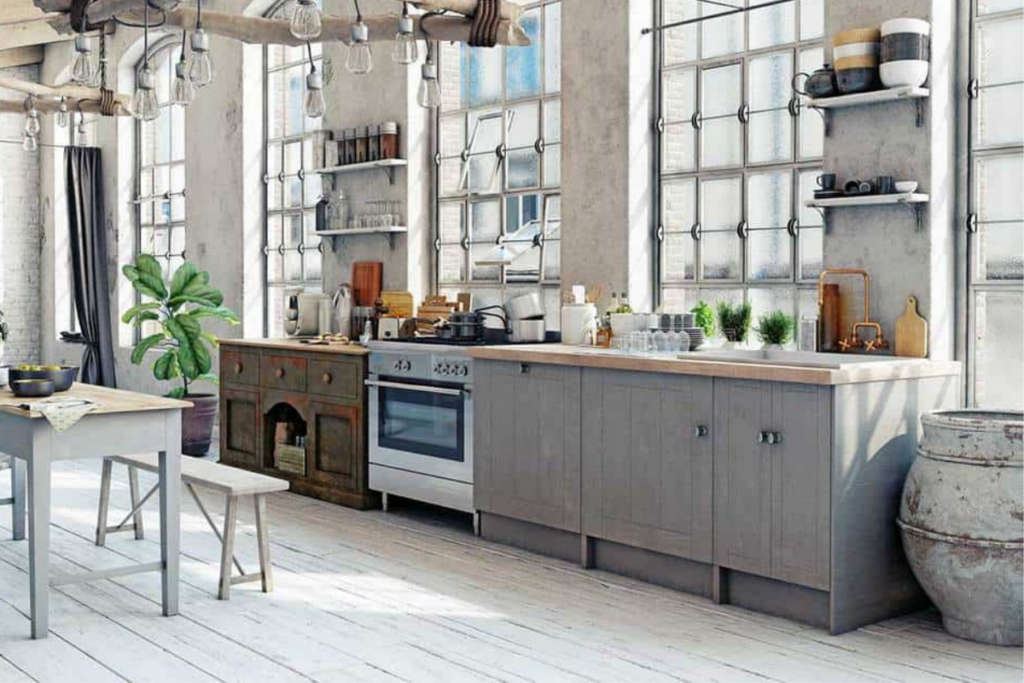 This kitchen style includes rich colors and textures chosen based on the homeowner's taste.  It is a highly personal and unique style.  A feature presentation is often included in eclectic kitchens; for example, it might be a brightly painted wall or unique tilework above the stove. 
Eclectic kitchens can also be characterized by a mix of styles that are combined perfectly. Mismatched materials are usually present, for instance, multiple wood grains throughout the room. These cabinets can be painted or stained in a bold rich color. The kitchen is usually a reflection of the homeowner's tastes and personality.
Modern: Sleek & Sophisticated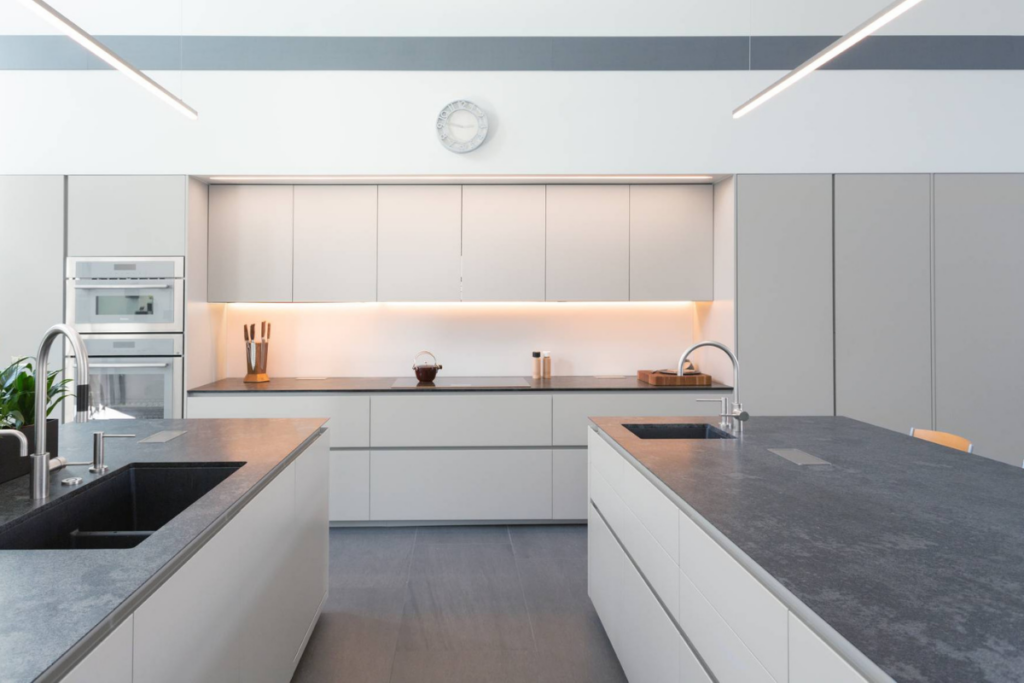 Similar to the contemporary style, a modern kitchen is minimalistic with clean lines.  Modern kitchens are characterized by frameless cabinets, and simple hardware, or sometimes no hardware at all.  Countertops are made of granite or concrete, without any embellishments, appliances, or accessories.
Color palettes include grays, white, and black, with stainless steel appliances with pops of color throughout. Fixtures are high-end and look luxurious. Finishes can be either matte or ultra-shiny. Lighting is often metal—chrome, stainless steel, or black.
Craftsman: Organic & Functional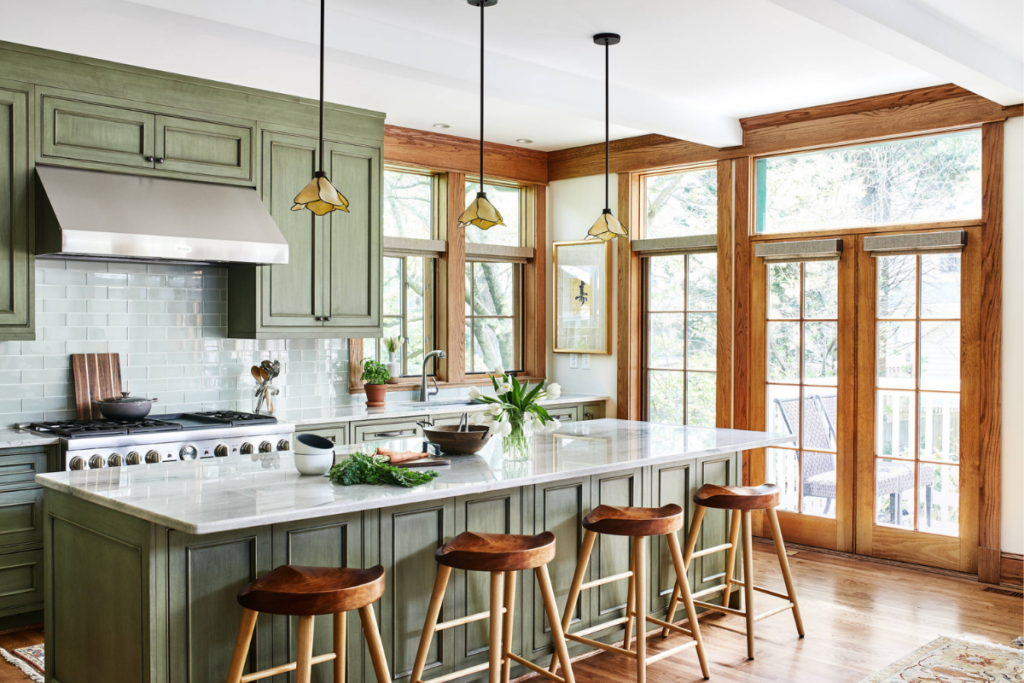 In the early 20th century, the Arts and Crafts movement during the industrial revolution brought about the Craftsman style.  Kitchen tabletops, cabinets, and furniture were made by hand, and intended to last for years.  The cabinets in a craftsman kitchen really stand out.  Cabinet styles with authentic details, like shaker cabinets, give it a polished look.  A deep sink is stylish and serves a purpose. Sometimes these types of kitchens use antiques as an addition. 
Colors are warm and muted. Think soft greens or yellows, or shades of brown. Natural materials are used throughout the space. These kitchens also incorporate a rustic and inviting feel, reminiscent of simpler times.
Farmhouse: Cozy & Simple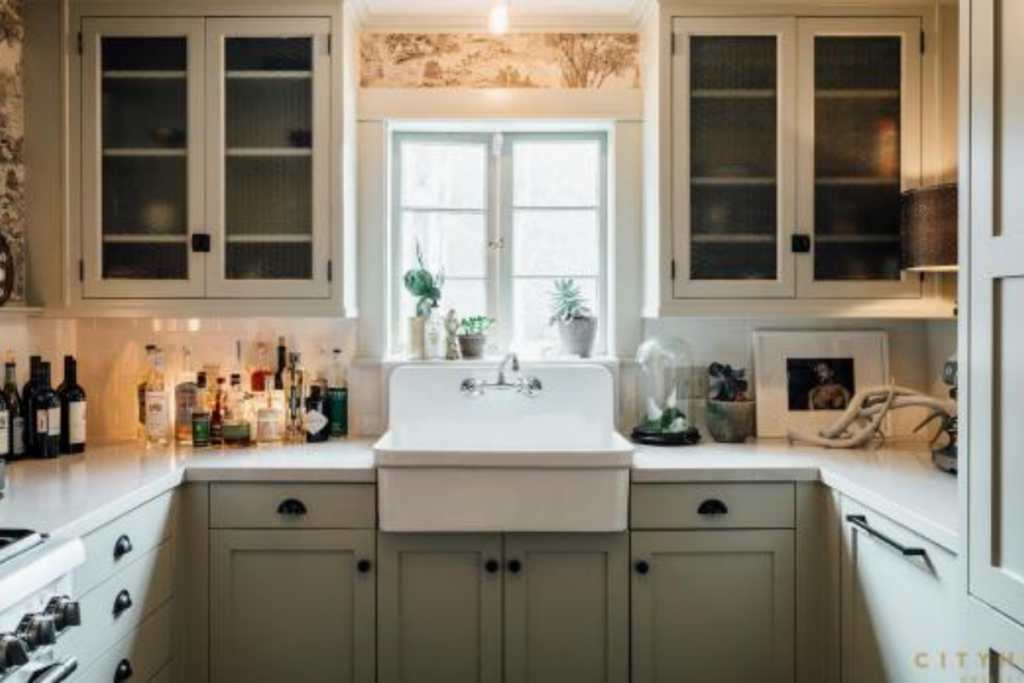 This is another style that incorporates rustic elements. It is decorative and has many details. This look is defined by wall paneling, rustic yet modern touches, and Shaker cabinetry. It might also include open shelving with the cabinetry.
Some other features in a farmhouse kitchen include apron-front sinks, natural wood floors, exposed beams, butcher blocks, and farm tables. Decorative touches such as baskets, personal knickknacks, copper pots, or china are on display. The overall feel is one of coziness, with an emphasis on the natural materials.
Rustic: Raw & Natural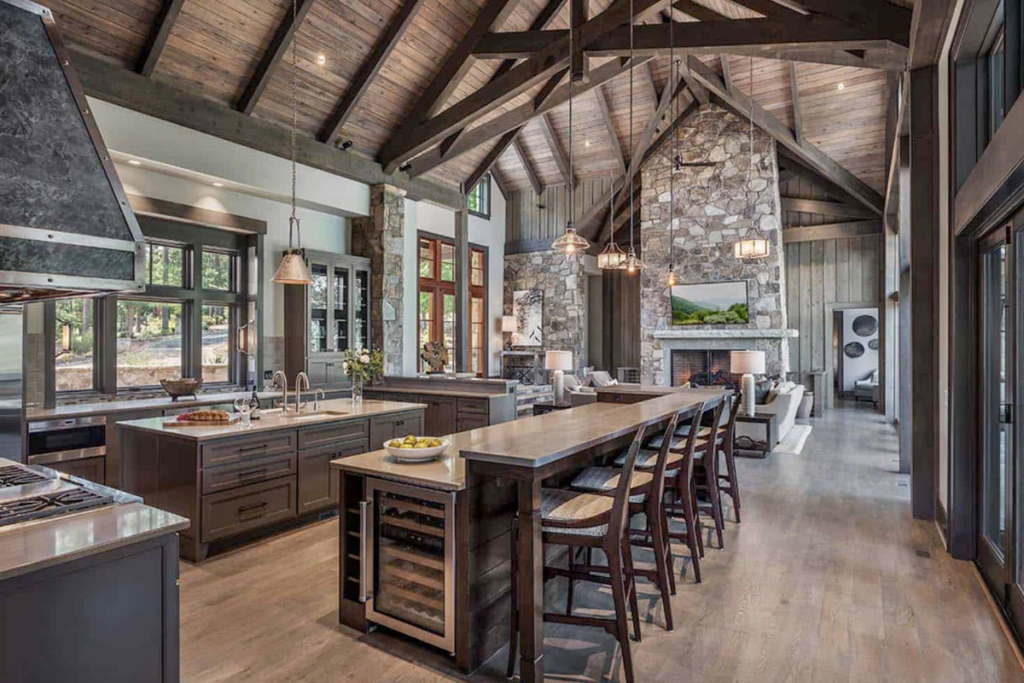 Homeowners that like unfinished surfaces and distressed finishes will gravitate toward a rustic kitchen. A wood, brick or stone wall is a common feature of rustic kitchens. Materials in the rustic kitchen are natural, and sometimes wood is left untreated. Sometimes indoor plants are used to enhance the nature atmosphere.
Warm colors are used throughout the space. Antique pendant lights add to the rustic design. This kitchen style is one that is comfortable and earthy.
Mediterranean: Warm & Elegant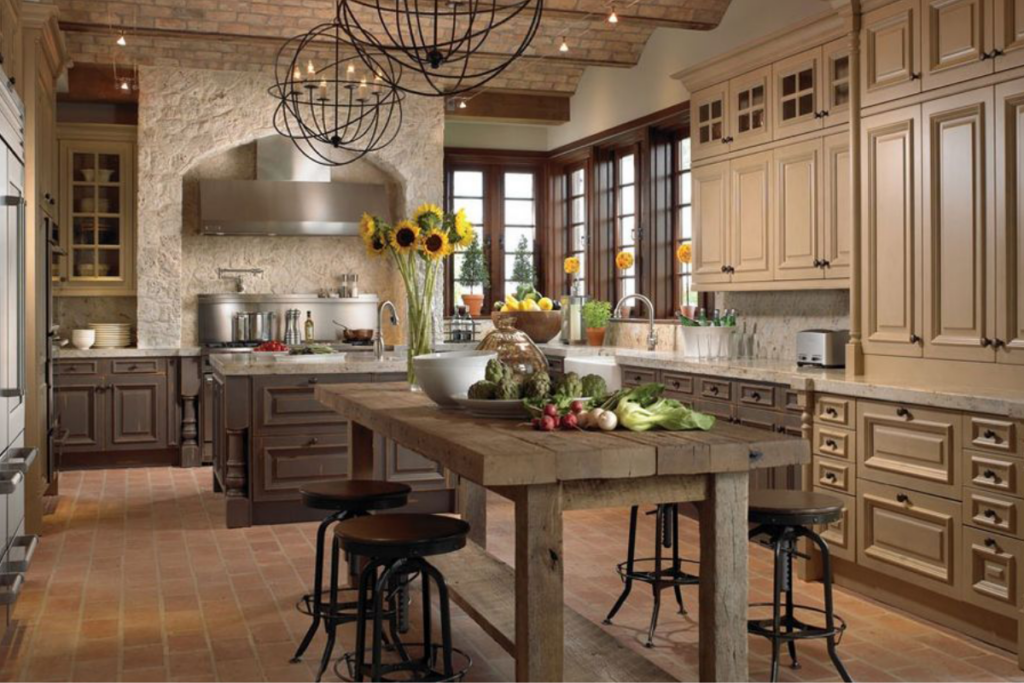 Mediterranean kitchens include art and culture in their style.Like Mediterranean homes, these kitchens are usually found in warmer-weather locations that have Spanish influences, like California and Florida. They incorporate Grecian, Spanish and Italian influences.
Warm woods, bright walls, and indoor-outdoor living are characteristics of Mediterranean kitchens. The style is elegant but may include a modern twist with the appliances. Often times, there are artistic backsplashes, tile mosaics, or terra cotta accents. The furniture is heavy and made from high-quality wood.
Asian: Peaceful Fusion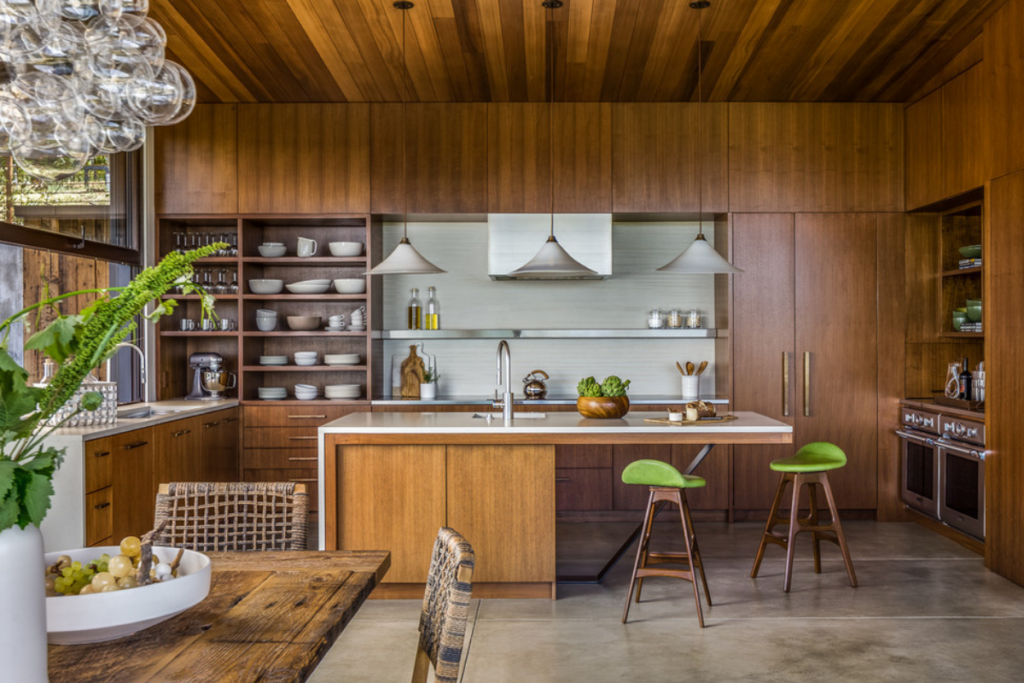 Kitchens with an Asian flair invoke a feeling of peace with the use of natural materials and curves. Kitchens with an Asian influence might include dark cabinets with light stone tile backsplash. Sometimes homeowners contrast a light backsplash with a black granite countertop.
Warm wall colors like yellow and red might be used as an accent, but the overall color palette is neutral. There are minimal furnishings for an uncluttered appearance and the space is used as efficiently as possible. The overall impression is soft and elegant.
Industrial: Unfinished and Simple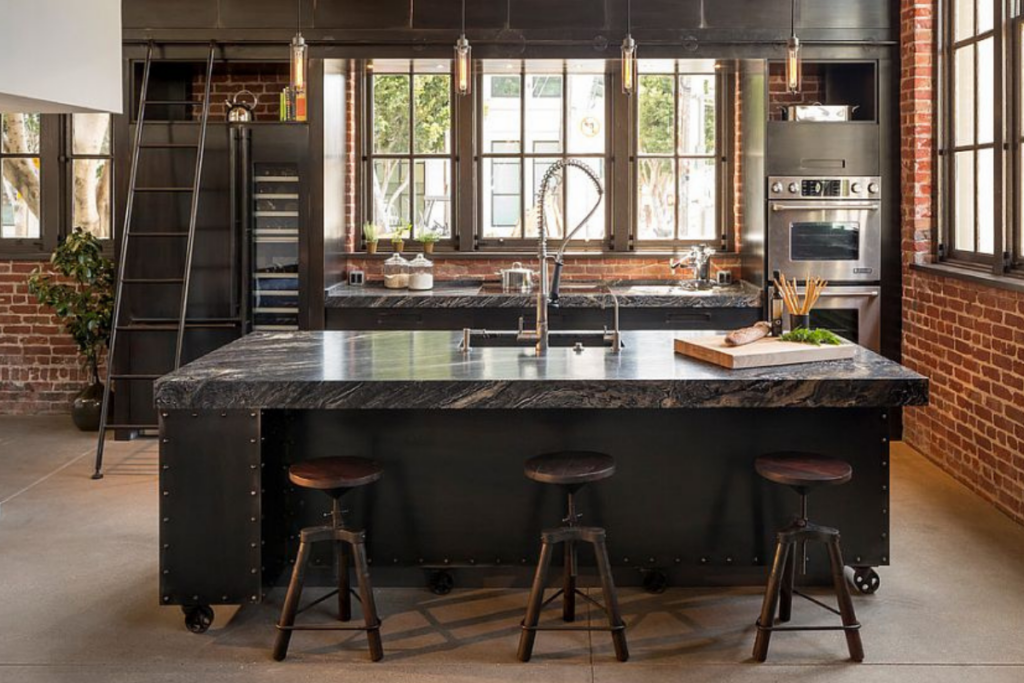 This kind of kitchen does not appeal to every homeowner, yetindustrial kitchens can make a statement. Featuring an open concept style, they are often found in loft condos or apartments. They include exposed walls and pipes, wood beams, and mixes of materials. Concrete countertops add sleekness to the space.
The color palette is toned-down with black steel, copper, or brass lighting. Chalkboard is another material that is used in industrial kitchens to add function as well as add to the unfinished look. An industrial kitchen is often on the dark side with the mix of metals and dimmer lighting.
Scandinavian: Light, Bright, and Practical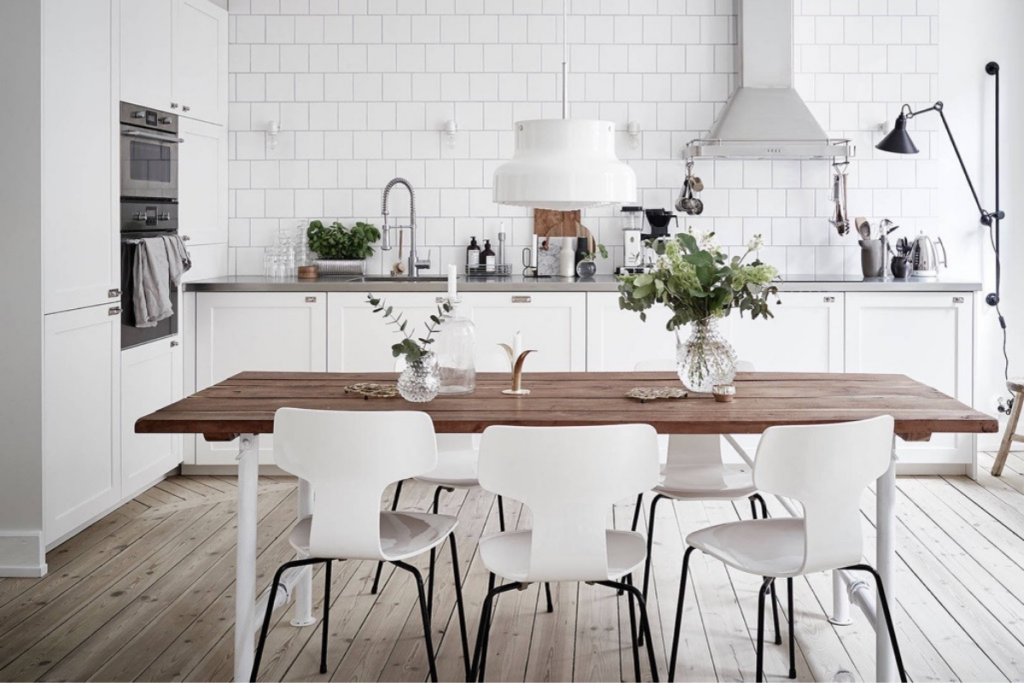 Scandinavian style is defined as minimalistic and bright. Wood is a central feature of the kitchen, and the cabinets are often light. Built-in appliances and hidden storage spaces are common features. The Scandinavian design is utilitarian, and homeowners will be able to get many uses out of the furniture in the room.
Most Scandinavian kitchens continue with the cool scheme by using whites and neutrals for the walls. These kitchens are uncluttered, with little adornment or decorative features. Floors will be made of wood and any furniture is light in color and modern in nature. The overall feel is modern and minimal.
Midcentury Modern: Colorful and Bold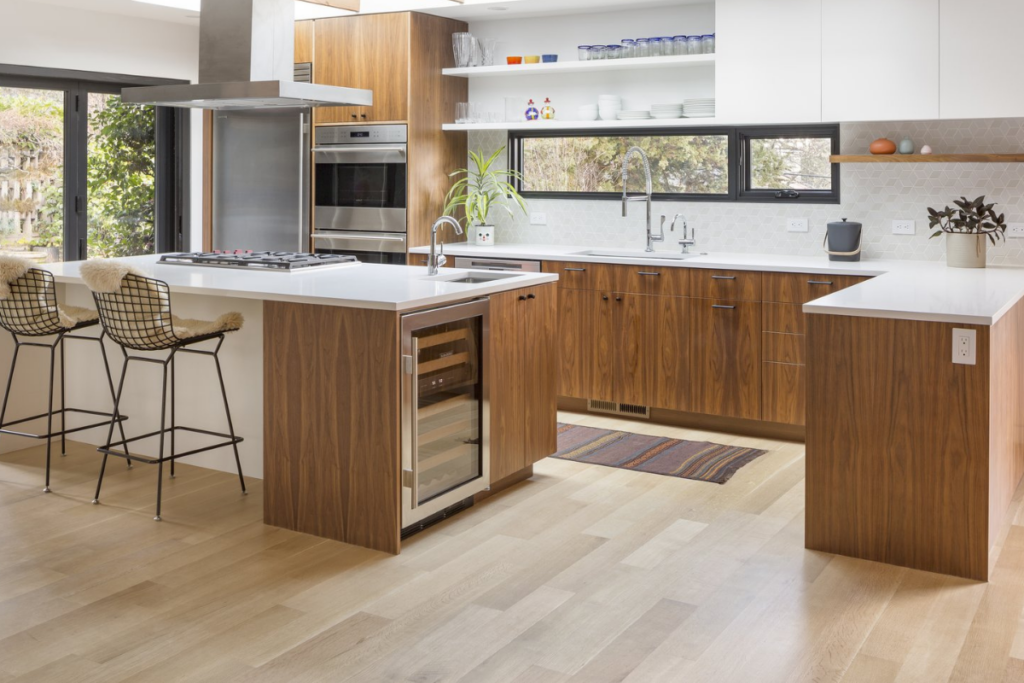 The midcentury modern inspired kitchen uses a blend of colors, in the appliances or countertops. The color combinations are the focus of the classic midcentury kitchen. Retro accessories add some personality to the room.
Cabinets are often flat front and not ornate. A patterned floor, such as black and white checkerboard, adds a feeling of playfulness to the space. Much of the kitchen is white, with splashes of color. Shades of green, such as apple green, are often seen in this type of kitchen. It might also have a nod to glam with chrome finishes. While the kitchen has modern conveniences, it also has a throwback retro flair.
Shabby Chic: Rustic yet Soft
Shabby chic is a type of design where items are chosen that already have wear and tear or have a vintage vibe. This type of design has a feminine and soft touch. It incorporates elements from the rustic design as well. For example, a distressed table or flooring might add a rustic feel. Floral decoration whether it's fresh flowers on the kitchen island of a floral touch in the window treatments is usually found.
The color scheme of this kitchen is white, pink, or gray. There may be old knickknacks that are found at a garage sale on display. Lighting might be in the form of a chandelier.
Southwestern: Warm and Artistic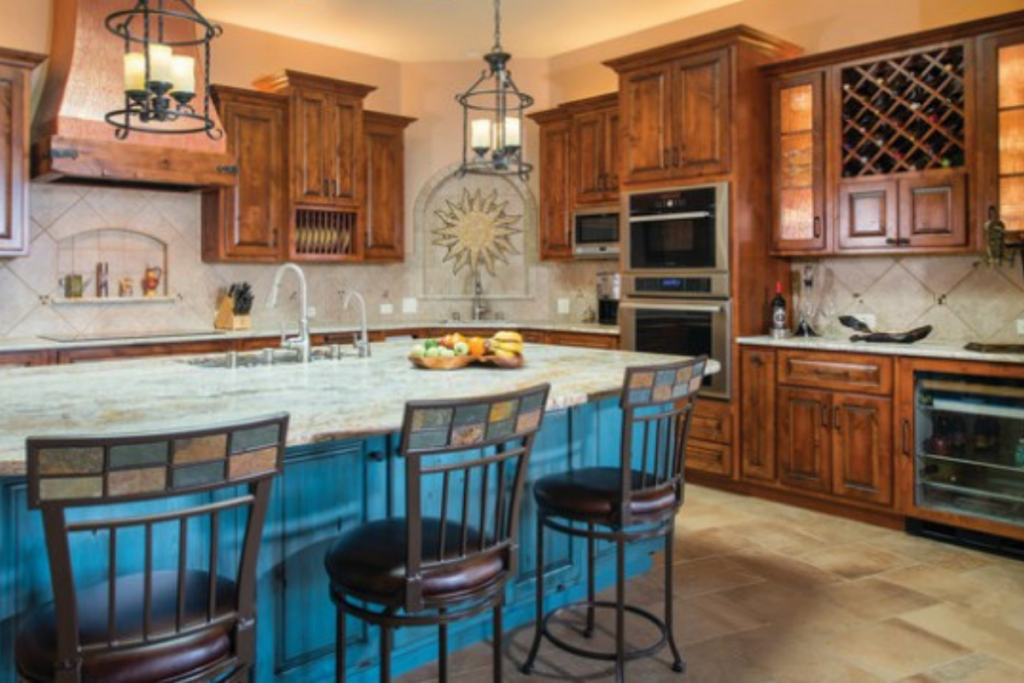 These types of kitchens are often found in the Southwest corner of the United States. Decorative tiles on the floor and the backsplash are often found in the southwestern kitchen. There may also be decorative arches that lead to other rooms.
An artistic element is usually found in a southwestern kitchen, for example, a large painting as a focal point. Or, perhaps hand-painted tile for a unique backsplash design. Desert or earth tones such as bright yellow, dark orange, red, brown, and turquoise are utilized.
Which Kitchen Style Should You Get?
With many different kitchen styles that exist and come along, one may ask which style should they go with? Not only are kitchen trends something customers refer to often, but also long term fads. These may include resale value, feng shui, and much more. That decision depends on the homeowner's preference.
There are many kitchen styles to choose from. The homeowner may pick a kitchen style that incorporates their personal tastes or may choose to mix several different styles, depending on the overall décor of the house. No matter what the style, cabinets play an integral part of every kitchen. Overall, kitchen styles may vary but brings out the charm of each home.