Craftsman-style kitchens are one of the most recognizable styles with rich wood finishes, paneling, and built-in storage. They often have an organic theme, with the use of natural materials and a calming, earthy color scheme. A craftsman-style kitchen is a great choice for those homeowners that want a blend of classic and contemporary. The appeal for many buyers is the homey atmosphere the kitchen creates within the house.
What is a Craftsman Style Kitchen?
Craftsman-style kitchens are very recognizable. They use natural materials as much as possible. These kitchens are designed with expert craftsmanship and elements that are well-proportioned and well-made. They often have detailed stonework and woodworking, as well as other details that relay the skill of the craftsmen who made them.
Craftsman-style kitchens came to be popular in the early 20th century. The style emerged as a response to the mechanized methods of ornate furniture production that came with the industrial revolution. Craftsman, also known as the Arts and Crafts Movement, emphasized natural materials that were made by carpenters and artisans. Authenticity, harmony, and simplicity are central to the movement. This style has recently gained popularity again.
Joe Berkowitz of JAB Design Group states, "The craftsman style is for the person who tends to like a natural home that's not so ornate. And as the name suggests, it showcases fine craftsmanship." He says the interior of the home has charming, custom details, but is still understated.
Elements of Craftsman Kitchens
Strong lines are dominant in this design style. For instance, exposed beams, multi-paned windows, and paneled walls are common. Some of the other elements include:
Earthy color schemes
Built-in shelving
Wood flooring and countertops
Large hanging lights
Artisan backsplash
These elements work together to create an organic yet functional design. They often continue from the kitchen into other areas of the home, especially the living space in an open concept home.
Cabinets
Craftsman-style kitchen cabinets are defined by straight, clean lines and minimal ornamentation. Natural wood is the main feature of a craftsman kitchen. Therefore, cabinets are made of sturdy, durable woods. While original Craftsman kitchens were custom designed from scratch, the cost of achieving this look today can be high and out of many homeowners' budgets. Cabinets that are pre-made of solid wood can work well in this kitchen, especially for homeowners that want this classic, high-quality look but within budget.
The cabinets in a craftsman kitchen carry on the traditional or antique design aesthetic, using natural materials, but being fully functional. A recessed door, or Shaker cabinet fits the craftsman design. The use of glass in the cabinet doors is also an option.
The cabinets are often made of birch, oak, cherry or maple. The wood can be left in its natural state, or can be stained, but some of the grain might be visible. Gray cabinets are also an alternative for homeowners that want to keep a neutral color scheme without having an all-white kitchen. Similar cool or warm shades with the base gray give many options.
Countertops
There are several choices for countertop design. The use of stone, granite, or quartz in white or beige is common. Usually the countertop color is white or beige. Dark colors should be avoided because they will make the kitchen more traditional.
Soapstone is an option for the countertops as it a durable, nonporous surface that over time oxidizes. It can be polished to a shine or left for a traditional matte finish. Soapstone and slate have been mined in the Appalachians for more than 150 years. The fact that it is locally sourced might be appealing to many homeowners that want to use materials that are historically authentic.
Wood is another countertop option for a very natural, organic feel. Woods like black walnut, hard maple, and bamboo were top choices for original Craftsman kitchens. It can also be used as an accent for the kitchen island top.
Color Palette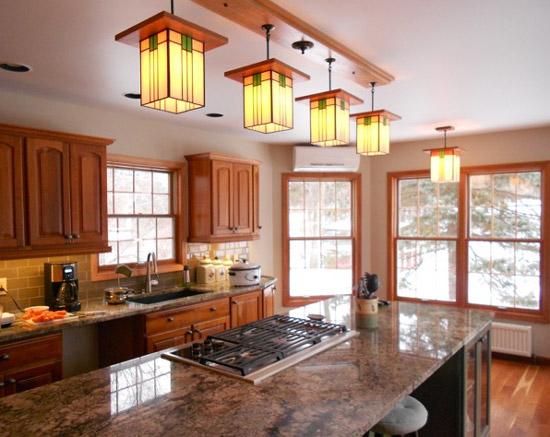 The goal of the craftsman movement was to appreciate fine workmanship as well as the beauty of nature, and the color palette reflects this. The color scheme in this type of kitchen is based warm, natural tones, including white, tan, beige, sage green, sky blue, gold, and earthy browns. Colors are muted and never bold or make a statement. White painted wood is also common.
The color scheme might also include exposed wood, river rocks or fireplace tile so the wall color should complement any architectural details that are in the space. Warm wood finishes like oak, cherry or maple are classics in a craftsman-style home.
Furniture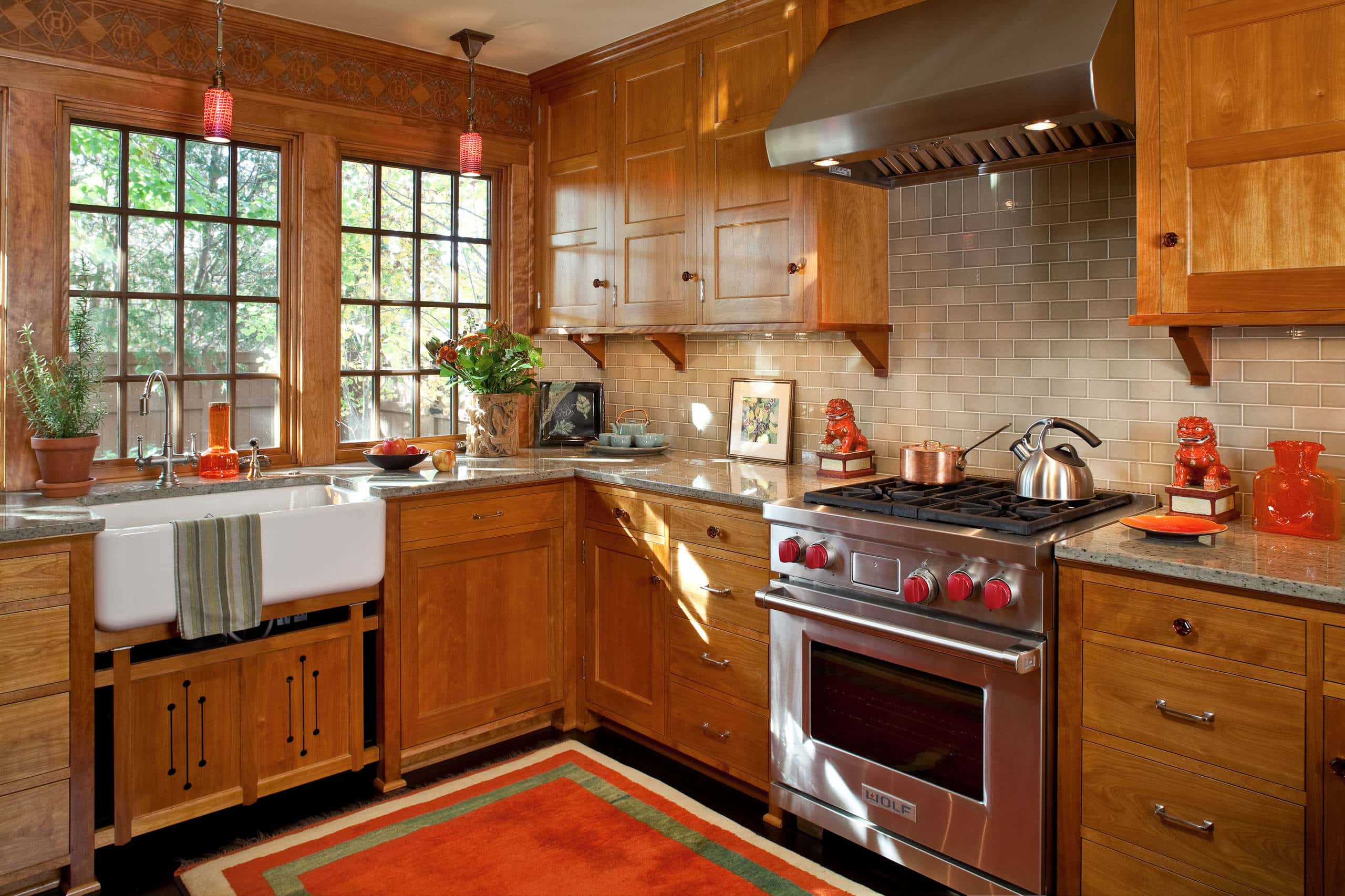 The furniture in this kitchen style features high-quality woods, sometimes made by hand so the joints are visible. They are detailed and durable. Fabrics in the space such as cushions, curtains, and tablecloths can have a classic plaid or gingham print. The kitchen might also feature an arts and crafts style rug that brings together all of the colors of the palette.
Breakfast Nook
Often times, craftsman kitchens have a breakfast nook for dining. The nook seats four to six people and usually has storage under the seat. The nook can be tucked into an interior or exterior wall and can use space in the kitchen that does not affect upper cabinet storage. In smaller Craftsman homes, the nook can replace a formal dining room.
Kitchen Island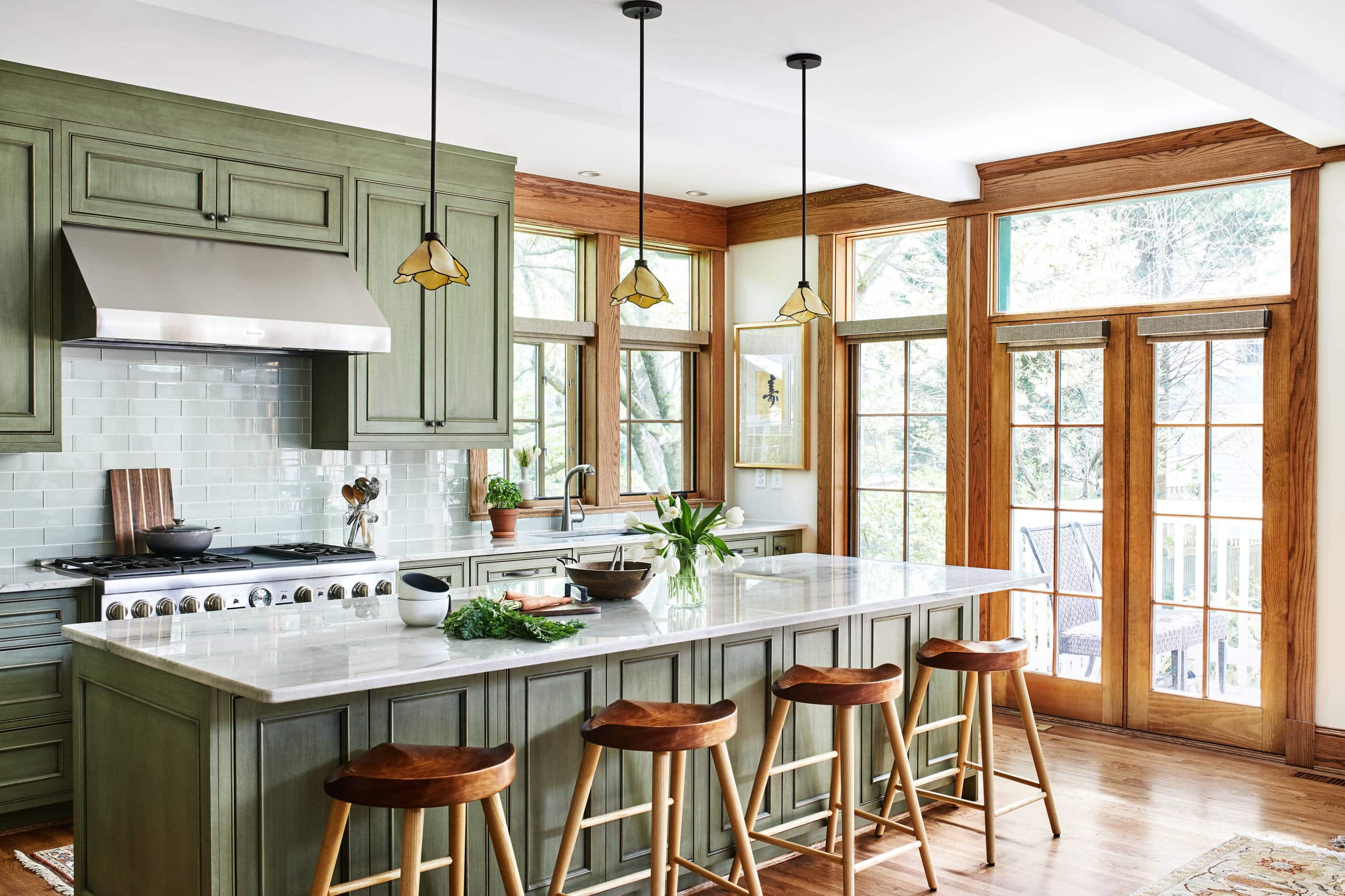 The island in a craftsman-style kitchen can be used to either further fit in the design of the space or serve as a contrast piece. For example, an all-white kitchen with a bright green island or a contrasting countertop than what was used in the rest of the kitchen—like wood vs. quartz. The island and lighting above it can serve as a focal point for the kitchen.
Backsplash
Backsplashes are a key element in adding color to the space. Despite the lack of ornamentation in this kitchen style, the backsplash is often highly crafted tile. Earth tones in blue, gray, and green will complement the rest of the color scheme. Some homeowners prefer hand painted tile that depict scenes from nature to give the space a personalized feel.
Kitchens that are more rustic may have tiles that are imperfect and earthy, created with handmade molds. Since much of the space is wood and stone finishes, incorporating tile is a way to introduce color and texture to the space.
Natural stone can also be used for the backsplash. Slate has a range of colors and textures, and granite or soapstone have earthy colors that go with the rest of the décor.
Hardware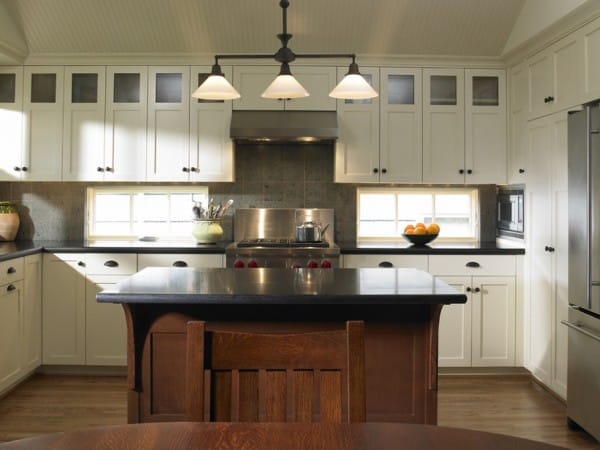 The hardware should match the authenticity of the craftsman style. Drawer pulls, cabinet knobs, and other fixtures should take on a utilitarian look, without much adornment. Heavy duty, substantial, or even hammered hardware is most often found in craftsman kitchens.
Pulls and knobs in a nickel finish speak to the style of the 1920's. Chunky styles with dark or warm tones, such as bronze and antiqued brass work well too. Hardware with a sheen should be avoided as it is more modern.
Lighting
Natural light is important for the space. Windows are often abundant in this type of design to let in as much natural light as possible. Numerous double-hung, casement, and awning windows with wood trim can be found in these kitchens.
For the additional artificial lighting, glass is an essential element. Decorative glass with geometric shapes, dark lines, or solid colors are used. There is no recessed lighting, rather pendant lighting or flush-mounted light fixtures are used to provide a warm feel. Antique bronze, frosted glass, or Tiffany glass are all options depending on the homeowner's preference.
Another option is industrial or prairie-style lighting that can become the focal point of the kitchen. Lighting can lean to either more traditional or modern depending on the homeowner's preference.
Flooring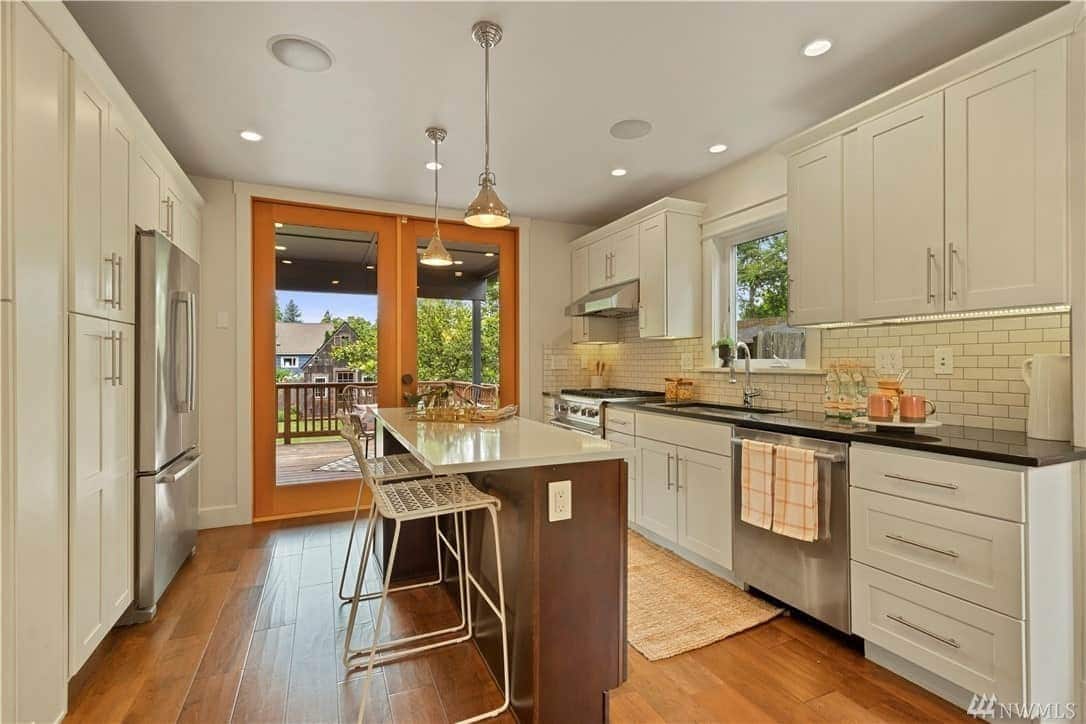 Hardwood floors define the craftsman style. Oak and maple are commonly chosen in this kind of kitchen. No matter what kind, the wood should be lustrous and rich.
If the homeowner does not want real wood in the kitchen, ceramic tile comes in realistic looking wood planks that range in color from white to gray to brown.
Appliances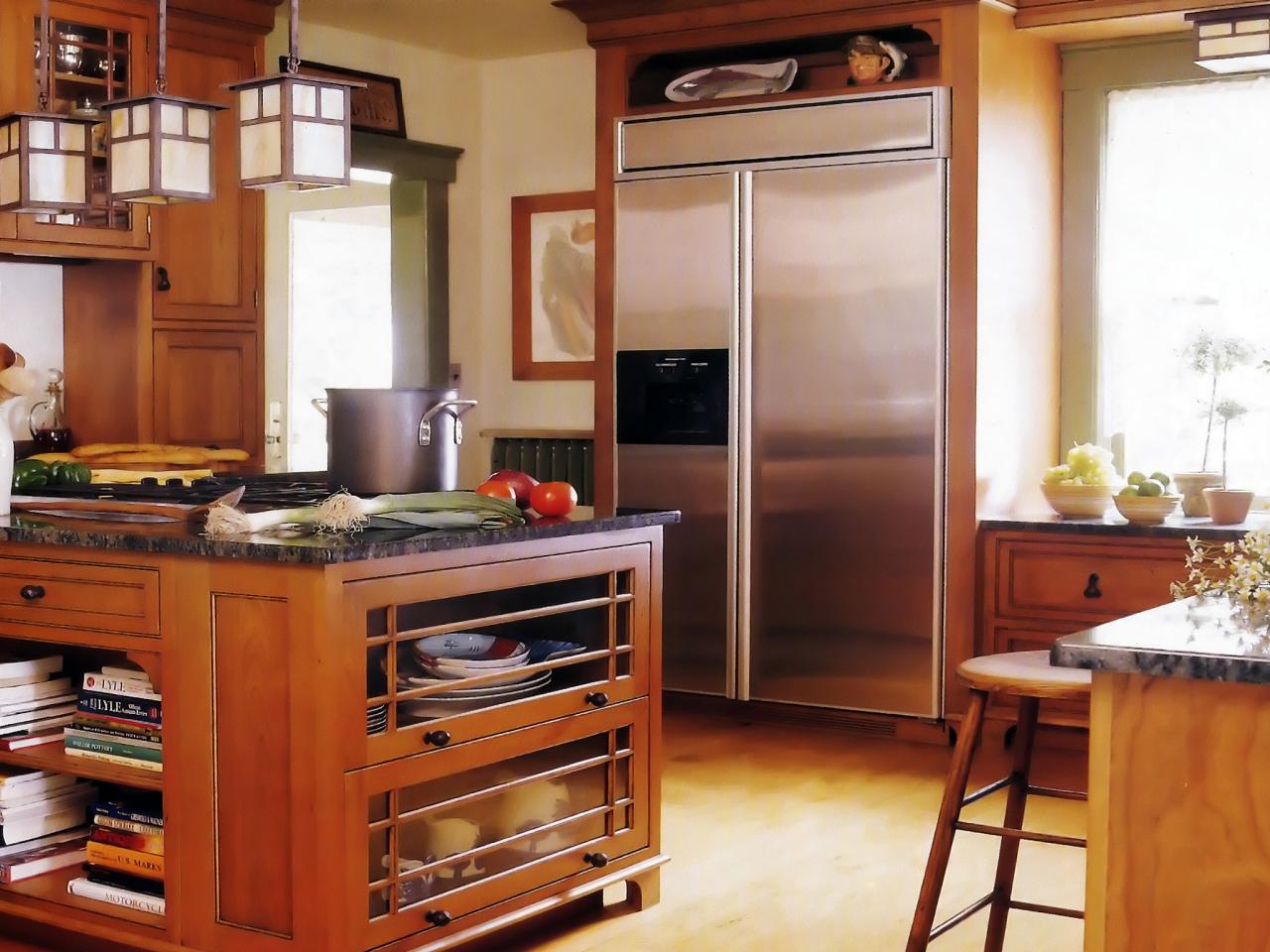 For some other kitchen styles, stainless steel is still the finish of choice for appliances. For craftsman kitchens, white or vintage appliance provide a more natural looking alternative. Appliances can still have updated technology to make for an efficient kitchen—they just don't have to look it!
Sink
Vintage accents can be used when it comes to the sink. A deep farmhouse sink is functional yet rustic and is often used in a craftsman kitchen. The sink fixtures should be in the same finish as the hardware so there is consistency throughout the kitchen.
The use of copper gives a charming, handcrafted look to the kitchen. Over time, the sink will develop a patina which only adds to the rustic charm.
Craftsman Kitchen Trends 2021
Slotted doors that create an individual panel look is starting to pop up in kitchen designs for the new year. This design, which is wooden pieces that slot into one another, adds to the vintage feel of a craftsman kitchen.
Another craftsman kitchen trend is the use of vintage hutches, which are furniture pieces that display china, tableware, and glassware. They give warmth and character to the kitchen, and can either be painted an accent color, or left in a natural unfinished state. A craftsman-style kitchen uses natural and organic materials for a simple, homey aesthetic. Homeowners will want their cabinet choice to reflect this simple design style.