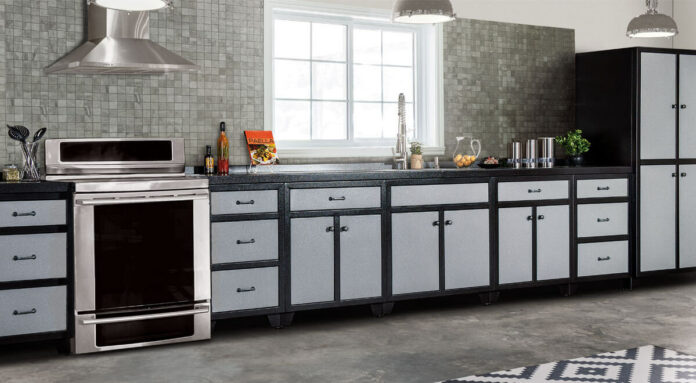 Kitchen cabinets are typically made from wood or pressed wood. We commonly hear doors made with mahogany, walnut, maple, or even rubberwood. The common thing amongst these materials is that they are all trees. We have seen kitchen cabinets use obscure and unusual materials that most people will not expect to have for cabinets. What we fail to consider is that kitchen cabinets can be used outside the kitchen.
Outside of the kitchen and bathroom, cabinets can be used for reception desks, garages, break rooms, additional storage, and even other professional job offices can all use cabinets. Different jobs will need something much different that just normal wood. Despite how strong walnut is, it might not be enough for some industrial style environments. We will explore some unusual cabinet material used for storage and how much different they are compared to normal wood.
Bamboo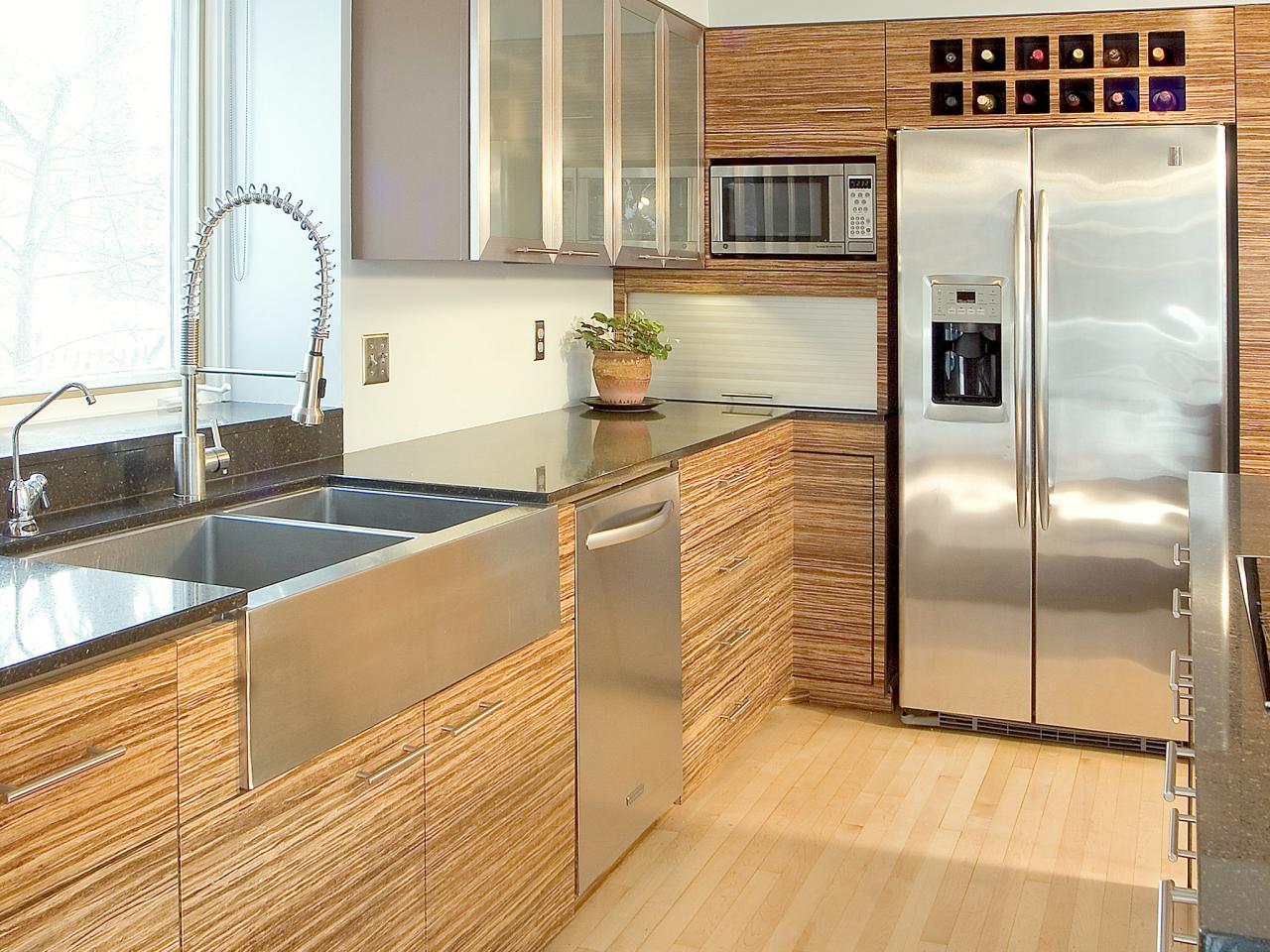 Yes, bamboo. The thin bamboo tree can be used in furniture. Turning bamboo into a suitable material requires more work by cutting bamboo down into strips. These strips are then glued together and pressed into what we know and work with in the form of plywood. From there, this plywood can be used for the cabinet doors and drawers. Bamboo is a very surprisingly strong material to be used in standalone furniture. It can be stronger than red oak and Maple wood, which are some common materials we see on cabinets. Not only that, but bamboo plywood can also be used for countertops.
One downside is the cost. Bamboo is not a very common material to turn into plywood. Therefore, it is not readily found at big box stores like Home Depot. Specialty stores and websites may offer bamboo plywood, but much higher compared to traditional plywood. A sheet of sanded plywood will cost around $50, while the same size sheet of bamboo plywood can cost $200. Bamboo plywood has beautiful graining due to the wood color it has, which can drive a higher cost versus standard plywood sheets.
Aluminum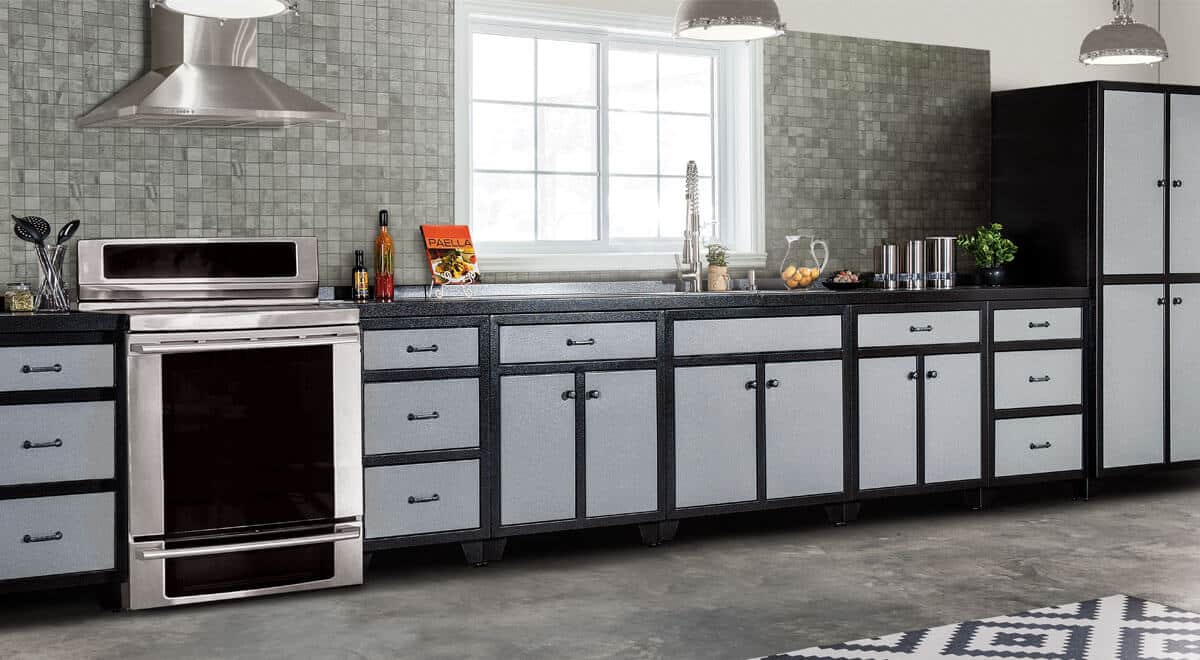 When we think of aluminum, we immediately think of industrial style design. We see aluminum cabinets used and incorporated in industrial fields and work spaces. Garages, trailers, and sheds are common places to see this style of cabinetry to store heavy metal tools.
Other than industrial work spaces, aluminum cabinets are used for outdoor cabinets. One advantage to having cabinets not made out of wood means it can now be weatherproof. This high quality material can be sun proof, rain proof, and even more resilient to damage. These cabinets are suitable for outdoor kitchens. People looking to host parties or have guests outdoors often may look at these cabinets that can withstand the test of time longer than any wood cabinet can.
Making cabinets metal definitely has a high price point. A big difference between aluminum cabinets and traditional cabinets is the cabinet body. Most cabinet companies will have the cabinet bodies made out of MDF, or medium density fiberboard. Replacing this wood with full new material does not come cheap by any means.
Epoxy Resin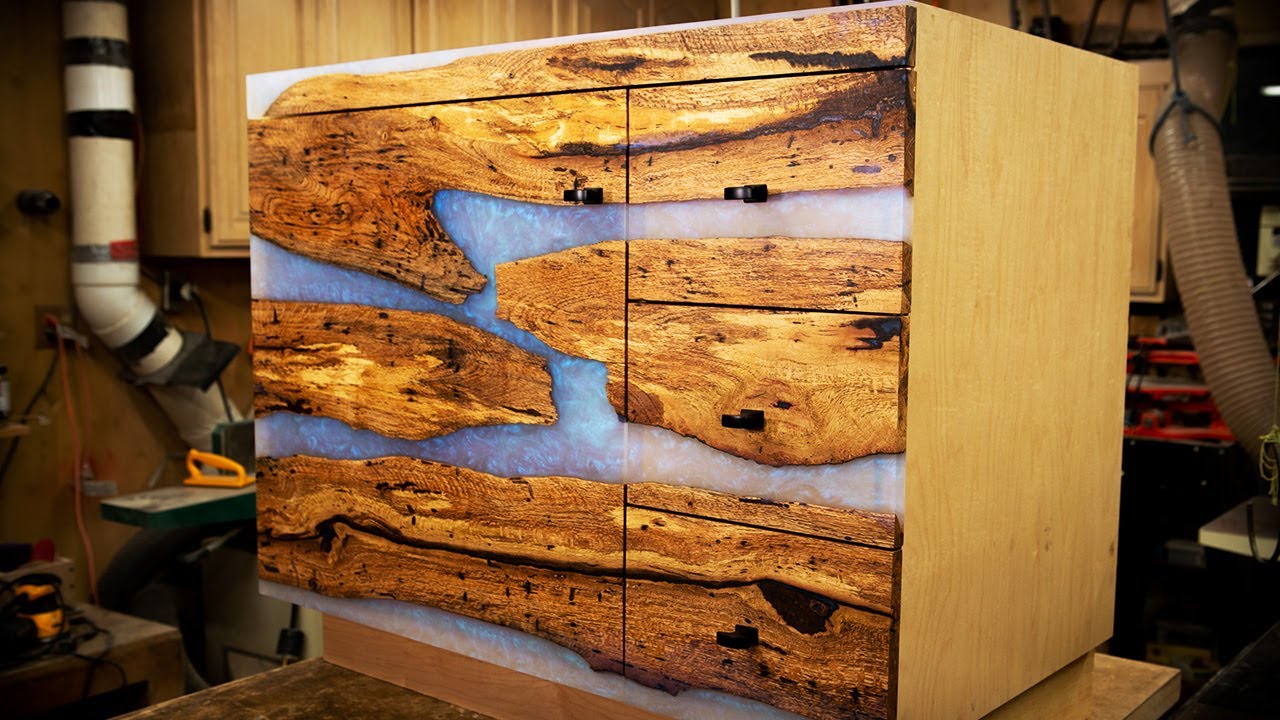 Epoxy Resin is like liquid clear glue used to create all sorts of stuff from furniture to art. As of recently, epoxy resin can create amazing tables by encasing unique material and objects to create a one-of-a-kind table nobody else has. Logan Paul has used it to create a table out of Gameboy handheld consoles. If that option is available, kitchen cabinets can be possible. Being able to encase almost any material allows anyone to make unique doors and drawer fronts that nobody can find in any big box or even traditional cabinet store. Amazing wood grain, industrial tech, or trendy decoration can become the next cabinet face.
Don't expect to walk into your local Home Depot or Lowes and find an epoxy resin table. These kinds of projects are seen on Youtube or Tik Tok by DIY'ers who perfected their craft in making these amazing kinds of furniture. One might not be able to put a price tag on these for the general public. Is this art? Is this content?
Carbon Fiber
When we think of high quality sleek material, carbon fiber has been on the rise. Carbon fiber is a filament that is added to strengthen the material. This material is so strong that it is used from bike frames and car components to aircraft wings. Its light weight and durability make the material highly desired. The surface of carbon fiber has a very reflective surface. This adds a very sleek and modern aesthetic to the cabinets. Carbon fiber results in having a grid texture that has become iconic when classifying materials visually.
Carbon fiber has a built-in grid texture that may deter customers from wanting to choose this durable material. When considering modern and sleek cabinets, the common finishes are high gloss or matte textures. Carbon fiber has a holographic aspect which may not be what customers are looking for. In addition, this material is expensive. Sports gear made of carbon fiber already costs nearly two times as much for a different material. For the modern cabinet line, best to stick with MDF and the traditional finishes.
Polyethylene
Wood not durable enough for your next kitchen? Then how about military grade?
High Density Polyethylene (HDPE) is an all weatherboard composite material that is military grade. This plastic material is strong enough to be used in the military for fuel cases. A benefit for this cabinet being plastic is it can resist most of the cons that wood cabinets will have. Warping will be less common and will scratch less easily. For a material used by the military, this plastic is weather resistant. This means it can function both indoors and outdoors, rain or shine, and even abstract temperatures.
A material that is strong enough to be classified military grade will come much higher. With how versatile this material is, means it can almost last the true test of time. It can take more beatings and uses than any typical wood cabinet you will find. Does this mean polyethylene will be highly used? Most likely not. Having such a high cost results in less people wanting to choose this over standard wood. Although this material is so strong to handle any form of use, most people are not going to aggressively open and close their cabinets.
Can unusual cabinet material replace standard wood cabinets?
No, wood cabinets are not going anywhere. Unless the raw material is too scarce to come by, wood and MDF will still be the primary materials used for kitchen cabinets. We may see innovations in hinges, drawer slides, and maybe the design, but not something to completely phase out wood. Wood has been so well established as the preferred material amongst kitchen and homeowners. Unless the kitchen is being installed in industrial fields or outdoors, wood will be the choice amongst remodelers and homeowners alike.
Wood is much more cost efficient than plastic or metal. The process of transforming lumber into plywood is less complicated than transforming or shaping the other materials. Even if carbon fiber or aluminum is much more durable, it requires a much more complicated method of transforming the material to begin being used for cabinets. This process makes abstract material almost three times more the cost of traditional wood cabinets. So when you are considering what material to choose for your regular kitchen, wood will be your best option.