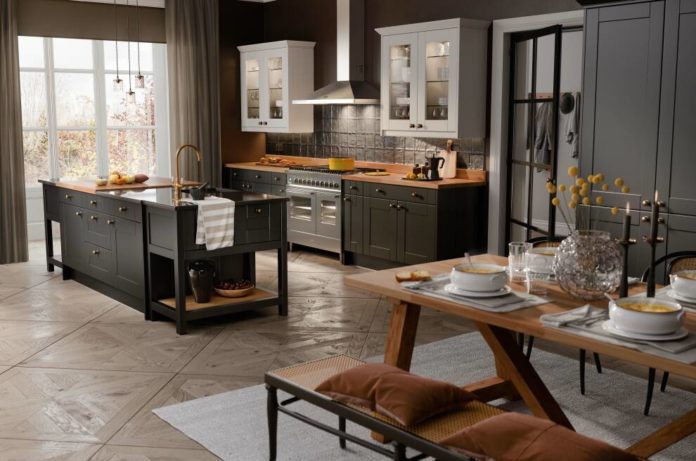 What is a hygge kitchen? Imagine a scene where you are reading a book by a warm, open fire, wrapped in a fuzzy blanket. Next to you is a cup of hot chocolate with pastel colored-marshmallows on a mug warmer. Across from you is a friend, sinking into the soft cushions of a white couch.
This is a recent trend in interior design called hygge (pronounced hue-gah) and once seen, you'll recognize it everywhere. It's a Norweigian word best translated as "coziness" and describes a state of happiness and comfort in your environment. The hygge kitchen for people who want a more inviting place to hang out; it is a very lived-in kitchen.
While a lot of hygge design evokes images of comfy living rooms, how do we apply this to a kitchen? We can't throw wool blankets on our stoves. Yet we can use the ease of mind and comfort the hygge philosophy brings into a home.
Put more wood in your hygge kitchen
Hygge is inspired by Scandanavian winters and staying indoors, and the houses are usually made of wood in those environments. It's a simple, earthy texture that can ground the kitchen. These woods must be stained or treated but not painted to receive its effect.
The most natural place to put these woods is in your cabinets, including wooden countertops. However, natural wood décor can also add to the feel of a homey kitchen. The wood does not have to be perfect; in fact, the more imperfect, the homier your kitchen feels. Reclaimed or weathered lumber is ideal and live edge wood accessories like trivets instant add to this experience.
Whether you have a breakfast nook rather than a dining room, a wooden table will strongly support the hygge vibe. One of the best choices for wood tables is walnut, with its rich tone that adds classic elegance with comfort.
Use neutrals and muted colors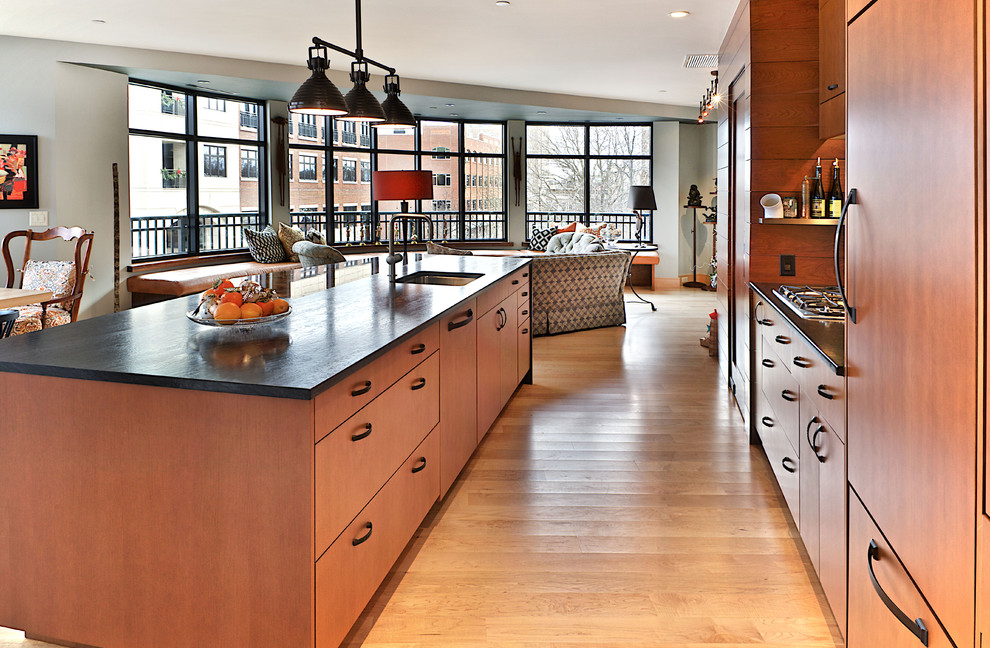 The hygge style likes bright spaces because they feel lighter and more pleasant. For this reason, the décor is paler and tend towards white since it reflects light and makes areas brighter. While most examples of hygge kitchens are white, light gray, powder blue, and mint green can work on your walls.
A lack of intense stimulation enhances the sense of comfort. Bold and dark colors and patterns will distract the eye from the rest of the room and the feel.
Light it up!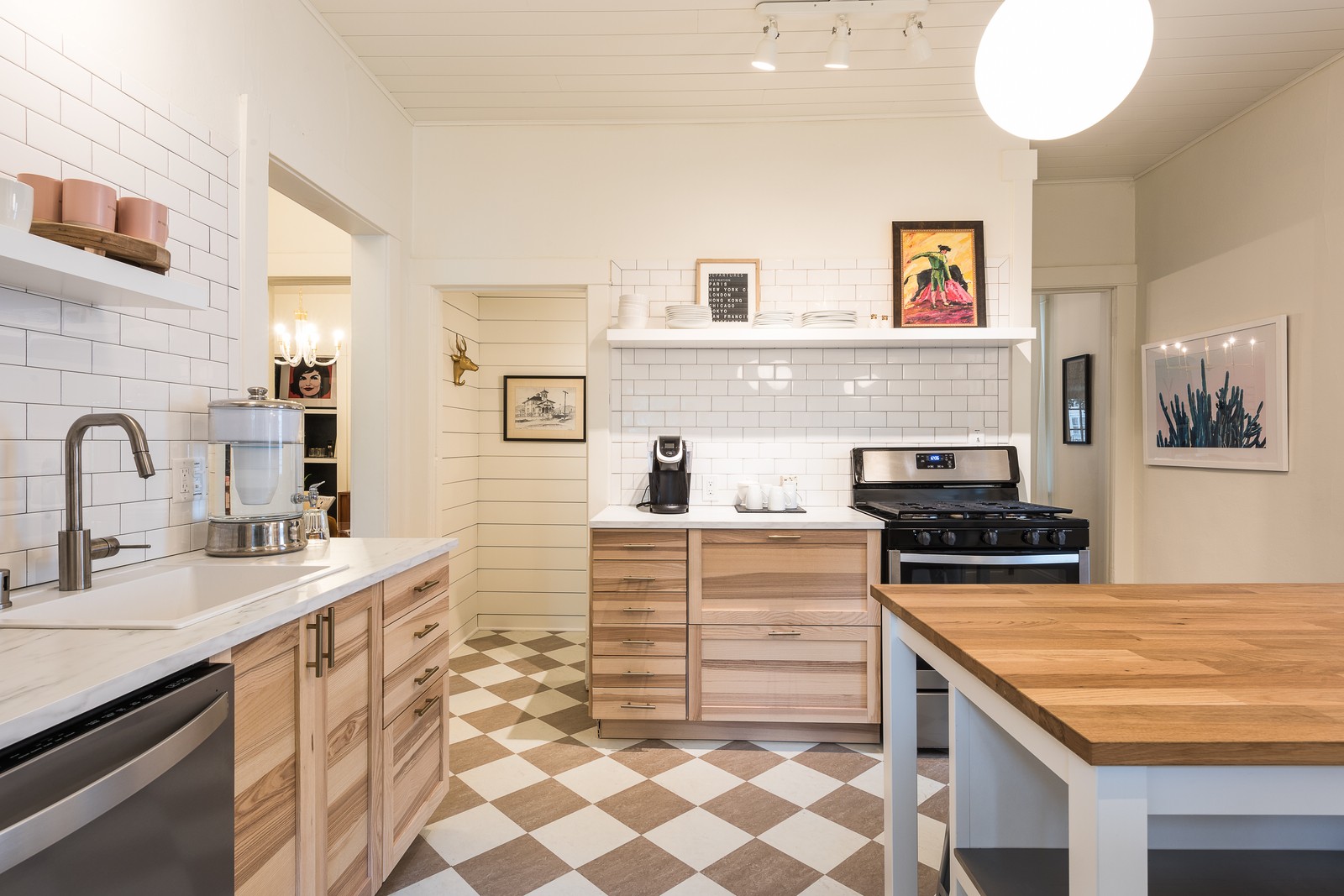 "The closest you will ever come to seeing vampires burnt by daylight is by inviting a group of Danes for a hygge dinner and then placing them under a 5,000K fluorescent light tube."
― Meik Wiking, The Little Book of Hygge: The Danish Way to Live Well
Lights are signature in the hygge style. This coincides with lights being essential in the kitchen a well-lit kitchen is necessary to cook and prepare food. Much of hygge lighting in the kitchen is not just functional but decorative.
Candles are very signature in the hygge kitchen, especially if you want to burn a candle to eliminate any strong odors. While scented candles are famous for this style, they should be mildly fragrant rather than strong scents. Candles should avoid competing with pleasant baking smells of the space.
Another popular type of lighting for the hygge kitchen is fairy lights. These are long strands of LED wired lights that add ambiance without heat in a room. These are best as a soft glow in the evening but completely work for the style during the day. Their versatility allows someone to place them underneath wall cabinets, along window sills, or even around decorative jars on shelves.
Lighting in the hygge style is prevalent but is not meant to be harsh. In some hygge kitchen example photographs, the room almost looks blown out from the brightness, but that is strong. Think soft pools of light rather than an austere glare in your room.
If you are squinting in your kitchen, it's too much light and works against the idea of comfort. The best way to soothe the intense light is to add a dimmer switch to your lighting fixture.
Add a personal, crafty touch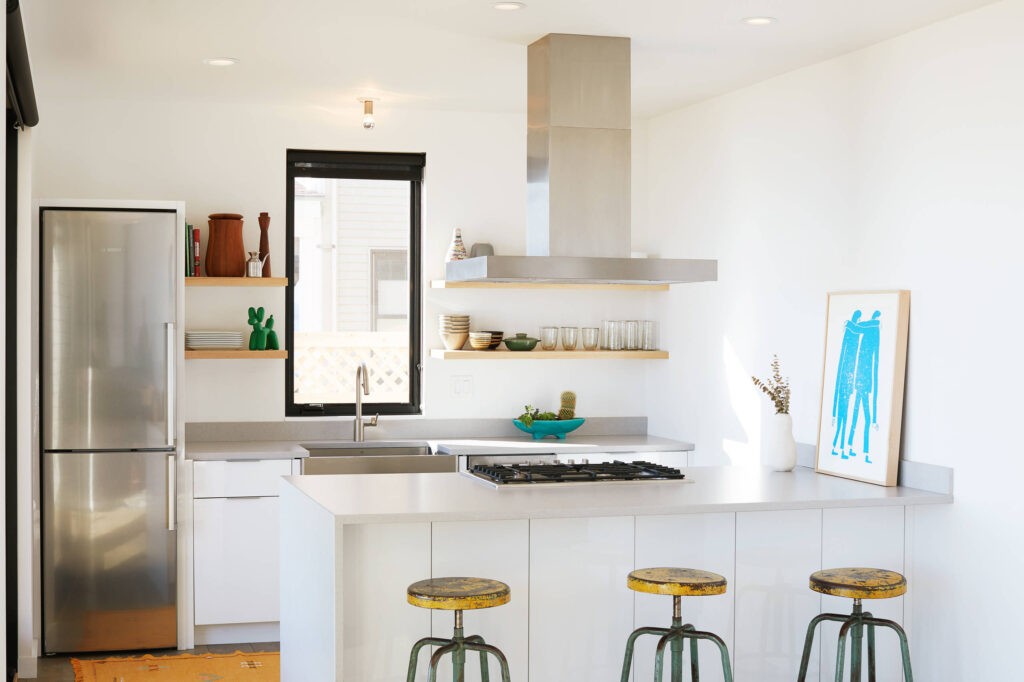 Hygge design is a boon for crafty types because it embraces their personal art in their home interiors. Needlepoint work, woodburning projects, paper-mache art, and drawing sketches can be incorporated on your walls and your refrigerators.
If you are not crafty, you can add family pictures or photos of your hobbies or subjects in various frames. The frames can be mismatched, and the theme will still bond the collection to look cohesive.
"Everything old is hygge again in your kitchen"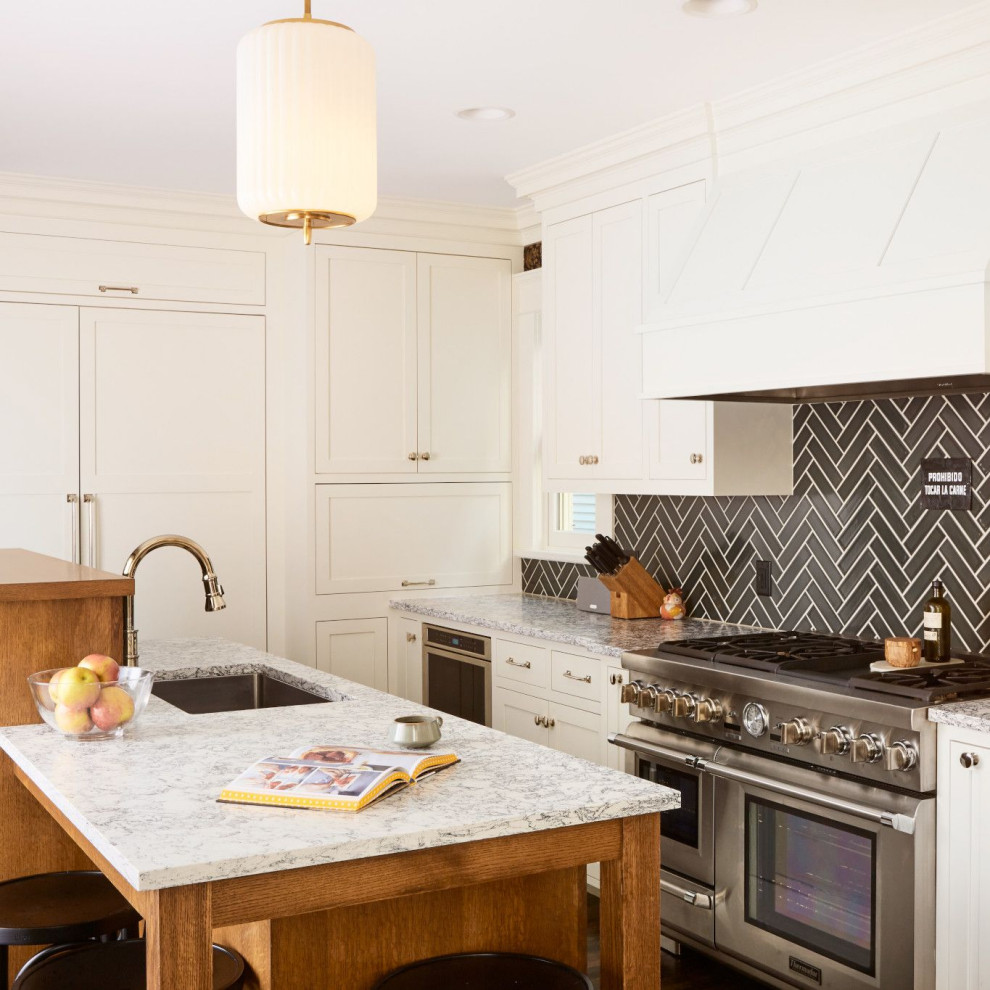 Nostalgia and reused items are not just familiar feels but go far in hygge design and coziness. Thrift stores are going to be your best source of unique items that add that lived-in aura to your kitchen. Avoid things that look too modern or abstract; simple and domestic are essential to this approach.
Not just décor items but your practical everyday kitchen items can contribute to the hygge style. Instead of metal tongs and plastic ladles, wooden utensils stored in a jar can add to the ornamentation. Rustic earthenware pottery can contain your cooking ingredients like flour and sugar.
Many things that are retro and vintage and come from your childhood are usually hygge. With that said, retro does not pertain to old electronics or anything that keeps you distracted from the present moment.
How do I know if you did hygge right?
The point of hygge is more than just an interior design trend. Although some stores can use the trend to sell you an expensive woolen blanket because it is "hygge." Hygge is built around the idea that you can unplug, destress, and not feel rushed. So using a smartphone in the middle of your hygge-inspired breakfast nook is counterintuitive.
Many of these tips add to the ambiance of calm: bright spaces, natural textures, and familiar, personalized things. These are things that should make you feel happy when you look at them. If you feel that tranquility in your kitchen when you enter it, you did it right.