There are many shaker cabinet colors and styles to choose from when remodeling a kitchen. In fact, the choices can seem overwhelming, especially to a homeowner who may have never redone a kitchen previously. Shaker cabinets are often a popular choice because they are a timeless style that works well in a variety of homes, and with different backsplash colors, flooring, and countertops. Let's go over which are the most selected shaker cabinet color.
Why People Choose Shaker Cabinets
Shaker cabinets have been around for long time. They are named after the Shakers, a religious community who came to the United States in the late 1800's. As superior craftsmen, they made durable cabinets that were simple in style. The Shakers believed that honesty could be found in simplicity and created homes based on this principle.
The Shaker style of cabinet became popular in the early 1900's, and again more recently over the last decade. They are characterized by their doors, which have two flat-side rails, two flat-top rails, and an inset panel. They were also characterized by the following:
Using the minimum amount of materials
Made from high-quality hardwoods and materials
Straight, clean lines and squared edges
Many times, this style works well with other styles and the clean lines do not take away from any other designs in the house. When they are paired with other minimalistic pieces, the effect can be very modern, while pairing these cabinets with natural materials results in a classic design. Not only that, Shaker cabinets are known for their durability so those homeowners that want kitchen cabinets that will stand up to their lifestyle can count on these cabinets.
These cabinets are also low maintenance, as compared to more ornate designs. If dirt or debris gets trapped on the surface of the cabinet, it can be wiped clean, and it often stays cleaner than more elaborate cabinets. The square-edge design does not lend itself to retaining grease either, so it is completely functional in a kitchen that is used often. In addition, they do not require painting, re-staining, or polishing, making them a perfect choice for today's busy homeowner.
What are Shaker Cabinets Made From
Shaker cabinets can be made from many different materials. They are usually painted, but can also be left natural, or stained. They were originally entirely made from wood, such as pine, maple, and birch by the Shakers.
Today, they can be a composite of wood and other materials. Some of the popular choices now are maple, oak, and walnut.
Shaker cabinets can also be comprised of rubberwood, which comes from rubber trees. It is a less-known choice for cabinets but one that is increasingly in popularity. The advantages of using rubber wood make it a good choice for kitchen cabinets. The cost of wood from the rubber tree is less than the cost of other hard woods, such as cherry or walnut. It is exceptionally durable and does not suffer from shrinkage or warping as some other woods do.
Buyers that want cabinets that have real wood in them will prefer rubberwood, which offers the durability that is similar to hardwoods. It provides a stable foundation for the cabinets that will reduce wear and tear with the amount of use the kitchen gets. Rubberwood also has fewer grain marks as compared to other hardwoods giving a more consistent look to the cabinets.
Why Shaker Cabinets are Timeless
Because Shaker cabinets are simple in their design, they lend to a timeless look that is not pinpointed to one decade. They can be painted or stained to change the look of a room if the homeowner wants to make updates to the kitchen. The Shaker style is known for its functionality making it a popular choice for various needs of the home.
In addition, Shaker cabinets appeal to a wide range of buyers. For younger homebuyers, they can be made more modern with backsplash and kitchen color choices. For older buyers, they offer a classic look.
Why Shaker Cabinets are Versatile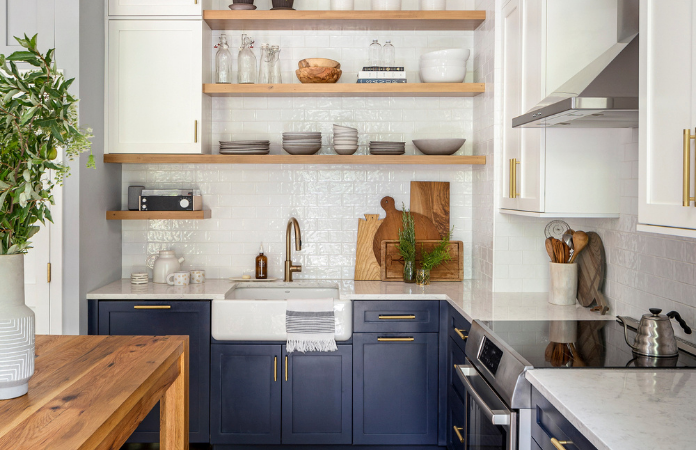 Because of their simple design, Shaker cabinets are extremely versatile. The cabinet doors are usually made of a flat panel and a border around the edges and there is no decoration or beveling on the doors. This leaves many options for the remainder of the design of the kitchen. With simple cabinets, the design of the room can be left up to the homeowner's imagination. Many homeowners are choosing the Shaker cabinet for their kitchens (which often times can get cluttered!) to give it a clean fresh look.
Some cabinet buyers choose basic hardware to complement their simple design and then use color and design in other areas of the kitchen. Others use creative hardware choices to balance the simplicity of the cabinet design.
Shaker kitchen cabinets are made from a variety of colors, from classic white, to a more modern shade. It really depends on the customer's choice and kitchen design.
White Shaker Cabinets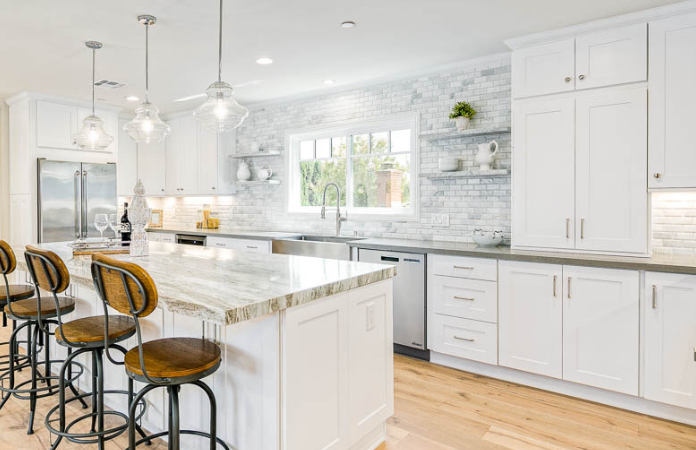 The objective of a kitchen renovation is to boost the functionality and light in their current kitchen. A kitchen with white cabinets will reflect light, making the room feel bright and spacious. This is especially beneficial in a small kitchen.
White Shaker cabinets are a very popular choice because as kitchen trends evolve, the white will remain timeless. Any future changes that the homeowner wants to make to the kitchen can be done with the white cabinets and still look modern and fresh. Since white is a very neutral choice, the options for backsplash, countertops, and paint as accent colors are endless. Choose a variety of colors for a colorful kitchen or keep to the white theme and the kitchen will be very modern and clean looking.
As for resale value, white cabinets are the way to go. Those homeowners that want to flip a house or sell their own need to have a kitchen that is attractive to potential buyers. According to a What Home Buyers Really Want (2019 edition) survey from the National Association of Home Builders (NAHB), 32% of the 4,000 home buyers that were surveyed want white kitchen cabinetry. A higher demand means a higher resale on a kitchen remodel.
One of the disadvantages of a white kitchen is that it can look bland. A homeowner that wants an eye-catching kitchen should avoid the use of white. Another problem with choosing white is that it does show dirt and grime faster than other shades. Thankfully, the Shaker design is easier to clean than other styles.
Grey Shaker Cabinets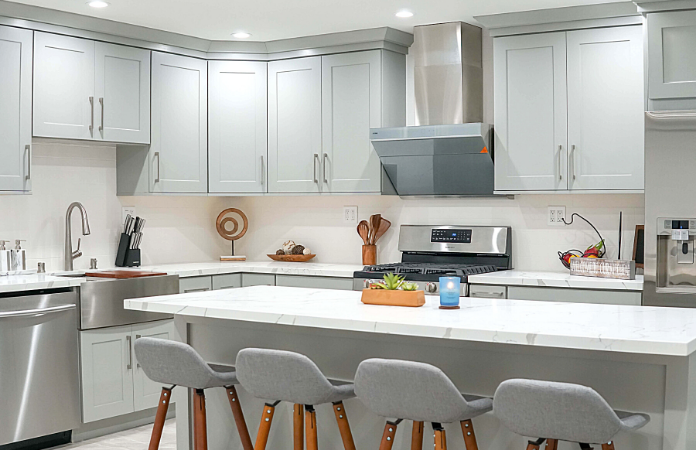 Grey has become a popular choice in the last few years for kitchens. Grey Shaker cabinets are neutral enough to give the homeowner a variety of choices when it comes to designing the kitchen. The right accent colors can make the grey color go from drab to interesting. The grey and white kitchen combination has become a popular choice because it is offers contrast and keeps the kitchen bright, especially for the countertops.
Cool grey cabinets can be paired with paint with blue or green undertones, while warm gray kitchen cabinets can use a palate with warmer colors. They can also match any wood tone for flooring to either coordinate or contrast the cabinets. Because grey is neutral, the backsplash can be unique and as colorful as the homeowner wants. Gold and brass hardware stand out among the grey background of the cabinets.
Keep in mind, however, that dark grey cabinets can create a very heavy look in the kitchen. To balance the darkness of the cabinets, choose light and bright colors in the paint choice, decor, and countertops. Dark grey can also make the kitchen seem smaller, so the proper lighting is important. Both recessed lighting that is properly spaced and lights over the island can add brightness to the room.
Blue Shaker Cabinets 
From dark navy to a lighter hue, blue Shaker cabinets are on trend this year. The use of blue cabinets will make a statement in a kitchen. For a spacious kitchen, keep it cozy with the use of dark blue cabinets. This shaker cabinet color pairs well with natural and stainless-steel elements.
Lighter blue kitchens can be complemented with white countertops to keep the room light and airy. Silver hardware can tie it all together. Any shade of blue cabinets can be paired with white subway tiles for the backsplash. This combination can create a classic, stylish kitchen. A colorful tile floor that incorporates blue can really make the kitchen look high-end and bring additional color to the space.
One of the disadvantages of navy cabinets is that they will make the kitchen look dark, which might not work for smaller kitchens without natural light. The use of simple, light hardware and light paint colors can help counteract this. Brass hardware is an especially good way to brighten the cabinets. Since it is an unexpected choice for a kitchen, not everyone will love the color.
Homeowners that want to sell their houses soon after the renovation should steer clear of blue as it is not for every buyer.
Black Shaker Cabinets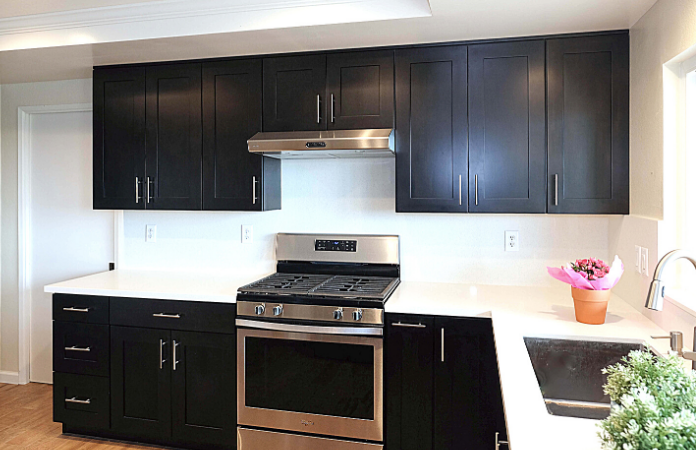 Black Shaker cabinets can create a sleek, modern look in the kitchen. They are an unexpected addition to the kitchen but can emphasize the clean lines of the Shaker style. The dark color can provide contrast in a house that is otherwise plain.
The amount of light from the windows and artificial lighting is important in a dark kitchen. Lighter colors in paint, countertop, and backsplash are needed to play off the darkness of the cabinets. The contrast between the two will create balance and proportion to the room. Metal countertops look good with black cabinets. Copper countertops with brass finishes and a farmhouse sink can create a modern farmhouse design. Or, black cabinets with stainless-steel countertops and minimalist hardware and fixtures can be ultra-modern. Done correctly, black cabinets can add warm to the kitchen and become the focal point of the room.
Be aware that all-black in the kitchen can come off as austere so the design of the rest of the room is important. And they get dirty really quickly, making them a poor choice for a large family that cooks a lot. Food particles and dust show so the cabinets need to be cleaned often.
Woodgrain Shaker Cabinets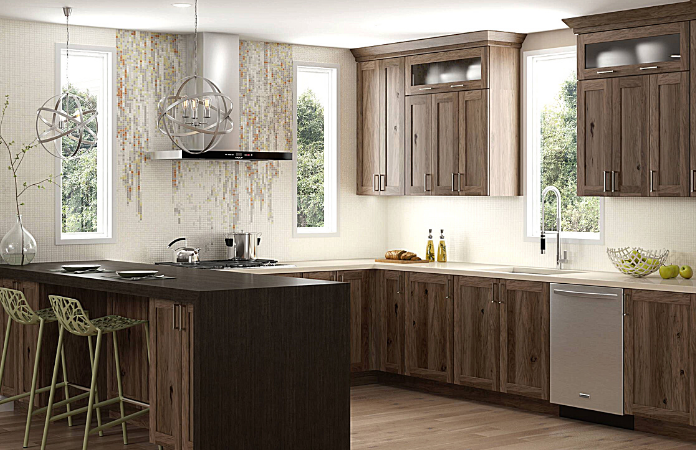 Wood cabinets can add warmth to any size kitchen. Woodgrain Shaker cabinets can come in a variety of shades from honey to espresso. A natural wood finish is a neutral base from which to design the kitchen.
A lighter shade of woodgrain can be complemented by a dark granite countertop and a gray and black mosaic tile backsplash. This keeps the kitchen sleek and stylish. A darker woodgrain looks great with a lighter or white countertop and silver finishes. The hardware can make a difference in making a kitchen with woodgrain shaker cabinets look modern, especially handles versus knobs.
Which Shaker Cabinet Color Should I choose?
Shaker style kitchen cabinets are universally popular for many reasons. A shaker cabinet color can give versatility to the kitchen or any other room in the house where they are used. And because they are so durable, they are an investment that will last for years. When it is time to update the kitchen, the cabinets will not need to be changed.
The sleek design of Shaker kitchen cabinets enables them to be paired with a variety of designs, making them timeless. Choose a shaker cabinet color that speaks to you and the overall layout. Contact us today for a free design consultation to find out how Shaker cabinets can enhance your kitchen design.