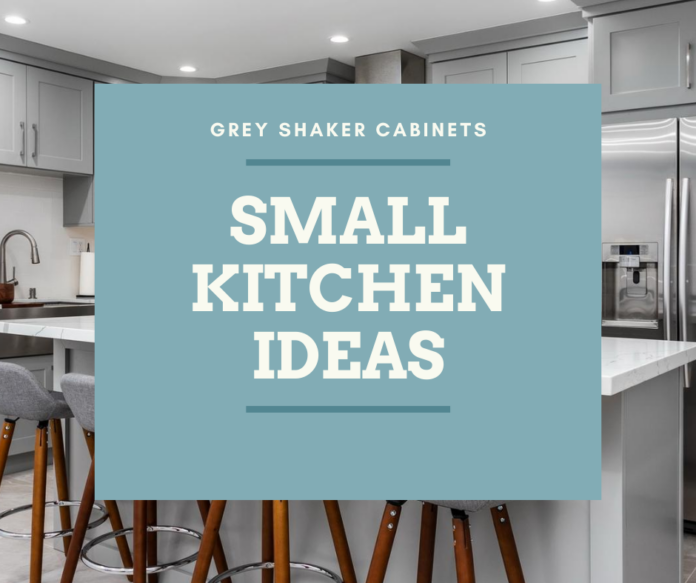 While we all dream of a home with a large, spacious kitchen, sky-high ceilings and plenty of counter space, sometimes you need to make do with what you have! If you're working with a smaller kitchen, you need to get creative and come up with solutions and design ideas that make it work. Read on for some clever small kitchen ideas that will work for you.
Start With Your Kitchen Cabinets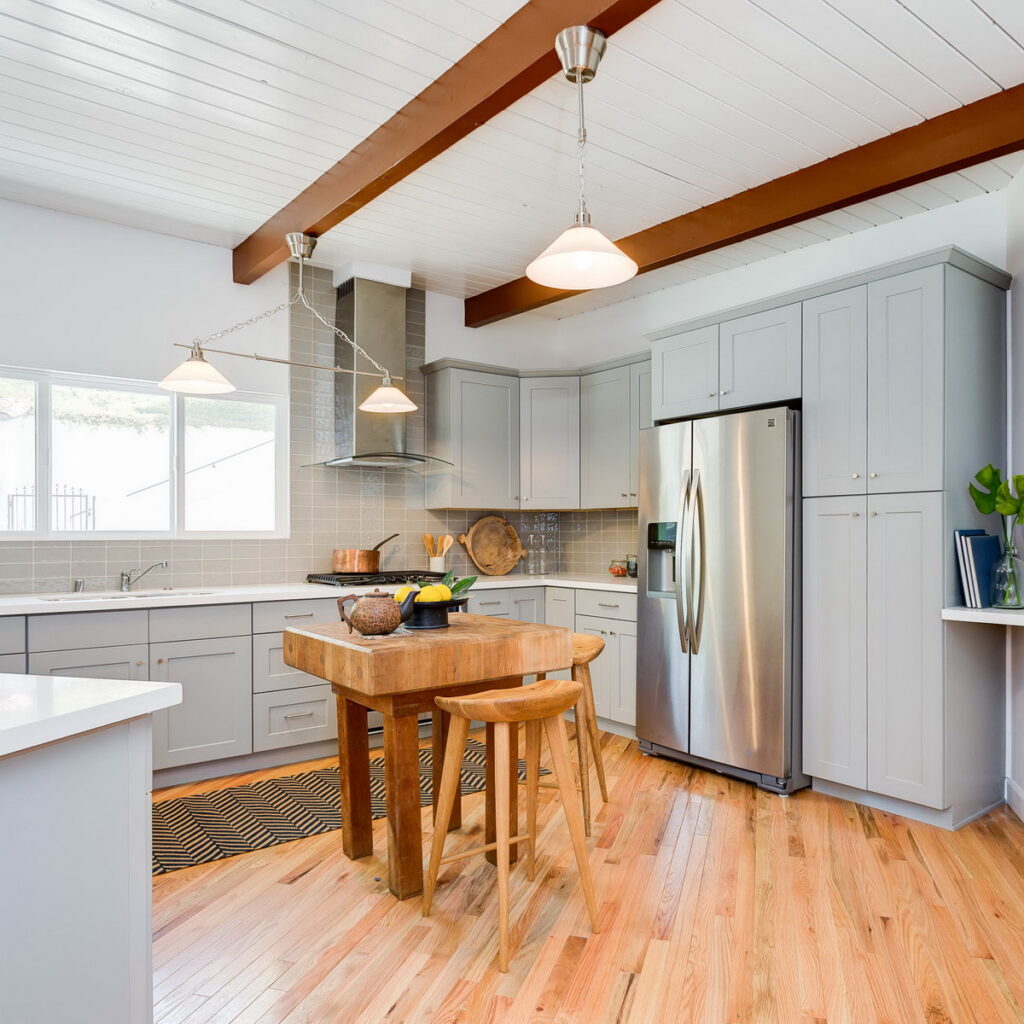 Grey shaker cabinets are a classic feature that work in any kitchen. Grey is a shade with a lot of depth that can come in shades of light, medium or dark grey. Shades on the lighter end of the spectrum are better in small kitchens, as darker colors can weigh a room down and make it feel even smaller.
When you are working with a smaller space, there are a lot of things you can do to adjust your cabinets. First, make sure to ditch the bulky hardware. Using sleek knobs or pulls on your cabinets and drawers will make your space look more streamlined, and also prevent you from banging into any protruding knobs. You can also play with the finish of your cabinetry. A high gloss or lacquered finish can make your cabinets look more reflective and bounce the light around, which creates the illusion of a bigger space.
If you can, add in more cabinets in space above your stove or range hood. This can free up valuable floor space! You can also skip the cabinets that go all the way to the ceiling, and use the space above your cabinets for extra storage. This spot is perfect for storing lesser-used tools or items, while your most-used pieces can be closer to your workspace.
Add Lots of Lighting to Brighten Your Space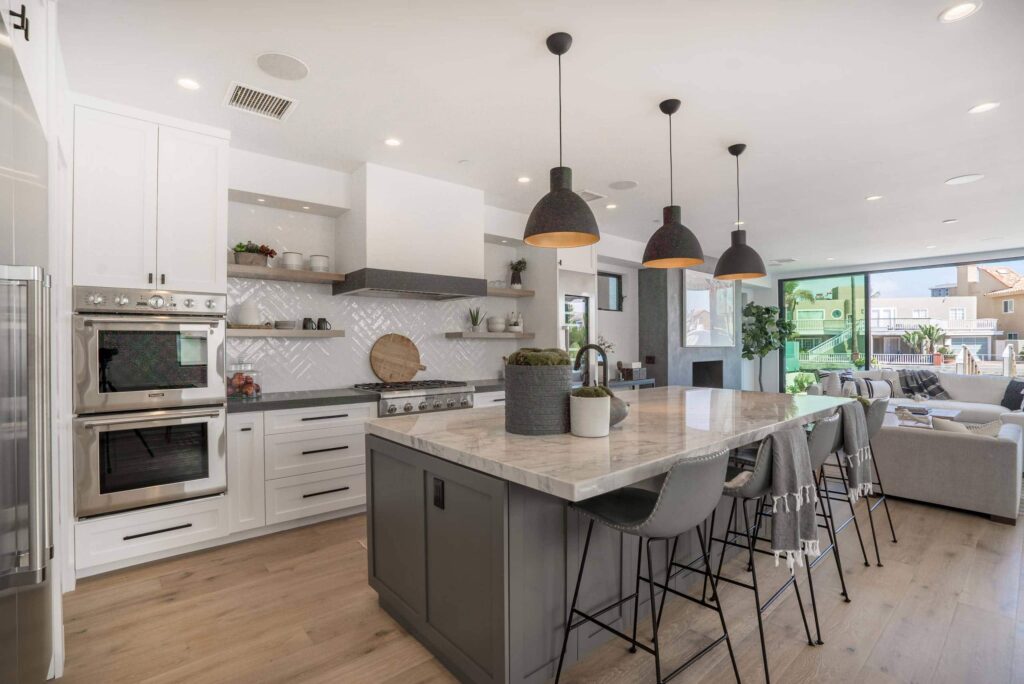 Bringing in lots of light can help small spaces look bigger and brighter, plus it can add extra function to your space. Task lighting above the countertop or sink will provide essential lighting for your work space, and a statement light can make the room stand out. Choose a dramatic pendant light that will draw the eye up and elongate your space.
Mirrors are an old trick to make spaces look larger, as they reflect the light across the room. Try to hang mirrors, or reflective surfaces, across from your windows to bring in extra light.
Use Decor to Brighten Things Up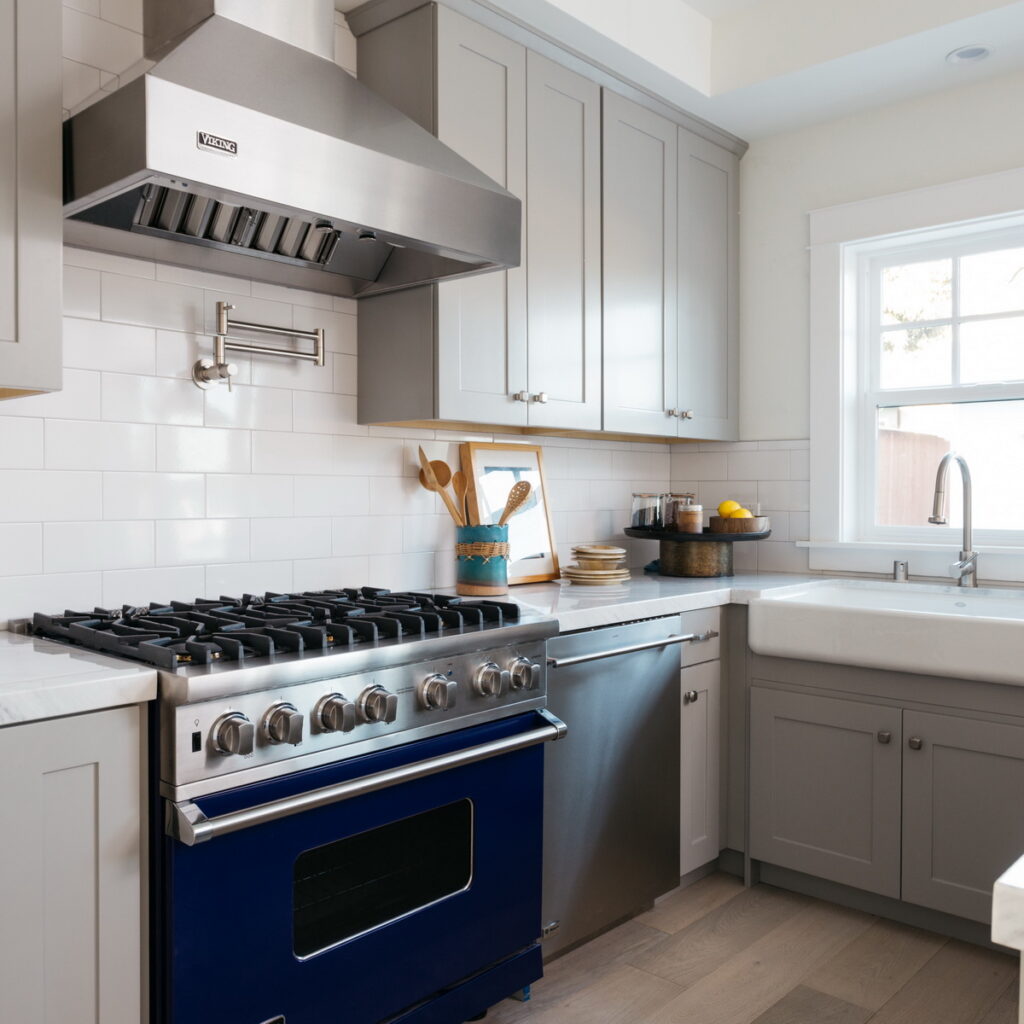 A way to warm up your space without making it feel cramped is by adding a rug. If your shaker cabinets are a warm-toned grey, opt for a rug that pulls in similar tones like red or orange. Long or narrow galley-style kitchens can use runners, which elongate the room.
You can also use your decor to create visual interest in your kitchen, like potted plants or decorative vases. Another way to create visual interest is with a statement wall. You can paint or use wallpaper on one wall to make it stand out. Bright, bold colors pair well with your grey shaker cabinets and can create a stylish and modern looking space.
Eliminate Clutter And Clear Your Counters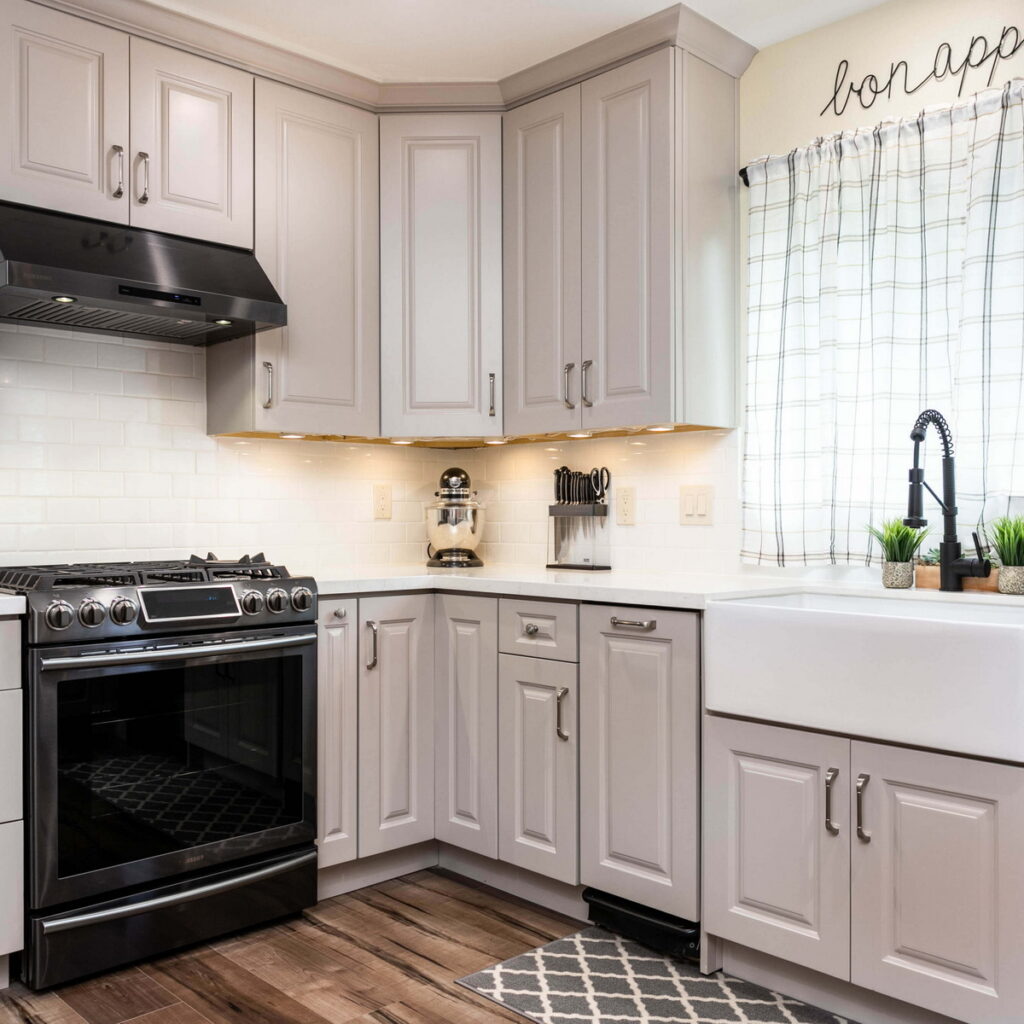 The one thing that makes any space instantly look smaller is clutter. Pare down your kitchen by eliminating any unnecessary items. If your cabinets are overflowing with extra bowls, or fancy gadgets you've never used, you might want to do a purge. You'll be surprised at how much space you actually have!
Another way to clear up clutter is by adding a pot rack to hang your pots and pans. This clears out some cabinet space, and adds some style to an empty space. You can also keep the countertops clear with an appliance garage to hide your small appliances like coffee makers or toasters.
Add A Versatile Kitchen Island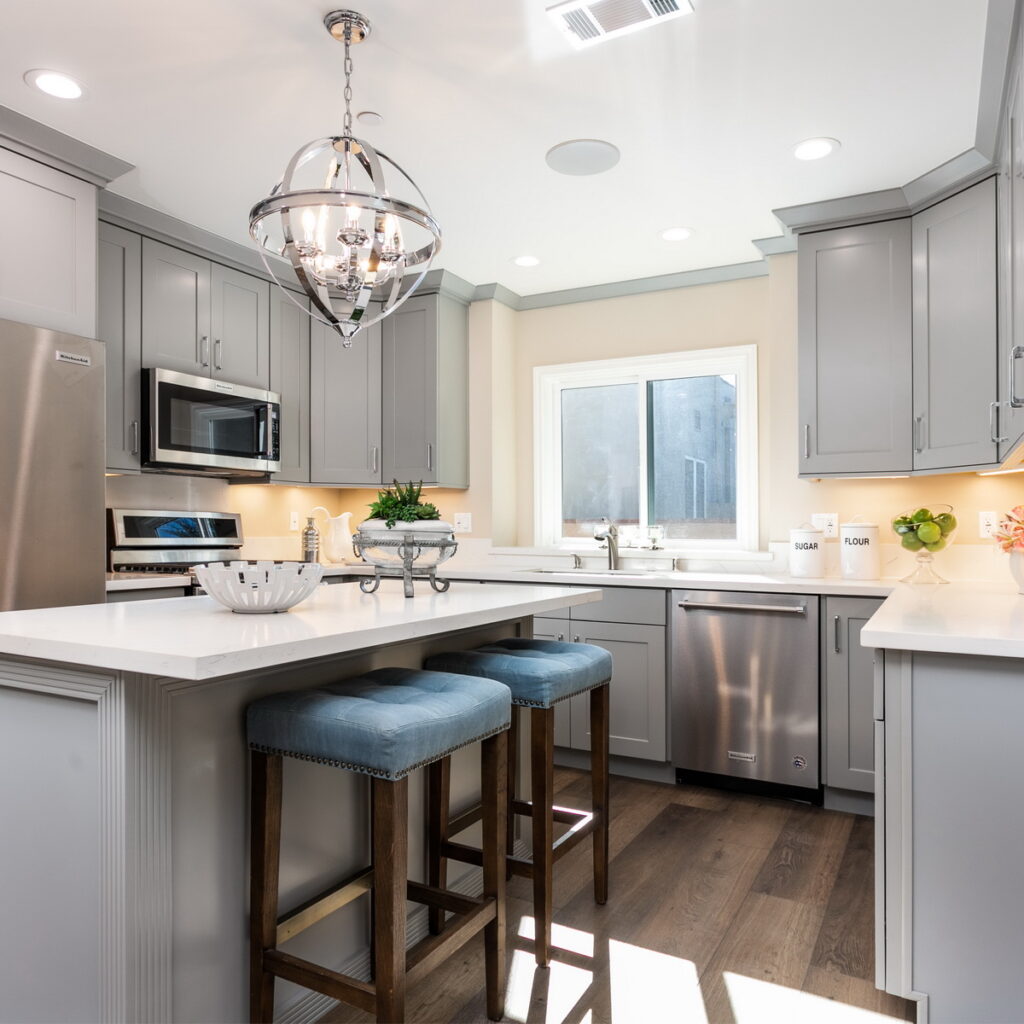 While you may think a kitchen island would just add unnecessary bulk to a small kitchen, it can provide valuable counter space and extra storage. You can opt for an island that has storage space underneath for stowing items, or storing stools when not in use. You can even opt for a moveable kitchen island, so you can easily roll it out of the way when entertaining. If a kitchen island would not fit in your space, you can get a bar cart to provide extra storage.
A kitchen island can also double as a breakfast nook. Adding a breakfast spot can help connect your kitchen and dining areas. You can use your kitchen island as a breakfast counter by adding stools. Choose low, backless stools to keep open lines when in use, and make them more easy to store under the island when you're done.
Keep a Uniform Color Scheme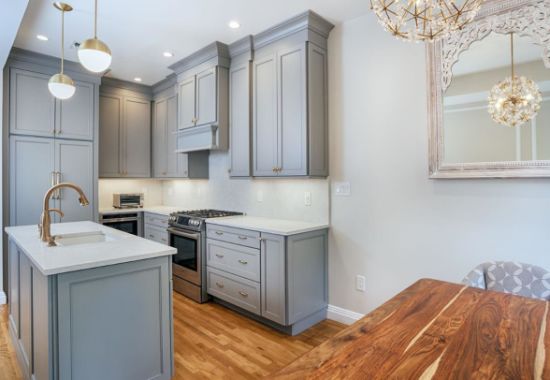 An easy way to make your small kitchen feel light and airy is by using a neutral color scheme. Pair your grey shaker cabinets with similarly-colored walls, countertops or backsplash. You can keep it monochromatic by having the walls and cabinets in the same shade, or use slightly different colors. You can add a marble countertop and white horizontal subway tile which has the added bonus of making the space feel wider.
Upgrade Your Sink and Faucet
Small kitchen ideas often come with small, divided sinks that also comes with a straight, short faucet. This set up makes it harder to clean large items like pots and pans. Make life easier for yourself by switching out this set up for a better sink and faucet. A deep set farmhouse or apron-front sink that sits directly in your counter is not only a practical option, but a stylish one as well. You can add a new faucet that's tall and curved to add more space in your sink. This way, you don't have to struggle to watch your larger items like cutting boards or pots.