Are you looking to spruce up your kitchen cabinetry?
Using inset cabinets in your kitchen upgrade will add function, value, and character. They're versatile enough to work with most home decor styles too, giving you a wide range of choices. But if you're new to these cabinets, you might need more convincing.
That's where we can help! Keep reading for our guide on the pros and cons of inset kitchen cabinets.
Inset Kitchen Cabinets: What Are They?
The cabinet door styles of the inset design have them fitting into the frame, sitting flush with it. This exposes the cabinet frame with little gap between it and the door. As a result, you're left with clean lines and a tidy finish.
For true inset cabinets, you should be able to run your hand over the surface and not feel a difference. The door and the frame should be the same height and the gap should be almost undetectable.
Inset cabinets are different from full overlay cabinets. For those options, the door will rest on the outside of the frame box. It will not sit flush and will stick from the frame, going right across the front of the cabinet.
Adding inset cabinets creates a more refined style in your home, whatever the decor theme. You can buy inset kitchen cabinets online or visit your local carpentry store. You could even hire a carpenter.
There are plenty of options too, from custom build to RTA inset cabinets. These options will suit all budgets as well as time constraints. Some people prefer to install them as a DIY project which is where RTA cabinets shine.
Whatever option you choose, inset kitchen cabinets will add that touch of craftsmanship. It adds a heritage feel, helping your home look as though it's always belonged on that plot no matter how old it is.
Because the fitting is so precise, they look as though they were custom made for your kitchen. Their timeless charm helps create a space that is unique to you and your home. You won't find a more seamless, streamlined finish than you will with inset cabinets.
So versatile is this style of cabinet you don't have to confine it to the kitchen. It works well in bathrooms and even on book cabinets and shelving units. Wherever you'd find a cabinet door, in fact, you can set them into the frame for a flawless finish.
What's the Difference Between Overlay & Inset?
Inset cabinet doors integrate into the cabinet as a whole. They fit into the frame and will be flush with the face of your cabinet box. Overlay doors cover the cabinet box's face.
It still gives a flat surface to the front of the cabinet, but it won't sit flush with the frame. They will always stick out a little and can look a little uneven and not as purposeful in the room design.
Will You Lose Space to Inset Cabinets?
The simple answer is yes, but it's more complex than that. Inside the cabinet itself, you will lose a small amount of depth.
The doors sit inside the frame not outside it. Because of this, you lose an amount equal to the thickness of your cabinet door.
If you're used to storing larger plates and boxes in your cabinets, this can create an issue. You'll want to measure your existing items and cabinet space first and compare them.
If you're not using the whole depth of your cabinets though, inset cabinets can be a space saver. Not only will they stick out from the wall less, but they're also not as high too.
Inset Vs Overlay Cabinets: The Pros and Cons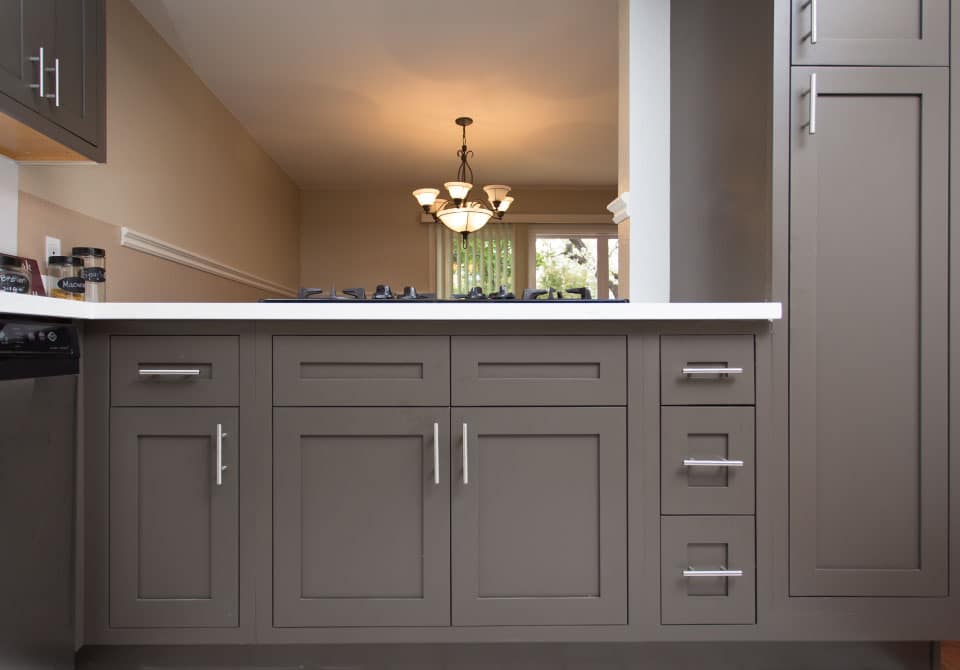 Now we've explained what inset cabinets are we can take a deeper dive into what sets them apart. Let's start by looking at a list of their pro points and what they can bring to the table.
The Pros:
Minimal lines give a clean look
Even RTA cabinets look tailored and custom made
The finish is timeless and looks as though it's always been there
Cabinet doors won't get nicked or chipped or damaged
Historical charm fits in well with period homes
From a functional perspective, one of the best advantages is they take up less exterior space. This makes them ideal for kitchens that are on the smaller side. You could save up to 7/8″ on the upper cabinetry alone giving you more workspace below.
Now let's take a look at the challenges of inset cabinets as opposed to traditional overlay options.
The Cons:
Inset cabinet cost – this can be between 15-30% more than overlay options
Lost space inside the cabinet – For some people, it's a concern to lose space, but it's only the width of the door you lose. To put that in perspective, a standard inset door is 7/8″ thick. Overlay wall cabinets have a depth of 12″ usually, giving 11″ of usable space.
You need hardware – if you like the sleek modern look of zero cabinet hardware, then inset isn't for you. Because the doors sit inside the frame you need handles to open them. It's not a total negative, this will depend on your preferences.
Swelling & Moisture – If you live in a humid climate, you'll likely know your house swells and shifts. Because of the specific fit of the doors, this can cause them to "stick" or become warped over time. It's important to keep an eye on moisture levels with these cabinets.
Whether inset cabinets are the right choice or not is down to personal preference. It's worth noting that while they do add historical charm, they can also be modern too.
We'll look more into the features and hardware below to give you more detail. And don't forget, there are always customer options too where you get full say over the design and end result.
The Different Types of Inset Cabinet Doors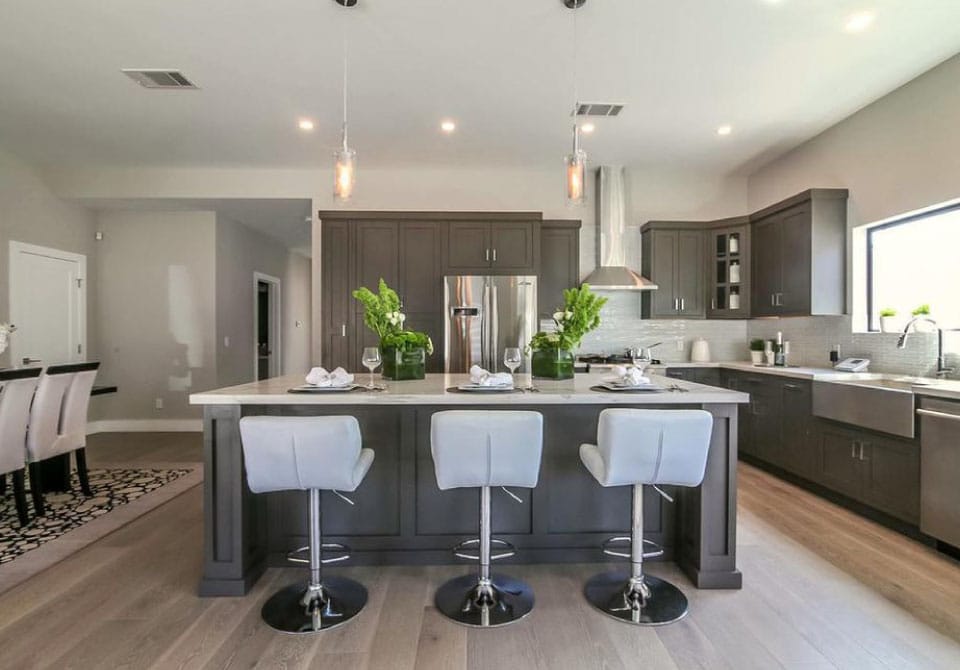 Though they work for many different kitchen styles, inset cabinets derive from English-style kitchens for a sleek, poised, professional finish. You can get many different options like solid front or beaded. If you want a more modern finish, you'll want a solid front. Beaded gives that historical, timeless charm.
The three main inset door styles are:
Mission style cabinet doors have an inset panel and use a high arch design. Raised styles are more often used in overlay installations but it works for inset too.
The door will sit inside the frame itself but part of the panel stick out. Because of this, it would have a smooth, flush finish when you run your hand across it.
Shaker-style doors usually have five pieces that make them up. There is the solid door, and then four other pieces connected to make a box. This box is then flush with the inset cabinetry and appears recessed to the eye.
How the Hinges Work
There is a common thought that you need to use exposed hinges when you pick inset cabinets. This is a misconception, though, and it's not the case.
Your hinge options; are surface hinges (exposed) and butt hinges. You can also use invisible hinges (also called European, hidden and concealed).
So, if you want to go for a completely concealed look, that option is possible. This is one of the reasons why inset cabinets are so versatile.
Not only will they work in a traditional country or period kitchen, but they can also hold their own in modern homes too. The only limitation is your imagination.
End Panel Choices
Most people will choose to stick with their door style for their end panel choices. For example, if you choose a simple shaker style for the door, let it guide your end panel choice. This will help create a cohesive design.
When you renovate kitchen cabinets, you might hear a few confusing terms. The most common terms are designer end panels or furniture ends. In general, furniture ends tend to be the upscale, high-end option.
At the end of the day, you need to make a choice based on your cabinets and the rest of your kitchen. There's no point going fancy and high-end with ornate detailing if the rest of the kitchen won't match.
Keep in mind your entire kitchen design as you choose not only the cabinets but every other element too. From the sink to the oven, it all needs to tie together and complement your design as a whole.
If too many elements want to stand out, then it can confuse the eye and overwhelm the mind. It makes a space feel smaller than it is and cluttered. It could even affect the perceived function of the space too.
A focal point is great but there should only be one star of the show. The rest of your elements should work to showcase it and add something to that look. You don't want too many elements competing for attention.
Inset Kitchen Cabinets: A Timeless Addition To Your Home
Inset kitchen cabinets are a great addition to any kitchen. Whether you're finishing a modern kitchen or looking for period charm, they'll fit the bill. With RTA options available right up to custom builds, there is something to suit every budget. It's a style we're sure you'll love.
If you're looking for kitchen cabinet inspiration, check out our catalog today. At Best Online Cabinets, we have cabinets to suit you, all ready to assemble or pre-assembled.