Reclaimed wood is a wood that is now reused in a new light. The origin of reclaimed wood can range from barns and fences. When you're building your dream kitchen, you should look for timeless pieces that will keep your space looking fresh and chic for years to come. You should also look at creating unique, custom items that perfectly suit you and your family's needs. How do you do that? With customized shaker kitchen cabinets, of course!
Why Choose Shaker Cabinets?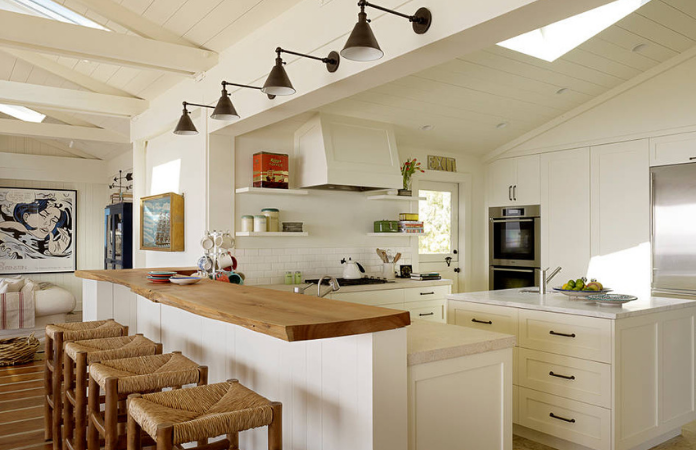 Shaker kitchen cabinets are one of the most popular styles of cabinet doors, thanks to their timeless style. Shaker cabinets are very clean and simple, consisting of a five-piece door and a recessed center panel. You can add some detailing to the doors, but typically they are unfussy and classic.
How to Create a Custom Kitchen Using Shaker Kitchen Cabinets
When customizing your kitchen, start by analyzing what you currently have in your kitchen to see what works for you and your family, and what needs changing. You can make a list of your must-haves, like spacious shaker cabinets for storage, a kitchen island with bar stools, and all the necessary appliances. Going through your kitchen and creating this list will challenge you to see what your dream kitchen will need and if what you already have can be reused in the new space.
Next, start to work on a floor plan. You can work with an architect or other professionals to do this, or do it on your own. Create scale drawings of your kitchen's floor plan, including where your doors and windows are, and start plotting in your cabinets and appliances. You can use this to start to plan the flow of your kitchen. If you want an open concept kitchen, for example, you will want to make sure there is nothing blocking the room or making it too crowded. You can also find the best layout for your kitchen shape. For example, a galley kitchen may become crowded with cabinets along all the walls, so you may want to place them on one wall only.
Consider Your Kitchen's Style with Reclaimed Wood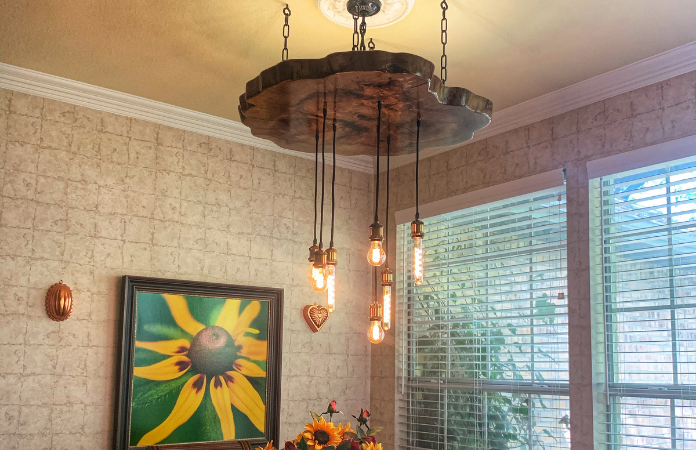 Once you've started your plan for a customized kitchen, you can start to think about the design of your kitchen. Shaker cabinets are versatile and can work in many styles of home, from modern to farmhouse to traditional. You can choose a kitchen style that complements the rest of your home, or stands out. The piece of reclaimed wood may be a centerpiece, main contrast, or support to the rest of your kitchen.
Start Customizing Your Cabinets
You don't need to install cabinets straight from the manufacturer and assume that will cover all your needs. Instead, you can customize your kitchen to perfectly suit your needs by adding extra storage and functionality to your cabinets.
Vertical lower cabinets can be outfitted with rollout drawers to create a food storage cabinet or pantry area. You can also outfit your lower cabinets with pullouts or door mounts to house cleaning supplies or extra cookware, while the doors on higher cabinets can include tool racks for measuring cups, knives or other utensils.
If you're opting for a modern style kitchen, you should outfit your shaker cabinets with additional storage options. Modern kitchens are typically minimalist and full of clean lines, which means they are clutter free. Add an appliance garage to hide your countertop appliances like microwaves and blenders, and install spice racks on the inside your cabinet doors.
Another custom add-on for your kitchen cabinets that you might want to consider is lighting. Under cabinet lights can add functional task lighting for countertop food prep, and can even work as a subtle night lighting if you want to grab a midnight snack. Dimmable lights are an option, as well as LED. Your under cabinets can also be a secret power source: instead of breaking up your gorgeous backsplash tile with unsightly power outlets, create an outlet strip under your upper cabinets that can be easily accessed by the countertop.
One of the great things about customizing your kitchen is that you are creating solutions to perfectly suit your needs, whatever they may be. For example, a baker might want to add storage for their extra mixers and create pantry rollouts for easy access to flour and sugar, while sommeliers can add a stemware rack or wine bottle organizer under a wall cabinet.
Choose the Right Materials for Your Pieces
Once you have an idea for the look and layout of your kitchen, you can start selecting your items and finishes. For your shaker cabinets, you should opt for a hardwood as it's the most durable. However, if budget is an issue, you can opt for the slightly cheaper plywood option. Doors in wood veneers are not recommended as they can peel and chip over time.
You also have lots of options for the color of your shaker cabinets. Keeping them in a plain wood finish is timeless, and wood is a neutral that works in any style home. With the right styling and design details like hardware and countertops, wood can look modern, traditional or even industrial.
If you choose to paint your cabinets, white, off-white and grey are all popular choices as they are classic and versatile.
Aside from your cabinets, you will need to choose the best materials for your kitchen countertops and floors. These can be dictated by your budget as well as your needs. For example, laminate countertops are often on the cheaper end of the spectrum and are fairly low-maintenance, while wood countertops are typically a little more expensive and require more care. For stone countertops, like quartz or marble, they can become a show stopping focal point in your kitchen. They require sealing, which makes them a little more high maintenance, but are still incredibly durable.
Similarly, the best kitchen flooring will be hard-wearing, to deal with splashes and spills, and durable. You can opt for ceramic tile, laminate, or vinyl, all of which are water-resistant and easy to clean.