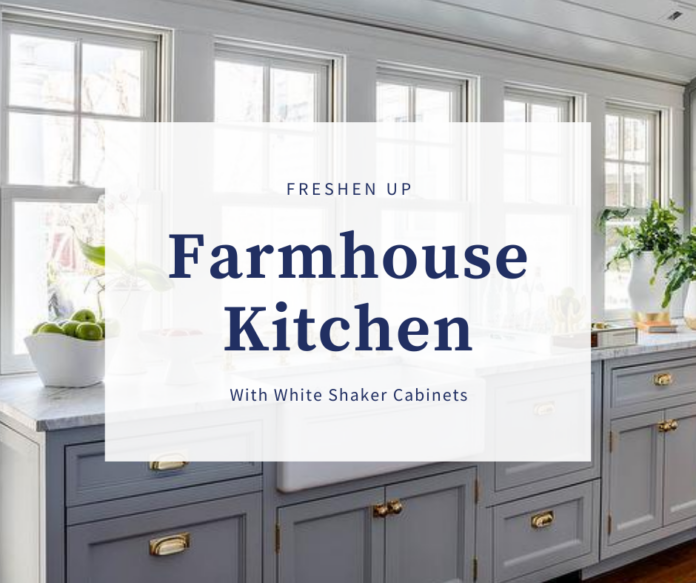 One of the more popular home design trends is a farmhouse kitchen. The relaxed, country feel gives the kitchen a homey, family-oriented feel that can make it the star of your home. With the right colors and features, you can refresh your kitchen into the perfect farmhouse style.
What Does Farmhouse Style Mean?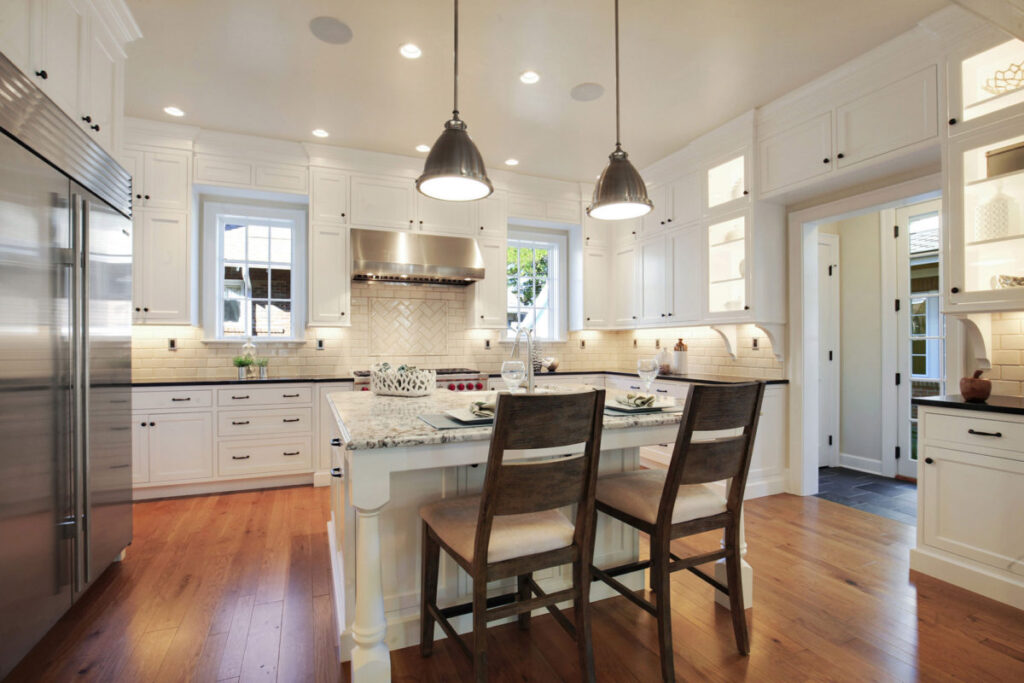 A farmhouse kitchen doesn't actually have to be in a farmhouse, but evoke that simple and inviting feeling of one. White shaker cabinets are ideal for farmhouse kitchens, thanks to their timeless and unpretentious style. Lots of natural light, exposed wood and soft colors round out the look.
To give the relaxed, family-style feel of a farmhouse kitchen you can also add a kitchen island, freestanding furniture and traditional features like an oven range. This gives your kitchen a place for everyone to gather, cook and eat together.
Farmhouse Kitchen Ideas Using White Shaker Cabinets
Add Character With Vintage and Rustic Pieces
Maybe you're lucky enough to already live in a home dating back centuries, but if not, you can mimic the style easily! Pick up decor pieces like vases, jars and signs from garage sales and vintage stores to give your farmhouse kitchen a more authentic look. Don't pick up anything that looks too new or matches too perfectly — the key to a farmhouse style kitchen is to look as authentically rustic as possible. You can also use reclaimed barn wood to create shelves or even a kitchen table, bringing in more rustic character. If you do have an older home with features like exposed ceiling beams or brick walls, they can be leveraged perfectly into a farmhouse kitchen.
Pick a Natural Color Palette
Farmhouse kitchens work best with soft colors and natural tones. Your white shaker cabinets will pair well with warm woods, and pops of pastel colors like pale blues, greens, or yellows. With the white cabinets as your base, you have a lot of options to match with — including more white! You can keep the kitchen interesting without looking sterile or unfinished by varying the shades and textures of your kitchen. For example, you might have your white shaker cabinets in a matte finish to offset a glossy white subway tile.
Choose Key Features That Suit the Style
A farmhouse sink, also called an apron-front sink, is a no-brainer for a farmhouse kitchen! These sinks are larger than standard sinks, as in traditional farmhouses they were used for multiple purposes. The sinks will sit over your cabinets and give the appearance of draping or hanging over them. You can choose from a variant of materials for your sink, including porcelain, metal or concrete.
Another key feature of many farmhouse kitchens is butcher block counters. These countertops are made with a natural wood that adds dimension to your space, as well as the traditional feel. They are also strong and durable, which was extra important during the old days.
Pull in Natural Wood With Your Floors
Aside from your butcher block counters, you can bring in elements of natural wood with your floors. While tile floors can still be used, hardwood floors in your kitchen will instantly give your space a homey, old fashioned feel. If you're worried about the state of your original hardwood, you can mimic the look with tiles. Wood look vinyl flooring closely mimics the natural colors and grain of hardwood floors, and can come in long tiles that resemble wood boards.
If you're worried about too much wood, use tiles that mimic stone or brick for that earthy, homey effect.
Use Shiplap To Add Texture
Shiplap panels are another popular design choice in farmhouse-style homes. Shiplap can be used on your walls, or even on one feature wall to become a focus point. Since shiplap mimics the lines of hardwood floors, it helps elongate your space and make your kitchen look larger as well.
Choose the Right Backsplash
The right backsplash will pull your farmhouse kitchen together! Subway tile is another popular feature in many farmhouse kitchens thanks to their clean lines and simple look. While white subway tiles will flow naturally with your white shaker cabinets, you could also try a contrasting effect with black tiles to add a bit of a modern finish.
You could also use neutral stones as a backsplash option, or, if you'd like something more eye-catching, opt for a mosaic tile in white and black or grey. This will become a focus point in your kitchen while still maintaining your soft color palette.
Bring in Elements of Nature
No farmhouse kitchen is complete without some greenery! Fresh flowers and potted plants are all great accents to your farmhouse kitchen that makes it look and feel lived-in. You can even grow your own herbs, making your green decor double as something usable — that is the staple of farmhouse kitchens, after all!
If you have a lot of land and are able to grow your own fruit and vegetables outside, think about adding large windows in your kitchen so you can see the literal fruits of your labor. A sprawling garden makes the perfect backdrop for any kitchen.
Find Appropriate Lighting
You're going to want your kitchen to feel bright and airy, with enough light for you to cook and prepare meals easily. Big open windows with light curtains are a good bet for farmhouse kitchens. The last thing you want is for your space to look dark and cramped.
For light fixtures, pendant lights are a good option to hang over your kitchen island, breakfast bar or table. They offer enough lighting while still looking stylish! If your kitchen is naturally dark, you may want to add additional task lighting, or LED lights for your cabinets.