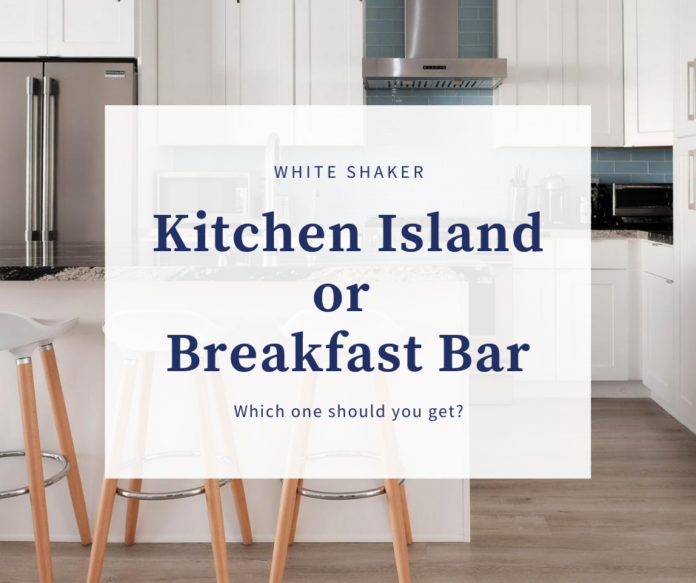 Kitchens with center islands or breakfast bars are the ultimate combination of function and style. You're adding extra workspace and seating that improves the functionality of your kitchen, while also making the space look inviting and homey. Both styles look perfectly at home in a kitchen with white shaker cabinets, whether you're creating a modern space or a traditional farmhouse kitchen! Read on for more tips on how you can style your white shaker kitchen island and breakfast bar.
Adding a White Shaker Kitchen Island
Builders and designers all swear adding a kitchen island is the best value addition you can make for your kitchen. The combination of counter space and storage space dates back to colonial-era America, when simplicity and function were key elements to the home. This is why shaker cabinets, which have similar roots, and kitchen islands pair so well together. The emphasis on usable spaces with clean, unfussy appearances makes kitchen islands with shaker-style cabinets for storage a popular choice.
If you've decided to add a white shaker kitchen island to your space, start planning for the addition by deciding on your budget. A kitchen island can cost as low as $600 or as high as $5,000, depending on the size and materials you want to use.
Finding the Right Placement for a Kitchen Island
Figuring out the best placement for your white shaker kitchen island is vital. You should have ample counter space for meal prep or dining and still leave enough room for pathways throughout the room. You also want to make sure the island is proportional to the kitchen — too large and it can make the room look tight and tiny, while too small can make the space look empty and clinical.
Make sure you measure carefully before adding your island. On average you need at least 48-inches for a pathway between the island and the wall. Don't forget to account for the cabinets: you need enough space for them to swing open clearly! For counter height, between 30 and 36-inches is best for food prep.
Adding Shaker Cabinets to Your Kitchen Island
Your kitchen island doesn't just add extra counter space — there's also valuable real estate that can be used for extra storage! Adding wraparound cabinets to your kitchen island can double the amount of storage in your kitchen. Since shaker cabinets are clean and simple in design, this won't add any unnecessary bulk or busyness to the kitchen.
If you plan on using the island as a cooking space, you can keep pots and pans close by, or if it's going to be more of an eating and serving space, you can stock the cabinets with cutlery, platters and napkins. You can even consider adding small appliances like microwaves, or larger appliances like dishwashers, under the island. Consider adding an appliance garage, a custom compartment that can hide appliances. You can conceal a microwave or coffee pot behind a shaker-style door to keep the island from looking too cluttered.
Leaving part of the island open is ideal if you want to add seating for a breakfast bar. Stools can be stored underneath the countertop when not in use, and pulled out for extra seating when it's time to eat.
Choosing the Right Materials and Countertops
While your island is meant to improve function, that doesn't mean you have to sacrifice the look! Finding the right countertop for your new white shaker kitchen island can help create a look that seamlessly fits into your kitchen's style.
With white shaker cabinets, you have a lot of flexibility and freedom to choose complementary materials and accessories. Shaker cabinets are a simple and classic look that suits almost any style, and white is a clean slate that can match any color. First, you should decide on the overall style of your kitchen: is it simple and modern, with clean lines and a pop of color? Or do you want a rustic, farmhouse-inspired space? Knowing your overall vision for your kitchen will help you choose the right materials and colors for your island countertop.
Quartz, Corian and granite are some of the most popular choices for kitchen counters, thanks to their durability. Quartz is the strongest, while granite can still be prone to scratches or stains. All three materials come in a variety of finishes, which can match your kitchen style. For example, a dark granite can create contrast with the white shaker cabinets for a modern look, while a white quartz countertop with a soft grey marble is a beautiful addition to traditional-style homes.
Of course, you can also add a cooktop to your kitchen island! This can create a second cooking space perfect for big meals or dinner parties.
Adding A Breakfast Bar to Your Space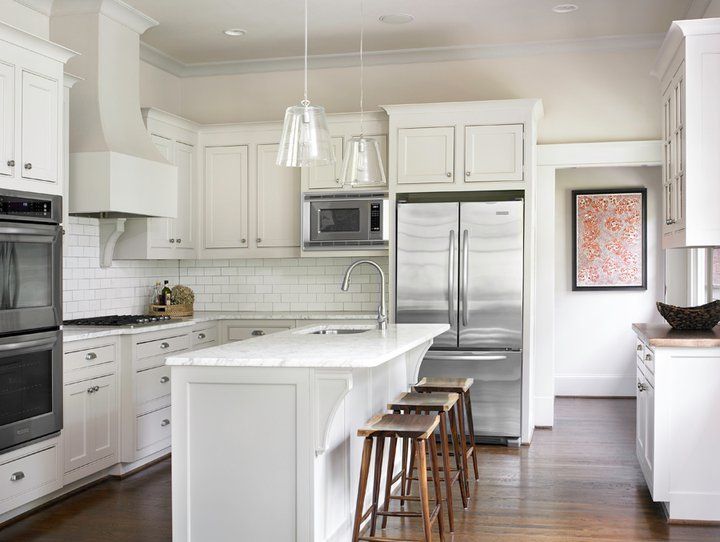 Adding a breakfast bar to your island is the multitasker's dream! It creates a casual dining area that can also double as extra countertop space for meal prep, homework or just reading the daily news with a morning coffee.
When you have a larger kitchen island, transforming it into a breakfast bar is simple! You can add stools for extra seating and keep part of the island for food preparation or as a cooktop. This can also free up space in the kitchen by eliminating a dining table: if you have a freestanding breakfast bar with stools, you can have all the dining space you'll need in the kitchen.
You can keep your breakfast bar the same height as the island counter, or raised up. Some kitchens add a wood block on a portion of the island to signify the 'kitchen table' part of the island, and separate the space from the cooking or meal prep areas.
If you don't have the room for a large breakfast bar, a more small-space friendly solution is to include a fold down table mounted to a wall with stools for seating.