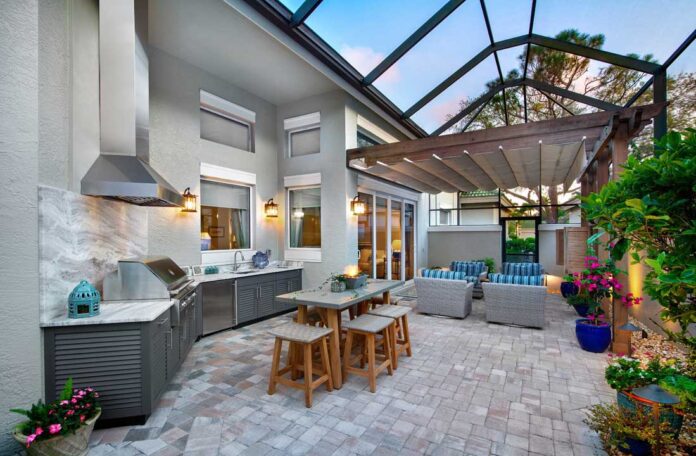 Grey shaker kitchen cabinets are a stylish and versatile choice for any kitchen. The simple, unfussy nature of shaker cabinets makes them easy to work in any style of kitchen, and grey is a popular color in everything from contemporary to country cottage homes. However, with that much flexibility, there are lots of design choices that can be made to go along with them. Read on to see how best to style your dark or light grey shaker cabinets.
Selecting the Shade of Grey Shaker Cabinets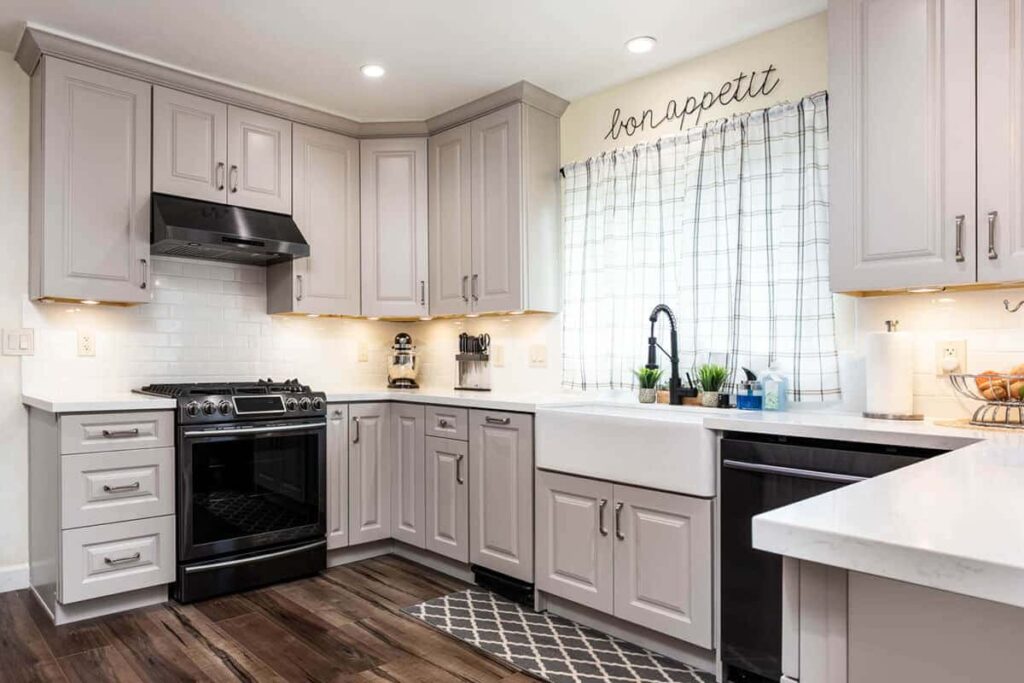 Grey is a rich shade that can come in many different tones. You will need to analyze the shade of grey you plan on using to see how it will best work in your kitchen. A kitchen with lots of natural light and high ceilings can house darker shades without making it look too small or cramped, while smaller or darker kitchens will be better served by a light shade that opens the room up.
Once you've decided on the depth of your shade, you should look at the undertones. A warm-toned grey will have tan or beige undertones, and can pair more naturally with other warm-toned colors like browns, reds and yellows. Cool-toned greys will have blue undertones, and look better alongside other cool-toned colors like blue, purple and green.
The style of kitchen you are planning on can also be an important decision factor in your shade of grey. Contemporary or modern kitchens can work well in a cool-toned dark grey. Farmhouse kitchens are better in light, warmer shades.
Choosing the Right Countertops for Shaker Cabinets
When you have dark grey cabinets as your base, choosing the right countertops to match will set the stage for your kitchen. You can choose lighter countertops to reflect the light and brighten up the room. With warmer toned greys, cream or off-white countertop will pair nicely. You can also try a bright white for sharper contrast. This is especially nice in contemporary style kitchens. Another chic style is to go for a monochromatic look by selecting a countertop in a shade of grey slightly lighter than your countertops. This simple, sleek look is perfect for minimalist kitchens or contemporary spaces that want to shock with a pop of color like bright yellow or teal in accent pieces like bar stools or vases.
With light grey cabinets, you can create a cozy feel by using cream, beige and brown shades in your countertops. A beige countertop with flecks of warm grey and brown can create a warm, homey vibe perfect for many traditional or farmhouse style kitchens. You can also work with white countertops: instead of a contemporary contrast, as with dark grey cabinets, light grey shaker cabinets and white countertops create a simple, clean look that can lend itself to contemporary, farmhouse, Scandinavian or traditional styles. A white with flecks or marbling in grey helps pull the look together.
Picking the Perfect Backsplash
There are lots of different ways you can use a backsplash in your kitchen. Some bring the backsplash all the way up to the ceiling or the upper cabinets. Others only use backsplash for a few inches off their counter. Some contain the backslash to just the space behind the stove, while others will use it across their kitchen. Backsplash can create a bold focal point or just be another piece of your overall design puzzle. It's important to plan out what you want to do with your backsplash before your start picking tiles or patterns. If you want a unified look and feel in your kitchen, you might want to create your backsplash from the same material as your kitchen countertops.
A dark backsplash with dark grey shaker cabinets can create an industrial-chic look. You can opt for concrete for a simple yet durable way to create an industrial space. Black backsplash in shiny penny tiles can also work with darker cabinets to create a sleek and modern look.
Whether or not your cabinets are light or dark, you can use a tile backsplash. A chevron pattern of white and grey, also pulling in the colors from your countertops, is a great way to tie the room together and create a cohesive color palette.
Light grey cabinets are really enhanced by white backsplash. A white subway tile is perfect for a farmhouse style kitchen, while white herringbone tile is a more classic and sophisticated option. With light cabinets, you can also play with color more in your backsplash! A patterned backsplash with pops of green or blue can add visual interest. This method helps keep your space light and bright.
Don't Forget The Major Players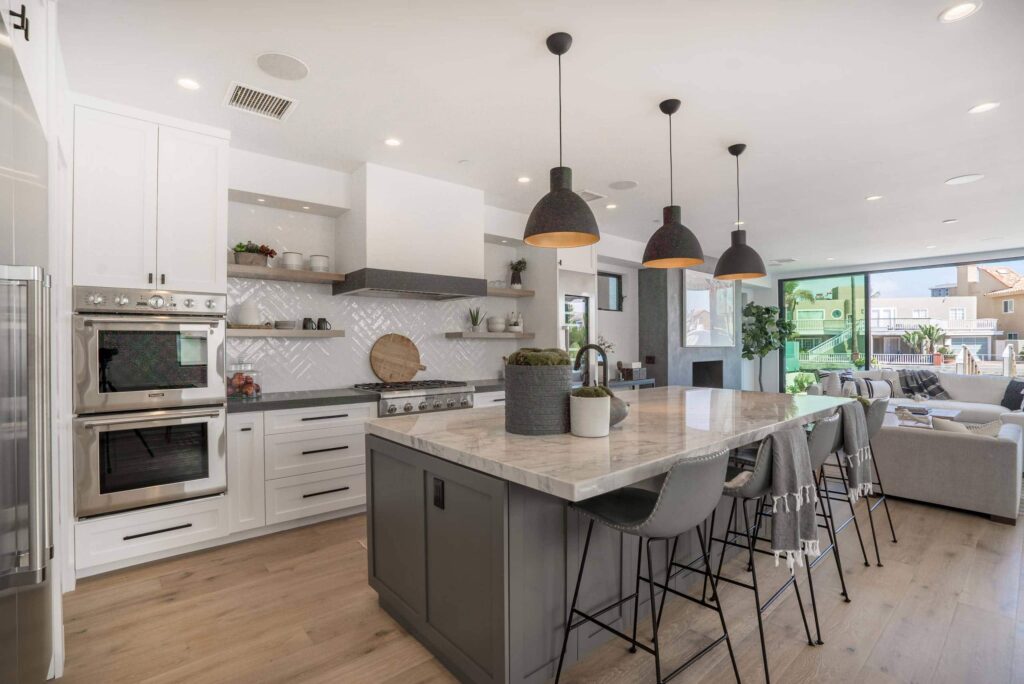 Appliances take up a major portion of your kitchen, not to mention your renovation budget. It's important to factor them into your design plan early in the process.
For appliances, the most common finishes you will see are white, stainless steel and black. Each has a different role to play in the look and feel of a kitchen. White appliances are great for kitchens that want to keep a light, crisp look. You might use white appliances in a farmhouse kitchen with light grey cabinets and white countertops and backsplash. This creates a more uniform look. In a bold, contemporary kitchen with dark grey cabinets and contrasting countertops, you might want to opt for stainless steel appliances as either black or white might overwhelm the space. Black appliances are best used when you want to make your space look more modern. A kitchen with light cabinets and countertops offset by dark appliances is a way to take the classic farmhouse look into new territory. A kitchen with dark grey cabinets can use black appliances, particularly matte black, to create a modern and sophisticated look.