Grey kitchen cabinets are the perfect option for those who don't want a bright white kitchen or a dark, mysterious black kitchen, but something in between! However, the decision-making process doesn't stop once you've selected your grey shaker cabinets. Find the right countertops and backsplash to set the mood of your kitchen and truly accentuate your grey cabinets.
Choosing the Right Shade of Grey
One factor that will help determine the type of backsplash or countertops you should go with is the shade of grey that you choose. Start with determining whether you want to go with a warm or a cool toned shade. Warm shades have tan or beige undertones, and pair well with browns, reds and yellows, while a cool grey will have blue undertones and pair better with blues, purples and greens. 
Also, keep in mind the style you are going for with your kitchen. Contemporary and industrial spaces look great with cool-toned greys, whereas more traditional and farmhouse style kitchens need warmer tones.
Similarly, you should choose between a lighter or darker shade of grey based on the style you're going for, and the room itself. A kitchen that gets lots of natural night can house a dark grey, whereas a smaller, naturally dark kitchen would look too cramped or claustrophobic, and needs to be opened up with a lighter shade. Dark colors often work best in modern homes as they are more dramatic, whereas a lighter and softer shade of grey is better for traditional kitchens.
Once you have your shade of grey figured out, it's time to start planning the rest of your kitchen's details.
Backsplash Options for Grey Shaker Cabinets
Marble
Marble backsplash is a versatile choice that pairs well with many shades of grey, since it naturally contains grey as well. Whether you opted for a light or dark, warm or cool shade of grey for your cabinets, you can find a marble that will suit your kitchen. Marble backsplash is most often found in traditional style homes, but since it can be a striking statement piece depending on the pattern of the marble, it can work in modern and contemporary homes as well.
White Tiles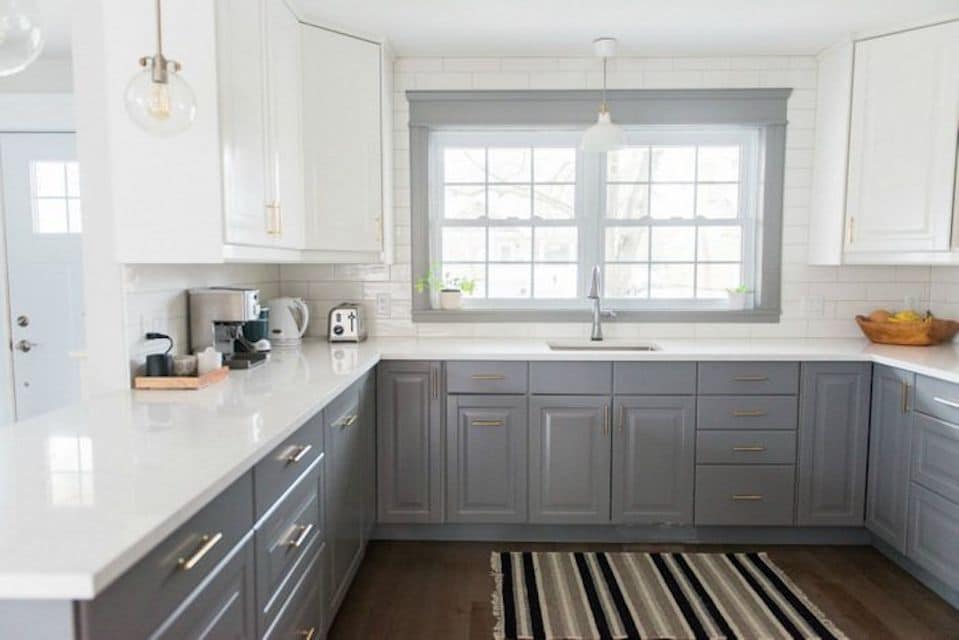 White tiles are a common choice in many homes since they can offer so much in terms of style and design, without adding potentially clashing colors. A white backsplash can have a crisp, clean look with lighter grey cabinets or a bold, contrasting look with darker shades of grey. You can opt for tiles with different styles or designs, or pattern the tiles in a distinct shape to create an eye-catching look.
Solid Colors
Wanting to create a bold, contemporary space with a grey shaker backsplash? Then you might want to step outside the box and do a solid backsplash in a bright, bold color. A blue or green backsplash paired with a cool, darker grey cabinet creates a fresh and unique look, while lighter grey shaker backsplash can temper a bright red to create something liveable yet still bold and impactful.
More Neutrals
What about grey on grey? Using grey for your backsplash offers the same benefits as the grey cabinets do: it's a neutral that looks polished and is completely versatile! You can use grey tiles in a similar shade to your cabinets and incorporate white tiles to create depth and textures or use a lighter shade to offset your darker cabinets.
Brown Tiles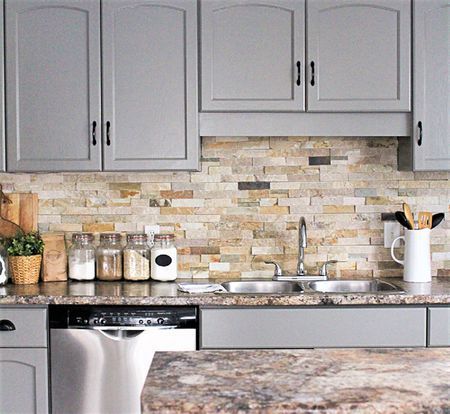 While brown may not be the first color to come to mind when pairing with grey, a brown tiled backsplash can create a warm and cozy and surprisingly stylish look for your kitchen. If you have elements of natural wood in your kitchen, like wooden floors or exposed beams, pull in similar shades in your brown backsplash tile. This creates a rustic look perfect for farmhouse style kitchens.
Best Countertops for Grey Shaker Cabinets
Countertop Colors
Just like with the backsplash, white countertops are versatile enough to match with any shade of grey cabinets. A white or an off-white can open up the space and make a kitchen look lighter or larger than it really is.
A cream or a beige countertop can also complement grey shaker cabinets well, particularly in warmer-toned colors. A warm grey cabinet, cream countertop and brown and beige backsplash can create a cozy, natural space.
Black countertops can create a bold statement, but doesn't have to be overpowering. You can incorporate black for a contrast with light shade cabinets, or to create a sophisticated palette with darker grey shaker backsplash.
Countertop Materials for Grey Shaker Backsplash
Choosing the right countertop for your kitchen starts with assessing your needs. The kitchen is meant to be functional, as it is often one of the most used rooms of the house. Some materials are more durable than others, but there are other factors such as style and price to consider.
Granite is one of the most durable materials, making it perfect for kitchens that will get a lot of use. Granite is also a luxurious option that can come with a higher price tag and a lot of options in color and style. Marble is also considered a luxurious look for kitchens, but it's much less durable than granite and can scratch more easily.
Quartz countertops are also fairly durable and don't require any sealing or polishing, but can be sensitive to heat. Quartz countertops also come in just about any color, but white quartz is a particularly popular choice in many kitchens.
If you'd rather have wood countertops than stone, you can opt for a butcher's block. Butcher's block counters are especially popular in farmhouse style kitchens, as they carry more of a rustic, workhorse look. You can prep food directly onto butcher's block counters and they are durable but do require additional sealing over time.
Laminate countertops are an affordable option that comes in endless looks, so it's perfect for anyone who wants to create a bold statement with colors or patterns. Unfortunately, laminate is less durable than other options and may chip over time. On the other end of the spectrum is concrete: it's obviously durable and won't chip or scratch easily, but can be a pricier option. Concrete countertops are popular in industrial style kitchens and can be purchased precast or poured to suit your kitchen's shape.