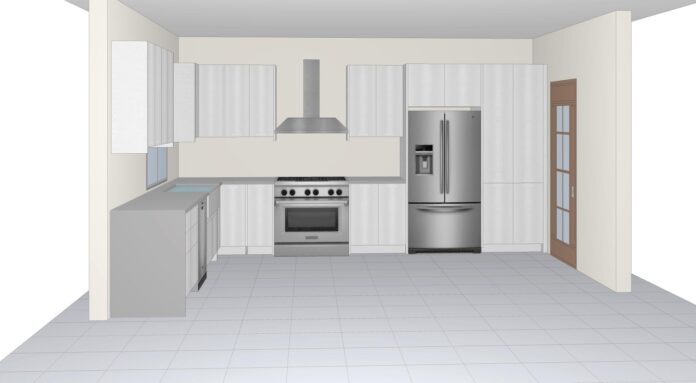 As a kitchen and bath designer, you may be looking for better ways to showcase your designing talents by changing the kitchen design program you are currently using. Or you want a kitchen layout tool that connects well with your third-party vendors, such as cabinet manufacturers.
Paid subscriptions for top-of-the-line software programs with 3D views, even 360-degree visuals, are one way to go. Alternatively, you may only want to use free kitchen design software online, but have less extended features available, yet are great to work with for presentations.
How you approach making that final decision is based on whether you are a one-person designer working from your home office with a small budget, or you are running your own design firm along with several associate designers and a larger budget. You may need a technical and logistical upgrade to how you currently conduct business. This is important if you are working with an installation company and have agreements with several cabinet and countertop companies who help fulfill the kitchen project. Tying or integrating services together can be challenging.
You also want to offer better presentations to your customers, so they are excited enough to buy the project. Not only are you an artist who presents the final image of a client's dream kitchen, but you are also the magician who helps with organizing how everything comes together in the client's home.
Your clients expect a "perfect" outcome in seeing the dream come true, one they can happily live with for at least 10 years or more, before wanting to change something. Using a software program to design and present that dream is the first step towards convincing the client that it can happen. The clients are more likely to purchase the project when they can see it.
Making the Decision Based on Need
Your final decision will be based on pricing, time spent learning the software, and what benefits and features come with each of these software programs. Let us look at what a few of these kitchen designs programs might be that would be useful, based on your business needs.
Pros
Ability to incorporate brand cabinet and countertop catalogs into the software, as well as appliance brands,
Updated product pricing included as well as the latest software updates,
Connection between the designer, the licensed installation team, and all product manufacturers through the software,
Ability to provide a final project price to the customer from within the software infrastructure,
Ease of learning and working with the software,
24/7 customer service/technical help, and more.
Cons
The expense for a monthly/annual fee is high for start-up firms and solo designers,
Must have a computer system with the recommended hardware specifications (i.e., 16 GB RAM, SSD hard drive with enough disk space, high-level graphics card, etc.),
Learning the software independently (self-training videos) can be somewhat overwhelming,
Inability to financially attend software training seminars,
Lower-priced to free subscriptions may mean there is no technical support available when a disaster happens,
Some software programs offer 3D visuals (and 360 rotating views) for presentation purposes, while others do not, and more issues.
Working with Your Business Partners
One thing to consider is if you are getting started with your design business and have identified potential installation partners and cabinet maker companies you want to work with, find out first what software they use. Make sure that whatever software you end up using, will be compatible with theirs, even if it is a different software. It can be a simple matter of saving design files with the right extensions so they can be imported into your business partner's software.
You can also go to this file format converter website to see what different program files will convert and export to. When you are saving a file inside any of your trial programs, you can see the drop-down list of available extensions for exporting out. Save once with the program extension you are working in first before exporting with another file extension.
Top Kitchen Software Programs – Paid Subscription
2020 Design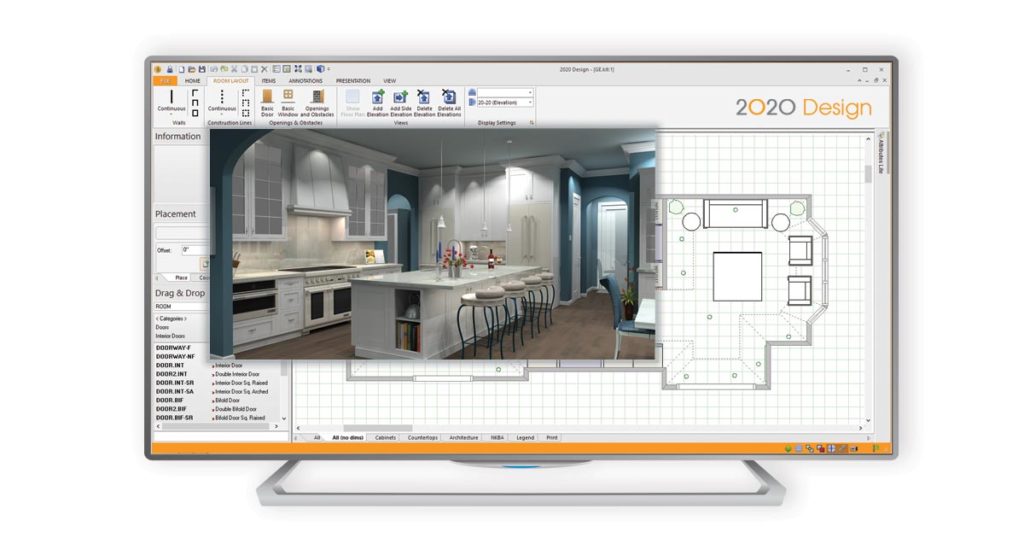 Image courtesy of 2020 spaces, 2020spaces.com
The 2020 design version 12 software program is a robust infrastructure that allows you to design almost anything you want. If you have previous experience in working with any type of architectural design program, then you can easily learn how to work with this program on a basic level. However, to really utilize all the features available to you, you will need to go through any training classes available that are found on the website.
First, you should read the technical specifications your computer needs in order to run the program efficiently. You may find that while you might have enough hard drive storage, you do not have enough memory. The suggested requirement is 16 GB RAM. You also need a good graphics card to assist with renders.
Pricing
Sign up for a one-month trial without having to provide your credit card. This is a great way to get a feel for how this program works and whether it will be what you need for your business. While annual pricing may be expensive, if you divide by 12, the pricing would be $99 to $142 per month, dependent on which suite you buy. 2020 is cheaper by the month than some other programs when you look at it this way. At present, you must pay annually, not monthly.
For One User License – Annual Purchase Only (Support and updates for all subscriptions)
$1,195 per year 2020 Design Essentials (Generic products only)
$1,495 per year 2020 Design Complete (with manufacturer catalogs – free trial here)
$1,695 per year 2020 Design Premium (has all the add-ins, integrations)
The Premium version has closet and storage features added in, making this a great tool to use with your customers who value better storage capabilities. The premium level also has integration to accounting and other systems, making it easy to keep vendors connected where it counts most.
One nice touch of the 2020 Design program is that it aligns itself with the National Kitchen and Bath Association(NKBA). This trade organization promotes the professional standards and values by which kitchens and baths should be designed for best access and comfort in the home. In the software layout, there is a tab for the NKBA which accesses design principles to help designers adjust the working design to meet these standards.
Highlights
2020 Design's highlights include integrated manufacturer catalogs that include both cabinet and countertop companies. Typically, any design firm that contracts with cabinet manufacturers of choice, can download those brand catalogs after installing the design program.
A nice touch in 2020 Design is the ability to hover the mouse over a product placed in the design and have the product's information box pop up. When you add an item from the Drag and Drop list, you can create a location identifier for each item by adding the placement location to the sizing values of that product. You can also see products (where applicable) in a 3D view in the Drag and Drop listing.
New to the latest version of 2020 Design is the Cloud service where designers can work while consulting with customers. Manufacturer catalogs are installed and updated through this cloud which means that if a customer wants to change a specific cabinet (i.e., blind corner cabinet to Lazy Susan), the updated catalog shows that cabinet with its dimensions and price, or signals the designer that it is no longer available. This saves time, money, and frustration for both the customer and the designer by knowing immediately if something desired is available or not. Pricing changes are also instantly updated.
2020 Design also provides the capability of 3D views and 360-degree presentation views although this is better conducted from your program on your computer instead of the cloud service.
You can use the lighting wizard to create an ambience of patterns and shadows in your design space so that it is not so flat in appearance. The lighting wizard adds in all the components you need for ordering as part of your final project price too. You can see how this lighting tool works in a short YouTube video here.
Training
When you become a subscriber, starting with the trial period, you will find free training available to get started with working with the 2020 Design program. More advanced training, however, may cost you, whether it is online training webinars or attending live seminars. If you are part of a large design firm, your company may provide this for you (and other designers) for free. For the solo designer, the pricing may be expensive.
This 2020 Design link is where you can get started with learning what you need to know to run the program, once you download it to your desktop, if you just want to get a sense of what it looks like. Once you create your account for the trial and download the software, you will be also eligible to log in for the more advanced training. You can find that link here.
The Community and Knowledge areas are where you can ask questions and get answers for any issue you have. During your trial period and, if you continue with a subscription, you also have technical support if you have a problem with the program.
Go to YouTube.com and type in 2020 Design Tips. This search term derives from a series of training videos by 2020 Design which can show you everything you need to know about working with the program, at least on an introductory level, before signing up.
Final Thoughts
This design software is best for those with enough budget to buy annual licenses, as well has having the right computer specifications. 2020 is a well-designed program with life-like 3D renderings and 360-degree view implementations. Integrations make this software efficient to use for kitchen and bath design firms.
Chief Architect – Home Designer Suite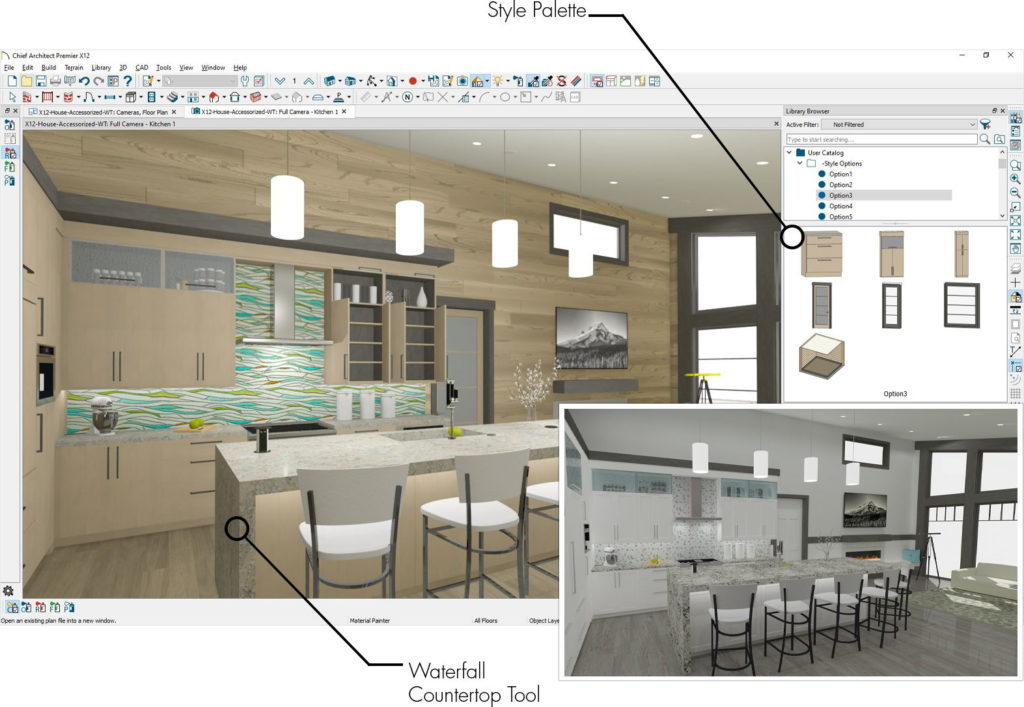 Image courtesy of Chief Architect, ChiefArchitect.com
Chief Architect, an architectural home design software, is well-known in the home design software industry. You can buy stand-alone versions of the product here on Amazon but those do not carry manufacturer catalogs and there is no training included like you would find on the Chief Architect website, as well as updates and customer support.
Check here for system requirements for running this software program on your computer. There is a minimum level as well as the recommended level which you need for running the program efficiently.
Chief Architect also aligns its product with the National Kitchen and Bath Association (NKBA), as does 2020 Design. Chief Architect takes this one step further by providing training and access to certifications through its website. NKBA certification is done with Chief Architect files.
A designer who wants to become NKBA-certified can find classes offered by Chief Architect that count towards certified credits. The focus of these industry standards is to ensure that the most important rooms in a dwelling, the kitchen and bathroom, are designed for efficient access in most scenarios. The NKBA Kitchen and Bathroom Planning Guidelines with Access Standards 2nd Edition can be found here on Amazon for quick reference.
Chief Architect Premier is the full-home designing program while the Interiors version is specifically for kitchens, baths, and interior design projects. If you design more than just kitchens and baths, you may prefer to buy the Premier version.
Pricing
Chief Architect Premier X12 – $2,396 to buy; rent monthly for $199.
Chief Architect Interiors X12 – $1,756 to buy; rent monthly for $199
You can buy the software and then purchase the software and support assurance (SSA) with an annual license, which keeps your program up to date whenever these roll out. When you rent the program, your SSA remains active unless you drop the rental for a month or two. The rental option includes the current SSA by month. You may find that when you pick up the rental again because you are working a new project, you may need to update your program first.
Request the trial version here to try it out for 30 days. Note that there are some limitations when using the trial version. You cannot access printing, saving, exporting, and virtual tours, according to the website. If you purchase the program, you have access to everything and can also choose to get your money back within 30 days if not happy with the program.
Find a product comparison between the Premier and Interiors offerings here. If you wish to expand beyond design for kitchens and baths, you may prefer to buy the Premier version which has the complete Interiors included inside.
Highlights
Chief Architect has full access to brand manufacturer catalogs for appliances, cabinets, fixtures, doors, and windows as part of the SSA add-on. Extra accessory packages can be purchased through its 3D Library along with viewing all the brand catalogs available in one place.
Chief Architect provides 3D rendering in 10 options, according to the website. You can render for line drawing, watercolor, and realistic photograph viewings. Like 2020 Design, you can access wall elevations in the design (essential for upper cabinet placement), floor plan dimensions, and write-in notes for further explanations.
You can see the different views and types of renders available here. Go here to view samples of 360-degree panorama renderings by Chief Architect.
Training
You can find all the training you need by accessing the Getting Started Resources page. Quick start videos provide the basics for functional outlays with floors, walls, door and window placements, and much more. Back on the Resources page, you will find the Tutorial Guide and the Reference Manual which you can refer to whenever you get stuck.
There are options for one-on-one training, attending seminars (online), and sample plan project videos with kitchens and baths included. Once you have had some basic training and are familiar with the tools, try out a sample or two to hone your new skills.
A suggestion is to watch the training videos on one backup computer (if you have one) and use your main computer with the downloaded software to follow along with the training processes of design. It can disrupt your concentration when you flip back and forth from the design page to the training page online on one screen. Or use two screens.
Try out this link to set up the second monitor. Make sure you have a good WIFI service. Your phone's mobile hotspot will not cut it for this kind of heavy-duty online activity.
Final Thoughts
This software program is workable on many levels and may be just what you need. While purchasing the program may seem high, it is a one-time fee and cheaper than 2020 Design in the long run. All you buy each year is the updates and technical service (SSA plans) along with any accessory packs you want to use for a project.
Want a stand-alone program without the subscription at a reasonable price of $99? Try Chief Architect's Home Designer Software here. Check the system requirements first before buying.
AutoCAD®
Image courtesy of Autodesk, Autodesk.net
AutoCAD® 2021 is a product of Autodesk and is best known for decades as an engineering and modeling tool for just about anything you can think of to build. AutoCAD® 2021 comes with the following tool sets: AutoCAD Architecture, AutoCAD Electrical, AutoCAD Mechanical, AutoCAD Raster Design, and more. Drawings are saved with the .dwg extension, providing both 2D and 3D capabilities, and files can be accessed on the cloud/web browser and inside the mobile app.
If you have already had engineer drafting training, then this program may work for you as a kitchen layout tool. You can find out more about the features provided with Autodesk here, such as layouts, fields, Views, Model documentation, Section planes, and more.
You have access to the Autodesk Product Design Collection and Factory Design Utilities when working with kitchen layouts. The website shows a video of how the collection is used as a drag-and-drop kitchen cabinet design tool for generic size products.
Check out the system requirements here before deciding to purchase the software. As with 2020 Design and Chief Architect, you need to have a 64-bit operating system (OS), 2.5-2.9 GHz processor (3+ GHz is better), at least 8 GB RAM (16 GB is better), and 7 GB space on your hard drive. If you have less than this, consider upgrading your computer first before attempting to work with this program, or any other design CAD program.
Pricing
Autodesk offers the following AutoCAD subscriptions:
1 user – $210 monthly
1 user – $1,521 a year ($127 monthly savings)
1 user – $3,652 for a 3-year subscription ($102 monthly savings)
There is no trial period, but you have 30 days to request your money back if you purchased the 1-year or 3-year plan. If you have a previously purchased license, you can turn it in and purchase a 1-year or 3-year subscription for 25 percent off. Call their number 844-592-0028 to find out more about this discount.
Highlights
AutoCAD® is a respected industry software program for designing many other projects besides kitchens and baths. It also carries a lot of detail inside the design area. As noted earlier, if have previous CAD design experience, you may see this as just what you need. You do not get the manufacturer catalogs, only generic product catalogs.
Training
Access the Autodesk Knowledge Network to find free tutorials and other helpful information. You can also look for certified trainers in your area or look online for training at Udemy.com. This link takes you to a results page for all AutoCAD training currently offered on Udemy.
A suggestion is to create an account, then look around. Some prices will be higher than others but, if you can, wait for sales reductions which occur every now and then. You can get training for $10 to $14 rather than over $100. Look for classes that have a high number of students or have ratings of 4.5 and higher. You may not get training in kitchen design, but you would learn how to use the software tools and feel comfortable in using the program.
Final Thoughts
AutoCAD is not dedicated to kitchen design, yet you can use it to create your client's dream kitchen design. You also can create 2D and 3D presentations, as well as the 360-degree view which make great selling presentations. Its drawback is the lack of brand manufacturer catalogs that can be integrated into the software and design.
More Paid Kitchen Design Software Programs
Smartdraw's Kitchen Design Software
Best Free Kitchen Design Software Online
In this next section, we look at what design software program are available online, including those found with kitchen cabinet manufacturers Here is what we look at when reviewing free online design software programs.
Is the software easy to use, does the website provide enough user training, and can you save your designs to the website cloud and/or download the file? After all, if you spend time creating your design, you want to save it for later when you want to add on more things or adjust a part of it. Always create an account first so you can save your work on the cloud.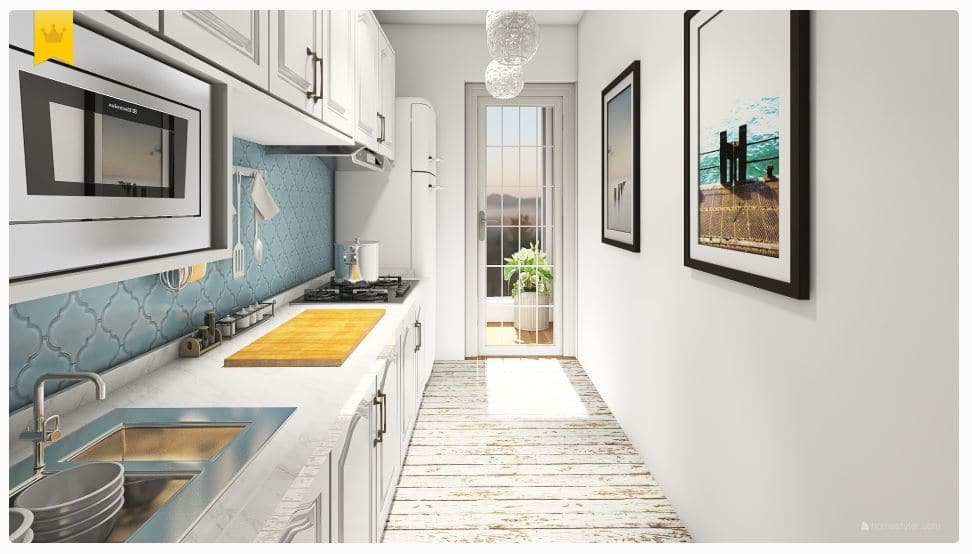 Image courtesy of Homestyler, Homestyler.com
Homestyler is a nice online program you can use to create your kitchen design as well as any other room in the house. You can choose to try a template first or start from scratch to begin putting in the floor dimensions and then adding windows and doors. From there you can pull in your objects, such as the cabinets and appliances.
Highlights
The kitchen layout planner platform is clean, simplistic, and easy to use, although you may have to search for a solution for one problem or another in applying the design. Once you get the hang of how it works (like how to add that wall line), then everything moves forward easily.
Program users can upload finished views of their projects in the Gallery to be viewed by others. These show what the program can produce and there are many pictures to look at.
You can use the web browser to work with your design or you can use phone applications (apps), available in both Apple and Google Play, according to the website here. The apps are also designed to work with Augmented Reality (AR) and Virtual Reality (VR) technology. You can learn more about these tools at the link above.
Training
The training, in the form of videos, can help with most issues. However, there is no step-by-step process that helps you start from the beginning. Even a downloadable ebook of instructions would be helpful, especially for beginners.
Final Thoughts
This is a virtual kitchen designer that is easy to work with and not overly complicated. The training videos are helpful for some of the issues you might encounter while using it. The only drawback is organization of training, including a lack of step-by-step documentation that helps a designer get started with the floor planner. The plus side for this company is the use of a mobile kitchen design app to integrate technology like AR and RV, the new wave of technology that is trending in other areas such as gaming.
Planner 5D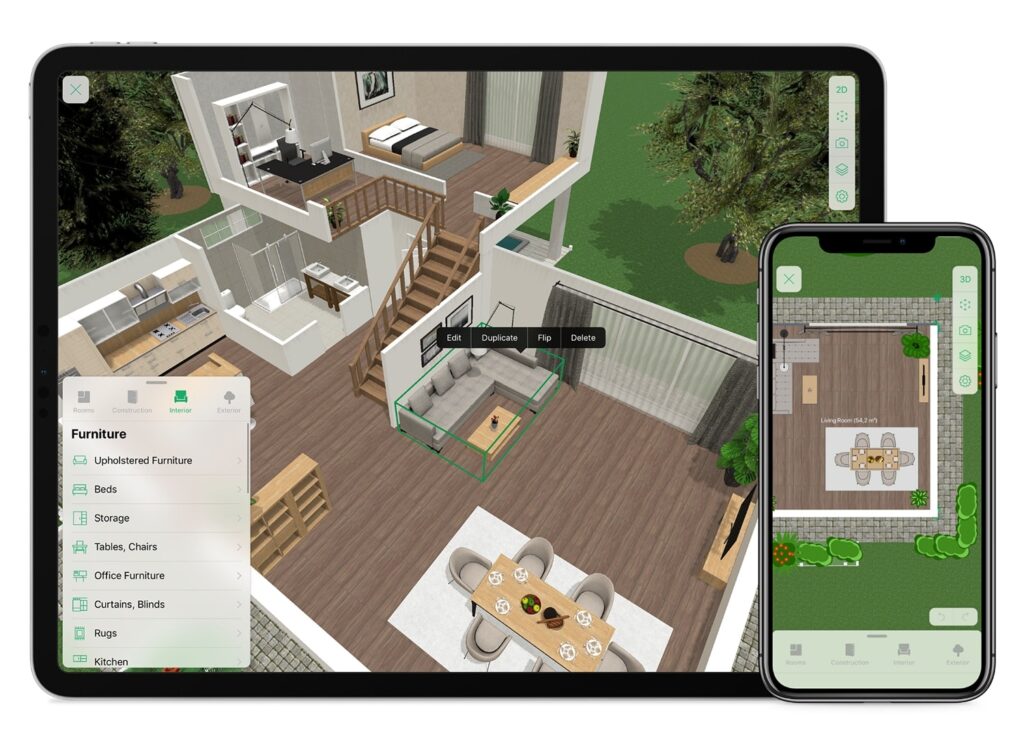 Image courtesy of Planner 5d, planner5d.com
Once you create an account and sign in, you can begin either using a template or drawing in your walls from scratch. The appearance of the layout is very similar to Homestyler with just a few minor differences.
For example, you add in a door (free) but another door style has to be purchased. A padlock icon is located on those items that must be purchased to use in a design. Cabinets are limited to just a few available for free. It can be enough for you, however, to create a design so that you can see how it looks spatially.
Highlights
Planner 5D online design tool is quite easy to use although it is a bit difficult to work with limitations in free products that can be used in the design. But if you are using this tool to create a design for a client, such as an all-white look, then those fees can be added to the cost of the design consultation.
Appearances of a design are everything when it comes to sales. Planner 5D also has capabilities for 2D and 3D views, as well rotation views. Visit the Gallery to see designs created by other subscribers and to get inspiration for your own project.
Training
Visit the main website to access the training page here, called the Design School. There is a lot of useful information presented on this page, including a focus on interior design. You can watch a preview video to see how designing with Planner 5D works.
Click the Kelly-green button to access the training program. During the training, you will have assignments, quizzes, and you can also learn at your pace to reduce learning pressure.
Final Thoughts
This is a well-done website and design planner for those wanting to use a free online design tool. The only limitation was what free products you had free access to for the planner design. The training is enough to get started with the tool and learn more about interior design while doing so. Many new and advanced designers will enjoy this online software platform.
Ikea Kitchen Planner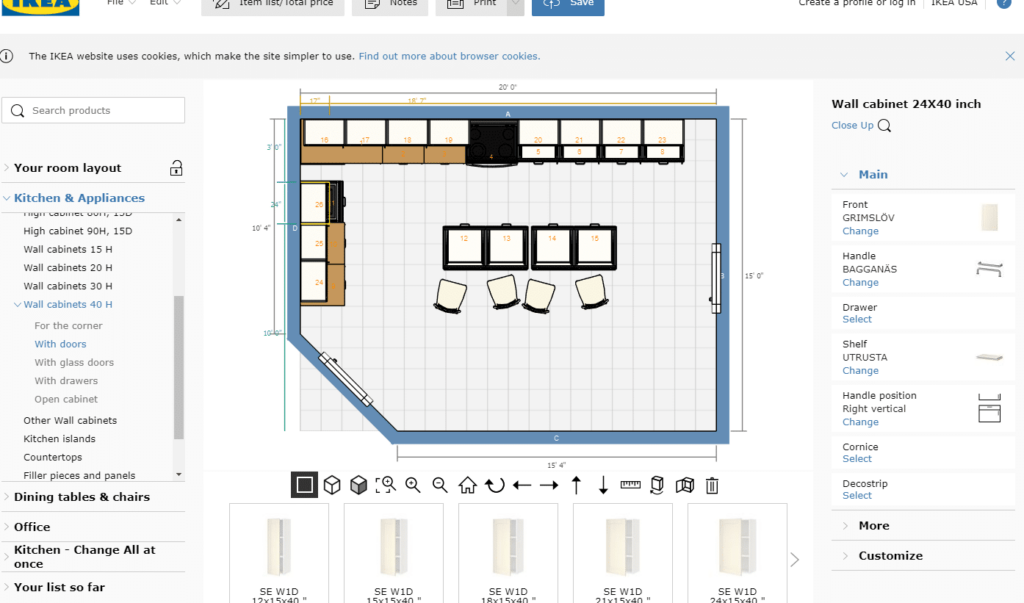 Ikea is a well-known furniture manufacturer selling their home products on a global level. Ikea has a series of free online interactive home planners including those for kitchens which you can access here after creating your account. Choose the closest configuration to what you wish to work with and click on the image to activate it.
Choose the color/style of the cabinets you like, and the pricing adjusts to your cabinet choice. The appliances and cabinets you chose, including fixtures are itemized for viewing allowing you to eliminate those products you do not want.
Highlights
This is a different approach for designing a kitchen, as you do not have to draw a kitchen plan from scratch. You can also choose your cabinets and associated fixtures and appliances, then you schedule an online meeting with an Ikea designer to work out further details. You may need to present your kitchen floor measurements to ensure that everything will fit properly.
There is no training provided as the interactive plans are self-explanatory. The Ikea designers are there to help you with the finer details. You would need to have your own installation team available at your end or you can install the cabinets yourself if you know how to do this.
Final Thoughts
Using the pre-made plans is one way to find the cabinets you need but you should know your measurements ahead of time. While you could bypass the designer, it would be best to work with the free personal service to make sure you will get everything you need. While this is a cheaper way to go, it is still thousands of dollars spent to renovate your kitchen with a brand name. You want to make sure you get it right the first time. Mistakes are expensive.
Other Online Kitchen Design Software Free
Working Directly with Cabinet Sellers
For some of us, trying to wrap our brains around creating kitchen designs is not an option. Instead, you can visit cabinet and countertop manufacturers online to see their products and get help with how you can order what you want for a new kitchen installation. There are also ways to save money by following this approach, and we show you how below.
Best Online Cabinets – Cabinet Seller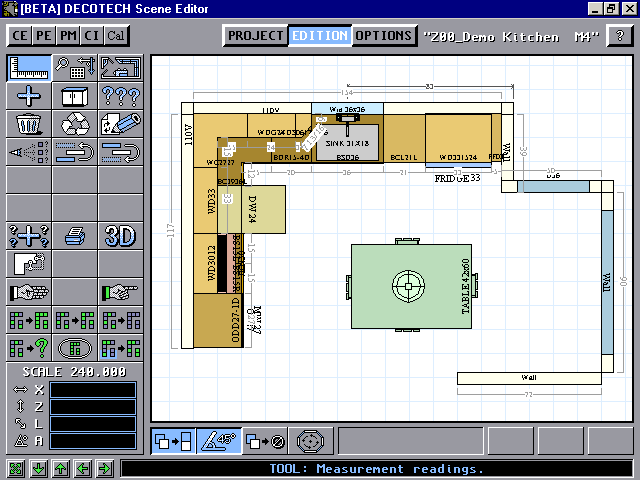 Image courtesy of DecoTech Pro, Decotechpro.com
Cabinet and countertop manufacturers and sellers are finding that having their own design services helps customers see what the sellers' products look like when placed in a design. Best Online Cabinets (BOC),seller of ready-to-assemble (RTA). pre-assembled, and Euro-styled cabinets is one company following this trend. If cabinet orders are over $3,000 after the discount is applied, the company delivers them for free, a big savings over other cabinet sellers' prices
How BOC Helps You Get Started
BOC provides information on how to measure your kitchen so that you can give this information to one of its design consultants. Once the designer has received the space measures, and consulted with you, the designer pulls the design together to show you what the kitchen will look like. Adjustments can be made to the design and you can also ask about custom cabinet design for any areas that you want to fill with a specialty item.
BOC uses DecoTech Design Software v.6.11 if you want to try it out for yourself. If you have your measurements, you can put those into a layout and then send it to your BOC designer to save time.
The full-service design is free, and you will receive exactly what you need for your kitchen, including spacers between cabinets, if needed. This is an efficient way to choose your cabinets, plus you get professional help with your design to see how it will look after the installation.
Highlights
This is a great way to bypass expensive third-party independent designers which can make your project cost more. Once your design is complete, all you need at your end is the installation team who must receive the same measures and finished design so that everything is finalized before installation day. A suggestion is that your installation team gets the measures first, then does its own measure to ensure that everything is correct and will fit nicely. If you are handy with hardware and tools, you can do the installation yourself, saving even more money.
Final Thoughts
This is one of the best ways as a customer, or a designer with a client, to get expert help from a cabinet seller who also provides professional design services. You will avoid expensive mistakes and enjoy the kitchen of your dreams once the installation is complete. Go here to sign up for your free kitchen design today or call (626) 614-8975 to get started.
Conclusion
By now, you know that there are several ways to design your kitchen, using free kitchen design software, or to have it done for you professionally while selecting your products. Designers benefit with working with product manufacturers directly to help ensure that desired cabinets are still available or can be customized to fit a client's needs.
You can buy standard sized cabinets and check to see if you can get customized cabinets. In a design layout, you will see how customized cabinets will look first before finalizing the purchase.
It is always preferred that you work with a designer in the final stages to be sure that you get exactly what you want, such as at BOC, who sells the cabinets you want to use. Call today if you are ready to get started with planning your kitchen design. (626) 614-8975.