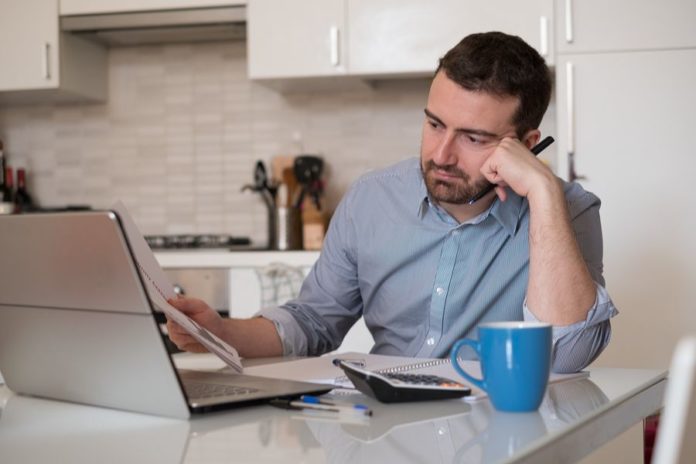 While there are many good kitchen-planning software out there, what if you want to have a taste of this without wanting to risk much and spending money on a program that you don't need? But how can we tell what is good out on the internet?
We've looked all over the internet for good kitchen-planning software and here are some of these useful programs that we were able to find and review for you. We're going to review each of the following and provide you a link so you can test this program for yourself. Some kitchen-planning software out there are paid software but are the top of the line when it comes to kitchen design. Today, we'll go over the fee applications you can use for planning your kitchen.
Find out how to measure your kitchen properly.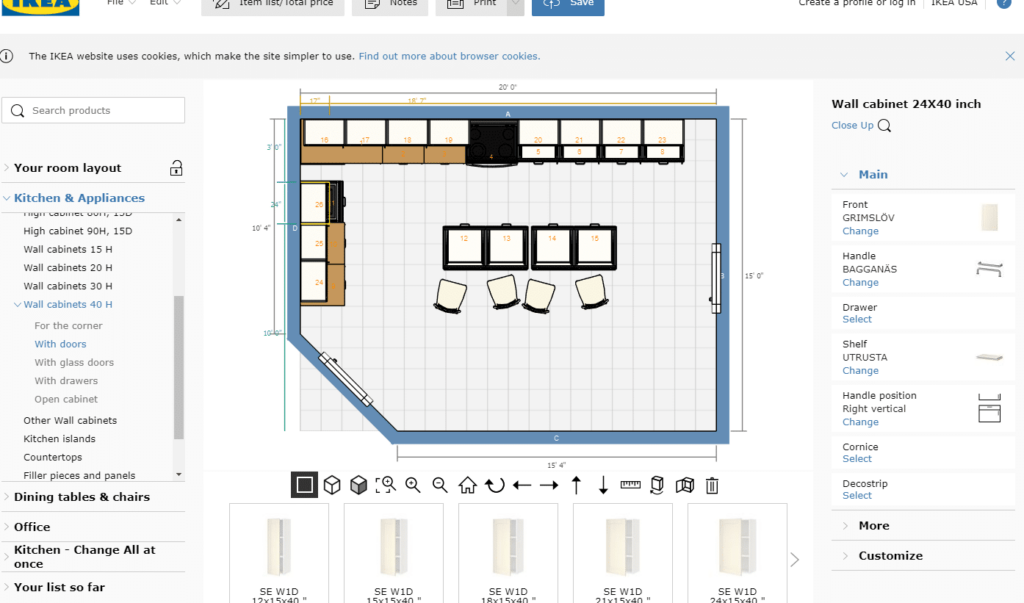 IKEA has its own kitchen-planning software so you figure out what will look good in your space before you grab the oversized cart and put it all their merchandise in your house. It's a no-brainer that this service is not just helpful for planning, but drives up sales by visualizing actual items in the room planning space.
When you open the program, the concentration is on a singular room and you have options of basic common room structures that aren't just a rectangular room. You can resize the walls by clicking them or inputting their measurements in the Room layout fields.
Keep in mind that if you use the US site, you will get imperial measurements. If you use any other IKEA site you will get metric.
It is incredible to know that the merchandise that you add to your layout are things that you can purchase for your room. On the opposite end, I found myself overwhelmed with a lot of choices when it came to options. While the merchandise is well categorized, I had to go through several cabinets to figure out what exactly fits into that space because I couldn't alter the graphic on the layout. Each graphic was specifically linked to a certain product and you couldn't substitute it easily.
You can select the overhead graphics layout mode, a 3D line view mode and a Front 3D view. I don't know why you would ever pick the line view when the Front 3D view gives a very good and inspirational look of how your kitchen will look.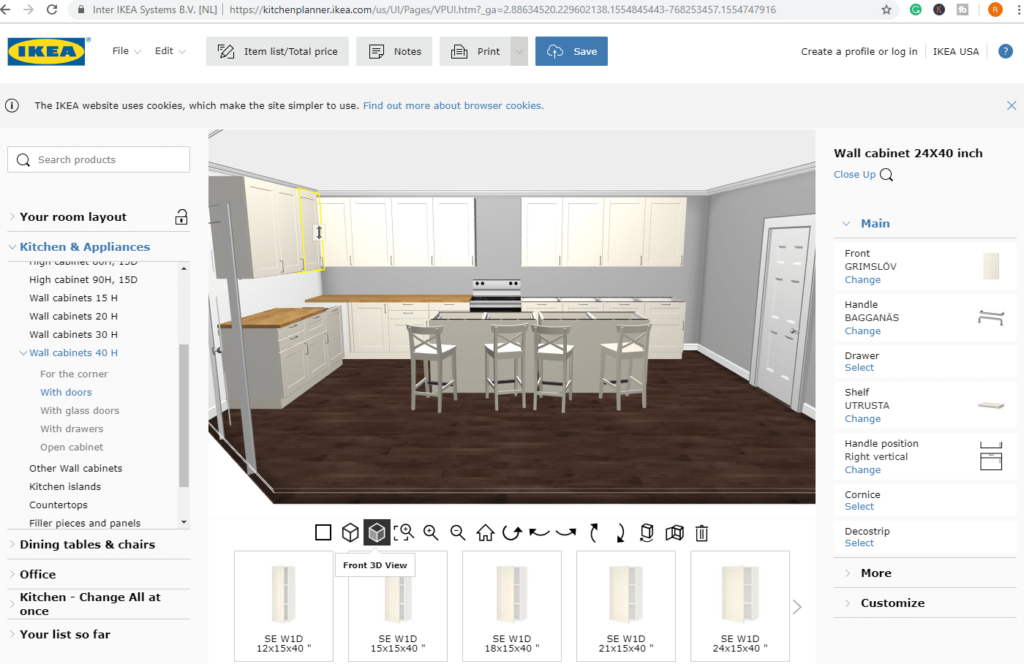 How easy is it to use: It is a bit of a challenge since you are placing exact merchandise into the space, but if you are patient enough with the process, it is worth it.
Anything that stands out about the product: Because you are getting exact products from IKEA, you are generally assured that the simulation will be close to what you expect.
How practical is the end result: The Front 3D view will give you an exact view of what you have in the room and next to each item, the parts that compose each item if they are complex furniture like you would find in many IKEA products.
Recommended for: If you know exactly what you want from IKEA and are patient enough to use it, this is a good layout program. It's not versatile, though, but what you see is nearly what you get.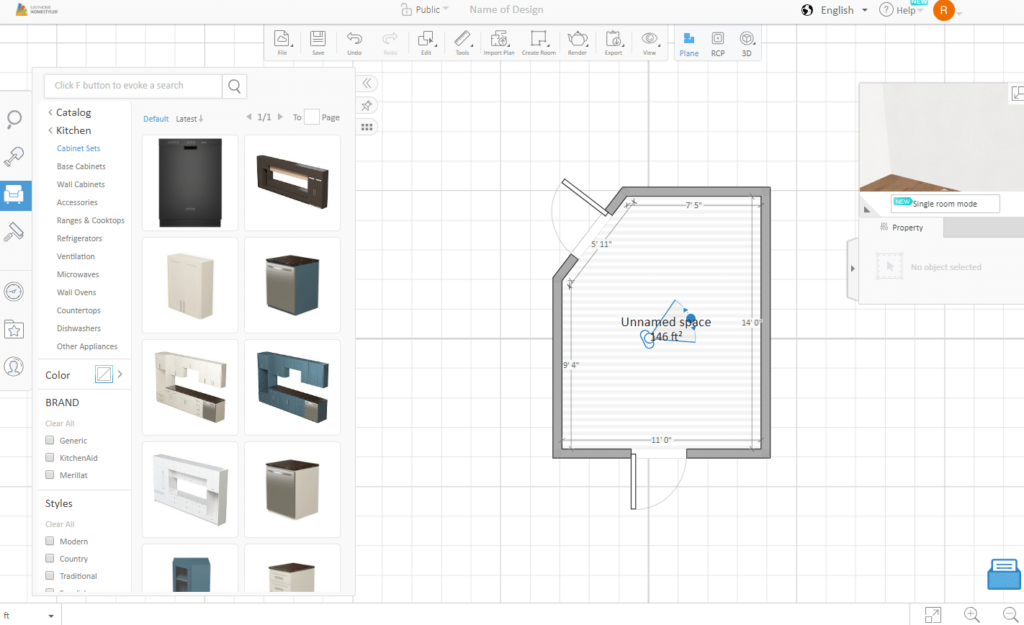 The Easyhome Homestyler is a free online floor planner available to create a 3D version of a room based on the floor plan you design.
When you start you see a blue icon in the center of the planning graph that has a cone in front of them. That cone shows the icon's point of view which is located in the upper right-hand corner of the screen.
On the upper taskbar, there are drop-down options that allow you to create the structure of the room but it's not very instinctive to use. I can create the walls of a room and it took me a while to understand that the squares on the grid were 1 square = 1 unit of whatever you needed, which was on the lower left-hand corner. But if you created the line, the measurement would appear with the wall.
On the left taskbar are more furnishings and décor items, but they would include things like doors and windows, so I've come to understand that these elements are more 3D based. So everything from doors, cabinets, and wall moldings are in the section "building" and everything like couches, vases, and tables would be under "catalog." to This planner is visually customizable but you have to be willing to spend the time to sort through the options and there is a search bar at the top of the section to narrow down your choices.
How easy is it to use: This takes a little bit of studying and playing around to get used to. From a program standpoint, this has high customization available but that means learning how to use this properly. There are video tutorials for this program if you click on "Learn" on the main page, but not within the program itself.
Anything that stands out about the product: There is a nearly endless catalog of items so if you are both a room builder and an interior designer, this will give you tons of options.
How practical is the end result: This will give you exactly what you want if you are willing to put in the time. But this requires more patience as you have to learn the functions of the program in exchange for all that heavy customization. It's also great for inspiration if you have the patience for it.
Recommended for: If you are looking for a complete look for the room, all the way down to the kind of clock you want on your end table next to your peach colored couch, this is the program for you.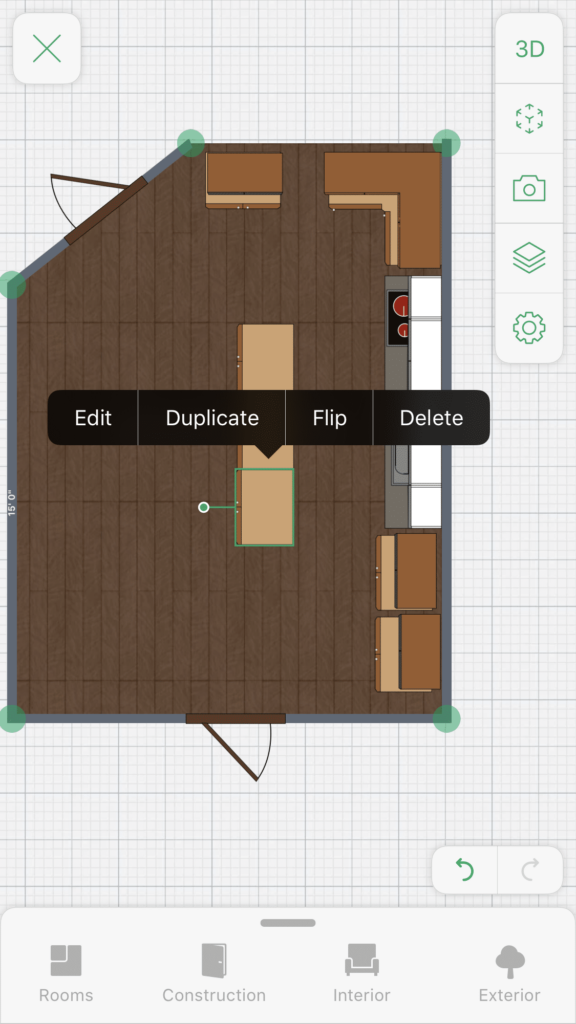 (note: This link is for an introduction to, the actual program is an app for your iPhone or Android)
This is one of the few kitchen-planning software which is based on your smartphone so I think this will be very convenient, I was already worried about the resolution on my phone screen would be too small to appreciate. I downloaded it into my iPhone to try this.
The app is well-designed and simple to use; adding things, moving them around and copying and pasting certain elements is intuitive to those using smartphones. At first, I thought my fingers were too big to select details on the small elements until I realized I could zoom in as I would on my phone using the same finger movements. Many of the interior and building choices (which include changing the color of an item or altering the dimensions) are locked but you can pay a monthly, yearly or a lifetime unlock of all those features. However, there are enough basic elements to be able to use this as a beginning home planner. I was surprised to see that you could do multiple levels of a house.
Changing from 2D to 3D is one at the press of a button and the graphics on this home designer are nice. There are other features such as replicating realistic shadows and an augmented reality room based on your camera. I am not sure how to use these since there was no explanation for them.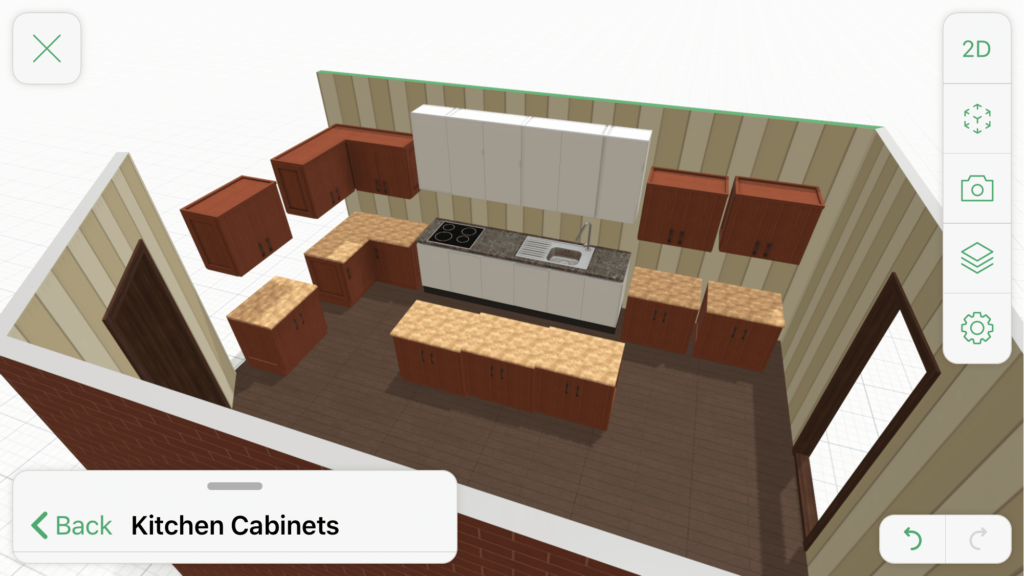 How easy is it to use: It is as intuitive as using your smartphone. By simplifying your options but keeping them practical, this turns out to be a good and simple program that you don't need your desktop or laptop for.
Anything that stands out about the product: Being on a smartphone.
How practical is the end result: This home designer is good if you want a place to sketch your home planning ideas WHILE you are shopping on location. You will need to pay for the extra options but as an app to sketch out things like space and ideas, it's handy to do this from your phone.
Recommended for: Anyone who wants the portability of always having their home design on them and is more comfortable using the motions of a smartphone than a desktop screen.
You sign in with your email to start a trial account and it offers a tutorial video in the beginning to the overall process. What's interesting about this program is that from the beginning, it asks you if you want to "go fast" to build your room like using LEGO blocks, "be precise" where you are constructing things from scratch, or upload an existing floor plan. Right away, this program understands that the users will interact with it differently. I chose "go fast" so I can assemble my floor plan right away.
What's nice about this program is that while many other programs only allow you to modify the plan onto a 2D floor plan, you can add elements in the 3D view mode so you can feel what fits in the space immediately.
If you wish, you can even go so far as to alter the appearance of certain items with textures, even using different textures on different sides if you want high customization.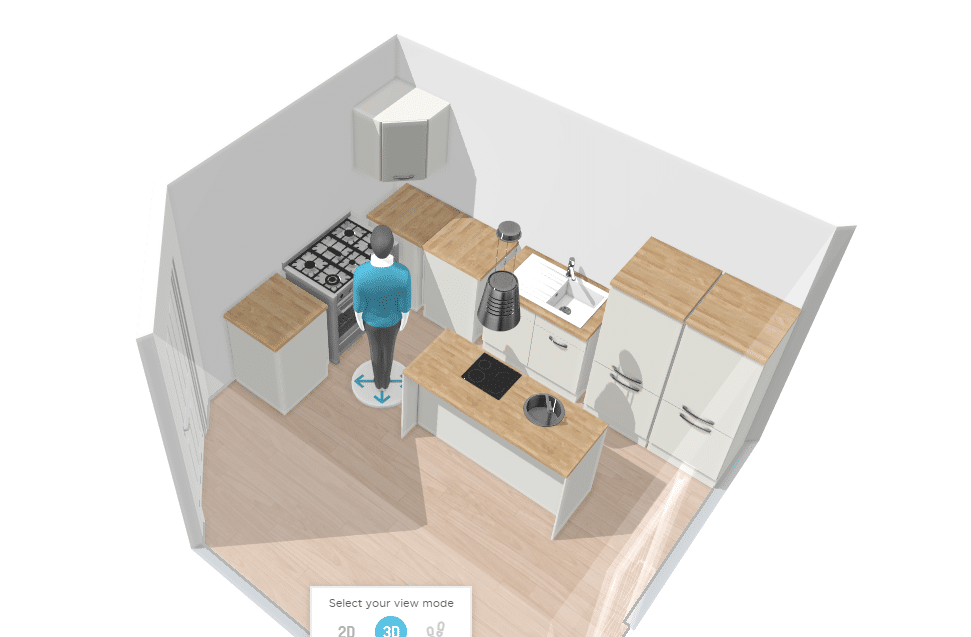 How easy is it to use: This is an easy program to use because adding elements is easy, they can be altered and duplicated on the spot and the ability to add elements in a 3D view is great for people who need to see and respond to that design spatially. The fact they ask you HOW you want to plan your room is important.
Anything that stands out about the product: This program feels like it understands how different users would use their planning program and this feels pleasant to use. You can go more in depth only if you feel like doing so without needing to go into that detail for the basic use of those elements.
How practical is the end result: This feels like this program is intuitive to use, so intuitive that I wouldn't mind spending money on this if this is something I would use long-term. Mileage may vary for everyone.
Recommended for: People of all skill levels looking for a solid planning program.
Sweet Home 3D is an open source online program that allows you to draw a room layout in 2D and project a 3D version that you can navigate. To use the online program you need Java activated in your browser and to save your plans, you need to register for services which is free. For purposes of this research, I used the free Downloaded version.
After a little exploring, it is easy to use. It is similar to a File Explorer layout in your computer. When you create a wall in the 2D graph, a 3D rendering is immediately below it for instant view.
It is interesting that things are measured out in 3 and 6 ft increments rather than 5 and 10 ft, which makes sense for several things in home planning, but took me some adjustment. I liked when I was placing the door, measurement distances between the door and the corner appeared.
When dragging items like cabinets and stoves against the walls I created, it automatically orients itself so it lines up with the wall which is very convenient. When one of the cabinets turned to be bigger than intended, when I double click on the item in the listing, I could adjust the dimensions of the item. I can even copy and paste items I need to repeat with similar dimensions as the original item that I modified. For each item, you can adjust the color and even the texture.
Curiously, the kitchen set of items did not have countertops as an option, but I used the "Cabinet" item feature since they are flat boxes for the purposes of home design.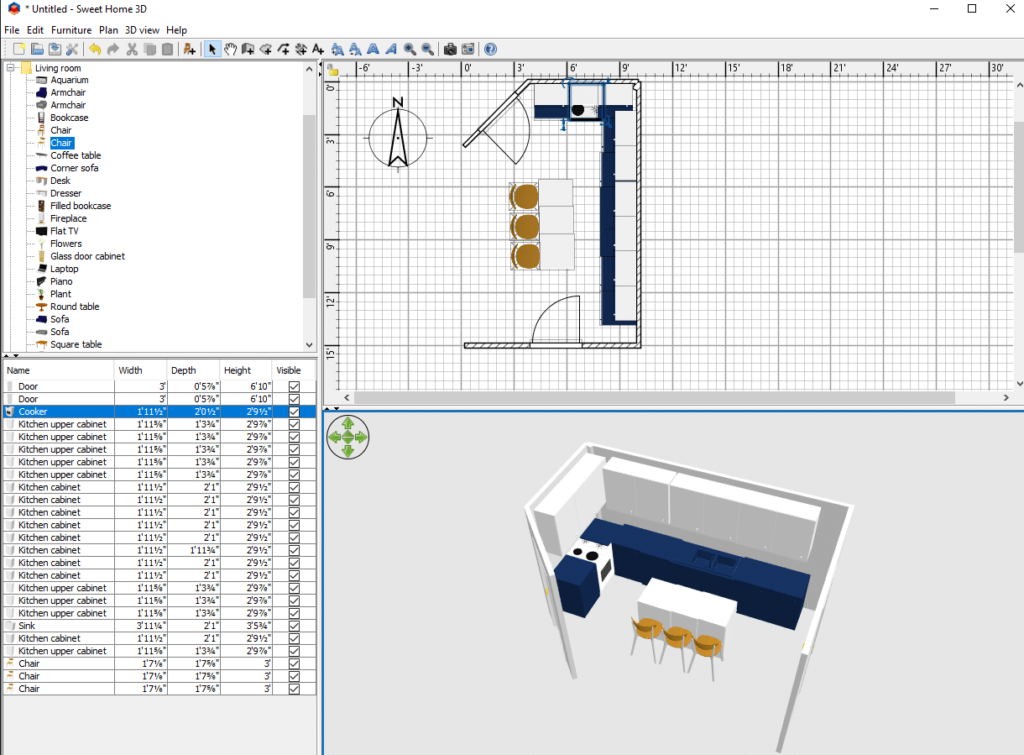 How easy is it to use: Pretty easy to use; you can explore options by clicking or double-clicking items.
Anything that stands out about the product: This program is available in 25 languages and you can either use this online or download the program. You can decorate the room with objects and even import items compatible with the program.
How practical is the end result: This gives someone a good idea of spacing and basic color coordination for your kitchen. I felt the free download version gave me a good idea of what will work with the space; the free version has 100 pieces of furniture and some textures while the paid version has over 1200 pieces.
Recommended for: Anyone. There was no tutorial, but it was easy to figure out.
Overall Thoughts of Kitchen-Planning Software
What if you need more than kitchen-planning software? Best Online Cabinets has some design combinations to satisfy those creative minds out there.
We have examined some of the different free-to-use kitchen-planning software and apps for your kitchen and how they might be a good first step to trying a layout in your home. But if you need further assistance that is more than just a program?
Best Online Cabinets offers a FREE professional kitchen design service with designers available to create your dream plan. They will work with your kitchen, recommend cabinets that suit your style, space, and budget. For more details about this free service, go to https://www.bestonlinecabinets.com/free-kitchen-design/.