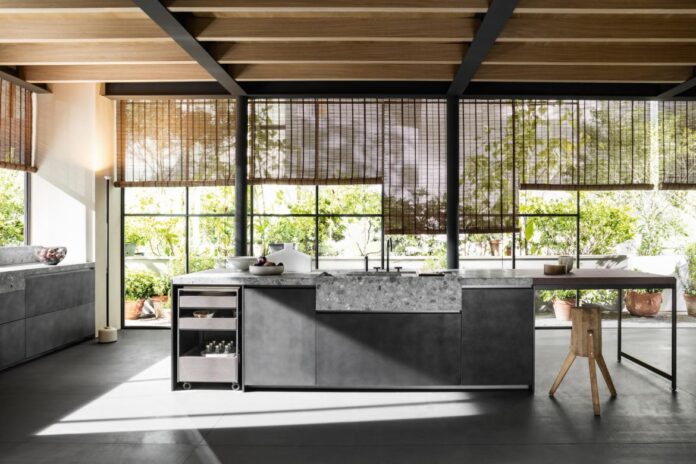 Any kitchen or interior can appear nicely decorated, but statement pieces personalize the décor and make it your own.
When we think statement pieces, we usually think "BOLD statement" because we imply it in the name. But to maximize the effectiveness, you don't want to drown the piece out with things that could hide its shine.
These tips can help enhance the natural charm of your kitchen statement pieces, putting them in context of their interiors:
Get the feel of your current interior
If you examine any room in your home, there is already an existing style to it. Take stock of what ties a room together, whether by color scheme, hobby, or even material texture.
The key to making a statement piece stand out is CONTRAST. If your room is full of corners and straight edges, anything curvy or round gets other's attention. If your whole room is red or blue, then a white table will become a focal point. And yet if your kitchen is nautical-themed, a hemp rope basket looks like it's part of the theme and stands out less.
Placement of your kitchen statement pieces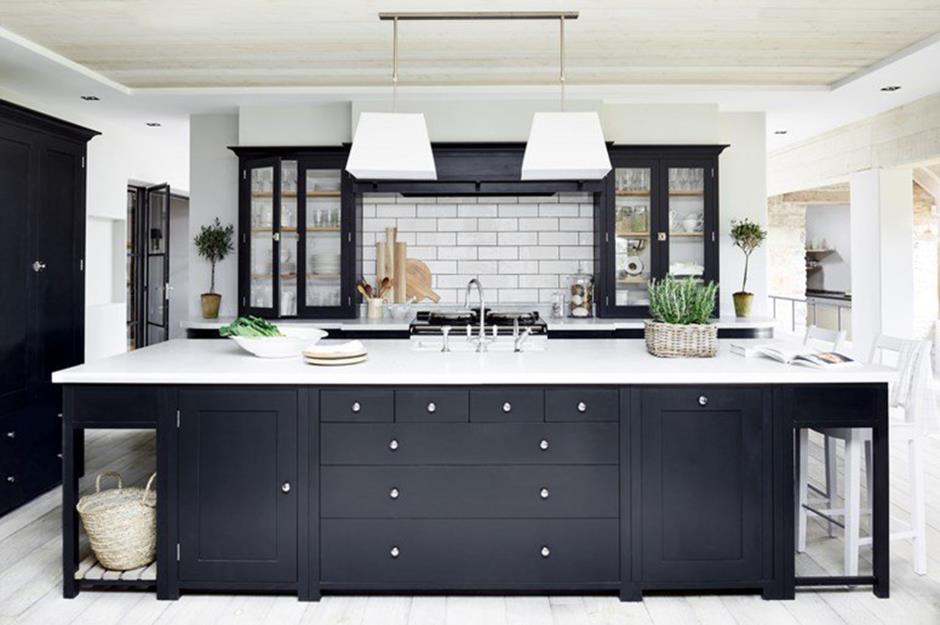 When you enter the room, what is someone going to notice first?
As a rule of thumb, items directly in line with the doorway and at eye-level are what people see first. If you have a room entrance without a wall, the horizontal center of the room draws the first notice.
This is often the case for backsplashes, which are approximately the vertical center of a room above countertops. The recent trend towards bold designs, shapes, and materials for backsplash areas takes advantage of its positioning in kitchen design.
For your kitchen statement pieces to have more impact, put them in direct eyesight. So people usually place wall art and centerpieces in these visual regions.
However, maybe you want more indirect detail rather than a robust head-on effect. Anything that isn't straight view can work as a surprise element, (finish)
Interaction with the elements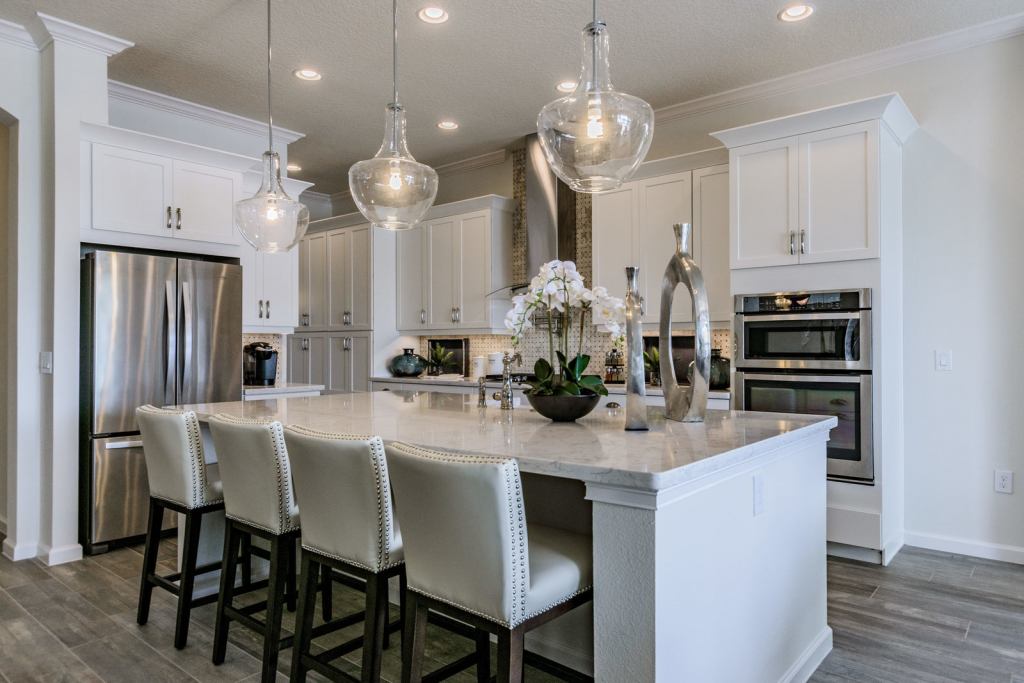 Anything that you or your guest will interact with will gain more attention (change gain more attention). For example, kitchen islands and bar stools are both potential statement pieces due to the nature of their functions.
A kitchen island is both the center view of a kitchen and a useable surface. If it is different from the rest of the interior, it automatically attracts curiosity. If the barstools have purple velvet cushions for a pop of color and texture, they become subtle but noticeable.
Other places of interaction are the major appliances in the kitchen, especially any appliance part of the golden kitchen triangle. The major elements of the kitchen triangle are the refrigerator, the sink, and the stove. If you have any of these elements contrast in color, material, or even gloss, they become statement pieces. With the recent trend of retro appliances, a retro mint green refrigerator becomes a focal point in a modern kitchen.
With a kitchen sink, the farmhouse apron style has been trending, gaining more attention to itself than in years past. Interior designers are also embracing bold sink colors, veering away from the ubiquitous stainless steel and chrome finishes. Kitchen faucets are not only developing different functions with technology but looking sculptural with higher-end brands like Brizo and Hansgrohe.
Saturated, bold colors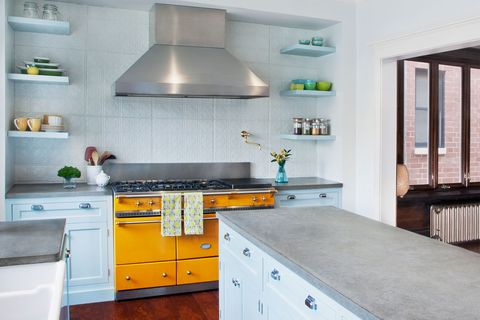 Different colors from the rest of the room will stand out, but some colors are more pronounced naturally. Saturated color is a difficult concept, but it is how much "red" a "red" has. In computer programs like Adobe Photoshop, we can see the maximum red or blue by only using that hue.
The other way to explain saturation is that a lighter or darker version of yellow is "less saturated" or "desaturated." If a yellow or blue has white or black mixed with it, that yellow will not be as intense. While yellow and white produce a lighter yellow, a light yellow does not always translate to bright yellow.
Colors with more intensity (saturated) will catch the eye, even if you place that color in a remote corner. If you decorate the entire room with too many intense colors, it can be overwhelming. It's why many kitchens are decorated with a neutral palette or the more desaturated colors because they are less stimulating.
Bold colors should be tactfully and strategically used as they frequently appear in kitchen statement pieces.
Shapes
As mentioned in an earlier example, curvy or circular shapes will gain more notice in an angular space. Kitchens tend to be more square and cubic because of the storage construction of cabinetry and surfaces of most counters. Also, most major appliances like refrigerators and ovens are built as cubes, so they fit along kitchen walls.
One natural wood trend embraced by kitchen designers is live edge wood, using the organic margins as points of interest. Since the shape is neither straight or round, live edge items become statement materials. In minimalist design, an atypical edge, curve, or proportion looks more pronounced and preferred over something outlandish or even garish.
Spotlight/Lighting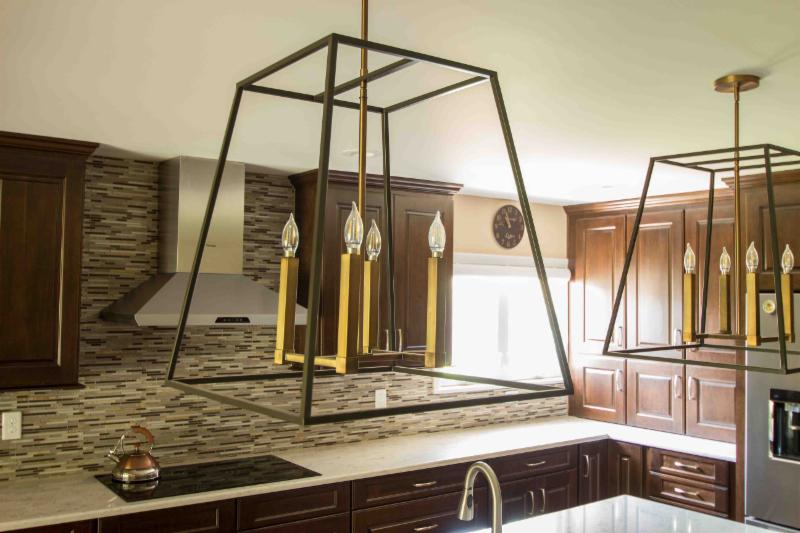 Like a theatre lighting cue, whatever the light shines on will be emphasized. Accent lighting is specifically built to spotlight items in the room. However, if pendant or recessed lights shine on the reflective surface of a glossy countertop, the countertop becomes a focus.
While this is not about kitchen statement pieces directly, lighting supports the prominence of elements in the room. Some kitchens already have range hood lighting that will show off an oven/stove. Other illumination, like undercabinet lighting, can accentuate the cabinet, backsplash, and countertop all at once. The eyes are drawn to light not just because of brightness, but also the necessity to illuminate the room.