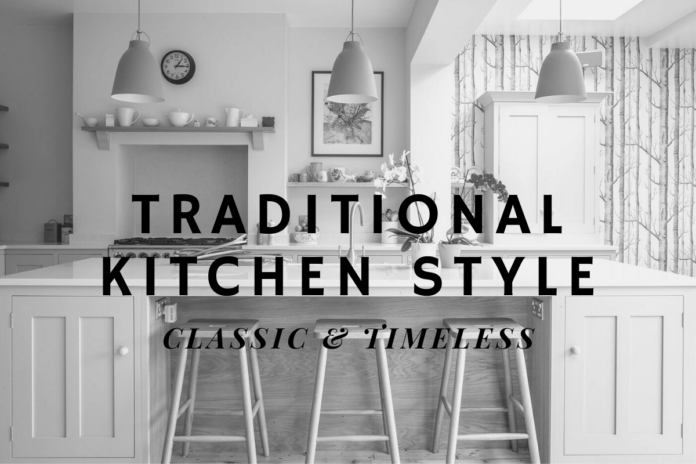 Kitchen trends may come and go, but for those homeowners that love a classic style, the traditional kitchen style is a perfect choice. Traditional kitchens, with the use of natural wood and elements, remain the desired style on many new buyers' lists as well. This style can bring in rustic, country, old-world, or eclectic influences. The overall feeling of the space is warm, homey, and welcoming.
What Makes a Kitchen Traditional?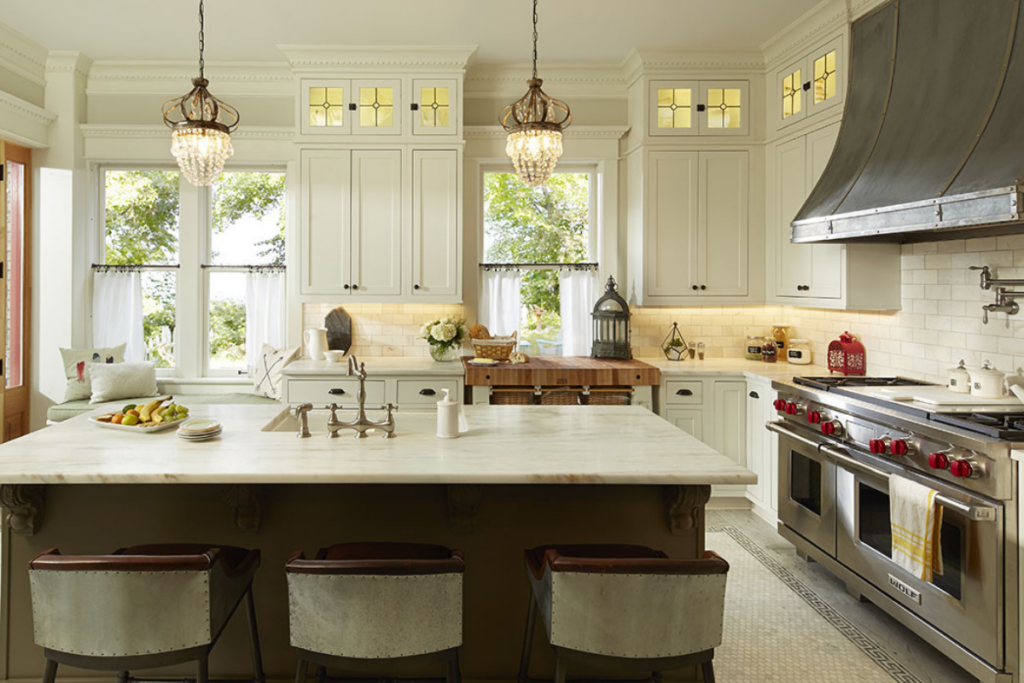 The traditional kitchen style is one with details that create a timeless appeal. Their architectural features are reminiscent of European and American styles of the 18th, 19th, and early 20th centuries. Detailing makes them elegant and a touch luxurious. Even with the elegance, a traditional kitchen is warm and welcoming.
Traditional kitchens are often characterized by wood cabinets with or without glass doors, granite or other stone countertops, and hardwood floors. An architectural feature like ceiling beams or arched doorways is used to add to the appeal and make the room a focal point in the house. The finishes chosen for the kitchen are also important, where they are made to give a smooth or distressed appearance.
Areas for eating in the kitchen are flexible, but there is usually somewhere to eat other than at the island. Most often it is a wooden table and chairs, or a breakfast nook. This adds to the cozy ambiance of the room.
Design Influences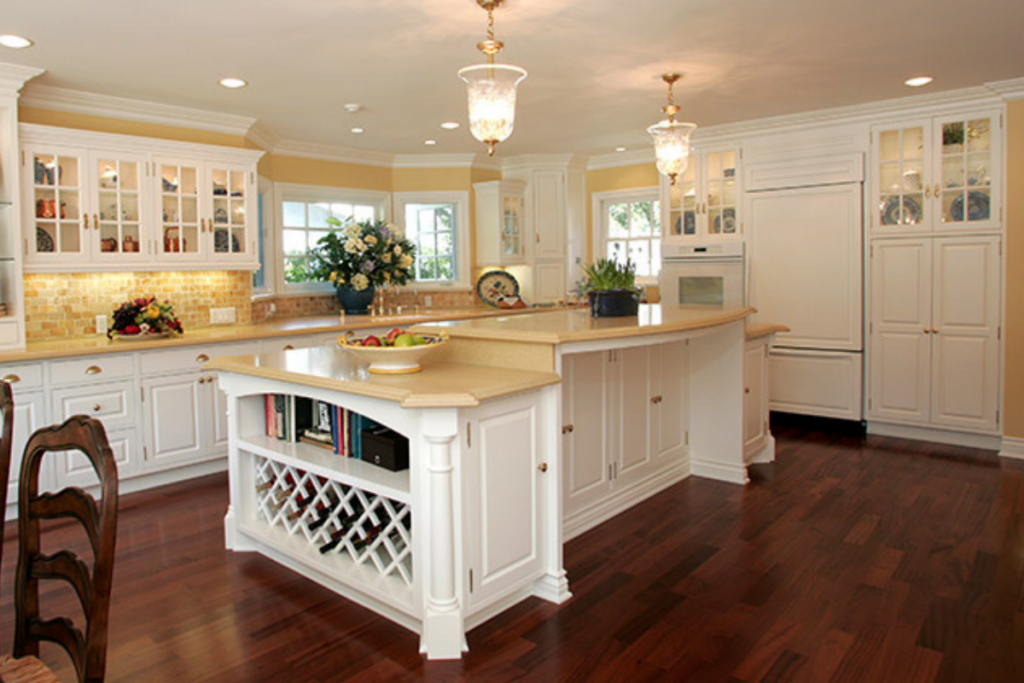 The traditional kitchen style calls on architectural elements from the Mediterranean, European Old World countries, and even colonial America. The chosen design influence can be tailored to the homeowner's preferences. For example, a Mediterranean-influenced kitchen combines earthy tones with brick and stone but can include accent colors based on the homeowner's taste. For the homeowner that leans towards Country French, a mix of wood and stone is utilized to create a traditional, yet country feel. Tudor-style can incorporate wood beams on the ceiling, wood columns and stone countertops and backsplashes. There are many of different designs that can be considered traditional.
Elements of a Traditional Kitchen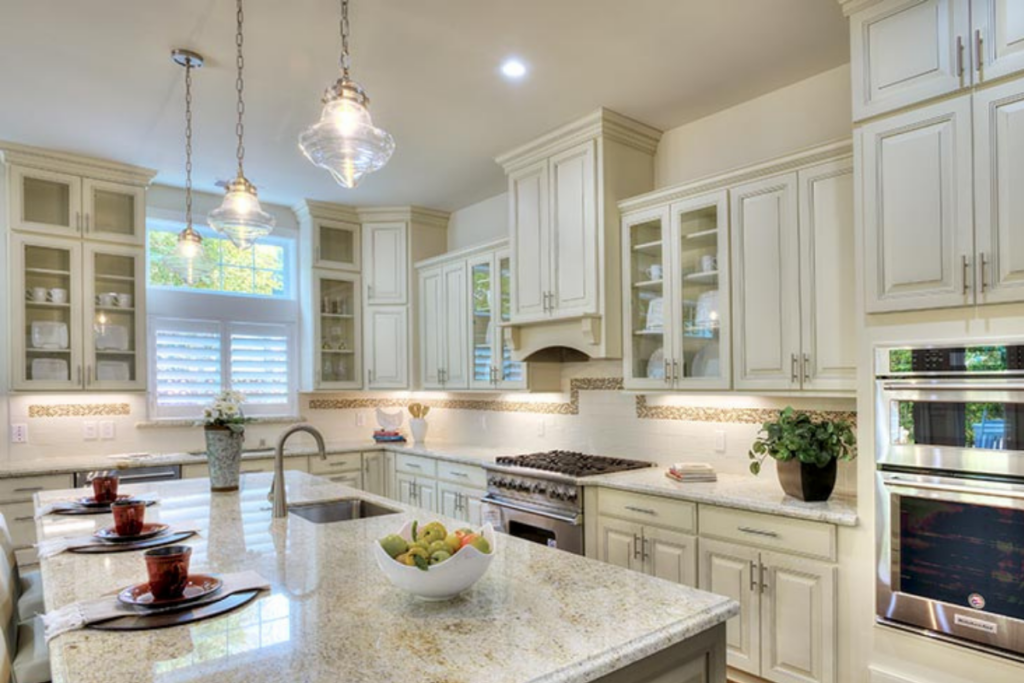 There are several elements that constitute a traditional kitchen. Homeowners that want to remodel their kitchen with a traditional design should consider doing the following:
Natural Materials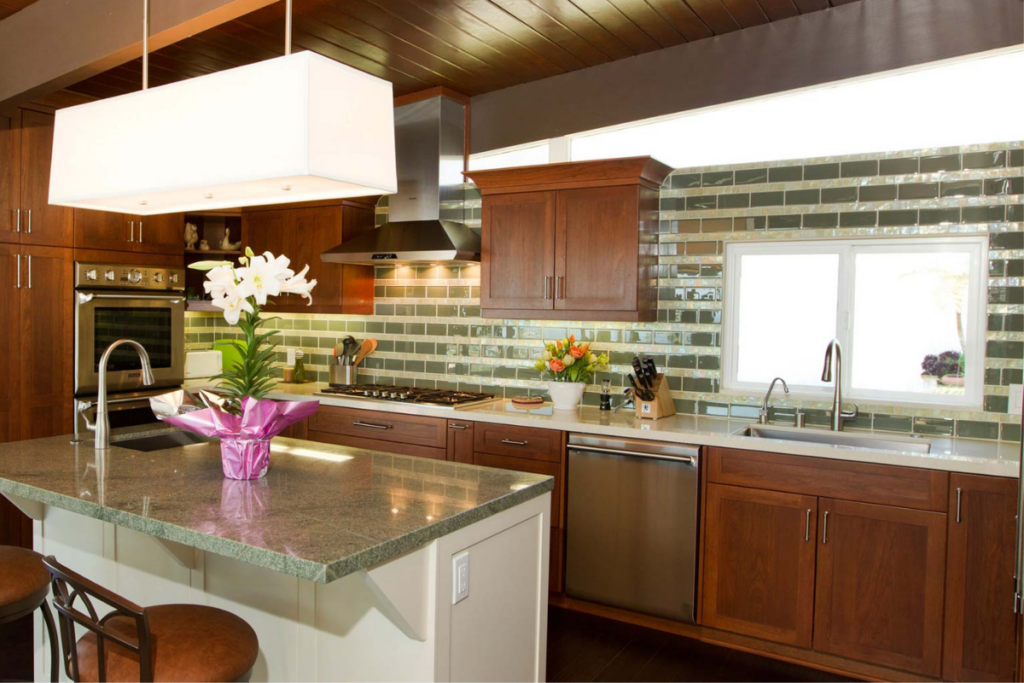 Wood has been one of the top choices to create kitchens because it is long-lasting and attractive. In addition to wood, traditional kitchens often use other natural materials, for example patterned stone. While modern kitchens use technology and the latest appliances to look updated, the focal point of traditional kitchen is in the details. This might be imperfections in wood or stone that add to the details. Since wood is a versatile material, it can be shaped, carved and finished to suit the homeowner's tastes. There are no synthetic floors in this type of kitchen, such as laminate. Instead, natural materials are used in the flooring, such as hardwood and patterned stone or tile.
Details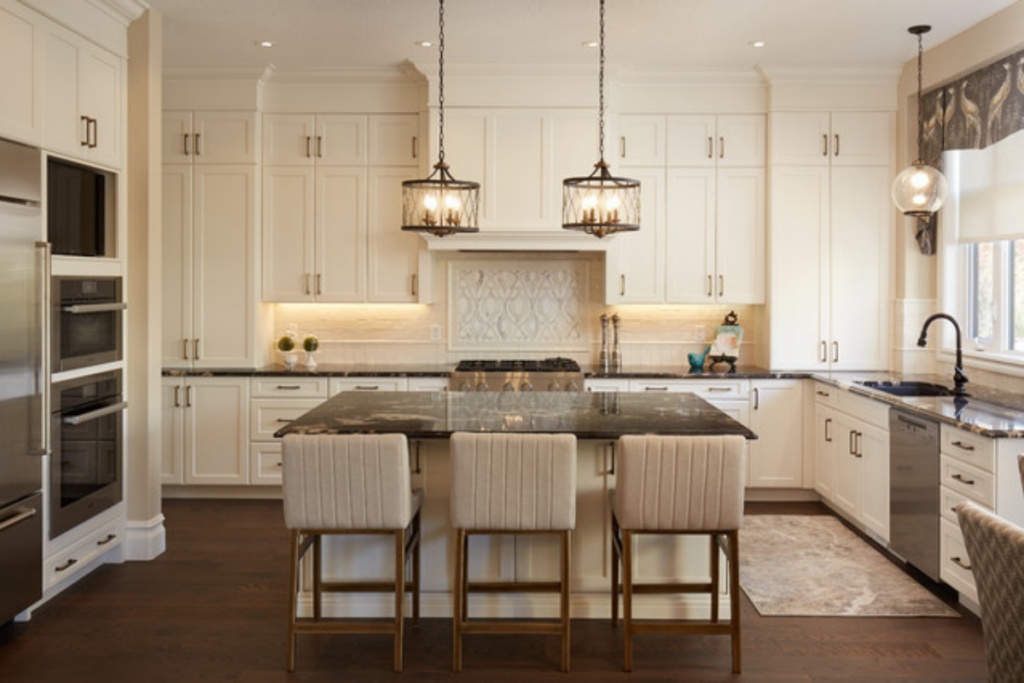 Traditional kitchens are all about the details. Furniture in the kitchen might be detailed or embellished. For example, the architecture might feature arches, beamed ceilings, and moldings. The kitchen island might have decorative legs and dark paneling. Some traditional kitchens have hutch cabinets, which are often found in dining rooms. The added detail (and storage) is something homeowners want.
Molding and trim are common in a traditional-style kitchen. Crown molding is used in cabinets, on the walls, or in furniture. Molding strips can be combined to enhance the elegance. Carved corbels or brackets can be placed between the cabinets for additional ornamentation.
Cabinets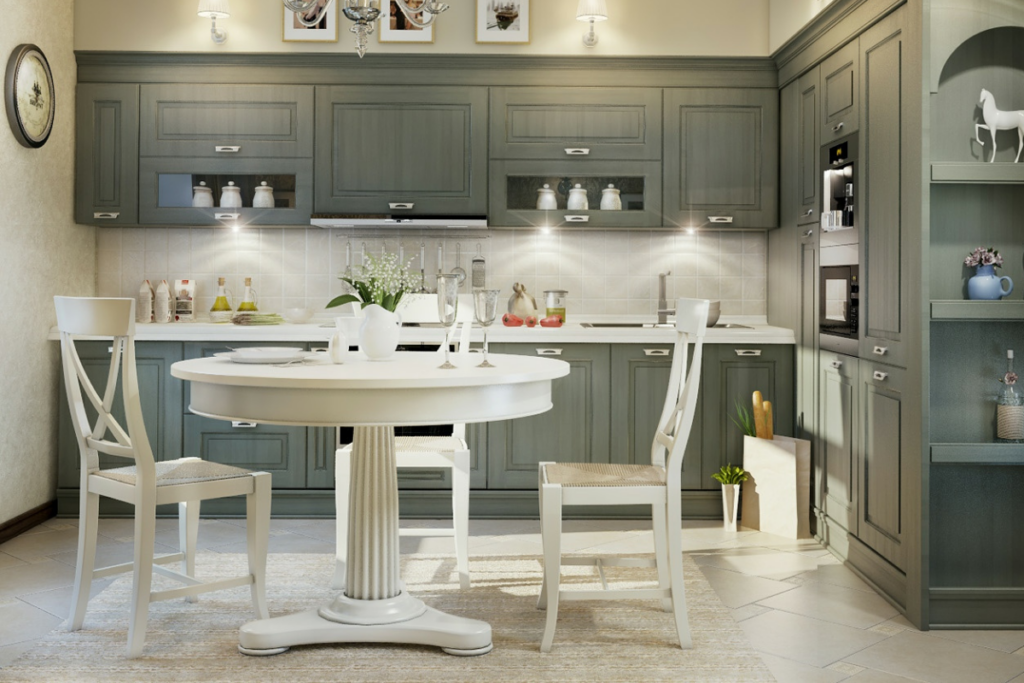 The type of cabinet used can impact the way a kitchen looks. Cabinets in a traditional kitchen can be ornate and decorative and can involve a variety of colors. There are many patterns and textures, like raised or recessed panels, which have elaborate profiles. Raised panel cabinets might also have shadow lines which are a signature look of traditional kitchens. Flush inset or framed cabinets found in this kind of kitchen allow for the frame, door, drawers, and hinges to be seen. An antique white cabinet with glass doors is the perfect backdrop to create a traditional kitchen.
The hinges on the cabinets may be bronze, silver, or antique brass to compliment the style of the cabinets. Cabinet finishes are glazed or might be made to look aged or distressed. On the island, glazing can add instant age. There might even be mixed finishes within the kitchen, which gives the feel that the kitchen has been worked on over time. The room layout centers around symmetry and balance with the cabinets.
Hardware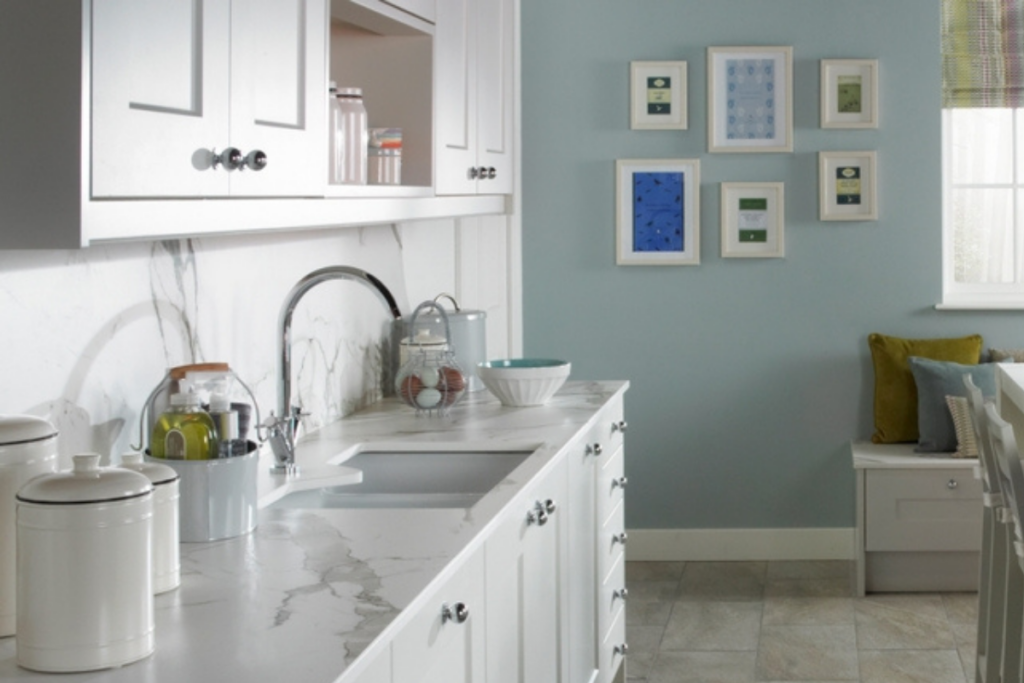 The hardware on the cabinets can be ornate and detailed or a classic handle. It can be uniform to match the cabinetry or might match the accent tile. It often made of metal—silver, brass, or even an antique handle.
Wood cabinets that are ornate or have a glass insert should be paired with knobs that are understated so the cabinets hold center stage. To add to the vintage element of the kitchen, finishes like copper, bronze, or steel should be chosen.
Countertops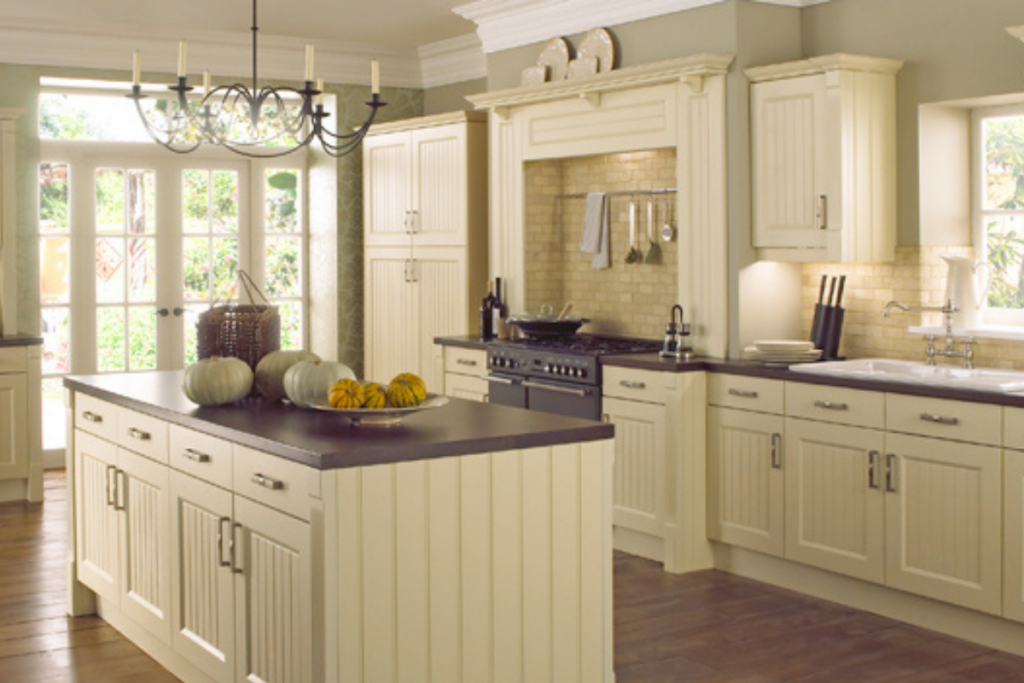 The countertops in a traditional kitchen are not austere like concrete, but rather made from natural stone. Countertops that are granite or quartz are chosen in colors that add warmth and a bit of luxury to a traditional kitchen. The edging of the stone is also detailed, such as bevel, ogee, or bullnose. The shape of the countertops is also something to consider, as they can be curved or tiered.
Countertops made of butcher block or marble are another option for traditional kitchens. While marble is a higher-maintenance choice, it does give an Old World feel to the kitchen. No matter what the material, neutral-colored countertops will work well with a neutral palette.
Appliances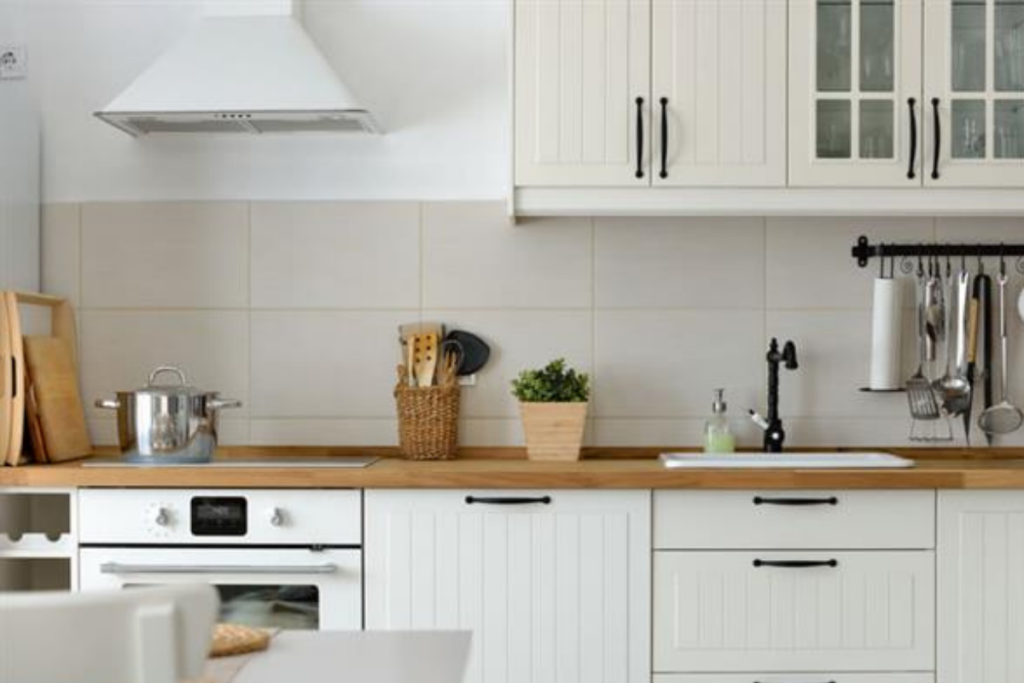 Options are open when it comes to appliances in a traditional kitchen. They can be black, white, or stainless steel. The finish of the appliances should complement the overall kitchen design. They are not usually the focal point of the room, however, so refrigerators and dishwashers are sometimes hidden behind solid wood doors, so they are not visible.
Tile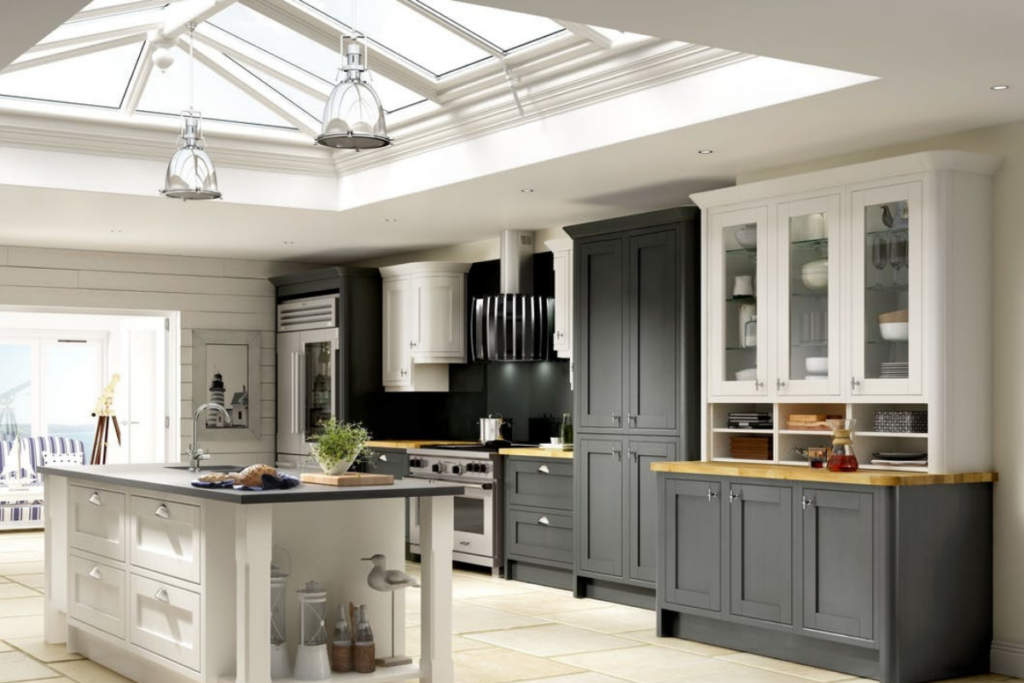 The tile chosen should be practical but may also use a design that becomes a feature in a formal kitchen. Ceramic tile is often chosen because it is durable enough for a kitchen and comes in hundreds of styles to fit into this type of kitchen. It can be used to accent cabinets and appliances and can also reflect the homeowner's personal style. The backsplash might feature a unique and interesting design.
Colors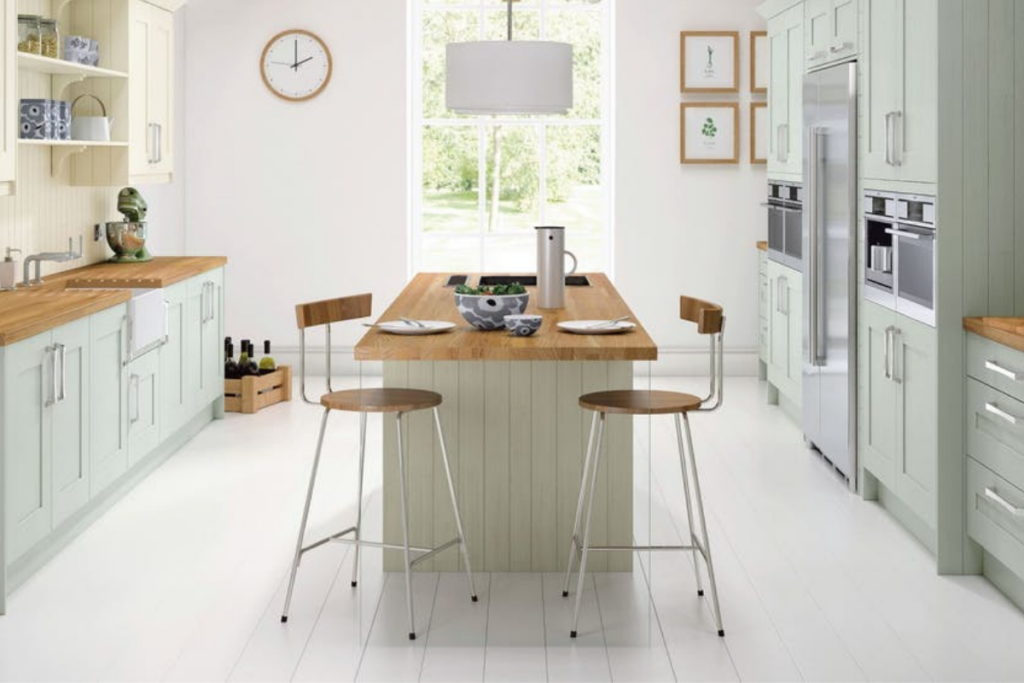 The color scheme in this kitchen style is generally muted but can be cool or warm. Think warm yellow, greens, grays, or cream. It may incorporate some brightly colored accents in fabrics or artwork. The muted colors bring together the natural element while creating a welcoming ambience. For kitchens with an Old-World influence, orange, ochre, or terracotta might be used.
In recent years, homeowners have been straying from the typical color palette to incorporate some fun options. For example, a navy blue and white palette. Or, an all-white-on-white color scheme creates a crisp twist on traditional.
Lighting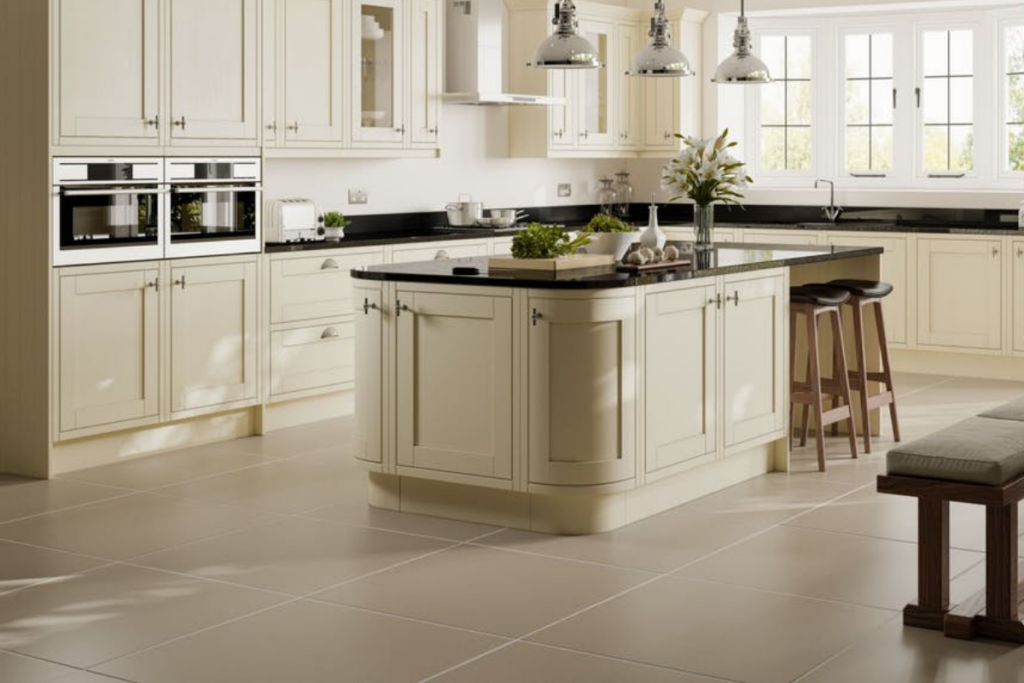 The lighting in this type of kitchen is usually decorative and formal and enhances the warmth of the room. The light fixtures' shape and type of shade is important, as well as where they are placed throughout the space. Lighting should be placed to illuminate work areas and increase the ambience.
Lantern-style lights, brass or crystal chandeliers, and recessed lighting are all common. The lighting in this type of kitchen is more of what might be found in a dining room—grand, ancient, or luxurious. Modern LED light systems are never found in this kind of kitchen. The lighting is classic and can even be a focal point of the room.
Custom Hoods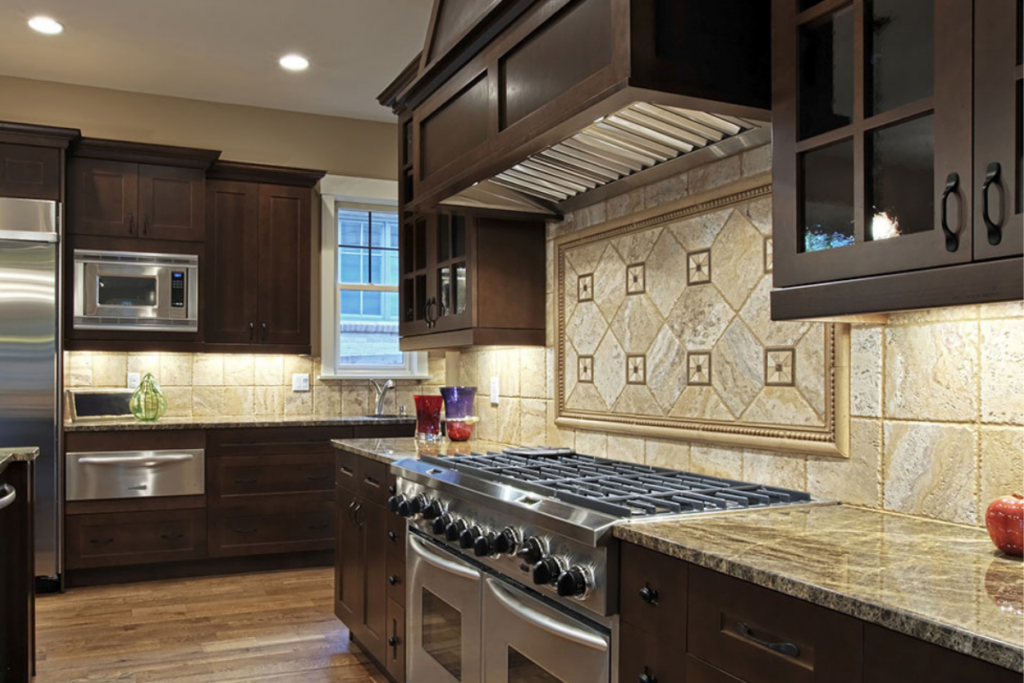 Another feature that has become popular in the traditional kitchen is a custom range hood. They can be made of carved stone, ornate metal, or wood. The hood might even be decorated with moldings and corbels. These focal points add interest to the kitchen while keeping to the traditional style.
Copper range hoods create a timeless look that enhances the design of a traditional kitchen. Brass hoods are also a popular choice because they are durable. Custom hoods come in a variety of shapes, sizes, materials, and finishes.
Sinks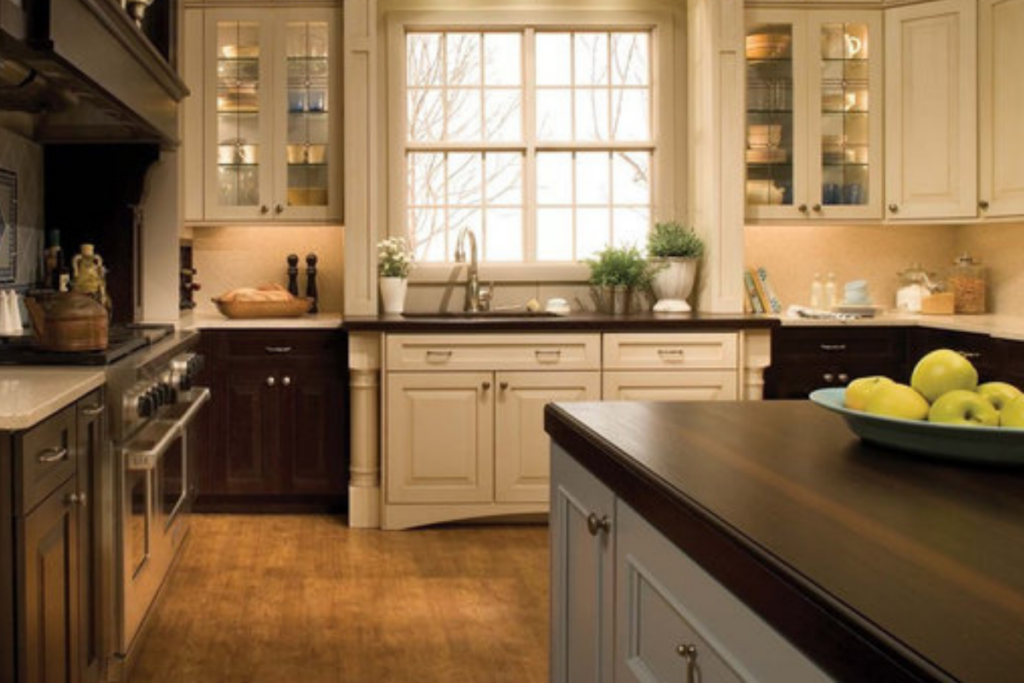 While apron-front sinks can be associated with farmhouse kitchens, they are also found in classic kitchens as well. They are single basin sinks with a front wall that forms the front of the sink and the front of the counter. Also used in farmhouse and rustic kitchens, the character of the sink is appealing to many homeowners. They are a design choice that is also durable and can be purchased in several different configurations.
Some traditional kitchens feature a single-basin, simple drop-in sink. This is ideal for homeowners who use large pans or specialty cooking equipment because it gives plenty of space to work.
Flooring
The flooring in a classic kitchen can be used to tie everything together. If there is contrast between your fixtures and cabinets, the floor can be used to pull them together. For a smaller kitchen, a neutral floor can make the room feel bigger.
Wood or tile flooring is common in a traditional kitchen. The flooring material should be as timeless and homey as the rest of the room. A patterned tile floor works well in a kitchen that does not have much embellishment elsewhere.
Thoughts About The Traditional Kitchen Style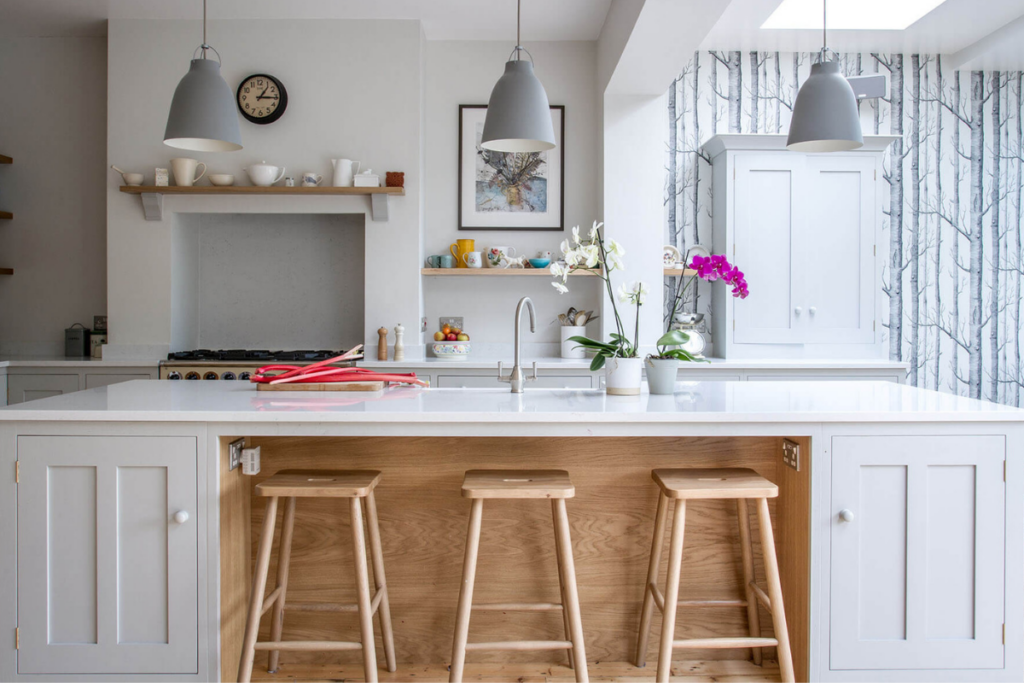 A traditional kitchen is a popular design style that appeals to many different homeowners, and can even increase the resale value of a home. The accessories and furnishings can be used to create a timeless, classic look. The cabinets are focal to the traditional kitchen and can be the springboard to creating a traditional kitchen to last a lifetime.