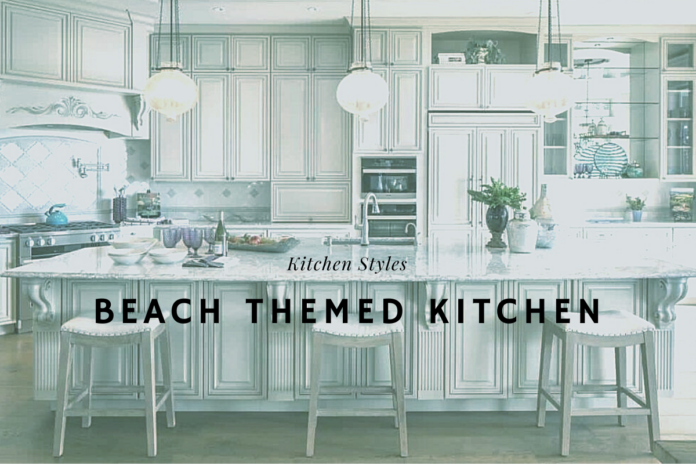 A beach-inspired kitchen can project a relaxed and refined style, even if it is not actually located at the beach. Some beach house homeowners prefer that their kitchens match the outdoor surroundings. However, beach elements can be incorporated into any home, even if it is not near a body of water. A beach aesthetic can be achieved by using lighter colors and natural materials. There is flexibility to incorporate as many, or as few, coastal décor elements as the homeowner wants.
What is a Beach Style Kitchen?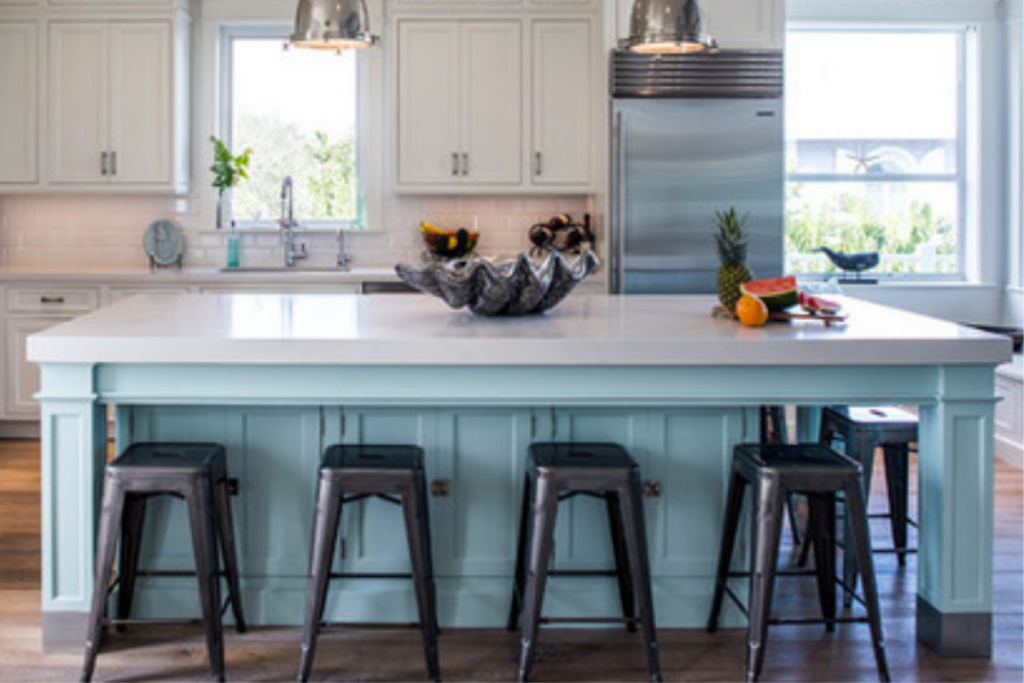 A beach style kitchen or coastal kitchen is often associated with waterfront homes of the East Coast, Florida Keys, or California Coast. A coastal kitchen is not only for those houses that are near the water, as this style can easily work in houses located anywhere. This type of kitchen can be classic or casual, or anything in between.
Beach-inspired or nautical materials are sometimes used to define the style. Distressed or weathered finishes might be utilized as well as driftwood, twine, rope, or linen. Layered shades of white or cream are often used to create a crisp atmosphere that is relaxed. Color can be incorporated in different shades, depending on whether the overall goal is classic or casual.
Classic: Think East Coast charm, like Cape Cod. A classic coastal kitchen will use crisp colors such as navy and white and can incorporate striped fabric, most often wide stripes. Stormy grays, dark blue prints, like chevron, can also be used to create a classic beach kitchen. There may be some nautical influences as well.
Casual: Think easy and natural, like the California coast. Casual beach-style kitchens use organic and natural textures, wood elements, greenery, and stone. Tans, greens, and knotted wood or woven fabrics are the colors and textures that are utilized.
Rebecca Heane of Houzz compares classic coastal style as "Riveria meets Hamptons". She defines the classic look as utilizing bold stripes, a distinct palette of whites, neutrals, blues, charcoal and black. The classic coastal style uses beautiful accessories and has a clean, sophisticated feel.
For the casual coastal kitchen, more natural tones are used. Will Taylor, author of Dream Décor, states that the core features are usually jute textures, earth tones, layered blues, crisp whites, stripes, and loose linen upholstery. The palette "can be adjusted according to taste: true blues and crisp whites for a Med-like vibe, warm whites and pale blue-green shades for a country coastal mix; bright coral paired with sky blue for an exotic coastal style."
Cabinets
Cabinets in a beach kitchen are most often white or light in color, for instance a light gray. Shaker cabinets are often used for their simple, clean lines. Extending the cabinetry all the way to the ceiling can help make the kitchen seem larger and lighter. Or if all-white is too austere, some homeowners are mixing cabinets for a two-tone kitchen with light painted cabinets for the base or island, which complements the white upper cabinets. The key is to make sure the cabinets are light as darker woods are usually not used in this kind of kitchen.
Glass is often used in the cabinets in a beach kitchen. Glass is a natural material which works well in a beach kitchen. Glass cabinet fronts help to create an open aesthetic, especially in smaller kitchens.
Color Palette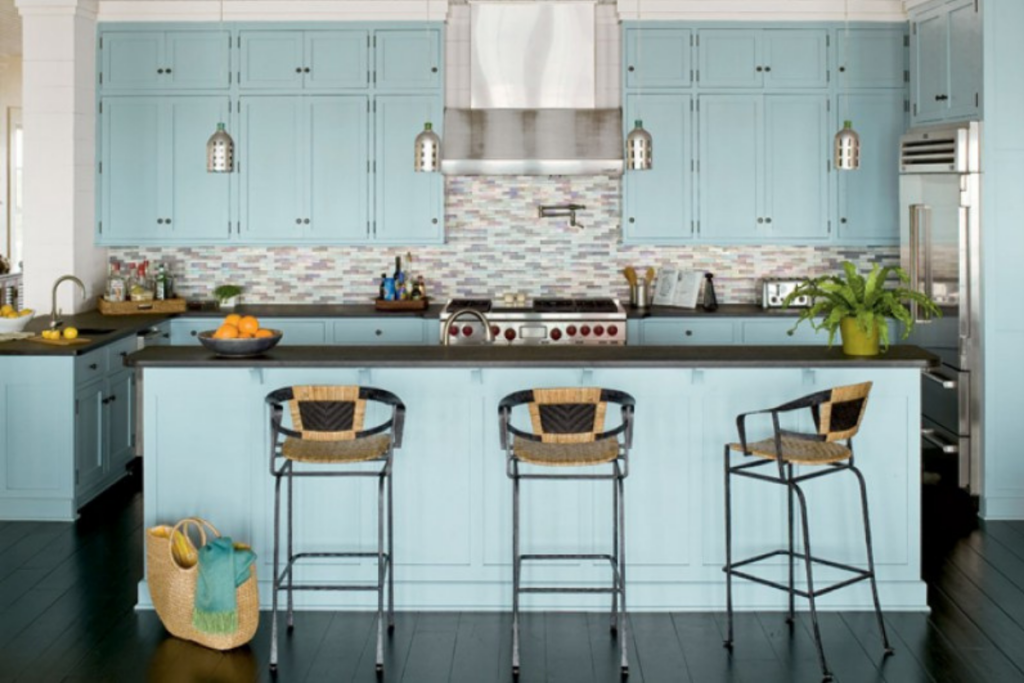 A relaxed coastal kitchen will incorporate neutrals and natural colors. The color palette for a beach style kitchen uses natural colors that are found near the beach:
White
Light Blue
Dark Blue
Soft Gray
Light Green
These light colors on the walls give the room a spacious feel. Bright colors such as coral can be used as accents. Beach kitchens can also be all white with white cabinetry, white appliances, and a white countertop. The result is a bright and airy feel.
Another option is a completely blue kitchen that has a pale shade on the walls and a deeper blue for the cabinets. Wood floors may also have a blue hue. The mix of shades reflect the colors of the ocean.
As mentioned above, stripes are an important component of the classic coastal design. Often found in upholstery or in accessories, they add a crisp vibe.
Countertops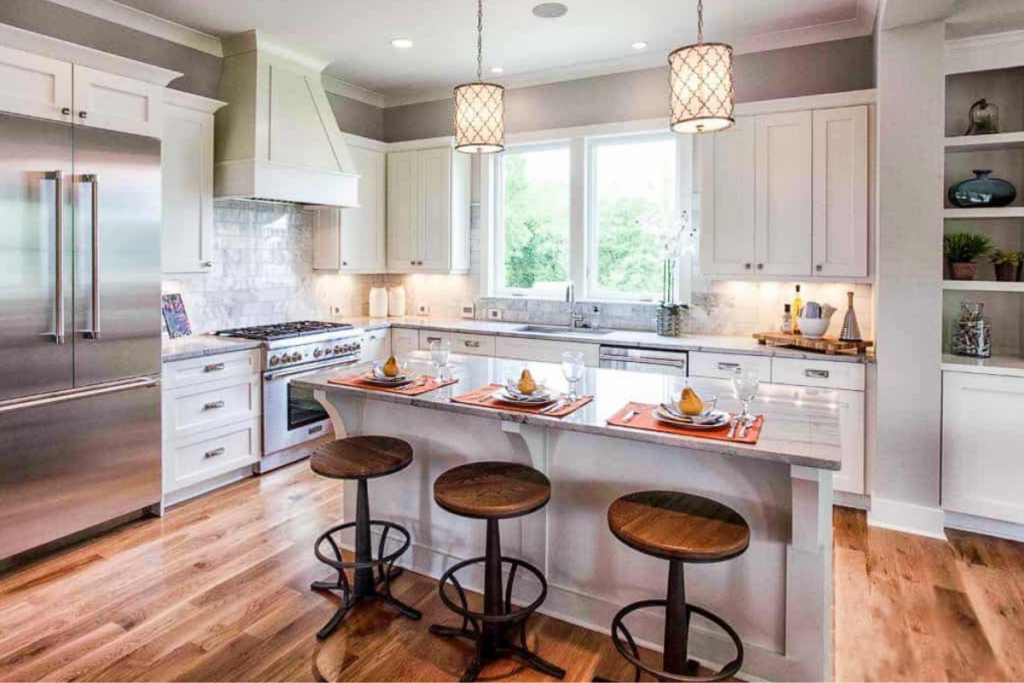 Countertops can be quartz or granite and are often light in color. A creamy white quartz with swirls or veins can emulate the sky, pebbles found at the shore, or sandy beaches. With its nonporous surface, it will resist scratches and stains. Similar to the technology used for quartz, glass countertops are now using recycled glass blended with resins.
No matter what the type of countertops, the color should be light to add to the brightness of the space.
Backsplash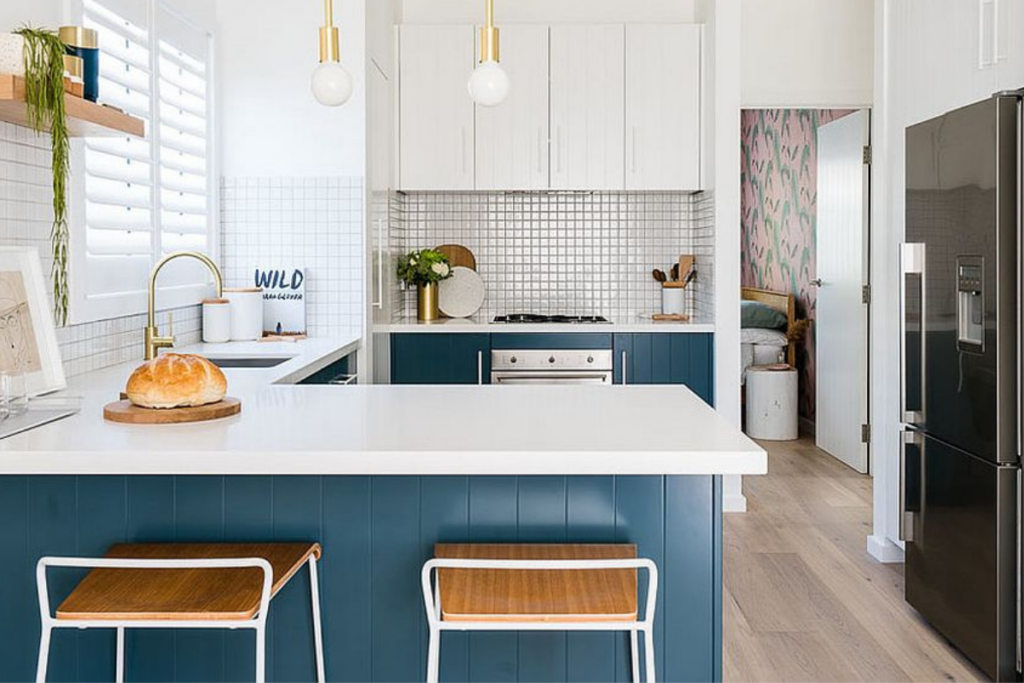 Nothing says coastal quite like iridescent tile, which is reminiscent of tiny shells glistening in the sunshine. Even a small tiled area, such as above the range, can really be beautiful. Tiles in blue hues can also make a big impact, especially against white cabinets. For a more classic spin, white tile with navy blue accents is a good choice.
Ceiling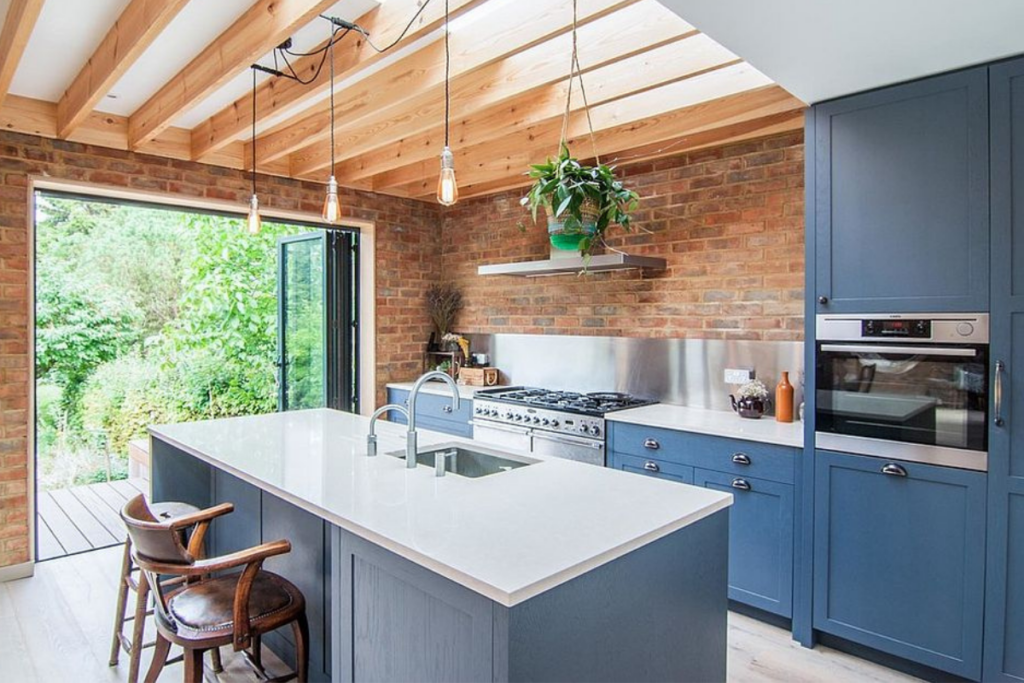 A beach-style kitchen might have a tray ceiling to give the appearance of a larger space. In larger kitchens, painting the recessed part of the ceiling can add color.
Using the color white for the ceiling will add to the brightness of the space. A white ceiling base with exposed wooden beams to match the hardware can also work well in this type of kitchen.
Lighting
Again, the lighting is about adding brightness to the area. Recessed lighting as well as pendent lights over the island. Glass pendant lights incorporate natural elements and can be classic or casual, depending on the style. Another option is a minimalist glass chandelier, which incorporates a natural element and can be a standout piece against all-white.
A certain amount of lighting in a beach kitchen should be from natural sources. For a major kitchen redo, large windows will bring in the most light possible.
Appliances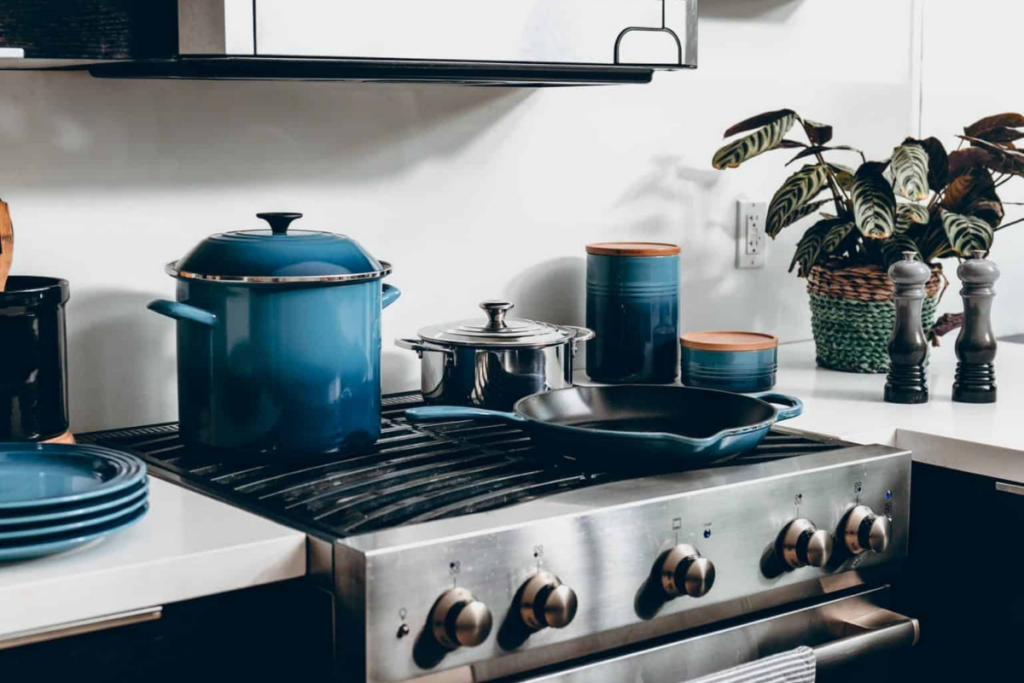 Appliances in this style of kitchen are not a focal point. Stainless steel appliances stand out less with white wooden structures that provide a background. Some homeowners prefer to use all white appliances to not distract from the cabinets.
Appliances can also be used to add a pop of color. Vintage-inspired appliances are a fun addition and aqua and turquoise shades look great in a crisp white kitchen.
Kitchen hoods are hidden with slab materials like marble, veneer porcelain and plaster so they also do not take away from the design.
Hardware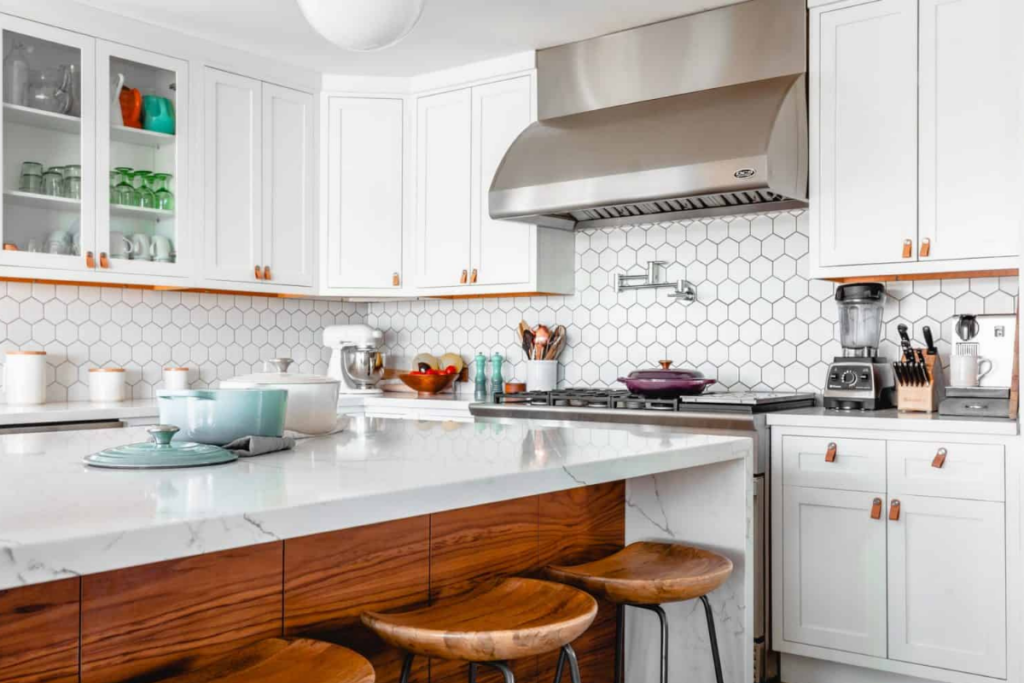 The hardware is usually simple in a coastal kitchen. For example, white cabinets and drawers accented by gold hardware. Brushed nickel is also used for hardware to match the stainless steel appliances.
Oversized drawer pulls are another option. They can be placed vertically on tall cabinets or horizontal on larger drawers.
Flooring
Beach kitchens usually have hardwood flooring, or a material that looks like hardwood. The flooring should be able to stand up to water and sand. The color of the flooring is up to the homeowner's preference. A light oak will add to the openness of the room, while a darker wood will provide contract against lighter cabinets. Tip: Tile on the floor is not the best choice for kitchens at the beach, as it gets very slippery when it is wet.
Sink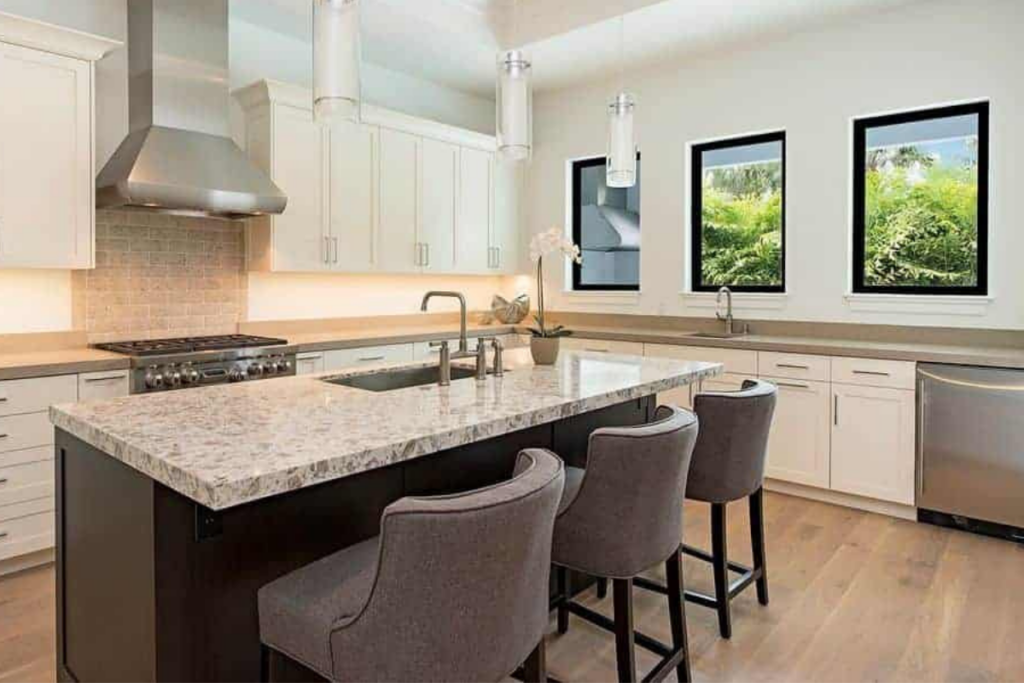 For the beach-inspired kitchen, an undermount sink will not take away from the general aesthetic of the house. Stainless steel or another material can be used.
Wall Art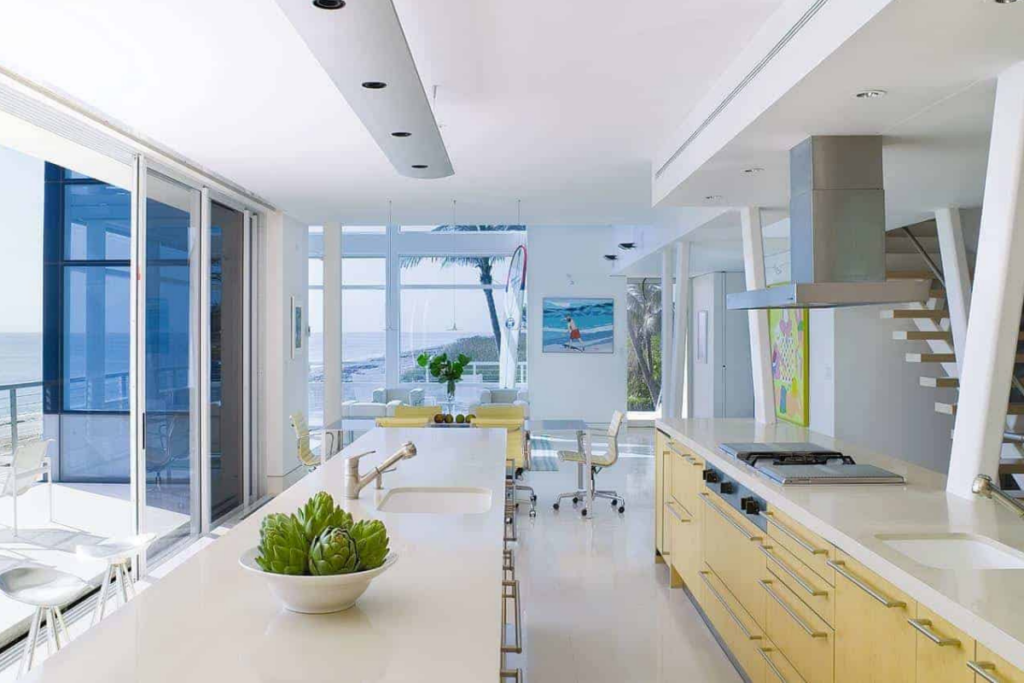 Unlike some other kitchen styles, there is almost always art in a coastal kitchen. Wall art in this style of kitchen ties together the theme. A classic coastal kitchen might use black and white photos of yachts, boats, water, or maritime accessories. Frames might be white and matched. Coastal kitchens that are using a more contemporary spin might include canvas pictures of the beach, beach grass, or other natural themes. Frames might be unmatched or natural wood.
Walls can also add texture to the space with shiplap or tongue and groove paneling. This can be laid either horizonal or vertical and can bring character to the room. Painting it all white gives a light and fresh feel.
Accessories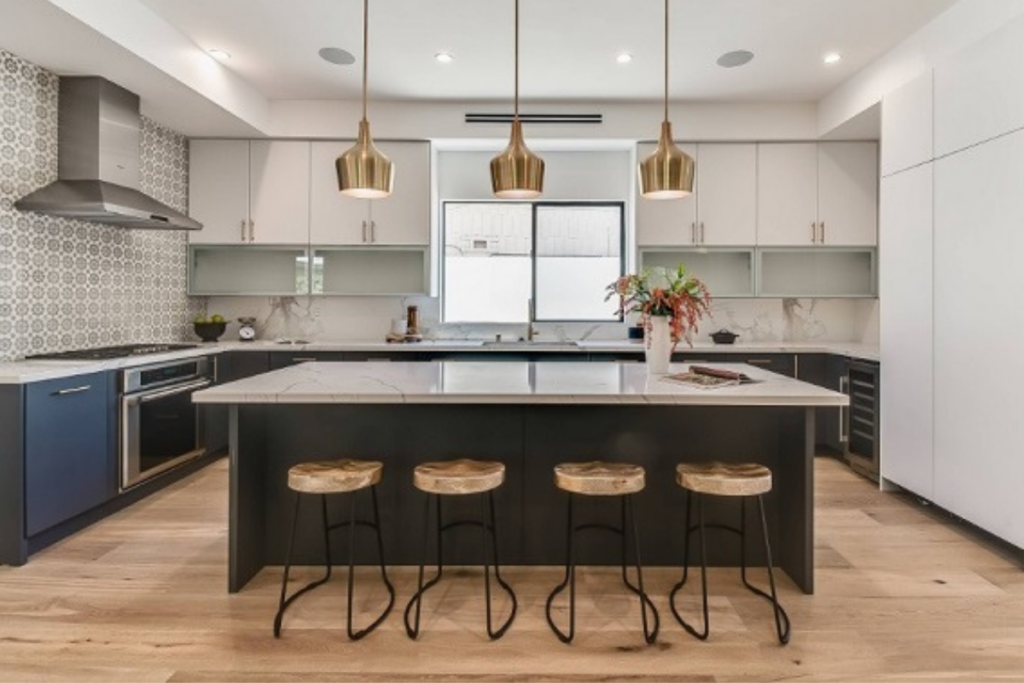 Accessories and accents are often used in a beach-style kitchen. For an all-white kitchen, bold pieces can be used to create a fun vibe. Or putting bold colors with natural textures is also utilized in this design. For example, a light-up anchor can add enough interest without going overboard.
Shades of blue are often used for accessories. A table runner with stripes, woven basket, or vase that incorporates shades of blue are some ways to accessorize in a beachy day. Some homeowners use items found along the shoreline to add to the décor.
Furniture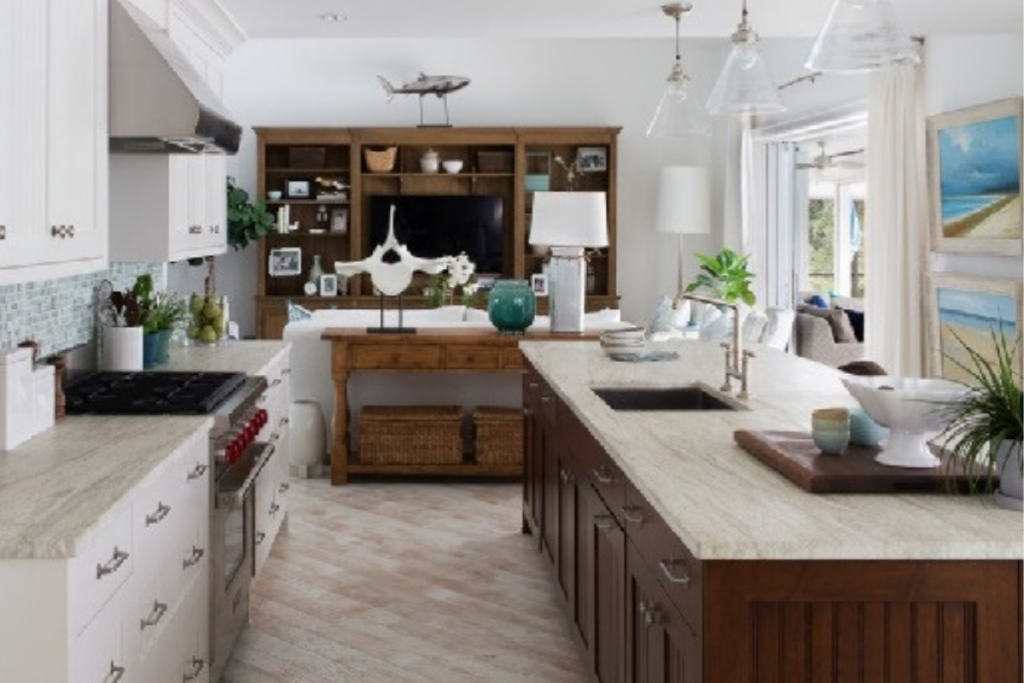 Natural fibers and materials are often found in in a coastal kitchen. Furniture in a coastal kitchen should be relaxed and not formal. Furniture tends to be simple and sturdy, often made of traditional hardwood. Sometimes the wood is left unfinished or has a natural finish.
Woven bar stools for the island really says beach. Similarly, woven chairs around the kitchen table add a relaxed feel. A woven jute rug will also add to the texture in the room. Linen is another fabric that can be used in this style of kitchen.
Bar stools can also use color blocking, like navy and white to bring a classic appeal. Or ones that are different shades of blue can add color to an otherwise neutral kitchen.
Trends for a Beach Style Kitchen in 2021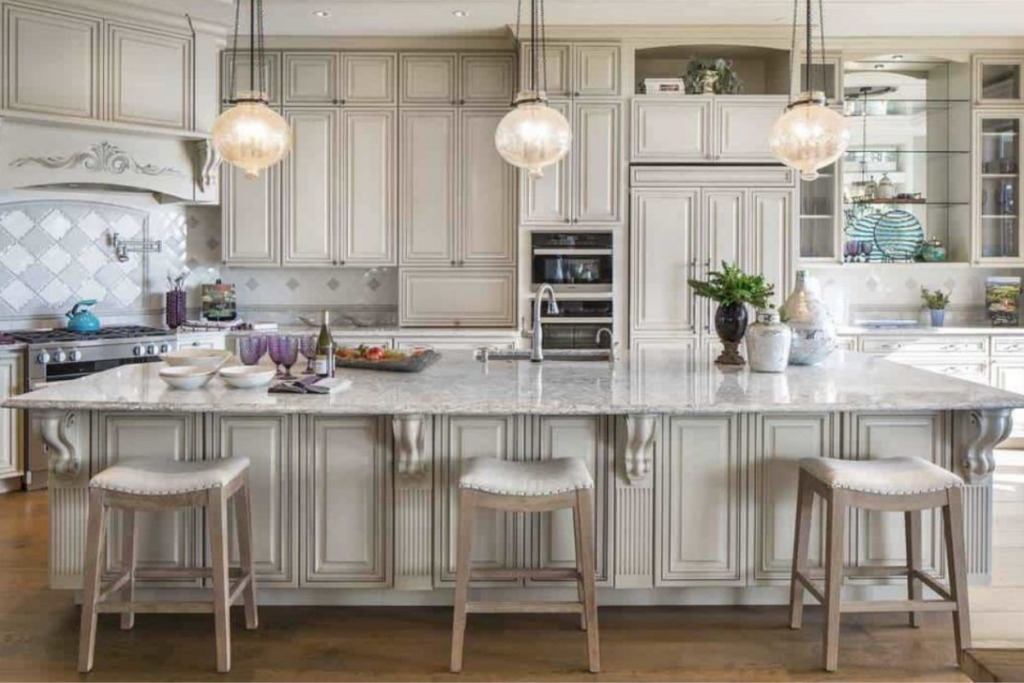 A beach style kitchen can make smaller kitchens feel larger. Replacing traditional brown wood cabinets with lighter ones is one of the best changes to make to update a kitchen. For 2021, elements of glass are being used in more coastal designs. Accents of blue are now being used for the kitchen island, from aqua to navy.
Another trend for 2021 is bring more of the outdoors inside as homeowners will continue to spend more time at home. For a coastal kitchen, this means larger windows, and slider or bifold doors. Windows that sit almost on top of the countertop will give a less obtrusive view. Beach-style kitchens can provide a sophisticated addition to any home. They can either lean to a classic East coast design, or a more relaxed California coast vibe, or even something I between. Homeowners will want to choose long-lasting cabinets to create the perfect beach style kitchen.