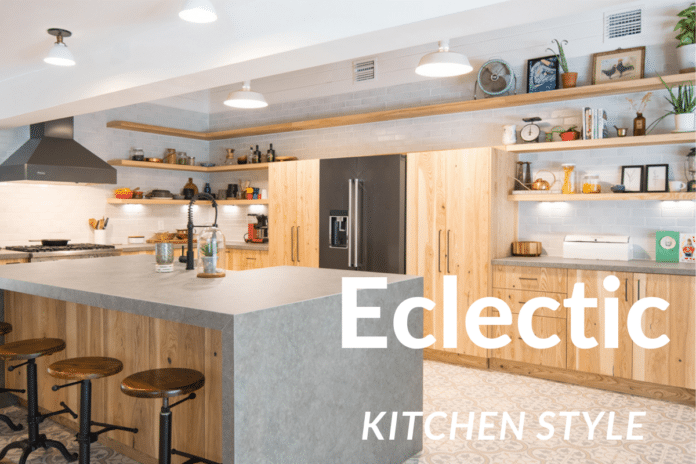 Homeowners that like a wide variety of styles or cannot decide between them might consider an eclectic style kitchen remodel. Eclectic design is a visually interesting aesthetic that is on trend. An eclectic style kitchen is carefully curated, meaning that no two are the same. With the use of color, patterns, and textures, the look of an eclectic kitchen is personalized and unique.
What is an Eclectic Style Kitchen?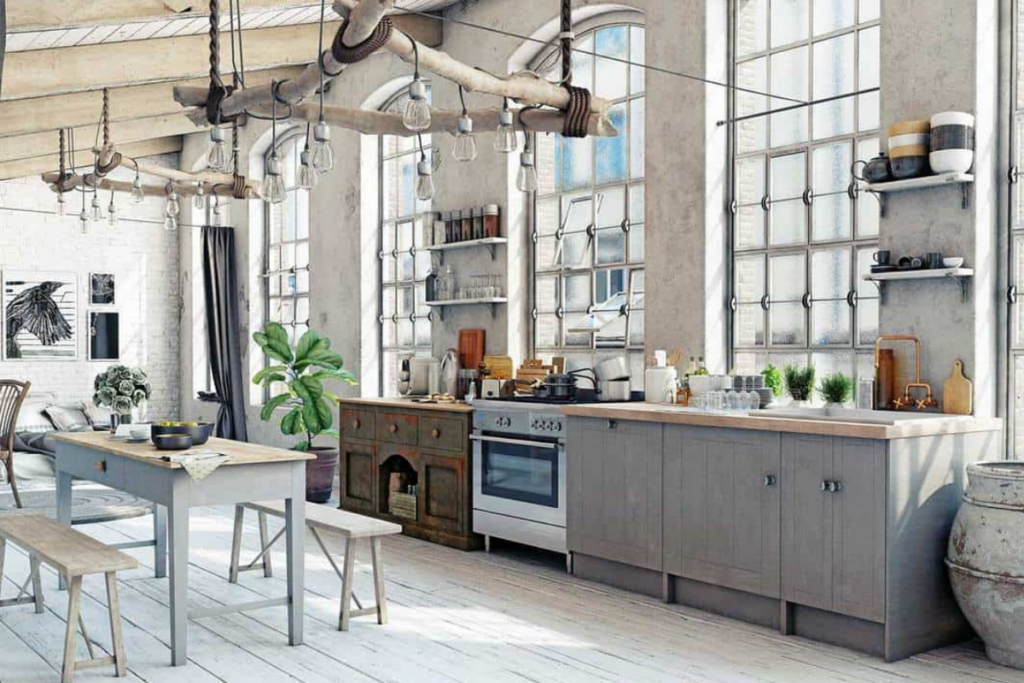 Unlike other design styles, eclectic design does not strictly follow a set of rules or trends. Eclectic design is the mixing of separate styles to create one cohesive style. This style allows homeowners the freedom to express their creativity without conforming to any design rules.
Interior designer Andi Pepper explains, "To me, the notion of being eclectic is to mix different styles and eras together to create a cohesive space, but you can't simply but everything together. You have to have a sense of commonality about it, with thought put into the design."
Only recently has eclectic style decorating become a more common option for kitchens. It began with the fine art and architecture pioneers that did not want to commit to a certain style and would rather create their own. This style ended up becoming more popular than the pioneers wanted and actually became a form of design. It is characterized by:
A mix of styles and period
Neutral background colors
Unique art
Use of different materials, patterns, and textures
A mix of old and new
Several different contrasts throughout the space
Eclectic kitchens are not necessarily busy and colorful, although they certainly can be, but they mix styles, such as vintage and new. The space is not a hodgepodge of items, however, as they are well thought out and curated. Eclectic should not be confused with messy, as everything in an eclectic kitchen is placed there on purpose.
Keystone Elements of Eclectic Style Kitchen
One of the key elements of this design is contrast, with different textures. Marble, leather, brick, wood, steel, fluffy fabrics, woven rugs can all be part of this design.
Another key element is a statement object. This can be a vase, chandelier, range hood, or piece of furniture. One item should have a special place in the kitchen to steal the show. It can also be a collection of items that are displayed in the kitchen.
Homeowners that want to create an eclectic style kitchen should consider the following:
Color Palette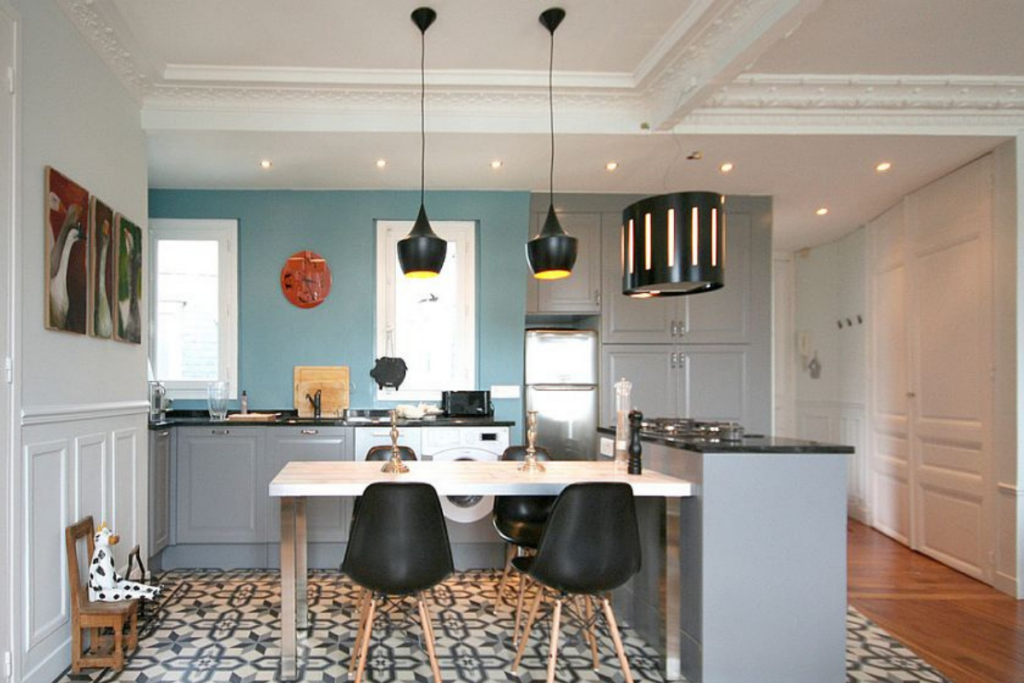 The color palette for this style of kitchen should be chosen before the kitchen remodel begins because it will guide the kitchen's redesign. For example, a neutral palette with an accent color will set the stage for all of the design choices for the kitchen. Dark colors will create intrigue and lighter colors are more calming if there is a lot going on with other design elements. Therefore, it is important that all of the colors for the kitchen are planned out ahead of time so the final result is cohesive, and not sloppy.
Walls should be kept simple because they serve as a backdrop for the rest of the space. Elaborate walls make it difficult to bring in other patterned textures whereas walls that are simply painted allow for other elements to take center stage. The homeowner has more options to be creative elsewhere if the walls are kept neutral. On the other hand, if the homeowner wants the walls to take center stage in the space, then the rest of the kitchen should be more subtle so the patterns and textures do not compete.
Patterns and Textures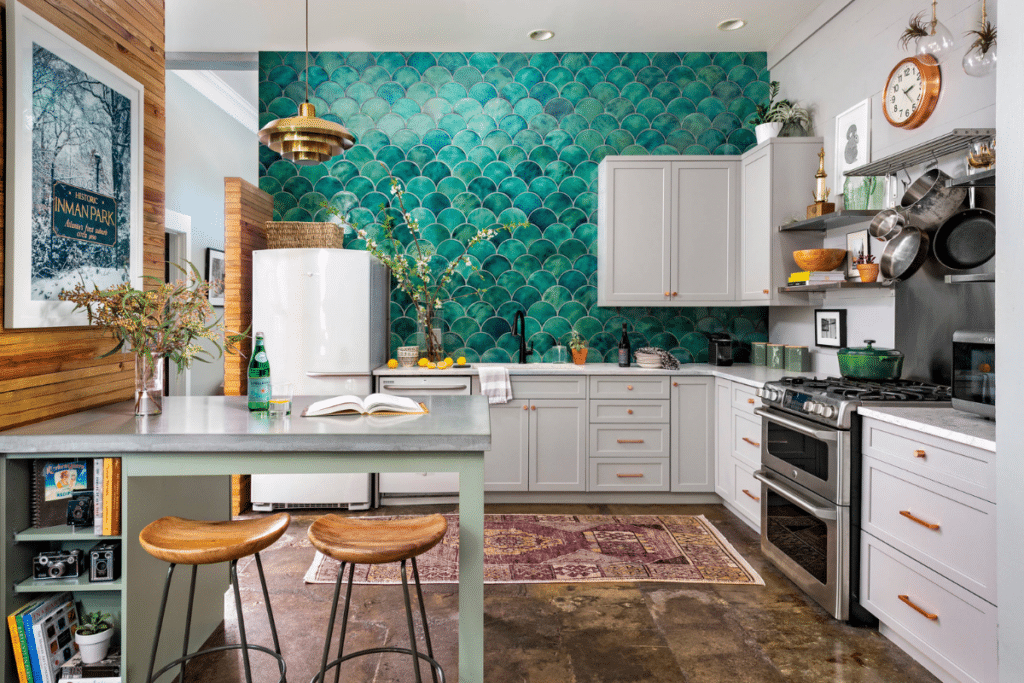 Eclectic design always includes textures and patterns. Rugs, furniture, and cushions can all have patterns, such as geometric shapes, stripes, or polka dots. The use of opposing patterns are part of the light-hearted design. There is contrast between the patterns and textures used to blend together.
The homeowner's personal style can really come through with the use of different patterns and textures. They can be daring with expressive patterns or mix and match to create a space that blends and is unique. Smooth textures can be paired with rough ones, such as a marble countertop with a dark wood grain.
One important note: The patterns should align with the scale of the kitchen. While repetition of patterns is not necessary, it does help the scale of the space.
Cabinets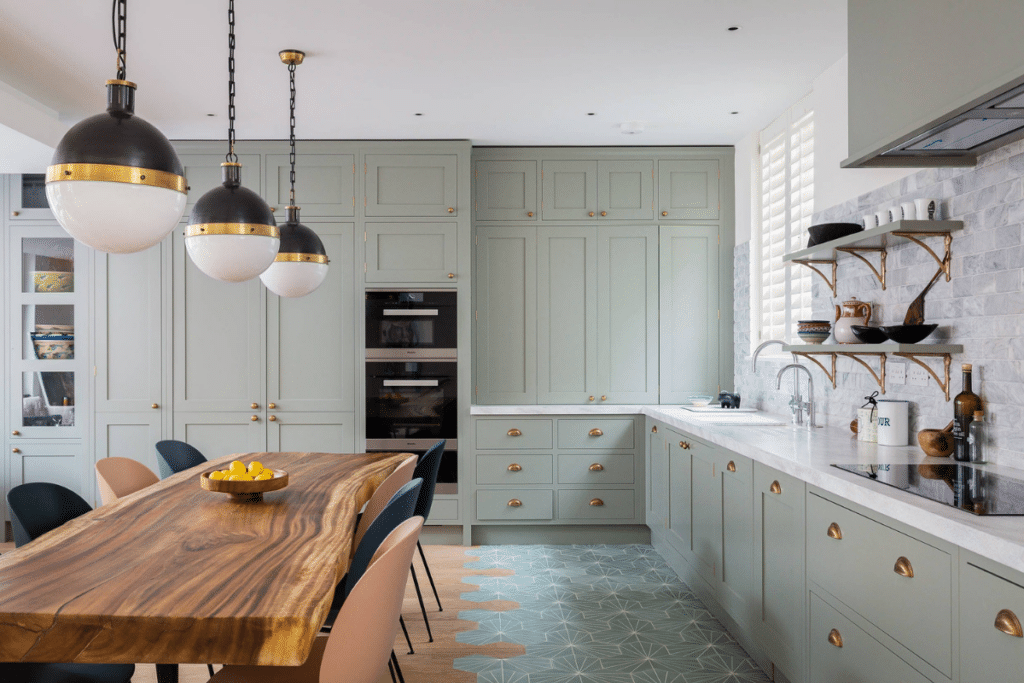 Homeowners have a lot of choices when it comes to the cabinets in an eclectic style kitchen. The final choice should be something that defines the homeowner's style or will work as contrast against other elements in the space.  Homeowners that want to create interest elsewhere, say with the countertops, range hood, or appliances, may choose a simpler cabinet style as a backdrop. 
Some homeowners want the cabinets to bring out the eclectic style and might mix together darker ones with white ones, or two bold colors of cabinets. Opposite colors that are paired strategically will bring uniqueness to the kitchen.
For glass-front cabinet doors, the items that are visible should be colorful and interesting to add texture. Texture can also be added with exposed brickwork between the cabinets.
Kitchen Island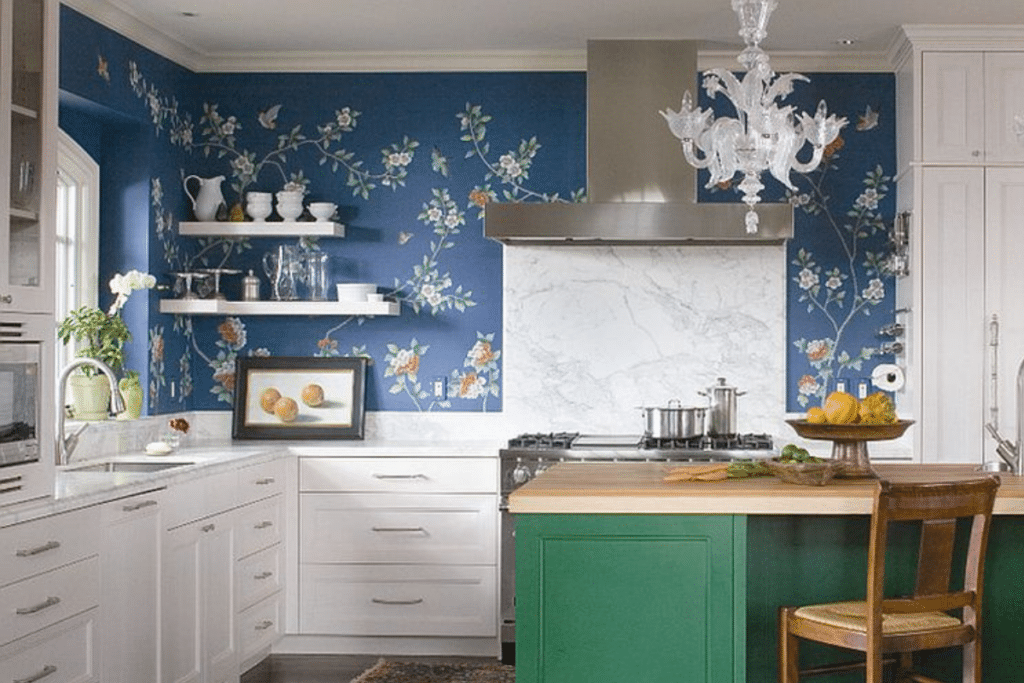 An island can be utilized to add texture, pattern, or color to the space. The color of the island does not need to be the same color as the cabinets. In fact, choosing a contrasting color can be eye-catching. A bold color for the island, such as turquoise or bright yellow, will fit the eclectic style.
The chairs should match the style of the island though so that part of the kitchen does not come across as messy. They can have a pattern to add texture to the room.
Hardware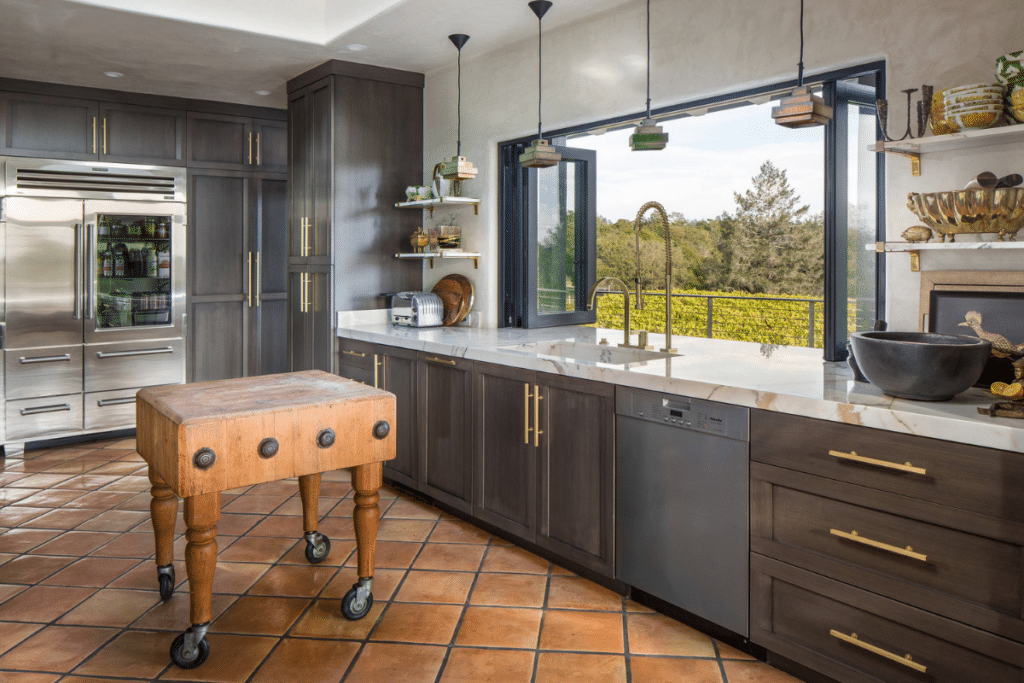 Hardware can be completely unexpected in an eclectic kitchen. Glass knobs, confetti glass pulls, or colored ceramic knobs with a vintage-inspired metal overlay are some of the many options available.
Hardware also does not need to match—every door can have an unique piece to show off the homeowner's style.  Contrasting colors can also be used for the hardware.  The sky's the limit when it comes to hardware choices in an eclectic kitchen!    
Countertops
In an eclectic-style kitchen, countertops do not need to be the traditional granite or quartz. A wooden countertop adds texture and warmth to a kitchen. Options include butcherblock, chevron, or wooden tile. A vintage grey island with a butcherblock countertop provides contrast and boldness, which is part of eclectic design.
A patterned or boldly colored stone countertop can also work well in an eclectic kitchen. Many stone countertops are eye-catching and can serve as the statement piece in a kitchen. And the color can contrast against the rest of the kitchen.
Backsplash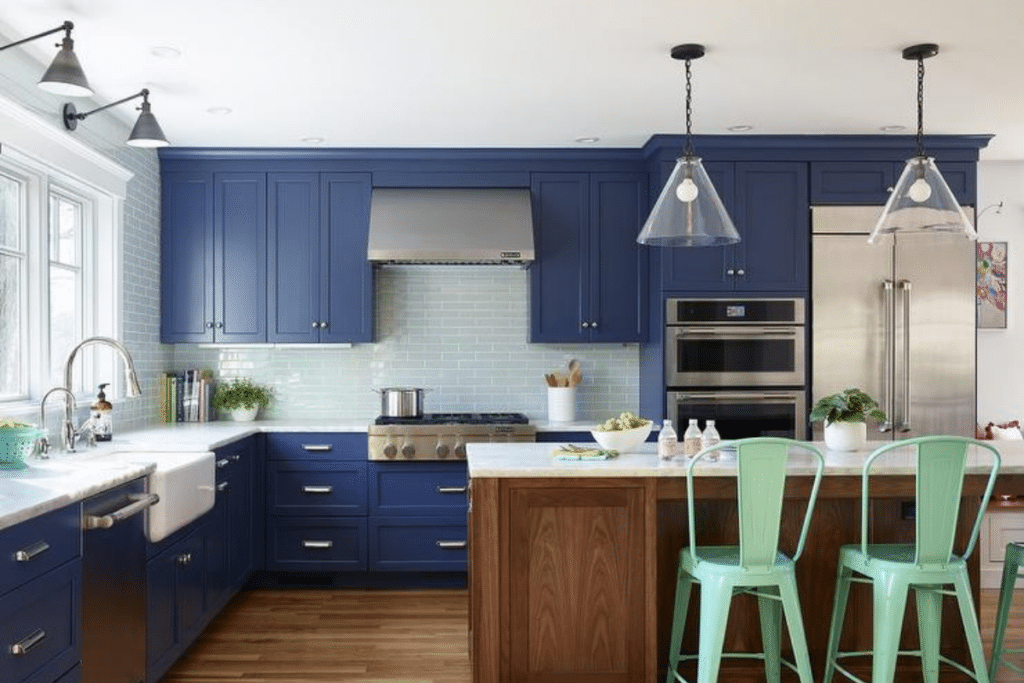 The backsplash can add uniqueness to the eclectic-style kitchen. A tiled backsplash with a pattern can make a bold statement and contrasts against simple cabinets and countertops. The possibilities in color and style are endless, but bright, bold colors work well for this style. For example, an all-white kitchen with a colorful, patterned backsplash can be visually interesting.
Handmade tiles is another option for this type of kitchen. It helps to ensure that the kitchen is one of a kind. Homeowners can use the colors of the backsplash in other areas of the space to create one cohesive design that keeps with this aesthetic.
Appliances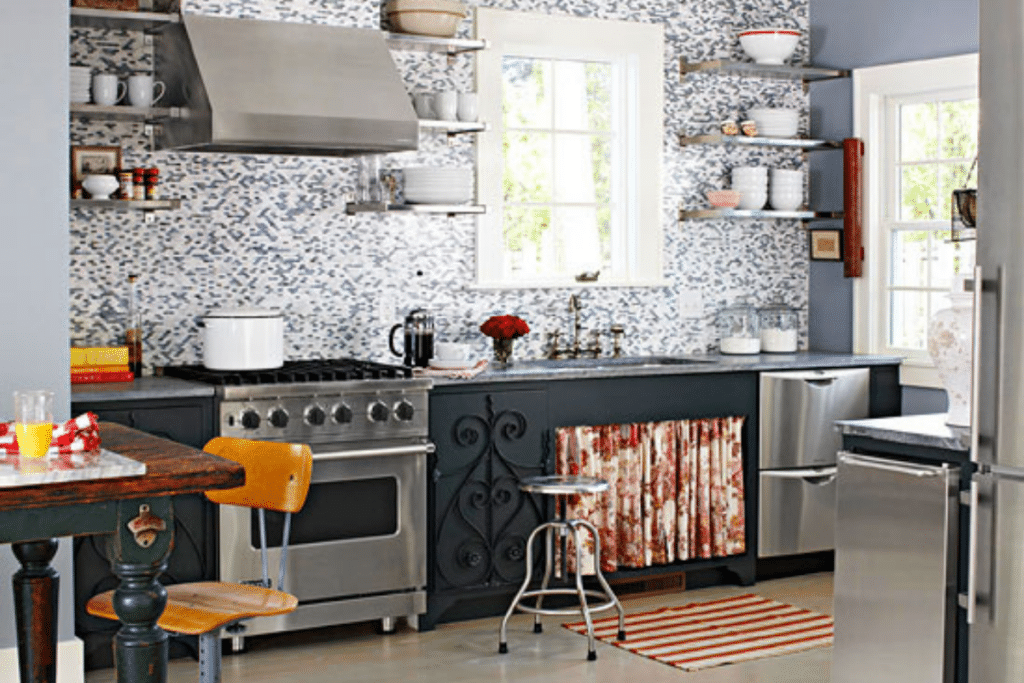 Stainless steel provides a neutral background that blend into the background that allow the style of the space to come out. But matching stainless steel is not the only option for appliances. Consider one stand out appliance, such as a brightly colored refrigerator. Or a porcelain enamel range is enough to be a standout piece in the kitchen. Accompanying appliances should then be very subtle.
Countertop appliances such as blenders, kettles, and toasters should never be matching. Only unique items should be on the countertops.
Flooring
Flooring should never be boring flooring is available in several choices. It can be mixed or matched in an eclectic kitchen. One example is hexagon tiles and wood planks that make a big impact. Or the flooring pattern can match a different pattern in the room, but with complementing shades.
Smaller designers like a black and white geometric pattern leans more toward a modern eclectic, while a Mediterranean influenced floor can add some interesting colors.
Sink
Several materials will make for a unique sink. A matching stone sink to the countertop is resistant to heat, chemicals and staining. A material like soapstone will develop a patina with age. Glass is another option that some homeowners might not be aware of. A colored glass sink can be the focal point of the kitchen. They are shatterproof, resistant to heat, stains, and scratches.
For the homeowner that is looking for a sink that really stands out, a hammered apron-front copper sink is really a showstopper.
Eclectic Kitchen Style Trends of 2021
The year 2021 is all about adding color to the kitchen. Adding colorful appliances, such as a vibrant refrigerator is becoming a trend for 2021, particularly in eclectic style kitchens. Colorful backsplash is another way to add vibrancy. Another trend for this year is the use of dark cabinetry, in colors like olive green, charcoal gray, navy blue, and black. Dark lower cabinets are being paired with lighter upper cabinets, which creates visual interest in an eclectic kitchen.
An eclectic-style kitchen allows the homeowner to be creative with the space.  Textures and patterns are used throughout the space for a personalized and carefully curated design.  Homeowners will want to choose cabinets to compliment the style.