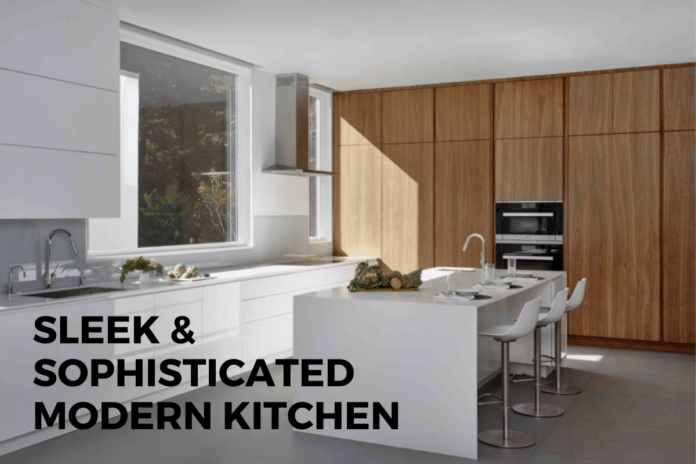 Sleek, sophisticated, minimalist, yet functional. That describes the modern kitchen. A modern kitchen has minimalist styling with an open layout and clean lines. It is highly functional with the latest appliances and the use of natural materials. Homeowners that are interested in an efficient space with sophisticated accents will gravitate toward a modern kitchen.
What is a Modern Kitchen?
Modern design embodies the 'less is more' phrase. This kitchen trend has streamlined elements that are thoughtfully placed throughout the space. There are several defining characteristics of Modern design:
Open layout
Clean lines and sleek surfaces
Warm woods, stone and leather
Neutral palette with earthy tones and contrasting accents in black or primary colors
The Modern style was founded on the heels of the Art Deco movement, after years of traditional design being popular. Modernity was a streamlined alternative, inspired by the serene minimalism of Scandinavian design, which uses woods and other natural materials and simple silhouettes.
Some people believe that modern and contemporary are the same thing, but they are two very different design styles. While they do share some commonalities, modern style centers around the early to mid-1900's, which contemporary design follows the trends. True Modern design is strict with functional pieces and strong lines.
Interior designer Mikel Welch states, "When speaking of Modern design, three things come to mind: clean lines, meaningful pieces, and an edited approach. It's all about minimalism and refinement—it sticks to the basics, yet nothing is basic about it!" The minimalistic nature of the space is clean and fresh.   
Cabinets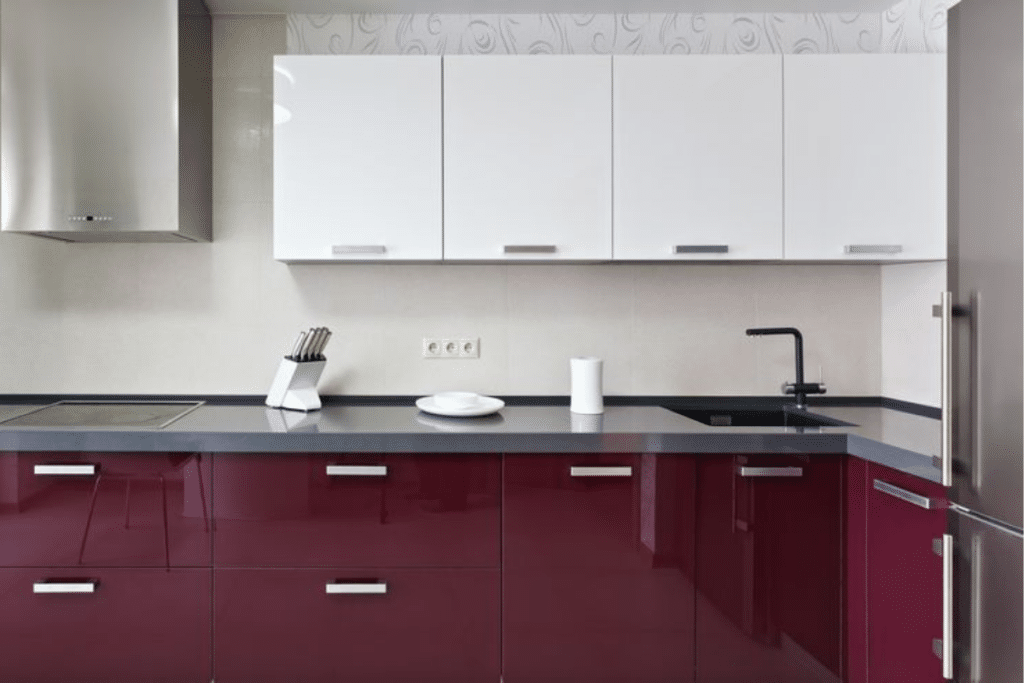 There are no details, raised panels or extra moldings with the cabinets in the modern kitchen. A flat-panel door, which is also slab-door, is a signature element of modern kitchens. A simple Shaker style cabinet fits the clean lines requirement of this design style.    
A frameless European cabinet is also seen in modern kitchens because of its sleek design. In a frameless cabinet, there is consistent spacing between the doors and drawers.
The cabinet layout in a modern style kitchen has an emphasis on horizontal lines, with long stacks of drawer cabinets in a row. Drawers are well-organized with designated places for everything.
The color of the cabinets can be what the homeowner desires, but lighter colored cabinets such as white, off white, or light gray can make the space appear larger.
Color Palette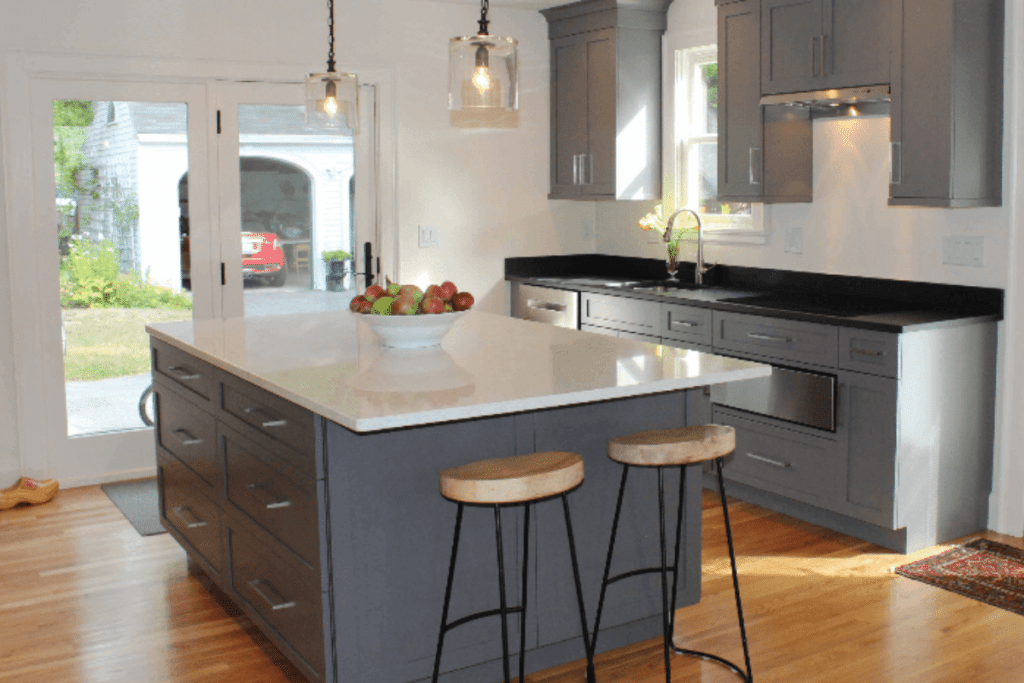 Whites, beiges, and black are the main colors for modern design, often with an accent color. Since modern design has an emphasis on natural materials, the color palette reflects this. When a bold color is incorporated, it is used sparingly. A monochromatic color scheme is very modern, with varying shades of the main color. This is especially effective for smaller kitchens.
An all-white kitchen is also another option for modern kitchens, often times with subtle additions of color. Metallic accents such as gold, in the hardware, fixtures, and accessories are great choices to keep to a minimalistic aesthetic.
Open-Concept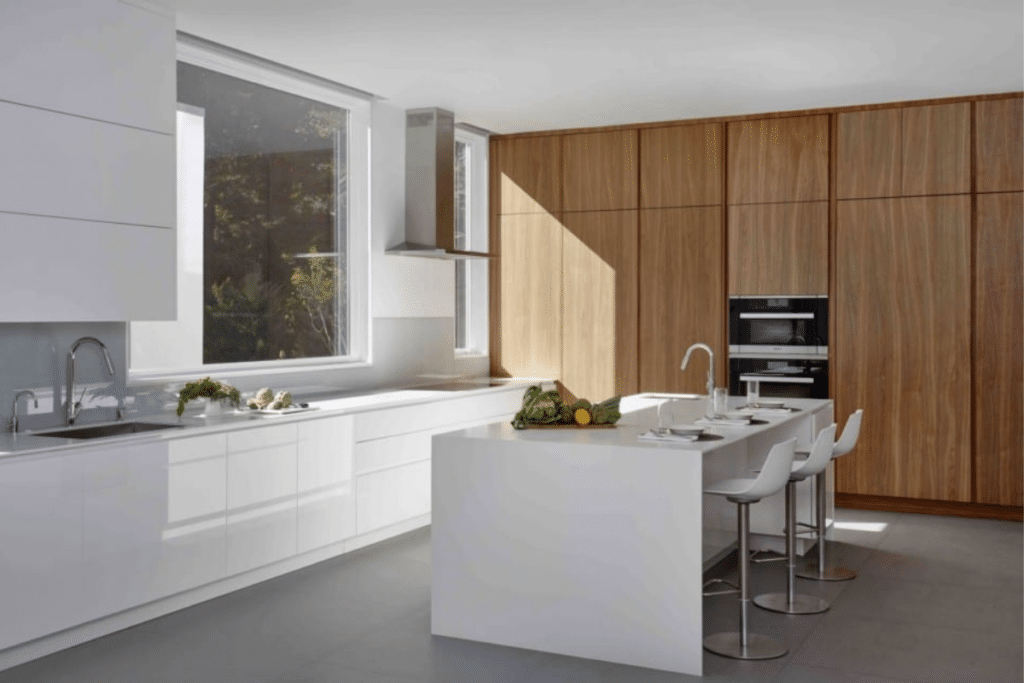 In order to be considered modern design, a kitchen should have a completely open concept with as few walls as possible. In a kitchen, some walls are necessary obviously to hold cabinets and appliances, however, the rest of the room is open and often has a view of other rooms throughout the house.
A kitchen island or breakfast bar can be used to divide the space between the kitchen and living room without taking away from an open concept. The key is to blend the spaces, so it looks purposeful.
Flooring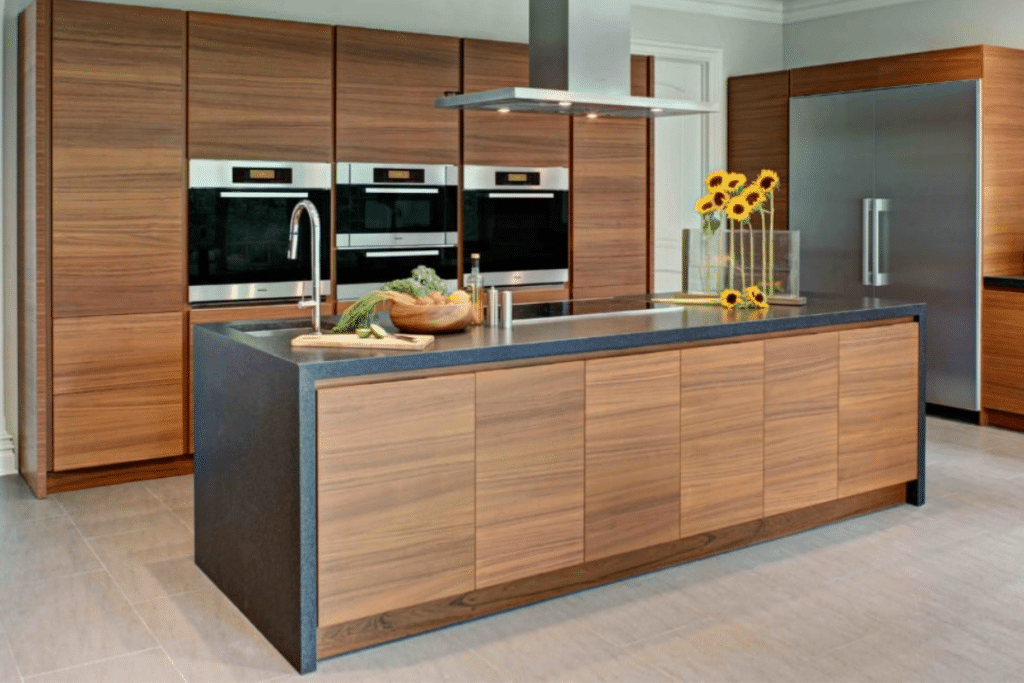 The flooring choice should be made with all surrounding rooms in mind. Since modern kitchens often have an open concept, flooring should be continuous throughout the space. Hardwood flooring that goes from the surrounding rooms into the kitchen help add to an open feel. Vinyl flooring that is 100% waterproof that looks like hardwood is another option for a modern style kitchen.
In terms of tile, limestone suits modern design because it comes in beige and brown shades. Another option for tile is reinforced glass. While slightly less durable, they are made of recycled glass for the environmentally conscious homeowner. Broken terracotta or slate tiles are another choice for a colorful modern look. The color of the floor depends on the homeowner's preference but should not detract from the rest of the color scheme of the kitchen.
Lighting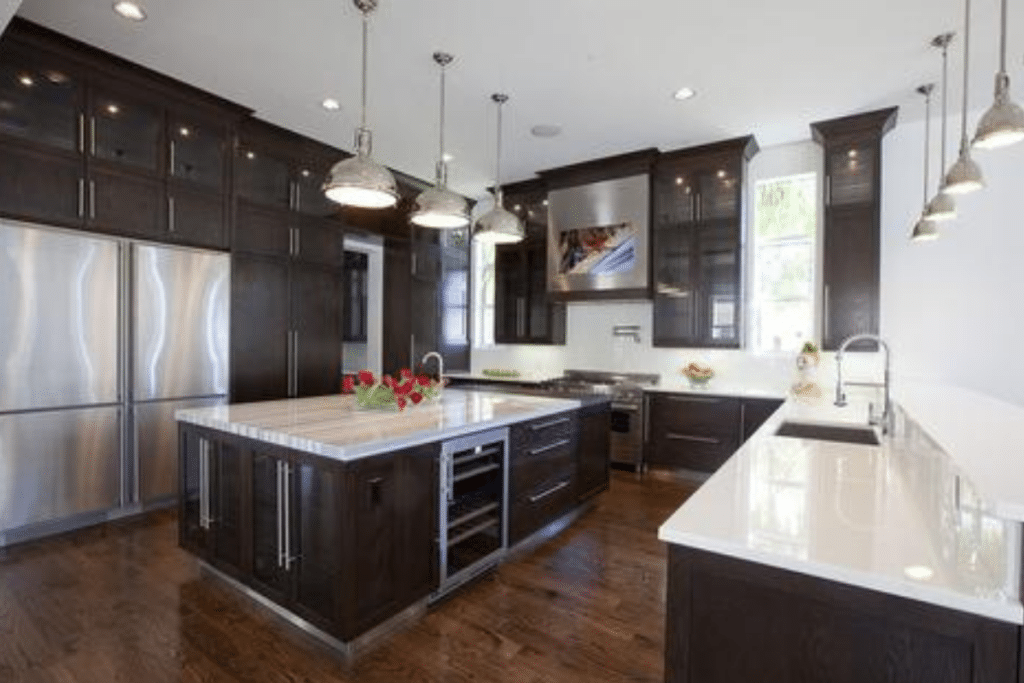 There is usually an abundance of natural light in a modern kitchen. Windows are left unadorned so as much sunlight enters the room to make it is light and airy. For a complete kitchen remodel, installing larger windows should be considered to allow as much natural light in as possible.
The sleek lines of the kitchen make it the perfect backdrop for sophisticated kitchen lighting that makes a statement. Fixtures from unexpected materials are also common in this type of kitchen. For example, concrete pendants with multiple bulbs, which is an interesting statement piece.
Countertops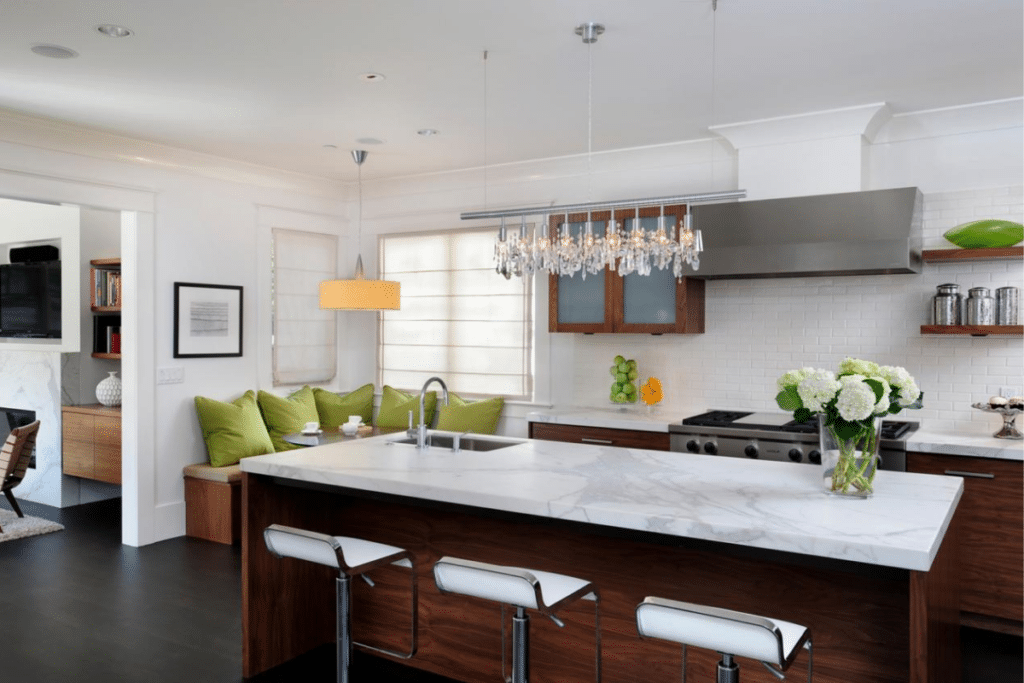 White quartz countertops are a great addition to a modern kitchen because they help create an open and airy feel. Quartz, however, comes in many different colors so white is certainly not the only choice. Light gray is countertop color choice that is on trend for 2021.
Countertops in this type of kitchen do not any have bold patterns but may have some subtle veining. A white countertop with gray veining has been a popular choice among homeowners. Edges of the counters are flat and straight without any adornment.
For a modern kitchen with a hint of farmhouse, butcher block countertops can work well. Since it is made is assembled wooden boards, it can add some warmth to the kitchen while still maintaining clean lines.
Backsplash
To keep with the modern theme, the backsplash might be a continuation of the countertop for a seamless look. For example, a soapstone countertop against white or light cabinets makes a statement.
The backsplash can also be monochromatic with the cabinets but bring in a different texture. Rectangular tile in the same color as the cabinets in a herringbone pattern adds texture. Glossy large subway tiles of 4"x8" or even 4"x12" add to the sophistication of the space.
Mirrored or metallic finishes add a touch of reflection to a space that might be monochromatic otherwise. When struck by the natural light in the kitchen, the reflection becomes even more pronounced. For those homeowners that do not like a glossy finish, a metal one can be a very finished, dramatic texture.
Furniture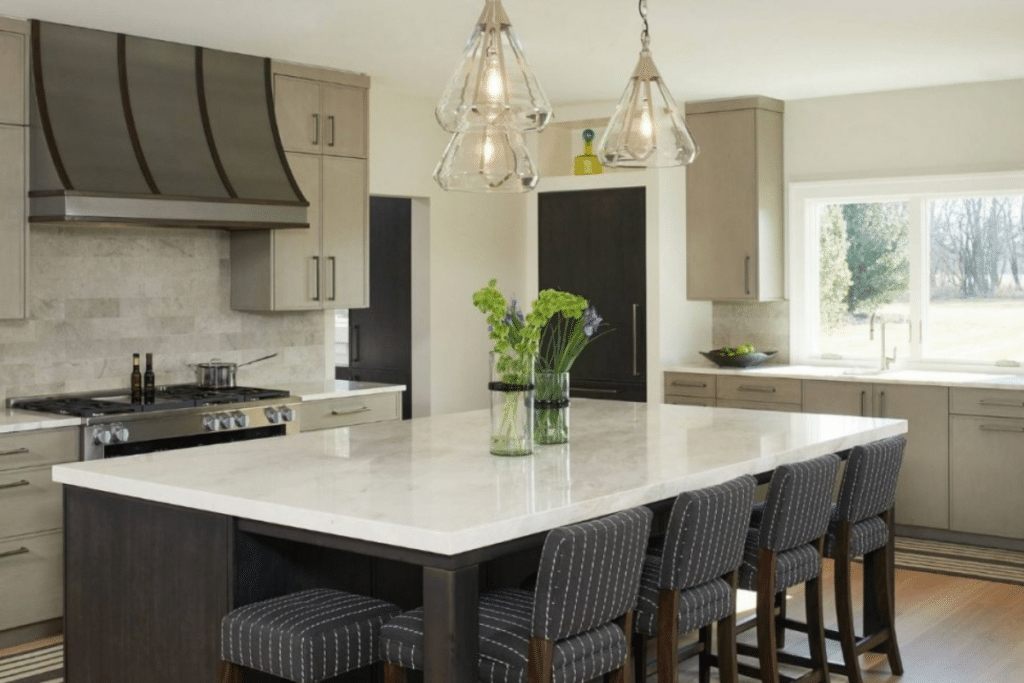 Furniture in the modern kitchen is often made of natural materials. Mid-century modern furniture can be used in this kitchen trend. Chairs and the kitchen table can incorporate this subset. The tulip chair is one of the most popular furniture pieces, and is a nod to mid-century modern style, which can be used at the kitchen island or at a table.
Accents like tables, chairs, and bar stools will stay consistent, without ornamentation. The simplicity of modern or mid-century modern means the kitchen will not be overdone.
In terms of materials, leather is a modern material that can be used to offset a monochromatic scheme. For example, leather can be used for the chairs or bar stools, which accents shades of wood in the floor.
Appliances
Innovative appliances are a focal point in the modern style kitchen. Appliances in the modern kitchen are sleek and not bulky. Some newer appliances are doing away with handles completely in place of smart technology that opens the appliance with a tap. Digital controls are being hidden in the door.
Modern kitchens most often have stainless steel appliances that have the latest technology to bring functionality to the space. Sleek designs with digital upgrades are found throughout the space. Range hoods retract into the counter so they are hidden as well. Low-profile vertical range hoods are also on the cutting edge of design.
Hardware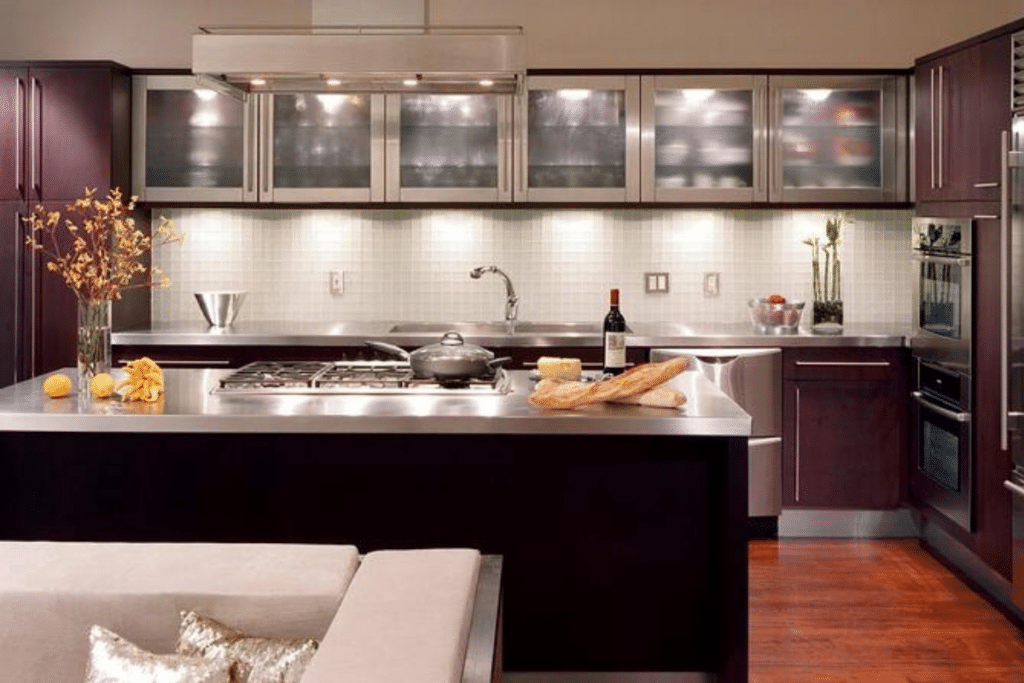 Hardware is also sleek and simple. In modern kitchens, C-channel hardware that is integrated into the cabinet is popular, as well as tubular pulls or flat linear pulls. The horizontal lines of the cabinets are accentuated by the cabinet hardware that runs the length of the drawers and doors while tab pulls work well for smaller cabinets and drawers. Copper, black matte, or brass hardware looks sleek against simple, light-colored cabinets. 
Leather hardware is another option for these kitchens that have other unique elements like exposed ceilings or reclaimed wood. These work well for larger drawers.
Sink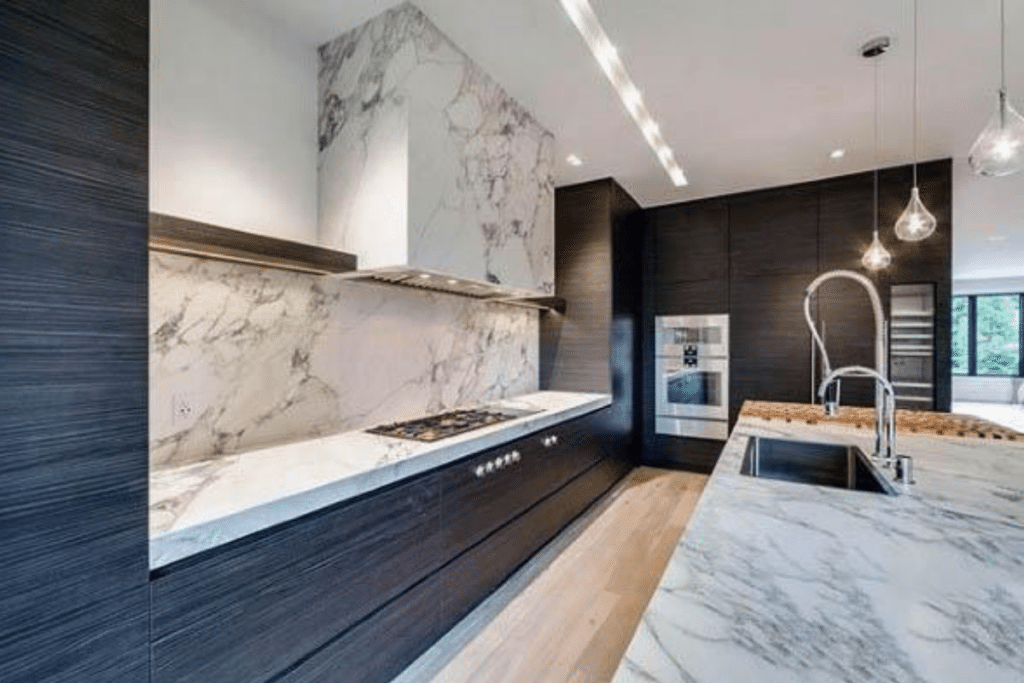 A sink that is not obtrusive is often found in modern style kitchens. For example, a retractable faucet does not detract from the modern design.
Technology is also being used to increase the functionality of sinks. A smart countertop raises the bottom of the sink so it is flush with the countertop when it is not in use, while still allowing for water to be used.
Modern Kitchen Trends 2021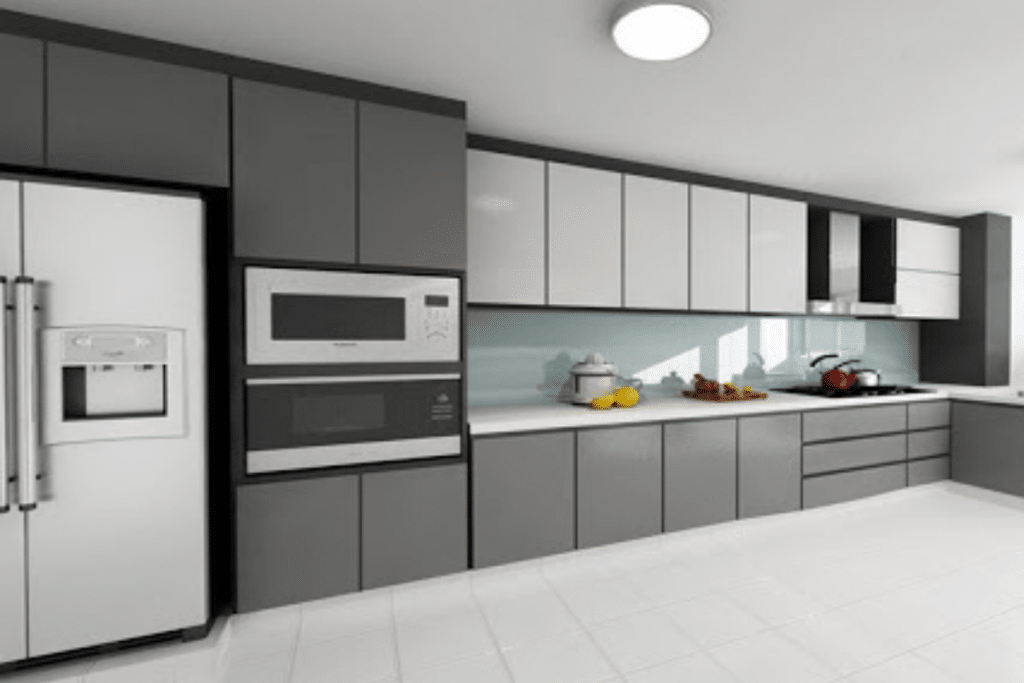 Kitchen remodels this year will involve more technology, especially in modern kitchens. The 2021 NKBA Trend Report says that hands-free, motion-control faucets, as well as touch-tap faucets will become more popular than traditional lever faucets this year.  For the first time, voice-activated faucets made the report. Matte or brushed finishes will also be seen in modern kitchens because they are low-maintenance and do not show fingerprints.
Another trend for modern kitchens is a bright wall in contrast to the cabinets. For example glossy gray cabinets with a burnt orange painted wall instead of a backsplash. The plain orange wall serves as an accent to the neutral gray and keeps with the modern theme. A modern-style kitchen incorporates sleek and sophisticated elements for an overall minimalistic design. Homeowners will want their cabinet choice to reflect this clean and fresh style.