You know it's time – your kitchen is outdated.
The fixtures predate your birth, and the cabinets are rickety. You've been wowed by the modern and fanciful layouts so often featured in reality TV home-improvement shows, but you are unsure of what's right for you… or your budget. It's time to get a design for a new kitchen layout. 
It's a bit overwhelming, there are many aspects to consider. Are you concerned more with having space to move about, or is room for storage a greater priority? There are two general kitchen concepts – open or closed. 'Open' has been popular for nearly 30 years. It provides a greater sense of scope and facilitates easier communication with adjacent rooms. It is considered informal. 'Closed' is self-explanatory. Many people prefer this option, as it is more private. Food prep, its affiliated odors and the subsequent mess are hidden from view. Also, guests are less likely to disturb the cooking and cleanup process. Overall, it provides a more formal dining experience.
Let's simplify your plight by narrowing the options to the basics.
There are three common layouts that are most popularly used in kitchen arrangements; the 'L' and 'U' designs, and the smaller 'Galley'concept. Ideally, each will support your preparation, dining and entertaining habits.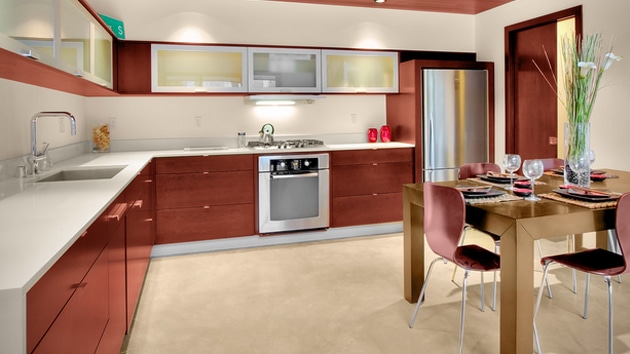 The 'L' layout lends itself to creating a spacious environment. It utilizes the angle of two walls (thus, the 'L' shape) and usually features an island. It is appreciated for its generous counter and storage space. It is appropriate for a number of cabinetry options designed to appeal to a variety of tastes. Its structure provides room to accommodate multiple persons and lends itself to becoming a primary social area. Friends may mill about comfortably as food is prepared in designated areas. Although the stove, sink and refrigerator are typically not placed next to each other, homeowners find the setup to be of little inconvenience. A bit pricier than its contemporaries, cost-efficiency may be increased by eliminating the island, thereby creating many space opportunities.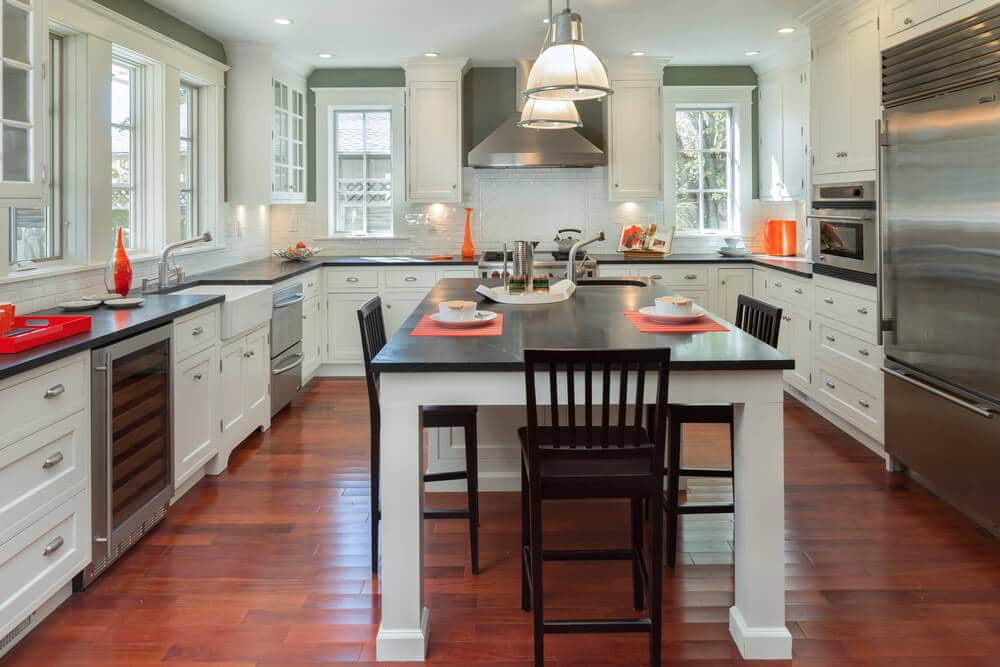 The 'U' form, often found in apartments or homes of limited space, uses – you guessed it – three walls that generally serve to separate the kitchen from other areas of the residence. This allows for closer placement of appliances, making access to them effortless during food prep. The third wall and its additional cabinetry help provide more-than-ample room for storage. Some homeowners dislike the design as they are prone to feeling confined when more than one person is present. And often, functionality is adversely affected. Unlike the 'L' design, 'U' typically does not accommodate an island. Despite being quite traditional, it is not often employed in larger, newer homes.
Last, and certainly not least, is the ever expressive 'Galley' arrangement. Imagine an open corridor between rows of cabinetry. Space is key, offering many options, including the choice of incorporating an island (although it is typically not necessary). Cooking is perhaps most efficient in a Galley setup, as it is versatile and can be arranged in either open or closed formats. Limited space is exploited by the design, creating an efficient and modern concept. Generally smaller than its 'L' and 'U' counterparts, the galley is also the most cost-effective.
So which will you choose – the capacity of the 'L', the utility of the 'U' or the efficiency of the 'Galley'? Whatever your determination, we hope this brief overview helps to introduce you to a new realm of possibility. Whatever your needs or desires, the ideal kitchen is within your grasp.