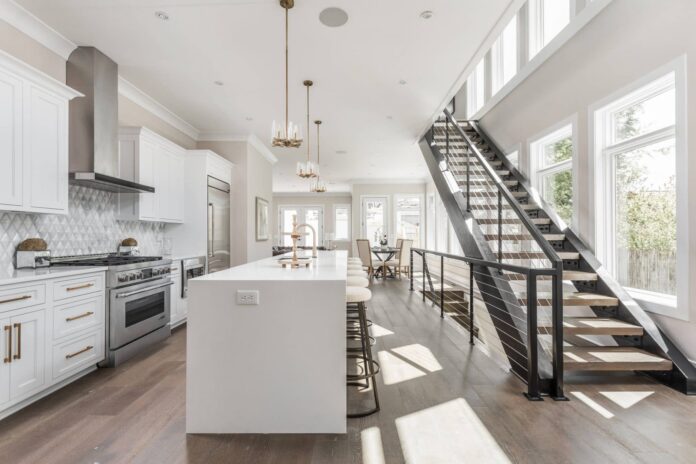 …and the appliance effect
You can give your kitchen a completely new look by simply replacing the cabinets. But also take the time to discover the layout possibilities the addition of appliances and storage provide. Obviously there is a wealth of factors to consider. First, you'll need to effectively manage your budget. Sure, a lot of the cost is in the cabinets but it also lies in the time spent on the job as well as the installation itself.
What permanent appliances do you plan to bring in? A 'triangle' of the three essentials is ideal for any kitchen. The sink, stove and refrigerator form the shape and access to each is easy. There is space for preparation beside each area, as well as generous storage room.
You'll want the refrigerator separated from the stove as all that hot air surrounding it will cause the fridge to work needlessly hard. Place the sink between them in your layout. If you're thinking of installing a kitchen island, make sure it does not block the established route you have between the three essentials. It's not too uncommon to use the counter space of the island to contain the stove. To facilitate this, you can run an electrical supply under the floor to the island. That works out easily if your remodel includes tearing out the floor anyway to make way for a new one.
Consider how you're going to use your kitchen. What needs to be stored in there? You'll want plenty of room. Tall pantries and countertops that reach the ceiling are a great way to facilitate additional space. They are also available with built in storage saving options such as Lazy Susans and integrated garbage cans. You can be just as clever with your countertops. They are necessary for food prep, obviously, as well as for accommodating electrical appliances. They serve as home to – and offer a conveniently placed power source for – toasters, blenders, coffee makers and microwaves. With these kind or resources you can easily incorporate a breakfast bar into the design.
The size and shape of a room is generally set by the layout, especially in smaller rooms. There are more options available when it comes to larger kitchens. Either way, they follow one of three general layouts, either the galley, the L-shape or the U-shape. The additional features mentioned previously (such as islands, breakfast bars and dining areas) may be incorporated in any of the three.
L-Shape – Cabinets are installed on all or part of the surfaces of two adjoining walls. This popular layout is storage and floor space-efficient and may provide enough room for dining. It is recommended to place the stove onto a wall of its own, while the fridge and sink occupy the other together. This arrangement is very common and effective in busy households.
U-Shape – Designed for a single primary cook, three walls are covered by cabinets in this layout that maximizes the use of storage and appliances (each of the essential three gets its own wall), though it leaves little room for physical mobility. When utilized in a large room, however, the layout allows for freer movement and facilitates the addition of a breakfast bar on one length of the U.
Galley – This is the best layout for a narrow space. On two opposing walls, straight runs of cabinets face each other with their respective countertops (left and right) below. Overall space may be limited along with mobility, but wall space is efficiently maximized.
Island – though essentially an add-on, any layout can work around a kitchen island. It's mostly used in large kitchens or as a design future in smaller ones. It's a tricky setup to route appliances in, and if they are utilized on the island it defeats the purpose of the work triangle concept, but it is the preferable mode for some.
As soon as you've narrowed your ideas with your options and have an idea of what you want, you'll need to talk to your cabinet retailer. Gather all of the specs and confirm their accuracy. Bring them correct measurements; heights and widths of the room, alcoves, windows and window sills. A good supplier will provide you with a free kitchen design giving you fresh and exciting insight as to how your kitchen could look.
You might get lucky, your supplier may have the cabinets you want in your specific sizes immediately available. If they're not in stock prepare to wait weeks possibly months until your cabinets are ready and delivered. It's a matter of coordinating, you'll need to schedule everything properly to ensure a smooth and delay free project.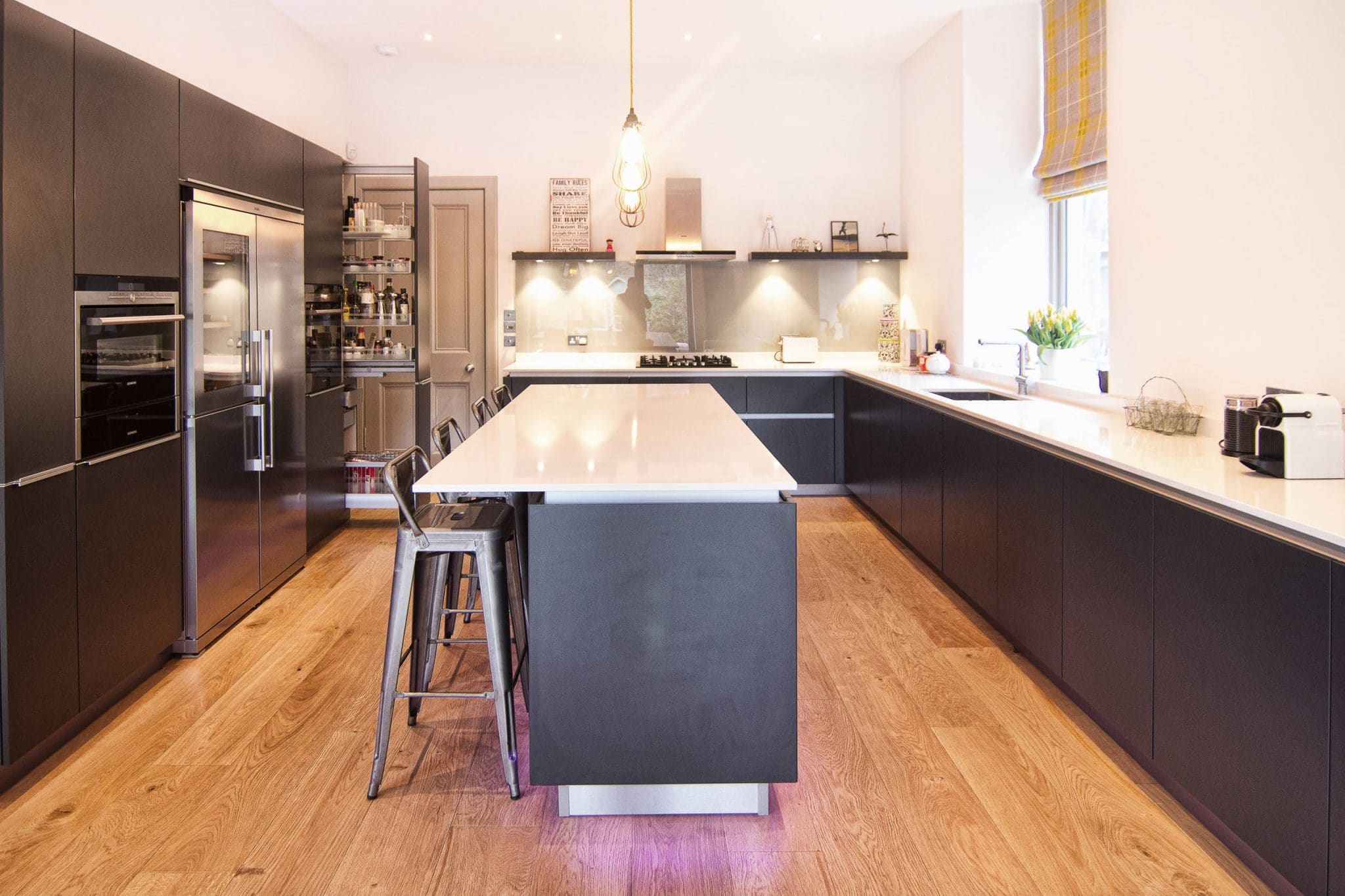 With your budget firmly in mind, pick out the cabinets that you want. There are plenty of choices. You'll have to sort through materials, finishes, door profiles, configurations, accessories and door hardware… whomever you buy your cabinets from probably offers installation as well. If you hire an outside party, be certain to get a referral.
If you're like most people, you are designing your kitchen to best serve your practical purposes. You may even have to implement access features for wheelchairs. Outside of such necessities, there are plenty of great convenience-minded features you can choose from, bells and whistles that serve to make your kitchen more efficient. Check 'em out and have fun with working with and embellishing your layout!
Also see: Designing a Bathroom