If you have been remodeling your kitchen or thinking about remodeling your kitchen then you have probably had a dozen important kitchen related decisions that you've been batting around in your head trying to make some kind of definitive decision on. It's not that uncommon for people to overlook things. The last thing you want is to replace your floor, cabinets, backsplash, countertops, etc. and then realize a week later that you don't want to use the old sink you had leftover from your previous kitchen. Best case scenario; you have to pay to have the sink ripped out and replaced. Worst case scenario; you find a new sink that you absolutely love only to realize that the sink base cabinet where you had your old sink is too small to accommodate the new sink. Then you start to see what kind of changes you could afford to make to your brand new kitchen cabinets so that you can fit a bigger sink. This is a cost that could be high but more importantly it's a cost that can be avoided.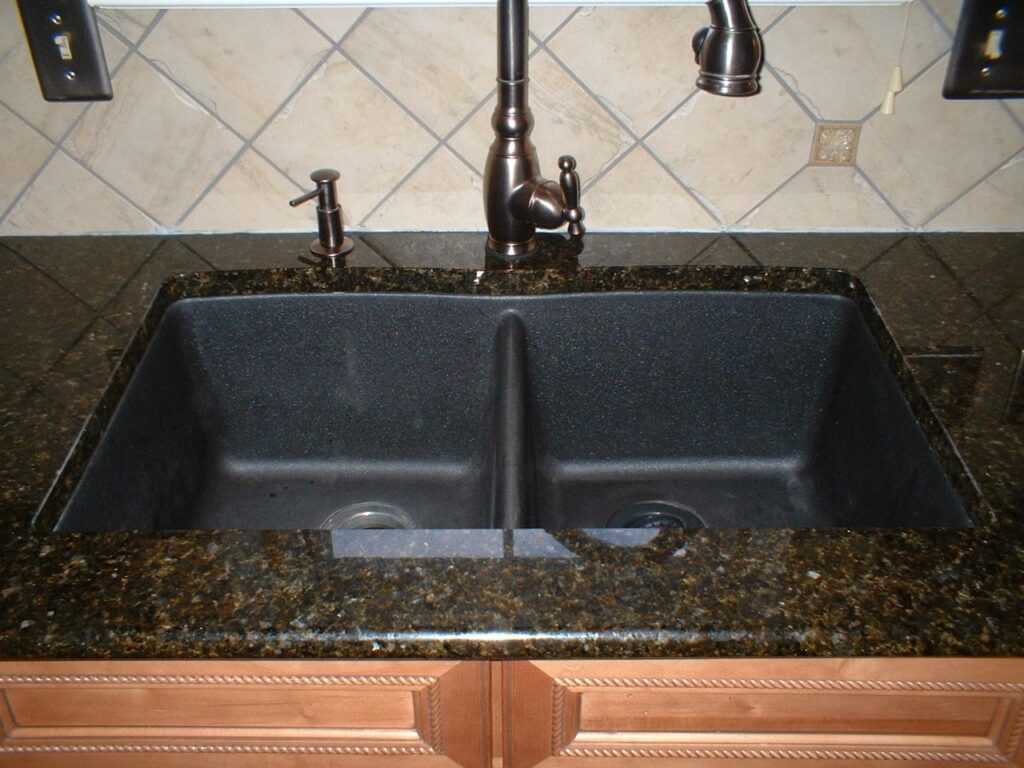 There are a lot of options to choose from when it comes to kitchen sinks. The material the sink is made out of, the number of water basins, and the way the sink mounts to the countertop are just a few of the choices you might not have thought about in regards to your kitchen sink. If you know your options then hopefully it will help you to decide on the best sink for your kitchen.
Kitchen sinks come in a variety of sizes. The important thing to remember is that your base cabinet needs to be large enough to fit your sink. If you are using Ready-to-Assemble (RTA) cabinets then they probably gave you a few size options like 30 inch, 33 inch, 36 inch, or something like that. If you are paying for custom cabinets then just make sure the cabinet builders are mindful of the width of your chosen sink. A safe way to do this is to take the width of the sink and add 2 to 3 inches, then that length will be the minimum width of the base cabinet you can use. For example: If your sink is about 30 inches wide you should use a 33 inch or 36 inch base cabinet.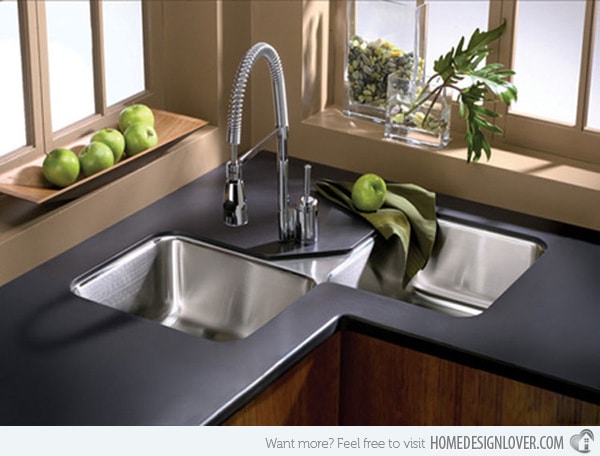 To complicate matters even further, some sink base cabinets are designed as corner cabinets. This option can be nice especially if you have windows near your kitchen corner.
Another factor you will be deciding on is the whether you want an undermount sink or a sink that is over mount or "drop in".
The lip and basin of the under mount sinks attach to the bottom of the counter (as seen above) while the basin of the drop in sink hangs down through the hole in the counter with the lip resting on top of the counter. (Below)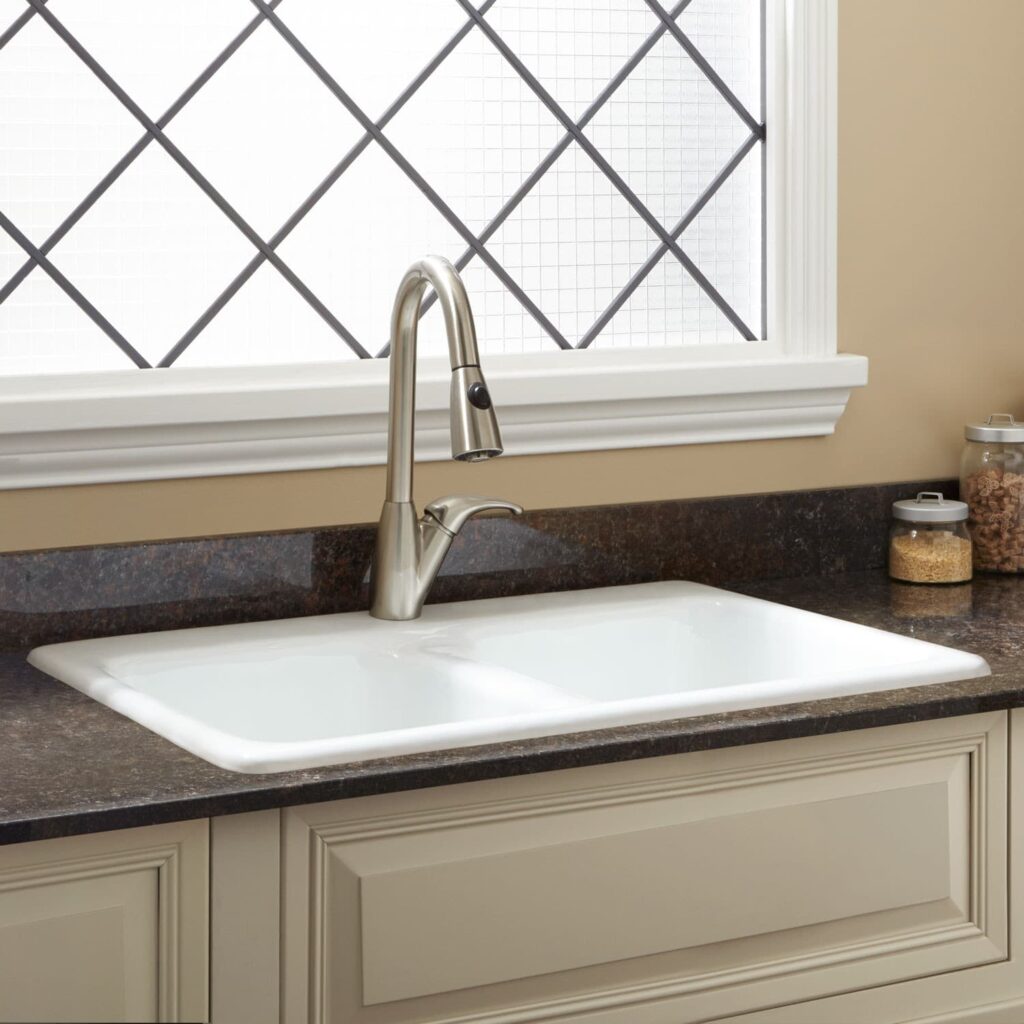 Both sink designs have supporters that will swear by them and claim that they are easier to keep clean. It is really just a matter of personal preference.
The material that your sink is made of can drastically affect the look and the feel of you sink area. For a more traditional look you can get white porcelain sinks.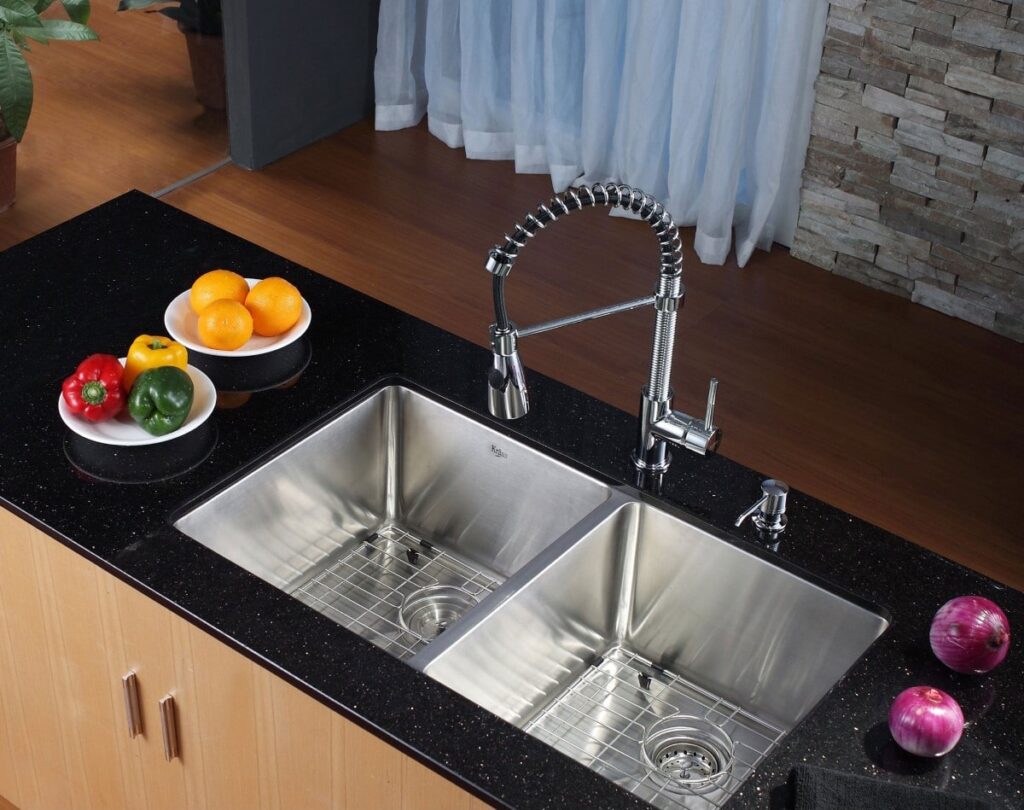 Stainless steel gives off a more functional industrial feel.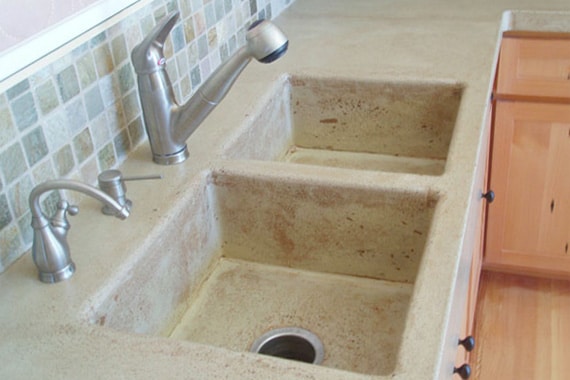 A far less common option would be for the sink to be made from the actual countertop material as seen here.
Obviously, one of the biggest factors for your kitchen sink is how many basins you want your sink to have. A single basin sink will usually have a very large basin that will fit large pots and pans and deal with other large tasks easily.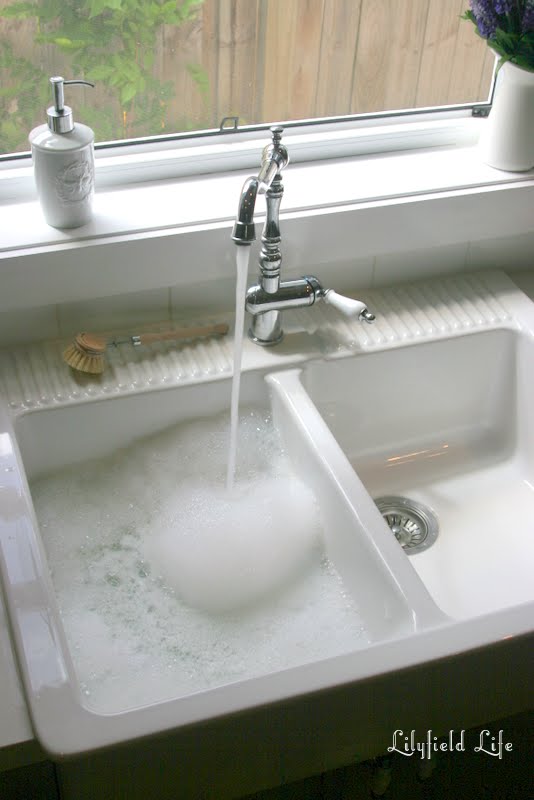 The two basin sink allows you to fill one basin with soapy water while leaving you a second basin and drain open to use for rinsing off the dishes. While most kitchen sinks have one large basin or two fairly large basins, there are numerous varieties that give you a lot of options to choose from.
When discussing the kitchen sink there are a lot of sink gadgets and gimmicks that should be mentioned as well.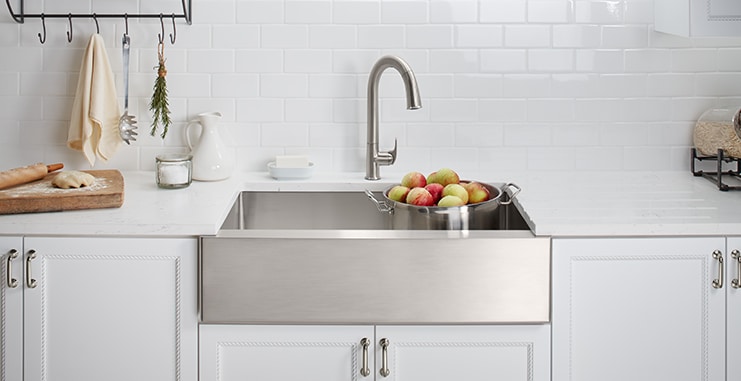 An apron sink (aka farmhouse sink) is a sink that has a large portion of the sink basin protruding through the front of the cabinet. This can be done with porcelain or stainless steel sinks.
Some kitchen sinks have three basin configurations. This stainless steel drop in sink has a small third basin for washing dishes and a cutting board designed to fit over the sink. Many people like to use dish strainers that sit on the counter next to the sink.
This sink has a drainage area for the dish strainer integrated into the sink design.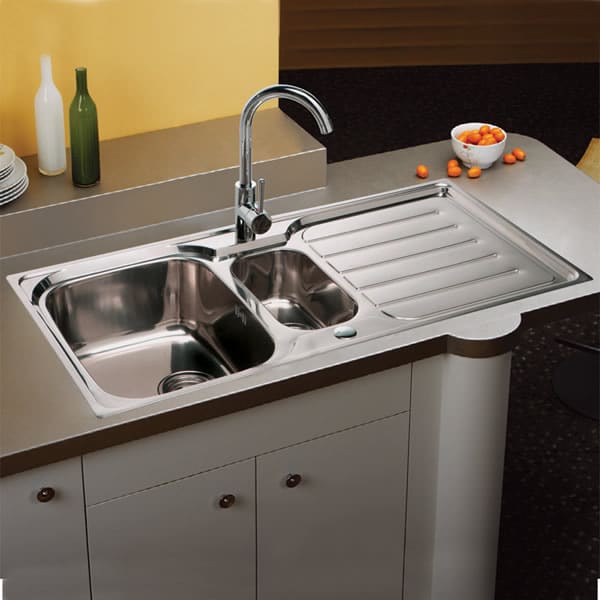 This sink has a similar integrated strainer area in place of the right hand sink basin. If the dish strainer area is a feature that you like but you do not wish to change the sink itself there are ways to build this feature into the countertop itself; seen in this apron sink, it is common to find faucet fixtures with spray nozzles or other attachments. Some sinks have other features that could be helpful in cleaning or food preparation.
This sink features a small narrow trough-like basin the runs along the top of the sink area. It also comes with a set of cutting board and strainer inserts that can aid in food preparation.
You will find a lot more of these gimmicky kinds of sinks used in kitchen islands.
This small round pub sink also has a small inserts for food prep while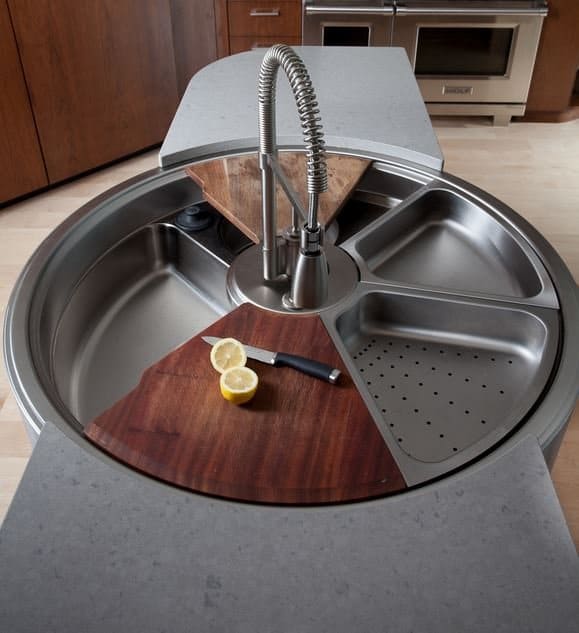 this much larger round sink was designed to be accessible and useful to people on both sides of the island. Notice how the rotating wedge shaped inserts can be arranged or rearranged to suit your needs.
This long curvy sink was clearly designed with hosting parties in mind.
These are just some of the options that could add to your decision of what kitchen sink to buy. With any luck, you will know all the details of exactly what kind of sink you want for your new kitchen or at least the basic type of sink that you are looking for. At the risk of sounding cliche, don't get stuck during your remodel just because you know what you want for everything but the kitchen sink.