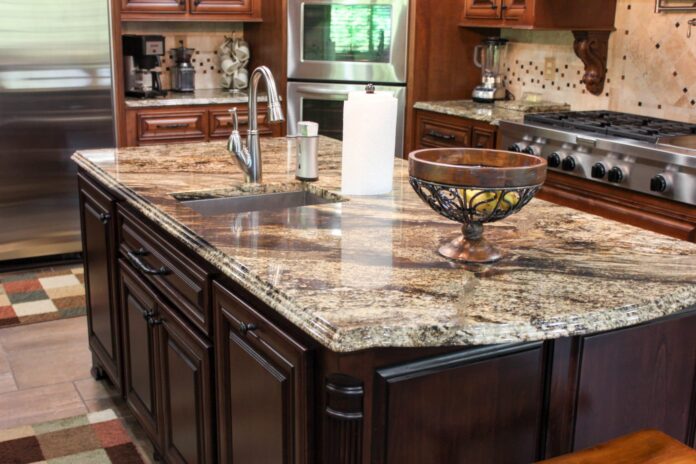 It's Not Easy…
Recent shopping trips to home design stores may have overwhelmed you with the huge selection of material and style options on the market. The 2017 Houzz Kitchen Trends Study completed in the United States found that 40% of people interested in replacing their countertops chose either granite or quartz. If you share their opinions about these two stone types, the following advantages and disadvantages of each may help you make up your mind.
Granite
Advantages
1 – Granite lasts a long time.
While it might not be the latest material to launch into the kitchen style magazines, granite has stood the test of time. For homeowners who want counters that will complement the house and raise property values for years to come, granite is a great investment. The look is as long-lasting as the stone itself.
2 – Slabs over 70 inches wide are available.
Counter manufacturers can cut most stone into any shape, but granite is more likely to have single pieces over 70 inches in width. Quartz tops out around 65 inches although most stop at 56 inches maximum. The wider pieces not only allow for wider counters but are necessary to have seamless corners and curves. Smaller kitchens can save money on a single slab rather than multiples.
3 – It remains a more affordable option.
No one who has shopped for granite would call it a discount product, but the wide variety of types allows budget-conscious homeowners more options. The lowest costs hover around $40-50 per square foot including installation. Quartz costs more, especially if you have a large kitchen to fill.
4 – Each piece has unique natural attractiveness.
The type of granite counters that make your eyes go wide cannot be created in a factory. This natural stone offers unique patterns and colors that no other person on the block will have in their home. Create a truly unique kitchen look by embracing these exotic inclusions and textures.
Disadvantages
1 – Not impervious to stains or water.
Granite and all stone are affected by water or damp conditions. You need to clean up spills or water spots promptly so they do not stain the countertops. Manufactured products like quartz slabs offer more forgiveness when it comes to moisture exposure and regular spills.
2 – Extra maintenance required.
Besides cleaning up water and other spills right away, you also need to seal granite on a regular basis. Some homeowners find this a bother and an extra expense of both time and money that they did not want, although the process generally has to occur every 2-5 years. Only certain soaps or cleansers are appropriate for use with this natural stone counter material.
3 – Lack of smooth colors and patterns.
The unique patterns and textures intrinsic in granite stone can make it difficult to find pieces that match if more than one slab is needed for the whole kitchen. Also, other décor options in the room may dwindle in beauty next to a busy counter filled with specks of color. Granite simple does not come in smooth, even shades. Quartz, on the other hand, gives you a smooth backdrop for fancy tiles or paint detailing and a great option for minimalist, modern homes.
4 – More prone to cracks or chips.
The strength of granite is indisputable, but it's propensity for cracks and chips make it a more delicate option than quartz. Contractors must take especial care during installation to avoid cracking the larger or angled pieces. Counter installers frequently cover these mishaps financially, but it means more time until the kitchen is complete and ready for use. Many people feel that spending more than $5000 on a countertop should come without the worry of cracks and other damage.
Quartz
Advantages
1 – Maintenance is simple.
The majority of kitchen cleaners work well on quartz countertops. Simple soap and water will handle cleanup. No regular application of sealants is necessary. Some ingredients in commercial cleaners can affect quartz negatively, but a simple check of the list on the product packaging should help you figure out which to buy.
2 – Strength higher than more natural alternatives.
While it is possible to damage quartz over time, it still remains one of the most hard-wearing options for kitchen counters on the market today. Its non-porous nature repels stains from coffee, blueberry juice, olive oil, and almost everything else you may find in your home. Breakage is also quite rare during installation of afterward. Quartz is molded with strong polymers and resins to make it stronger.
3 – It's quite popular and highly available.
The clean look and many color options of quartz countertops have made it quite popular for home designers, owners, and real estate flippers too. You can find it everywhere around the country at affordable prices. This leads to quicker sales with higher profits than with many other kitchen renovation options.
4 – Each piece offers consistent style and color.
When you buy quartz counters, you know that each piece will match the others around your kitchen. While this may seem to fit modern décor schemes more, its consistency allows even very traditional kitchens to present a stylish image. Its relative plainness makes more detailed decorating elements like tile backsplashes and light fixtures stand out.
Disadvantages
1 – Costs more than other options.
What you gain in low maintenance needs and strong material overall, you lose out on in your budget. The lowest cost quartz you will find has a price tag comparable to level two granite on average. This depends on the particular store, geographic place, and any special offers they may have, but the majority of quartz countertops cost more than $50 per square foot including installation. You can find granite for that price or less in many colors, styles, and locations.
2 – Cannot be used outside.
It makes logical sense that natural stone works well for outdoor kitchens and other applications. Quartz, on the other hand, will not hold up to constant exposure to sun and weather. Over time, the surface color will fade or change to leave it looking old and worn faster than other materials. Granite, like all other stones, are exposed to the sun and rain all the time in nature and do not change their look one bit.
3 – No interesting variations in color or pattern.
Quartz delivers consistent color, which may entice some homeowners to buy it and others to cross it off their lists. Every single slab is a cookie-cutter copy of the next. If everyone on the street bought a beige quartz counter, they would all look exactly the same. Natural stone, on the other hand, gives you a one-of-a-kind kitchen.
4 – It is a manufactured product.
If you value natural materials above all else, you must remember that quartz is engineered in a factory instead of being cut in a mine. Although beautiful in its own right, quartz or other manufactured materials cannot mimic the natural variations and unique looks possible in natural granite.