In many ways, you can have a much better kitchen if you have more drawers.
Drawers allow you to make use of nearly all of the vertical space in a cabinet.  There is a strange give-and-take that exists with drawers.  The taller the drawers, the taller the items that can be stored in them, but that will only be efficient if you have large items that will fit into and fill the large drawers.
Otherwise the tall drawer is wasted space.  The more small drawers that you can fit into each cabinet, the more stuff you can store.  However, the size of the smaller and/or shorter drawers also limits the type of items you can store.  It can be frustrating.
Sometimes drawers can fall apart faster than the more simple cabinets with doors.  The obvious solution to this is to buy decent cabinets that will give you drawers that will last.  There are two basic types of drawers, wood and metal.  Some people insist that metal doors are better than wood, while others claim the opposite.
If you are looking for a good wooden drawer from a company that makes quality cabinets then there are a few things to look out for.  Cheaper companies will cut corners by making their drawers out of particleboard.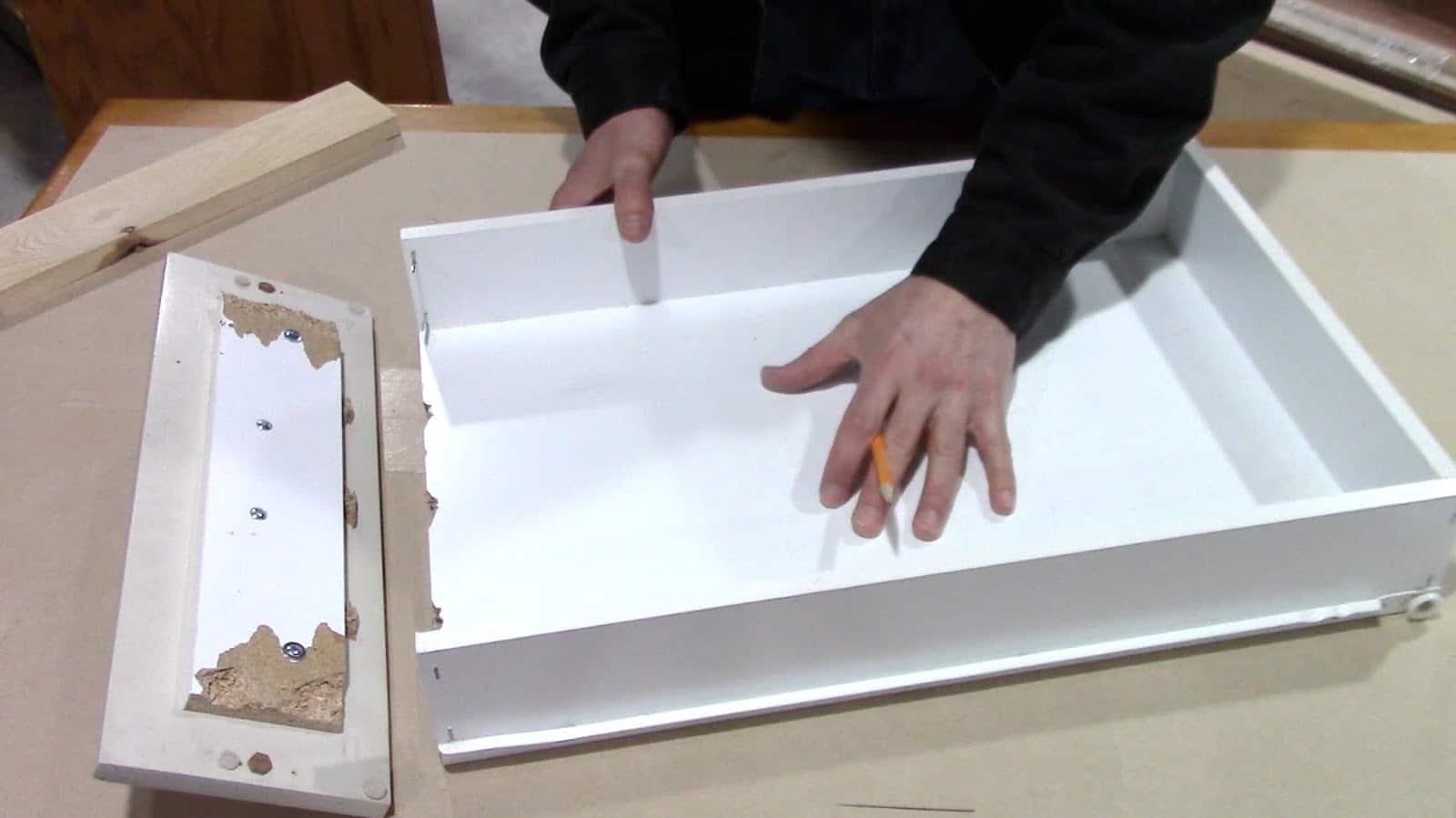 This will not last.  Sometimes they will not use dovetailed corners.  The box itself may be plywood or use a thin hardboard bottom panel.  If you are looking to avoid these cheap features look for drawers that have the front, sides, and the back all made from a solid wood of some sort.  Look for dovetail corners, this design creates a stronger drawer and it doesn't take much in terms of time or effort for cabinet makers to use dovetails.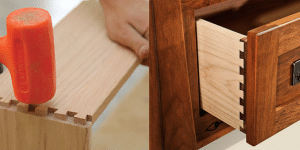 In fact, dovetails are so easy to make they should serve as a very big red flag if you inspect a wooden drawer that does not have them.  With all cabinets, not just drawer cabinets, look to see how thick the plywood is that makes the walls and back panel of the cabinet body.  Most use ½ in thick plywood.  If you find a cabinet with any less than ½ inch, I would avoid buying it.  Some quality cabinet makers use 5/8 inch thick plywood or even thicker.  Last, but not least, you should look at the drawer tracks and ask some questions about them.  See if the drawers extend fully, and if they contain soft-close technology.  Make sure the cabinet maker did not use cheap tracks that don't hold enough weight for your dishes or heavy kitchen items.
So, to recap for wood drawers:
Good features to look for:                                   Bad features to look for
-solid wood drawer boxes                                        -Lacks Dovetails 
-dovetail corners                                                    -ANYTHING particleboard
-Strong tracks                                                        -Cheap tracks
-Soft-close tech                                                      -Cheap cabinet body 
-Strong cabinet body 
There are a number of reasons why you might want metal drawers in your kitchen instead of wood.  Most kitchen cabinets that use metal drawers have at least 2 metal sides on each drawer where the drawer slides attach and function within the sides
of the drawer rather than having tracks bolted to the sides or bottom.  There is a strong contemporary feel and look that is established with metal drawers.  If you have a modern Euro style kitchen, the metal drawers will certainly contribute to that look.  Blum and many other companies use tandem metal drawer slides.  Many of the cabinet makers that use metal drawers will have wood panels on them for the front, back or bottom panel.  This is not anything to be worried about unless the material being used is of a bad quality.  Most companies use soft-close technology for their drawers.  This makes the drawers give a tiny bit of resistance when you first pull on them but then give you the wonderful benefit of a soft gentle close every time.  Some cheaper drawers will have a disturbingly strong resistance that makes using your drawers frustrating.
To recap for metal drawers:
Good features to look for:                                           Bad features to look out for:
-Any kind of tandem drawer slide design                          -Difficult to open drawers
-Soft-close tech                                                              -Rickety Construction 
-Quality construction for drawer and cabinet body            -Cheap material 
You will find people who will swear by one kind of drawer over the other but when it comes down to it, the real comparison should be between quality drawers and cheap drawers.  If you are buying quality cabinets, it doesn't matter if the drawers are wood or metal.  There are benefits to both, the high quality drawers of either type will perform about the same.  The lower quality drawers of either type will fall apart.  Preference to one over the other is just that, preference.
Even though "the more drawers-the better" is a decent rule of thumb, there are good uses for big spacious cabinets.
It is possible to go overboard on drawers.  However, if you really wanted a run of base cabinets with nothing but drawers you could try some cool kitchen ideas like this "incognito kitchen table for two".
It should also be mentioned that a happy compromise between drawer cabinets and normal cabinets with doors is to use big base cabinets with pull out trays.
This basically gives you a hybrid between the two kinds of cabinets.  These cool accessories can be perfect for storing large heavy countertop appliances that don't get used every day because they make it much easier to get them out of the bottom cabinets.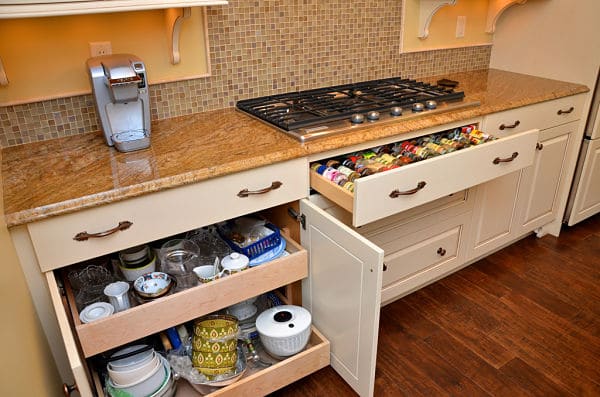 Pull out trays can also be useful for upper cabinets as well.
        Drawers are extremely helpful in keeping your kitchen efficient and convenient.  Make sure you pick the right cabinets with the kind of drawers that will work best for your kitchen.  But most importantly be sure that you pick quality cabinets that will have good quality drawers that will last and improve your kitchen.  If you're curious about more things that make a cabinet high quality, give this a read.