Breaking down the parts of a cabinet
Put quite simply, a cabinet is essentially a box with an attached front. It's the front that includes the face frame, doors, hinges and drawer fronts. The box itself encompasses the back, sides, top, bottom, drawer boxes and glides, shelves and interior lining.
The individual parts will vary in thickness. The level of quality will depend on the model and manufacturer. Of great impact to the overall quality are the methods of construction utilized. In fact, when shopping for cabinets take a good look at their components and assembly. Inspect the drawer box and confirm that it is solid and sturdy. It is usually the first part to fail in cheaply made cabinets.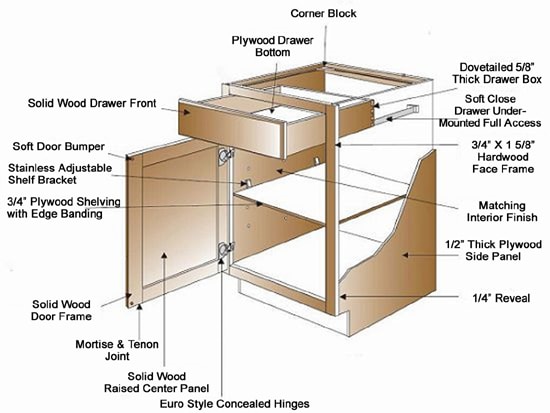 You'll want to know what you're looking at and for if you are going comparison shopping for cabinets. Below is a list of the individual parts that typically form a cabinet's construction:
1. The Cabinet Frame is only present on traditional American style cabinets, any frameless cabinets are usually European style cabinets. It is securely attached to the front of the box and is made of solid hardwood that is about ¾" thick. Typical, good quality frames will be joined together either by dowel or pocket screw joints (each is exceptionally durable). You can spot a cheaper frame easily, when the frame is stapled together.
2. Doors and Drawer fronts are also made of solid hardwood (when of the higher quality). The average five piece frame and panel door is made from ¾" thick hardwood. A center panel is usually held in place with 4 frame pieces that are called rails and stiles. The doors are built this way so that the natural expansion of the center wood panel will shift around inside of the frame without warping the door. Some doors will have a center panel made from medium density fiberboard (MDF). The MDF center panels are usually on painted doors where you will not need to see any wood grains.
3. Hinges for cabinets vary greatly. It is imperative to use high quality hinges with kitchen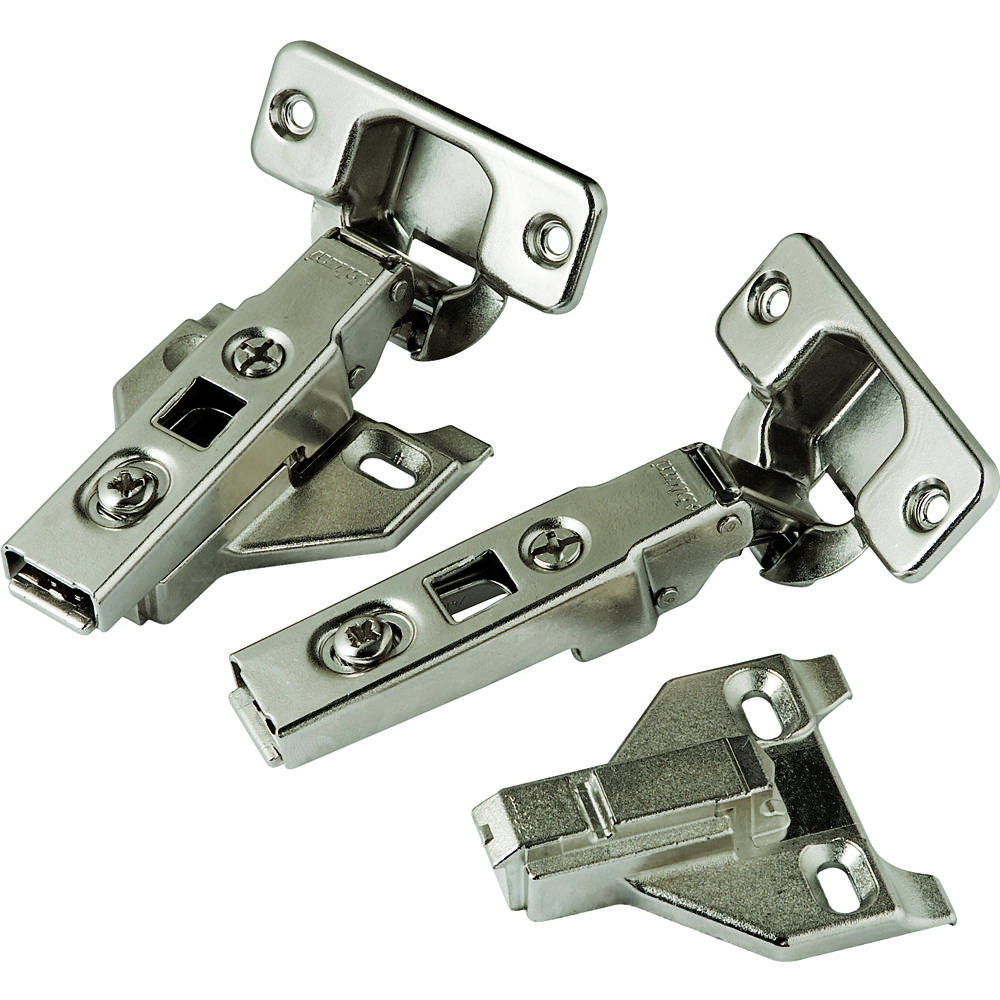 cabinetry. Throughout its use, a door is likely to be opened and shut thousands of times. Hinges are hidden when employed with full overlay doors, unless intentionally exposed for the sake of a certain style. Typically it will feature a soft close function and be constructed of steel with a nickel plated finish. There are many types of hinges, different features have been designed to accommodate any need or whim.
4. Drawer Box and Glides
Another area that is important to ensure high quality in is the actual construction of the drawer box and its glides. They're not something to go cheap on. The drawer box needs to be durable and capable of accommodating twenty pounds without issue as well as being utilized a half dozen times daily. That adds up to being opening and closed over 2,000 times per year!
More info:
Drawer Box
You will find cheap drawer boxes of low quality made with particleboard, plastic, metal or plywood. Its sides use butt or notched joints that are secured only with staples. But drawer box material and its construction are important, since they are among the first things to become worn in a kitchen especially if they are cheaply made. Even if it is just the standard quality of a decent box, it needs to feature solid hardwood sides and a back that are at least ½" thick, with dovetail joints. The bottom should typically be plywood and fully set into grooves on all four sides.
Drawer Glides (Runners)

Most people prefer to have cabinet drawers where you don't see the drawer glides when you pull out the drawer. The more expensive and higher quality glides will usually be an undermount glide that attaches to the bottom of the drawer. Ideally, they are made of steel, with ball bearings, and a soft closing mechanism of some sort. A solid glide can support 90 pounds while still being able to open and close comfortably. Many of the better drawers will have glides that allow you to extend the drawer out all the way so you do not have to reach deep inside to retrieve items that are far in the back.
5. Shelves
It is not uncommon to see cabinet shelves made of plywood or particleboard. Unfortunately, durability is a serious issue when it comes to cabinets. They must bear heavy weight for long periods of time. Plywood is less likely to bow under weight of pots and pans or ceramics than particleboard is, which (of course) is more affordable. Stay away from it if possible, it's likely to sag, flake and be crushed. Shelf thickness is generally at least ½" but ¾" is the preferred ideal.
backend